The first performance of the American Music Theatre's 2019 Christmas Show, "Joy to the World," was held at 3 p.m. Nov. 1.
The decorations were sparkling, the theater was packed and the crowd was ready for its Christmas music.
Never mind kids were going trick-or-treating that night, Thanksgiving had barely been mentioned and Christmas was seven weeks away. The crowd was ready.
They didn't need to hear how the show was, or even what songs were being sung. Just that it was.
You know you are going to get fantastic singers and dancers, dazzling costumes, a great orchestra and delightful sets under the watchful eye of Andrea McCormick, the director, choreographer, costume designer (with Missy Clayton and Matthew V. Gotwalt) and overall show guru.
This year's show begins like most AMT Christmas shows, with the cast walking around in a shopping area, dressed in coats and scarves. Their arms are filled with packages as everyone greets everyone with big smiles while they sing "The Most Wonderful Time of the Year."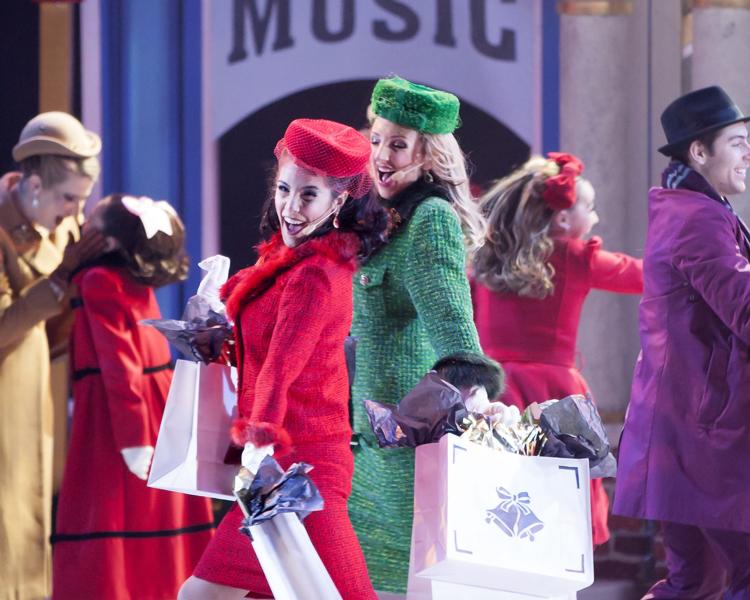 This year's show has more emphasis on dance, and McCormick's choreography is jazzier and more energetic than ever.
While in years past a singer would come out and do a stunning job with a carol, this year the singers are joined by dancers more often than not.
Nostalgia is a key part of this year's theme. Set in a town square, a newspaper boy sells papers for 25 cents each, a barbershop quartet sings a medley of carols and the costumes have a distinct classic 1950s look to them.
The town square makes way for other scenes, including two homes where the kids get ready for Santa and the parents sing to them.
The songs have a nice range, from joyous carols to snazzy contemporary songs and solemn, holy carols.
Some of the highlights in this highlight-heavy show include the AMT Band's gorgeous rendition of "Carol of the Bells," Kevin Farad's fun "Santa Claus is Coming to Town" and the clever carousel, which is created while Bradley Whitfield sings "Jingle Bell Rock."
Randy Jeter's "Zat You Santa Claus," has a bluesy mood to it, especially with solos by Michael Evangelista on bass and Sam Yoder on trombone. And the dancers are fantastic.
Sarah Shelton does a lovely job with "Away in a Manger," sung as a bedtime story. Madison Paige Buck has a strong voice and a fascinating song delivery style, which works beautifully with "The Christmas Song" and "Joy to the World."
The second act often opens with a fun Santa and his elves scene and this year is no different.
The elves, who are helping Santa deliver packages on his big night, dream of what else they would do if they weren't Santa's elves.
The costumes, the choreography and the humor work well together to make this scene utterly charming.
When the men and the women team up individually, the sound and harmonies are beautiful.
And even the more serious songs, sung around the Nativity scene, have more energy than in years past.
It suits the revue well.
If going to see the Christmas Show at AMT is tradition, you won't want to miss this year's edition. If you've never been, this would be a good year to check it out.¶
.