The first question posed to the Rev. John Knight, a Pittsburgh-area native who is the new pastor at Bright Side Baptist Church, had the potential to create some friction in his congregation: Is he a Steelers fan or an Eagles fan?
His answer was Solomonic.
"I am a Steelers' fan," he said. "But that's my (American Football Conference) team. My (National Football Conference) team is the Eagles. Here's why: As a kid I lived in Philadelphia."
Knight, 50, assumed his new post on Monday, two years to the day since the Rev. Louis Butcher, Bright Side's founder, retired.
He comes to the Hershey Avenue church after having served as executive pastor at Mount Ararat Baptist Church, a 10,000-member church in Pittsburgh. Prior to that, he was the senior pastor at Cornerstone Baptist Church in the Lincoln Park section of Pittsburgh. He also was executive director of TWOgether Pittsburgh, a nonprofit that provides relationship education throughout the greater Pittsburgh area. He will be moving to Lancaster with his wife, Tamara. They have three grown daughters.
Stan Saunders, chairman of the deacons' ministry at Bright Side, headed the eight-person search committee. He said Knight was among more than 100 pastors who applied for the position. That number was ultimately reduced to two, each of whom met with the committee, taught Bible studies and presented sermons to the congregation. Knight's nomination was endorsed by the congregation.
"He is very personable, very relatable, easy to talk to," Saunders said.
---
An early visit
Knight initially heard about the impending pastoral vacancy five years ago when a common friend mentioned that Butcher would be retiring in the near future.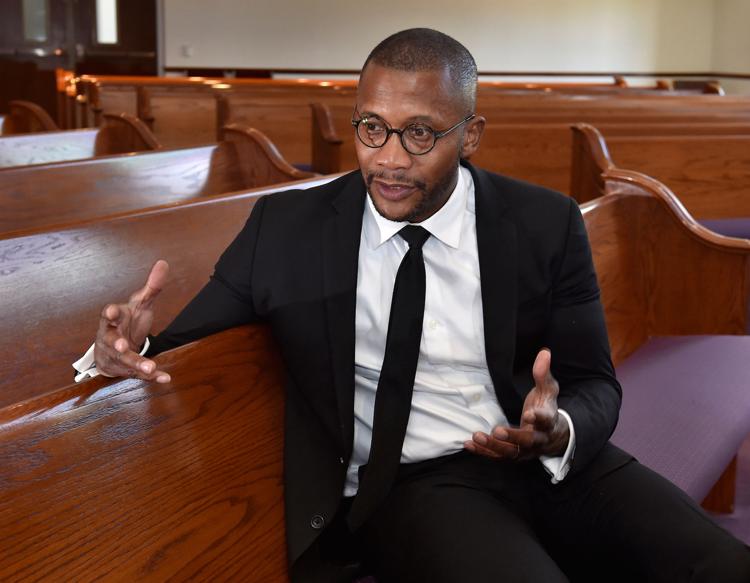 Following a conference in Philadelphia in 2016, his wife suggested they stop at Bright Side on their way back to Pittsburgh. It was the middle of the week and they talked with some people at the church.
"We were blown away," he said. "We just walked in ... went outside, sat in the parking lot and just prayed."
When Butcher announced his retirement, Knight immediately forwarded his resume to the search committee.
---
The right skill set
Butcher was proud of his multihued, multiethnic congregation which, he said upon his retirement, "I would never trade for any other."
Knight shares that view.
"My work with TWOgether Pittsburgh, put me in congregations of all ages, ethnicity, race, and I had to minister in that capacity," he said. "So where Bright Side is going, I think they need someone who can speak the Gospel in a language that everyone can understand."
Citing the adjacent Bright Side Opportunities Center, which provides a variety of services to the community, Knight said, "I understand the dynamic of a (nonprofit organization) and a church moving together — being distinctly different but functioning as one."
Said Saunders, "He was at a very large church in Pittsburgh, and we felt that with the experience, he would (understand) how to handle a midsize church."
---
Sharing God's story
Knight said he became a born-again Christian in 1989. Two years later, he felt an urge to pastor.
"I felt the desire, if you will, to share God's story and to preach the Gospel," he said. "I won't say I audibly heard (God) but there's something within you that knows."
He also knew something about himself that could have blocked that path.
"What's interesting ... is I don't like public speaking," he said with a laugh.
His favorite Bible verse is Psalm 27, which begins: "The Lord is my light and my salvation; whom shall I fear? The Lord is the strength of my life; of whom shall I be afraid?"
The verse is central to his life and to his speaking ability.
"I started doing that because I was afraid of public speaking," he said.
He clearly has overcome that concern. As part of the search process, Saunders said the committee listened to and was impressed by his sermons online.
The Mount Ararat website notes that, among his qualities, Knight "is known for ... his dynamic oratory gifts."
"I guess 'emphatic' might be (descriptive)," he said of his preaching style. "I am not a fire and brimstone preacher. I believe Jesus kind of sat down beside the people and preached to them."
On Sunday, he will stand before his congregation and offer a sermon about remaining focused on the work ahead and being engaged with the community.