"The Comedy of Errors," which the People's Shakespeare Project is staging this and next week on the campus of LancasterHistory, was one of William Shakespeare's earliest plays.
And it was not an original story. It was adapted from the play "Menaechmi," by Roman playwright Plautus.
But as director Jeff Wolfthal explains, the Bard gave it his special touch.
"He saw a Roman comedy, 'The Menaechmi,' about one set of twins being mistaken for each other and thought it was funny," Wolfthal says. "But he was going to top that and put two sets of twins in the story."
So one set of twins and their twin servants get into all kinds of mishaps, including accusations of infidelity, beatings, thefts, arrests and tons of mistaken identity.
"The basic plot is that 30 years before the events of the show, two sets of twins and their parents got separated in a shipwreck," Wolfthal says.
Two twins live in Ephesus, and the other two live in Syracuse.
Of course both sets of twins have the same name. There is Antipholus of Ephesus (Griffin Yena) and Antipholus of Syracuse (Alex Stompoly). And servants Dromio of Ephesus (Mike Garland) and Dromio of Syracuse (Tyler Rossi).
What could go wrong when Antipholus of Syracuse and Dromio of Syracuse arrive in Ephesus, where unbeknownst to either of them, their twins live?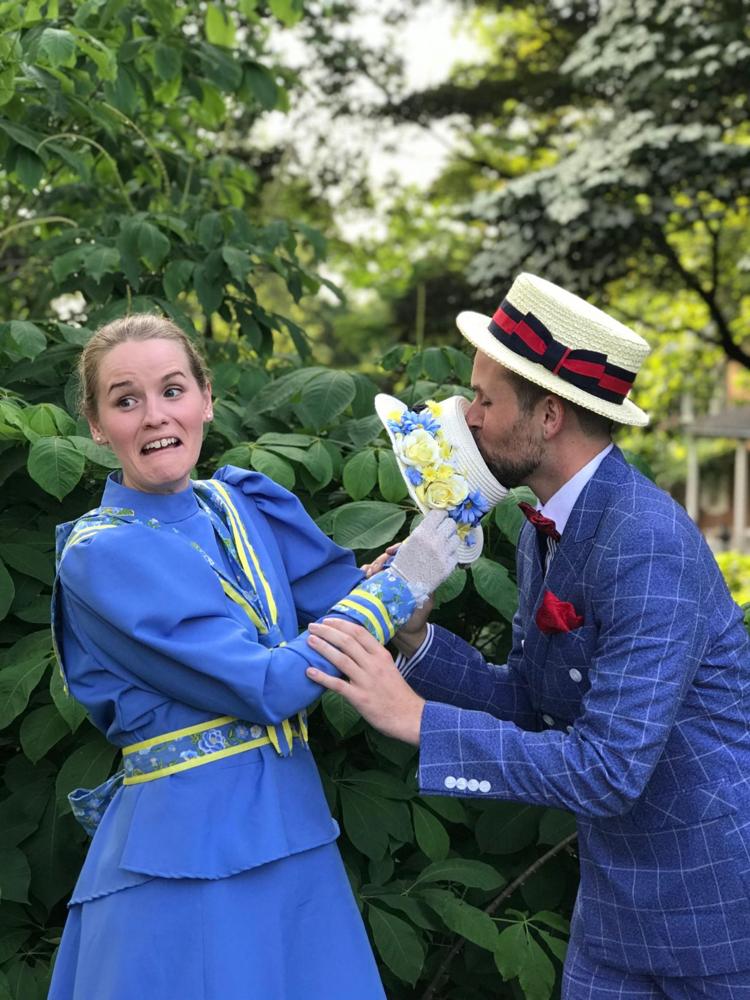 Plenty.
One big problem is that Antipholus of Ephesus is married to Adriana (Holly Adam).
"His wife mistakes the twin for her own husband and makes him come to dinner, locking her actual husband out of the house," Wolfthal says.
And while having dinner, Antipholus of Syracuse falls for his brother's wife's sister, Luciana (Jules Schrader) .
The other twist is a gold necklace Antipholus of Ephesus has commissioned to give to his wife.
It is delivered when Antipholus of Syracuse is there. He takes it, not knowing what to do with it.
"The goldsmith (Katherine Campbell) seeks payment for the necklace from Antipholus of Ephesus, and he refuses to pay because he never got the necklace," Wolfthal says. "He's thrown in jail."
The Dromios keep getting in trouble for not following orders they were never given.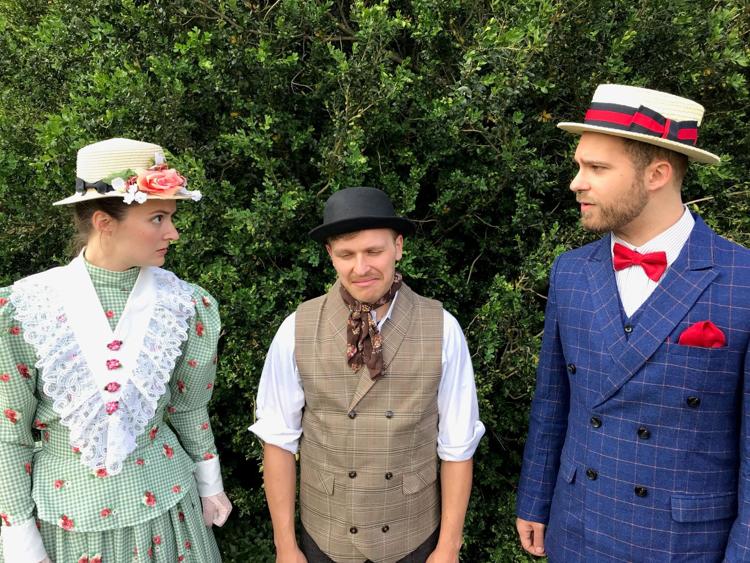 More mix-ups ensue until all is revealed.
We won't explain how it is revealed, but Wolfthal uses the term deus ex machina, which means something is thrown in the mix from nowhere and solves all the problems.
"The show has a lot of fast-paced physical comedy and word play in it," Wolfthal says. And that is what led him to set it in a 1900 vaudeville setting.
"We want to milk the maximum humor out of it," he says. "We are using a lot of slapstick, (and) the actors have leaned into a Three Stooges, Marx Brothers, Laurel and Hardy style."
A foley artist (Phil Rooney) was hired to add sound effects to the action.
Wolfthal is very comfortable with the idea of slapstick. His background is in improv and the Pennsylvania Renaissance Faire.
"It's really in my wheelhouse," he says. "I love that early 1900s Coney Island feel. It really lends itself to the style of comedy on 'Comedy of Errors.' "
Wolfthal is also happy with the new location. For the last few years, People's Shakespeare Project has been presenting plays at Binn's Park.
Unfortunately, the noise level was very high with cars, trucks and motorcycles passing by.
"The play will take place right behind the LancasterHistory building, which faces President Avenue.
"That absorbs any sound from the street," Wolfthal says. "It's nice and grassy and much more secluded."
The show is the shortest comedy Shakespeare ever wrote.
"It's very fast-paced," Wolfthal says. "We will have everything done in 90 minutes flat, with no intermission. You might even be out of there before the sun goes down."¶