Hannah Gore expected the box would be small.
When it arrived in her home outside of Oxford, England, she unpacked 15 ounces of rice, 6 ounces of lentils, a can of kidney beans, a small bottle of oil, 3 ounces of chickpeas and a can of sardines.
This would be her food for a week.
The shock of seeing the little box and the precious few items inside made the ration challenge much more real.
"I have absolutely no idea how people can survive on that week after week," she says.
This week, the week of World Refugee Day, celebrated Thursday, 13,000 people around the country are digging into their own boxes and pledging to eat as a Syrian refugee in Jordan would.
Church World Service, a nonprofit with an office in Lancaster, is administering the first U.S. ration challenge. People like Gore who participate in the challenge will raise money for refugees around the world and start conversations about what has become a divisive topic.
The ration challenge started five years ago after two Australians visited a refugee camp along the Thai-Burmese border. They saw the meager daily rations in the camp and tried living on the same rations for a week.
"If people could understand what refugees were going through, they'd want to do more to help," according to the story behind the challenge. They launched the challenge through their workplace, Act for Peace, an international aid charity. That year, 100 people joined in.
Since then, the challenge has spread to New Zealand and the United Kingdom More than 40,000 people have taken the challenge and raised more than $7 million.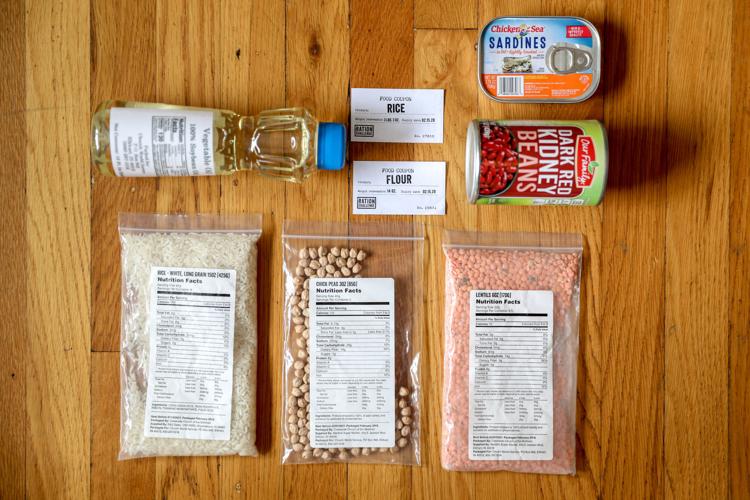 The U.S. challenge starts at a time when more than 70 million people worldwide have been displaced, according to the United Nations High Commissioner for Refugees. There are more people displaced now than there were after World War II.
As Act for Peace expands the challenge into other countries, Church World Service was picked to administer the U.S. challenge. Both groups have worked together in the past, with Act for Peace funding Church World Service programs in Pakistan and Indonesia, says Mary Elizabeth Margolis, director for communications for Church World Service.
"We saw it as a great opportunity to help raise funds and also to raise awareness and build support in the U.S. for refugees, which as we know, is a heated topic right now," she says. "We really want to help bring back the empathy and humanity and the better understanding of who refugees are."
While the challenge raises money for refugees and helps people participating in the challenge empathize with them, it's also a great way to start a conversation about a topic that's become highly politicized.
Margolis says she was eating with friends at the beginning of her challenge week. Her meal of rice was a chance to start a conversation about refugees.
For the U.S. challenge, Church World Service has sent boxes of food from its warehouse in Indiana. Employees are serving as fundraising coaches, sharing tips for meal prep and how to cope with hunger pains. The local offices, such as the one in Lancaster, are busy resettling refugees, Margolis says, and are not being asked to share the work for the challenge.
The rations are similar to the basics of what Syrian refugees living in Jordan receive. Depending on funding and availability, these refugees may receive additional items like tea, coffee, sugar, milk and vegetables. In the challenge, these extras can be earned by meeting donation goals.
The U.S. challenge started Sunday and continues through Saturday. However, people can sign up for the challenge after that. Online fundraising pages will remain open through the end of August, Margolis says.
The nonprofit planned to sign up 6,000 people and hoped to raise $800,000. Before the challenge started, 13,500 people had signed up.
Patrick Walker, a community engagement specialist for Church World Service, regularly works with volunteers who assist refugees resettling in southcentral Pennsylvania. He signed up for the challenge a week early to support people during the challenge and because his wife, Stephanie Robinson, who also participated in the challenge, expected to be deployed as a sign language interpreter through Federal Emergency Management Agency.
Walker, who lives in northern York County, calls himself a bit of a coffee fanatic. Coffee was off limits during the challenge, so he gathered his coffee-making gear, from a grinder to the French press.
"Everything I need to make my coffee takes up more space than the items in the box," he says.
Through the week, he and Robinson started the day with congee, a porridge made from rice.
By the middle of the week, his energy level dropped.
"I went into one meeting and I couldn't find the words," he says. "I felt foggy and unfocused. To have to live with this diet all the time, you could not believe it. As the week went on, you adjust a little bit."
They received enough donations to earn salt and 6 ounces of a vegetable. They picked spinach to add to their rice.
By the time the week was over, they had raised $2,500. The couple celebrated by sharing a hot fudge sundae.
Eating rations showed Walker how much he takes access to food for granted. He realized how easy it is to grab a snack just because it's available.
"That's such an incredible luxury," he says.
While the U.S. challenge is under way, Gore, successfully finished her challenge earlier this month. She answered questions about her experience via Instagram, where she had shared photos of her meals and her hunger.
Gore regularly bakes for a homeless shelter and gives to organizations supporting refugees. She signed up for the challenge to continue her activism and to make it personal.
Through the week, her hunger grew.
"Some days I would wake in the night thinking of food," she wrote.
Despite how hungry she became, Gore was determined not to quit.
"Refugees can't quit the rations so neither would I."