The city of Lancaster has always been a place where citizens have gathered in public spaces for political protest.
The large number of Mennonites here has long contributed to anti-war demonstrations and other political protests here, as has the presence of several colleges in and around the city.
Given that over the past week, protests against police brutality and racism sparked by the death of George Floyd have filled Lan#egpoliticscaster's streets, we thought we would turn to the LNP | LancasterOnline archives to see what the history of protest looked like here.
There have been far too many protests to present anything close to a complete picture - hundreds, if not thousands, of instances. Most were small: Ten or 20 people gathered at Penn Square or the county courthouse to hold signs or candles, calling attention to a particular cause. Some were barely mentioned in the Lancaster papers, with only a couple of paragraphs on an inside page. Others were front-page news.
Ultimately, we chose these three snapshots of Lancaster's protest history because these protests, marches or vigils evoke in some way the current protests inspired by George Floyd's death.
---
April 7, 1968: Remembering MLK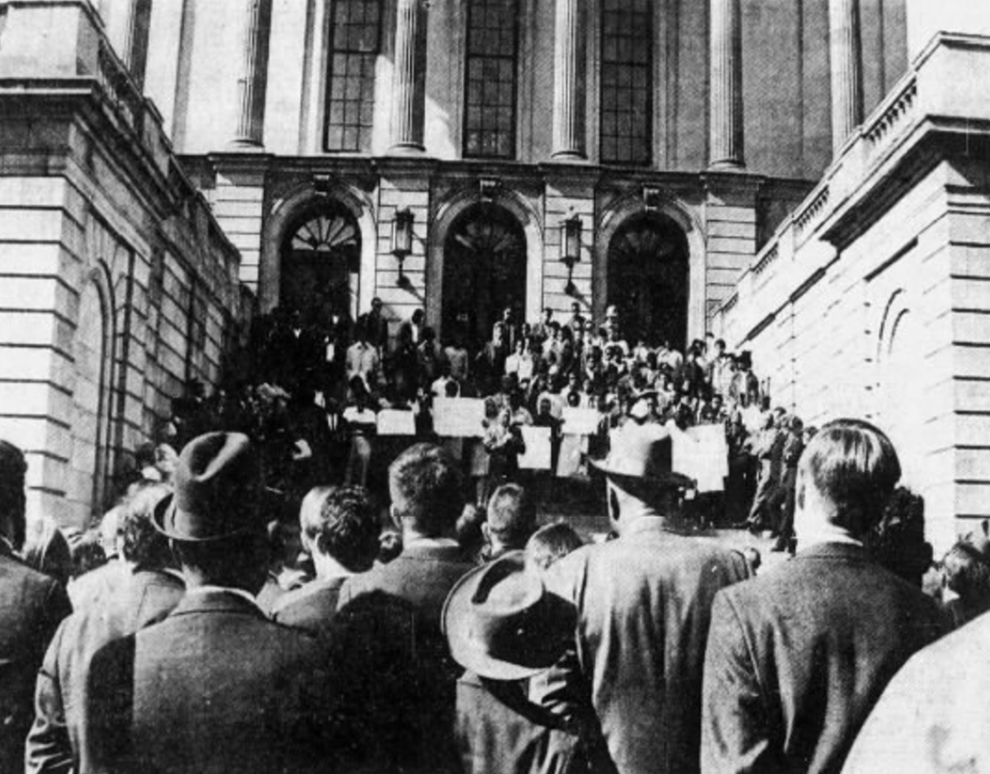 On April 4, 1968, Martin Luther King Jr. was shot and killed as he stood on the balcony of the Lorraine Motel in Memphis, Tennessee.
The murder of the beloved civil rights leader sparked a nationwide outpouring of grief and rage, leading to riots in more than a dozen cities across the United States.
In Lancaster, there were no large-scale riots in the days immediately following King's assassination, though the city's Southeast experienced some minor vandalism as groups of 10 to 20 people gathered here and there before quickly dispersing. Also, Mayor Thomas Monaghan imposed a curfew after someone fired a shot from a sniper rifle at a police officer. (The shooter was quickly apprehended and charged.)
Three days later, a crowd of more than 700 people gathered to pay tribute to King, to mourn his death and to call for change.
A group of about 60 people gathered at the Crispus Attucks Center, then marched to the county courthouse steps, being joined along the way by more and more people. Eventually, the crowd at the courthouse numbered more than 700.
The Rev. Ernest E. Christian was the final speaker at the event, which served as a combination memorial service and civil rights rally.
"You have shot Martin Luther King," Christian said, speaking to a crowd of predominantly white faces, "and there will be another Martin Luther King, and you may shoot him. But there will be 13 million more Martin Luther Kings coming."
With that, the crowd burst into applause.
---
Oct. 15, 1969: Moratorium Day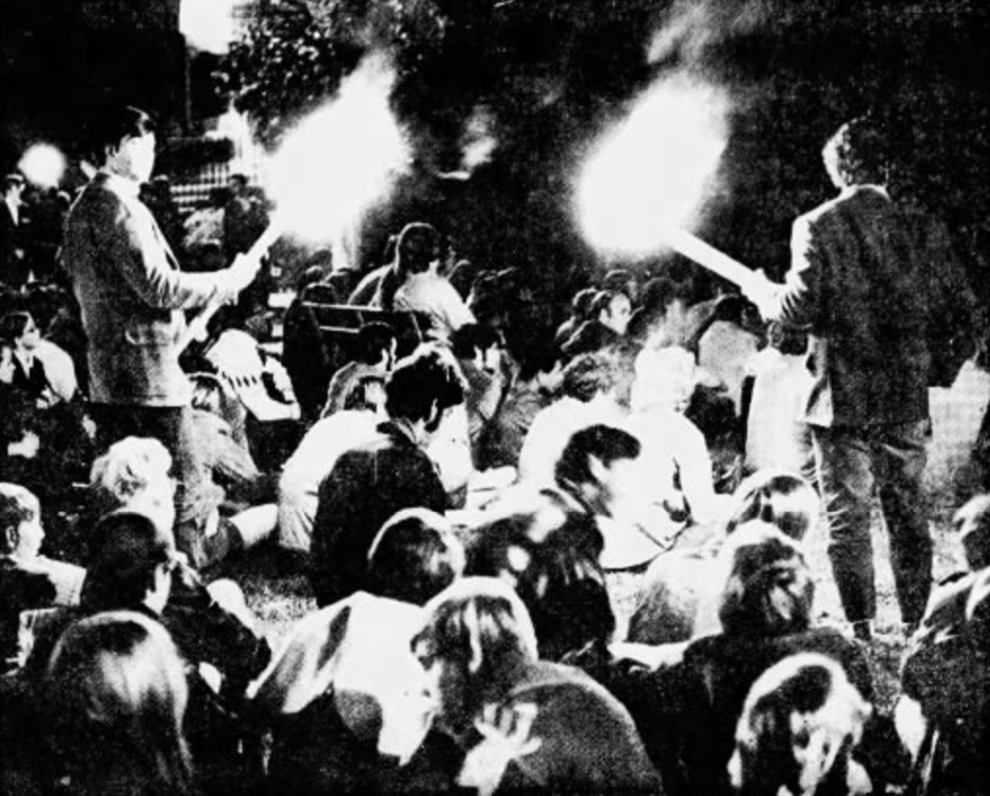 In the days before social media and 24-hour-a-day cable news, organizing a nationwide protest action was considerably more difficult.
But it was still possible, as the anti-Vietnam War "Moratorium Day" proved.
Protests against U.S. involvement in the conflict in Vietnam had been commonplace in Lancaster throughout the mid- to late 1960s. Penn Square and the courthouse steps were typical places for groups of up to a couple dozen people to gather, holding signs or candles in mostly silent protest.
(In April 1966, there were even "dueling demonstrations" regarding the war. An anti-war protest organized by Franklin & Marshall College's Students for a Democratic Society was accosted by a group of counter-protestors who threw eggs, started fist fights and tried to run protestors down with cars. Hours later, a much larger protest of more than 100 people gathered to decry the violent response and call for fee speech.)
But Moratorium Day was the largest protest the city - or the country - had seen. 
Led by local colleges, the effort featured college students and faculty, high school students and other members of the community participating in torchlit vigils, marches, special church services, picketing and leafleting efforts throughout the county.
More than 2,000 people participated in Moratorium Day across the county and the event was peaceful, with no arrests or police incidents reported.
A month later, the nationwide Moratorium Day efforts to end U.S. involvement in Vietnam increased in scope, with a march on Washington D.C. that drew half a million people.
---
May 3, 1992: Rodney King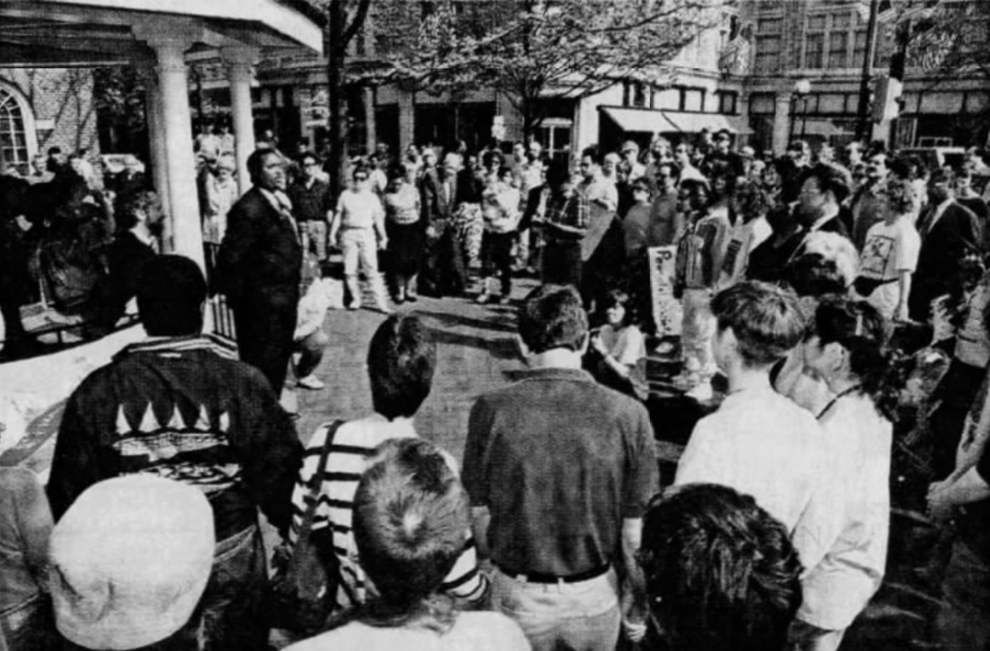 Police brutality and its intersection with racial issues have been protested in Lancaster County before - most notably, in the wake of the verdict in the Rodney King case.
King had been beaten by several police officers during an arrest in Los Angeles on March 3, 1991. Unbeknownst to the officers, a civilian bystander recorded the incident on a camcorder, and when the footage was released, public outrage ensued and the officers were with assault and use of excessive force.
When they were acquitted after a jury trial on April 29, 1992, Los Angeles erupted into six days of rioting that ultimately spread to other large cities around the country. 
No rioting occurred in Lancaster, but a crowd of several hundred people gathered on May 3 to condemn the verdict and to stand against racism.
Speaking to the gathered crowd, the Rev. Harvey H.B. Speakman III, president of the local NAACP and pastor of Bethel AME Church, expressed outrage at both the verdict and the subsequent uprising.
"I am appalled at the outcome (of the trial) and I am appalled at the riots," he said.
He also urged the crowd to take the spirit of the protest back into their church and communities.
"You can pull a nation together only when you can pull neighborhoods together. But each community has to get its own act together first. Prejudice starts at home."