When the school day ends, Trevor Barrett's work has just begun.
After homework and dinner, Trevor descends the stairs to the basement in his family's Millersville home. What once was a home theater is now a chic cosmetic-lover's oasis, both Trevor's office and playground.
White dressers line the walls, and each slender drawer reveals an array of organized products, from foundations to eyeshadow palettes and lipsticks. Personalized notes from the world's top cosmetic brands are pinned to a corkboard above a white leather couch.
A glass desk at the back of the room is where he gets to work. There, Trevor meticulously applies product after product until he has completely transformed himself. His finished looks range from classic beauty with a dark edge to special effects straight out of a professional horror production.
He shares the transformations on his Instagram page with his more than 470,000 followers.
Not bad for a 16-year-old high school student.
Since starting his Instagram page in 2017, Trevor has jump-started his career as a makeup artist and social media influencer. The Penn Manor High School junior hopes to one day use his platform to encourage other men to experiment with makeup if they're feeling curious. And he has dreams of launching his own line of cosmetics.
He also wants to spread a message of self-acceptance by sharing how makeup helped him find his own confidence.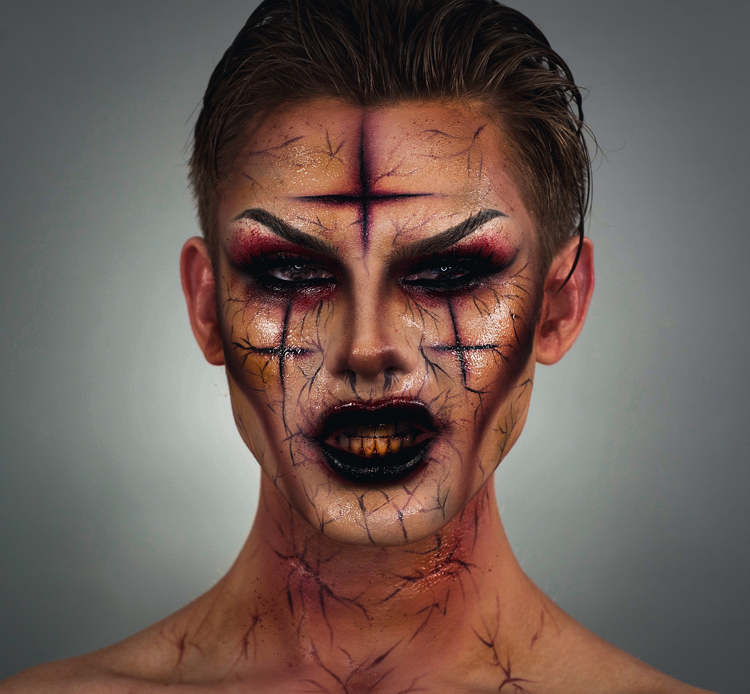 Getting started
At first, Trevor was nervous to share his curiosity about makeup with his family. But his mom, Dianna Barrett, already had a hunch he might be interested.
One day, Trevor's mom took his younger brother to swim practice. While home alone, Trevor wandered up to his mother's vanity, using the few moments of privacy to check out her makeup collection.
Then, suddenly he wasn't alone anymore. His mom ran home unexpectedly for something she forgot and caught Trevor at her vanity. He remembers being "petrified."
Luckily, he had little reason to be. His mom wasn't angry.
"I didn't want him to be ashamed of it or hide it from us," she says.
So, she found her copy of a book by the late makeup artist Kevyn Aucoin to give to her son.
"It was my way of telling Trevor, 'Hey, if you're interested in this, you should pursue it,' " she says.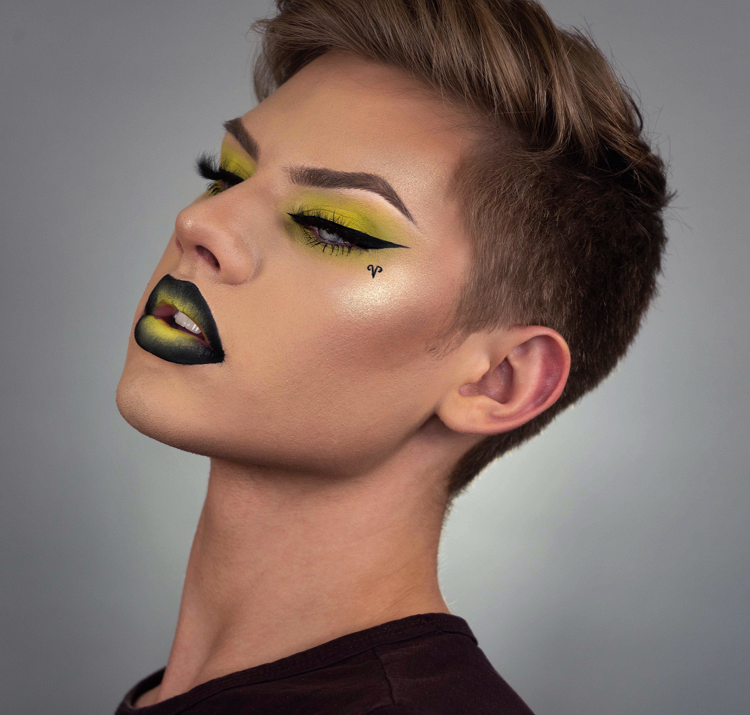 Shortly after, Trevor used makeup as a tool in the favorite pastime of older siblings everywhere: Scaring his younger brother.
He raided his mom's makeup stash for the prank, layering on her darkest shades of eyeshadow and eyeliner to create a half-skeleton, half-clown look.
Makeup became an extension of his existing artistic inclinations. He took art classes at Pennsylvania College of Art and Design and has been drawing and painting for as long as he can remember.
"I really enjoyed it, but I wasn't fantastic at it," Trevor says. "Then I kind of found makeup, and that became my medium."
His initial video searches for special effects makeup tutorials led him to more traditional beauty tutorials. He's still interested in both styles, as evident by his Instagram, where jaw-dropping horror looks are beside red carpet-ready glam shots.
Even in the traditional beauty looks, Trevor creates have a bit of a darker edge. He says he's inspired by the fashion-forward, chameleon-like nature of Lady Gaga.
"Makeup is so transformative," Trevor says. "It's like your face is your canvas, and it's all about expression."
Confidence boost
Makeup was more than just an artistic outlet for Trevor. He says elementary school and middle school were difficult times for him, as he was self-conscious of his weight. He also felt the need to "tone down" elements of his personality.
Trevor loved how makeup could make him look older, and even thinner with the help of contouring — a technique using lighter and darker shades to create a sculpted appearance.
"It made me feel more put-together," Trevor says. "It also made me feel a little bit more myself."
Still, he hesitated in sharing his new interest with his peers.
He was outed in ninth grade, meaning someone told classmates he was gay before he could himself. He wondered how his classmates would react if they found out he was interested in makeup, too.
As Trevor's interest grew, he started to tell his close friends, who encouraged him to share his work on an Instagram page. He started his account — @trevor.j.barrett — in summer 2017. That fall, he did his classmates' makeup for the homecoming dance.
He doesn't wear dramatic makeup to school. What teen has 90 minutes to kill in the morning when most of them can barely beat the homeroom bell? He prefers to save his head-turning looks for Instagram and nonschool outings.
"I'm either wearing nothing at all or just really natural makeup," Trevor says. "It's just not really the best place to do it. Obviously, my high school is more conservative, so it's a bit more tricky to get over that."
Professional upgrades
Trevor filmed his first Instagram posts by balancing his iPhone on a stack of books in his bedroom. As his audience grew, his parents granted him permission to move his operation to the basement.
His professional-grade setup includes a ring light, two spotlights, a backlight and an interchangeable backdrop. He films with a Sony A73 camera with an attached monitor so he can see what he's doing.
Each makeup look he posts on Instagram takes about 90 minutes. Editing the footage and photographs, which he taught himself how to do, takes another 90 minutes. And now that he's working with brands, he's required to post at least three times a week.
There's real money to be made in the world of influencer stardom. Joe Gagliese, cofounder of influencer agency Viral Nation, told Vox that influencer income varies greatly depending on the number of followers. He estimates that some influencers earn $30,000 to $100,000 annually, with celebrity influencers earning even more.
Colourpop, Elf Cosmetics, Urban Decay, Lime Crime and Boxycharm are among the companies with which Barrett has recently collaborated. Barrett is paid for posts in which he uses certain products, and per Instagram's rules, labels them as advertisements with a hashtag.
As his audience grew, other influencers started to take notice. He notes Patrick Starrr and Henry Vasquez of Hank & Henry Beauty as two early supporters. Trevor asked to speak with Vasquez for advice. During the call, Trevor says, Vasquez voiced his support and said that he believed Trevor could pursue makeup professionally.
"It was really everything to me at the time," Trevor says. "I was so excited about it. I thought, "Wow, maybe I can actually make something of this.' "
He now has a manager who specializes in working with social media influencers, who helps him connect with brands and grow his audience.
Beauty trips
Last summer, Trevor attended Beautycon LA, a cosmetics industry convention. There, he met other influencers, filmed a video with popular brand Anastasia Beverly Hills and attended meetings with prospective collaborators. Since he's still a minor, his mom joined him.
"It was really exciting to see other people wearing makeup because obviously around here, and even in New York City, there's not many men in makeup," Trevor says.
He did his part to change that when he attended New York Fashion Week in January.
"It was a great experience and definitely kind of brought on a new love for fashion that I didn't have before," Trevor says.
Trevor dreams of launching his own product line one day with a focus on men's cosmetics. If that plan doesn't work out, he'd like to work in social media marketing. As of now, he plans to focus on furthering his career after he graduates from Penn Manor. While he loves New York City, he enjoys the tranquility of Lancaster County and hopes to move to Lancaster city one day.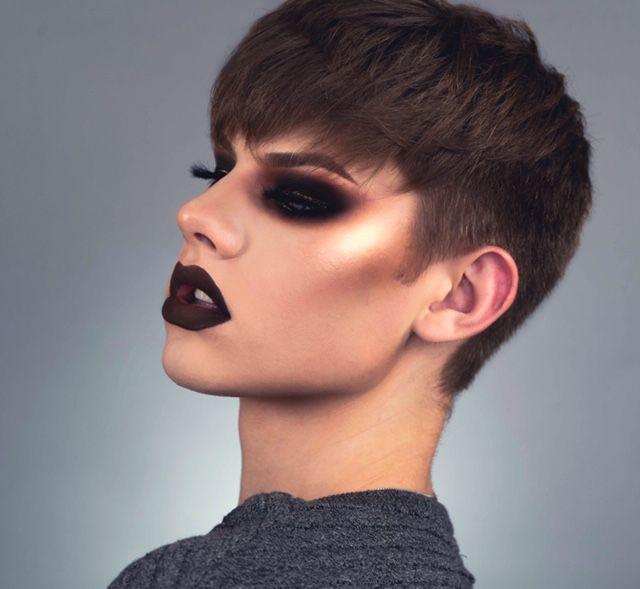 Makeup with a message
As Trevor's platform continues to grow, he's become more intentional with the messages he wants to share with his followers.
For one, he prides himself on being transparent and emphasizes that the finished, picture-perfect looks are fun to create but they aren't reality. He's open with his own struggles with acne and is honest about the fact that his smooth skin isn't from any particular product, but from prescription medication provided under a doctor's care.
Just two years ago, he was a follower, not a content creator. So, he knows how impressionable teens can be, especially when they're scrolling through polished posts from someone who feels like a friend.
"There's so much Photoshop, undisclosed surgeries, operations, things like that," Trevor says. "It's amazing what other illusions they can really pull off. And then we see that and we think, 'Why don't I look like that?' "
He plans to continue the transparency when he starts a YouTube channel in the coming months.
"I want to make a difference that way," Trevor says. "I want to make social media a happier and better place overall."