If you needed a special reason to visit Longwood Gardens, you've got it.
Longwood hosts the most significant fountain collection in North America, and Thursday is the day they turn on the water.
The Festival of Fountains season, which continues through Sept. 29, features lively fountain performances and an array of family-centered entertainment, all with a backdrop of unfolding horticultural beauty.
The main fountain garden is hosting new 5-minute shows at 6:15 and 8:15 p.m. May through August.
And its evening illuminated shows, held Thursdays to Saturdays at 9:15 p.m., have a variety of themes, including the British Invasion; a Night at the Movies II; an Ode to Broadway; Bailando: Latin Rhythms; a tribute to Mozart's genius; and Straight Up Country.
In addition, the Italian water garden and open air theatre fountains perform daily.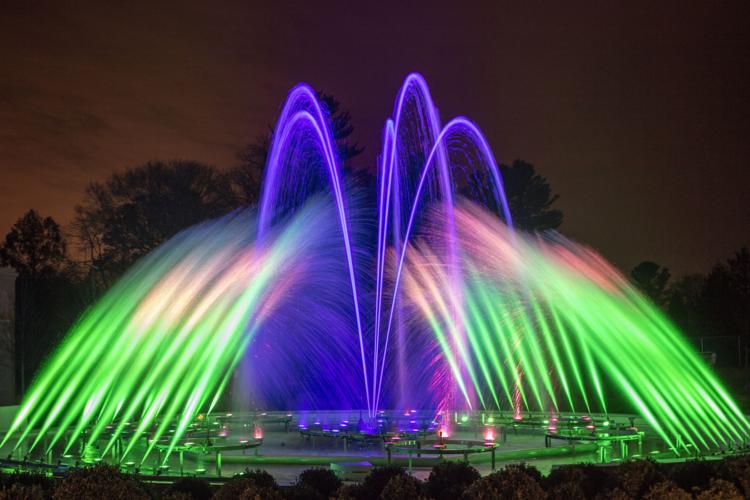 Throughout the summer, the gardens hold special events like Festive Fridays, diverse, family-centered programs with themes like Art in the Gardens (plein air painters), Wish Upon a Star (Disney), Brews & Bands and several more.
Longwood's popular Fireworks & Fountains shows combine fountains and fireworks choreographed to music. They are held throughout the season with various themes.
The include: To Philly With Love, May 26; Star Spangled Spectacular, July 3; The Piano Men, July 20; Swan Lake, Aug. 10; Night at the Movies II, Sept. 1; and Queens of Soul, Sept. 28.
Separate tickets are required for these shows, and early reservations are advised. They sell out quickly.
Finally, Longwood hosts a series of summer concerts in its open air theatre. Performs slated this year include actor and singer Leslie Odom, Jr., June 23, and Rosanne Cash, June 30.
Longwood Gardens, in Kennett Square, is open Sunday-Wednesday from 9 a.m.-6 p.m. and Thursday-Saturday from 9 a.m.-10 p.m. Admission is by timed ticket - $23 adults, $20 seniors and students, $12 children 5-18 and free for kids 4 and under.
For details, visit longwoodgardens.org.