As part of a weeks-long publicity blitz for the Disney film "Frozen 2," Ronks native Jonathan Groff dressed as his animated character, Kristoff the mountain man, for a viral video skit that aired Wednesday night on "The Late Late Show with James Corden."
"Crosswalk the Musical: Frozen 2," is one in a series of skits Cordon creates for his show, in which celebrities perform musical numbers in front of stopped traffic in a busy intersection in Los Angeles — with costumes, and sets that must be moved out of the intersection quickly when the stoplight turns green.
Groff, Josh Gad, Idina Menzel and Kristen Bell dressed in the costumes of their major "Frozen" characters, with Groff donning a blonde wig and Kristoff's mountain-man togs.
You can watch the skit here:
Groff, a Ronks native and Conestoga Valley High School graduate, is scheduled to appear on the morning news and entertainment show, "Good Morning America" on Friday morning, Nov. 22.
"Good Morning America" airs at 7 a.m. Friday on ABC affiliates.
Wednesday night, Groff appeared on on NBC's "Late Night with Seth Meyers," on which he talked about singing backup beside Menzel on a rocked-up rendition of the "Frozen" anthem "Let It Go" in the wee hours at a London gay club. 
Groff joined Menzel and fellow Gad, who voices Olaf the snowman in the "Frozen," in singing the song before a huge crowd in the club following the European premiere of "Frozen 2."
He also told Meyers about how much bigger the red carpet experience has been this month surrounding the "Frozen 2" sequel premieres, compared with those of the 2013 original animated film. 
"When we did the red carpet for the first movie, it was very small and intimate," Groff said. "And then, this time, there were Elsas and Annas and people dressed up, and in London, there were actually two live reindeer" at the European premiere.
 You can watch Groff's appearance with Meyers here:
"Frozen 2," the sequel to the wildly successful, Academy Award-winning "Frozen" film from 2013, opens Thursday evening, Nov. 21, in local movie theaters.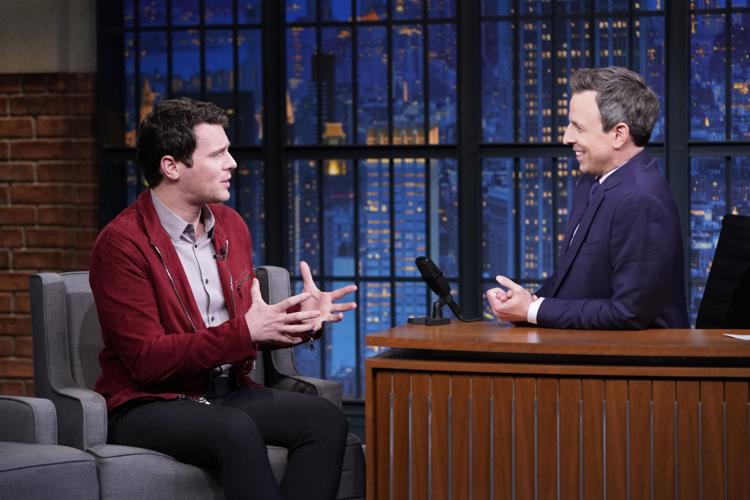 "Lost in the Woods," the 1980s-style ballad that Groff sings in the new movie, continues to get positive attention in movie reviews and articles in such publications as Vanity Fair.
Groff, who also stars in the Netflix FBI drama "Mindhunter," returned this week to his starring role of Seymour in the off-Broadway revival of the musical "Little Shop of Horrors" Tuesday after his two-week hiatus while doing publicity for "Frozen 2."
Groff, 34, performed in local theater before heading to Broadway — which has honored him with two Tony Award nominations, for "Spring Awakening" and "Hamilton."
He co-starred in the series "Looking" on HBO, had a recurring role on Fox TV's "Glee" and has appeared in such films as "Taking Woodstock," "The Conspirator" and "American Sniper."