A rematch is set Monday night between "Jeopardy!" superstars Ken Jennings and Lancaster native Brad Rutter — plus seven other players.
Rutter, Jennings and fellow "Jeopardy!" champion Colby Burnett are the team captains for the final match of the "Jeopardy!" All-Star Games, to be broadcast Monday and Tuesday.
The team helmed by Rutter, a graduate of Manheim Township High School, was the first to win a spot in the final of the All-Star Games almost two weeks ago. His teammates are "Jeopardy!" champs Larissa Kelly and David Madden.
Rutter is the top money winner of all time on the venerable game show. The "Jeopardy!" website lists his total winnings from the show's various games and tournaments at $4,385,702.
The All-Star team captained by Jennings, an author and columnist who holds the record for the most consecutive games won on "Jeopardy!," was the second to take a slot in the finals. A wild-card tournament late last week made the team headed by Colby Burnett the final team in the finals.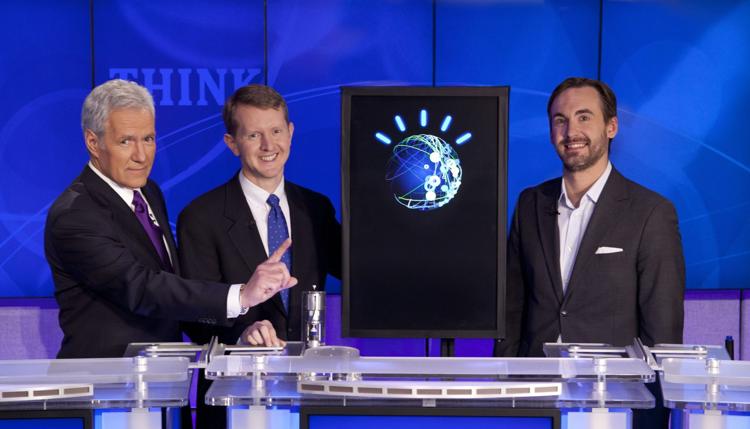 The All-Star Games are the TV quiz show's first-ever team championship, pitting three-person teams of top players against each other. Each match consists of two games, with the win going to the team with the highest two-game dollar total. Each of the nine players involved in the final match will compete in just one round of each game — Jeopardy!, Double Jeopardy! or Final Jeopardy!
So, it's not guaranteed that Rutter and Jennings will directly face off against each other, like they have previously in the Ultimate Tournament of Champions and Battle of the Decades. Rutter defeated Jennings in both those tournaments.
The two men also played against each other and IBM's Watson computer in 2011, a match that Watson won. Rutter donated part of his winnings to the Lancaster County Community Foundation for library technology improvements.
The winning team, which will split $1 million, will be the team with the highest dollar total  
Rutter is the top money winner of all time on the venerable game show. The "Jeopardy!" website lists his total winnings — from his initial win in 2000 through several tournaments — at $4,385,702.
Rutter, 41, lives in California's Hollywood hills and produces short films and comedy pilots.
Rutter has supported library programs in Lancaster County, and has come back to Lancaster County to appear in fundraising events.
"Jeopardy!" airs at 7 p.m. on WPVI, Philadelphia channel 6, and at 7:30 on WHP, CBS 21, Harrisburg. Check your local television provider for channel listings.