Jenny Germann paints her adopted hometown of Lancaster with colors as warm as her considerable affection for the city.
Whether she's focusing on freshly ground spices at a Central Market stand or the bricks of a downtown restaurant, the colors almost vibrate with life.
And the fact that Germann's works are woodburned paintings brings them a depth that seems particularly fitting.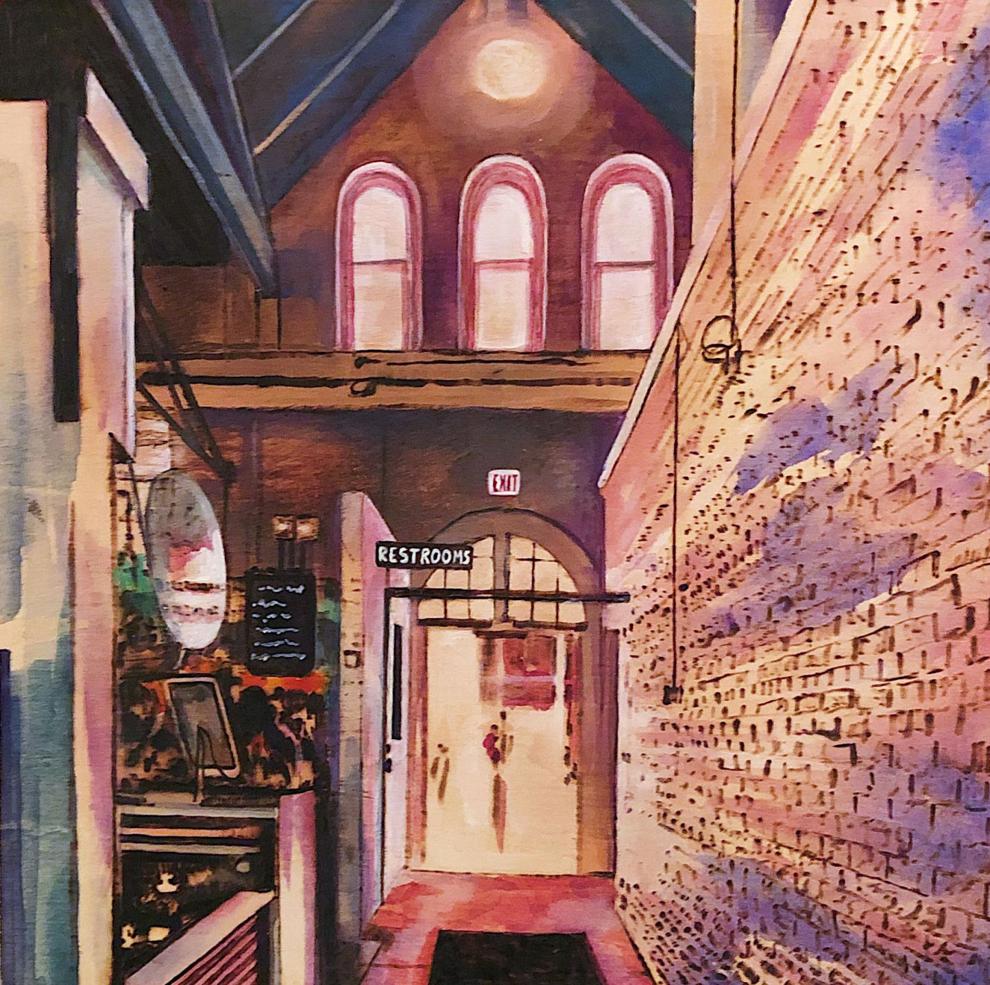 Her exhibit, "Comings and Goings,'' opens Friday at Red Raven Art Company.
"This is a body of work that is most consistent with how I view this area,'' Germann says. "I love this place so much. There are so many great moments in our city and county — the color is a great way to represent that.''
Germann was born in Kansas and lived much of her adolescent life in Texas.
Just as she was headed to college, her parents moved to Lancaster so her dad could take a job here. After graduating, she followed with her husband, woodworker/cabinetmaker Evan Germann.
The couple now lives in the city's west end.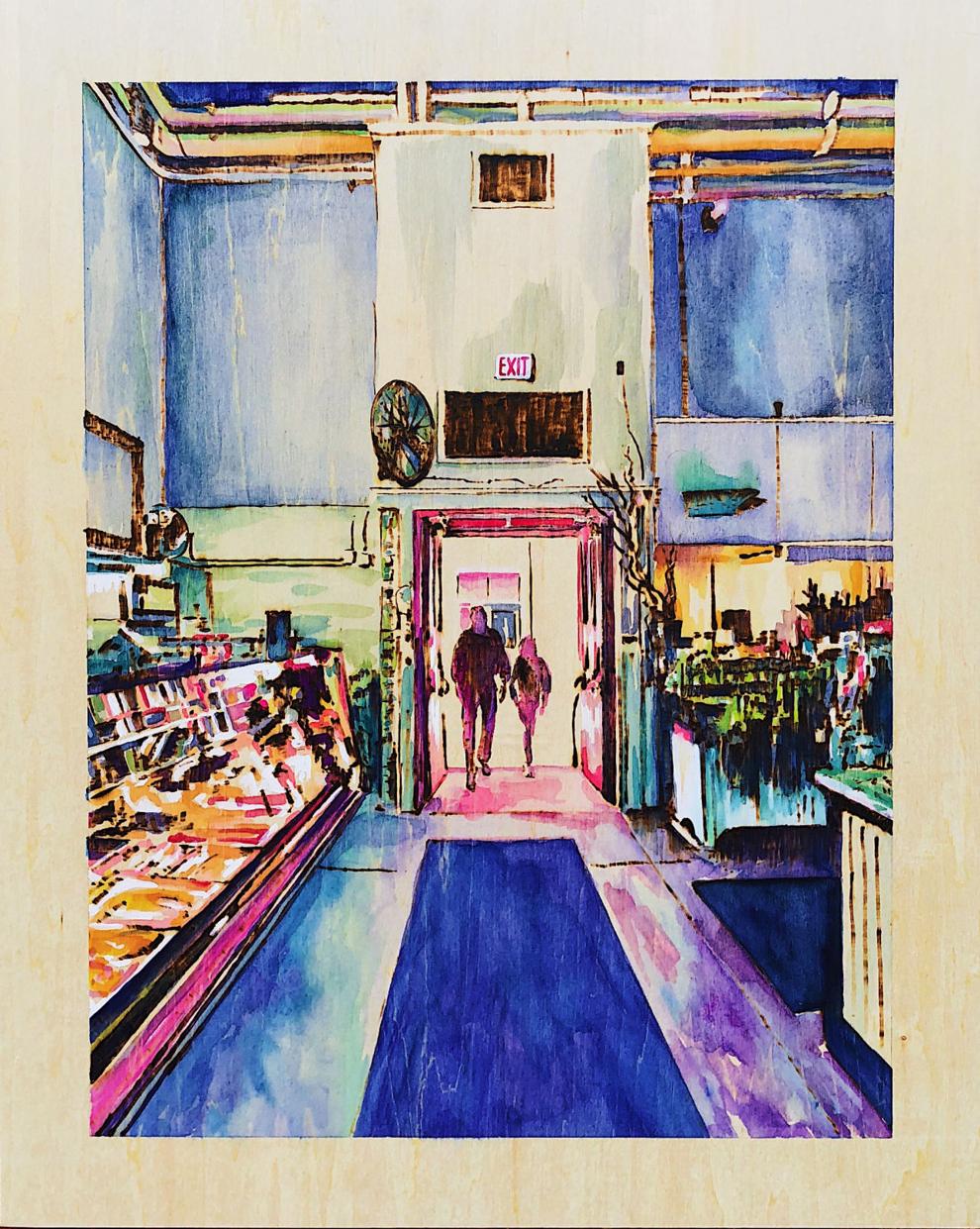 Ironically through a number of circumstances, her entire family (siblings too) now lives in Lancaster.
"All of them migrated out here,'' she says.
"It's been really special. We haven't all been in the same place since high school. It's nice to build a life out of choice and intention."
Paying homage to her city through her art is as natural as taking a daily walk. She simply chronicles what she sees.
"Art is about observation and daily experience,'' Germann says. "I wanted to document my life. It's the way I feel comfortable expressing my own experience. I wander around. I take pictures of what is striking to me, what makes me feel something.''
In her living room studio space, the artist begins the process of interpreting those images, and she uses a variety of tools to that end.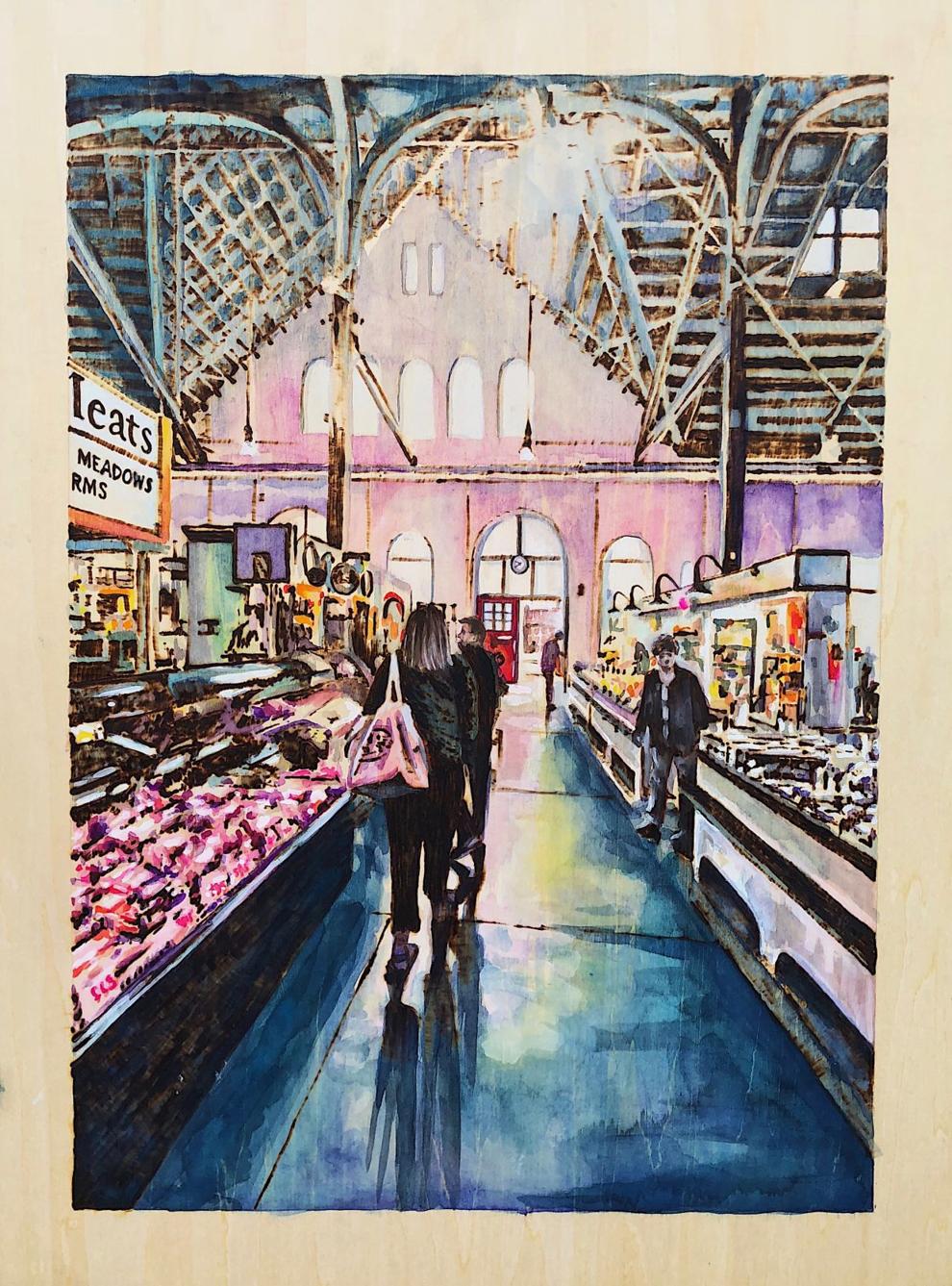 It begins with wood — basswood or birchwood panels of various sizes. She burns the images onto the wood with a variety of tools, and then paints them with gouache, which she likens to a mix between watercolor and acrylic.
She's relatively new to the method, having always used watercolors on wood panels in the past.
"(Gouache) has more consistency to it, it lays on top of the wood,'' she says, allowing the colors to pop.
"It feels like more of a representation of who I am.''
Interestingly, Germann didn't start out as a woodburning artist, nor was her medium of choice watercolors or gouache.
After graduating with a bachelor's in fine arts from the University of Kansas, Germann's preferred medium was oils.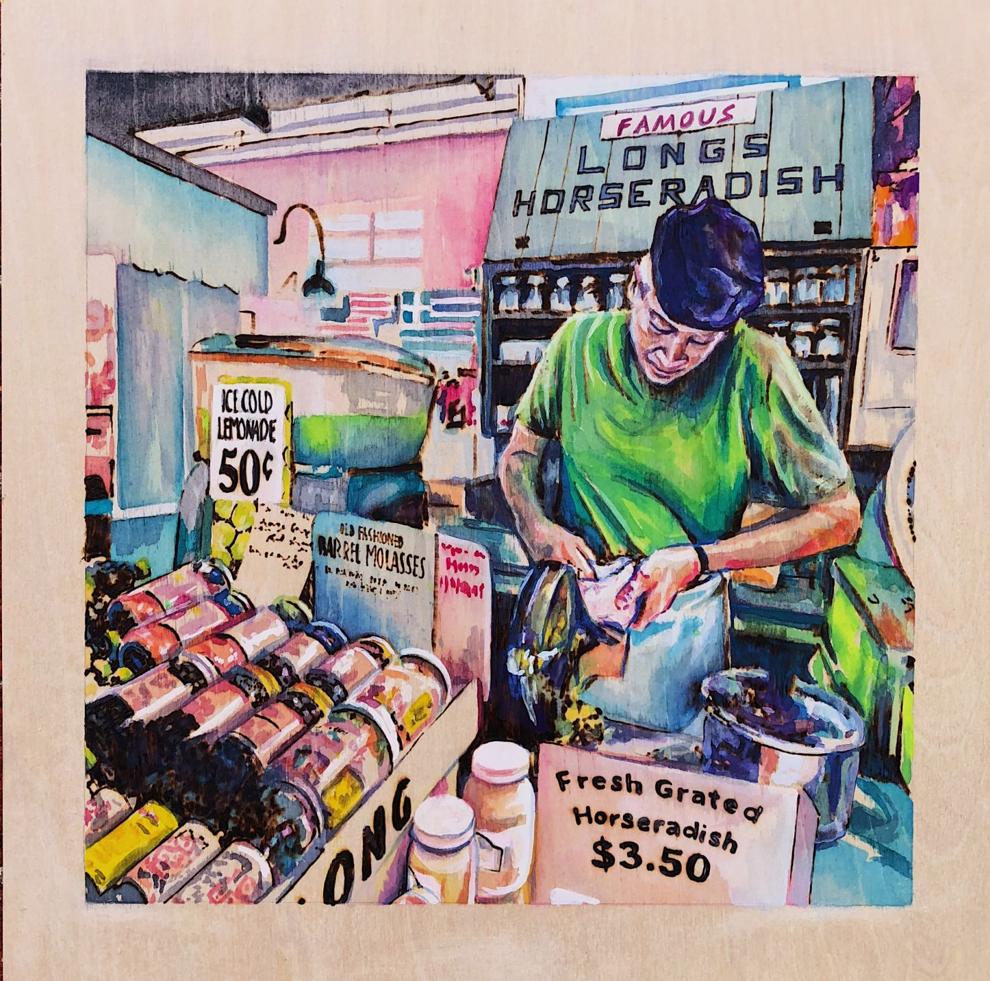 But necessity, as they say, is the mother of invention.
"My husband is a woodworker,'' Germann says. "He always had wood scraps around and because we were basically broke I started utilizing that. Watercolors seemed to respond the best to wood. It brought out the grain."
Later she started "testing out'' a blow torch in her dad's garage and began experimenting with heat on the wood.
From that initial experimentation, Germann began forming her techniques.
"I have quite a few different techniques to achieve different results,'' she says.
Woodburning pens and torches form the bulk of her tools, but she's begun experimenting with ammonium chloride, as well, a compound which creates a chemical burn in the wood.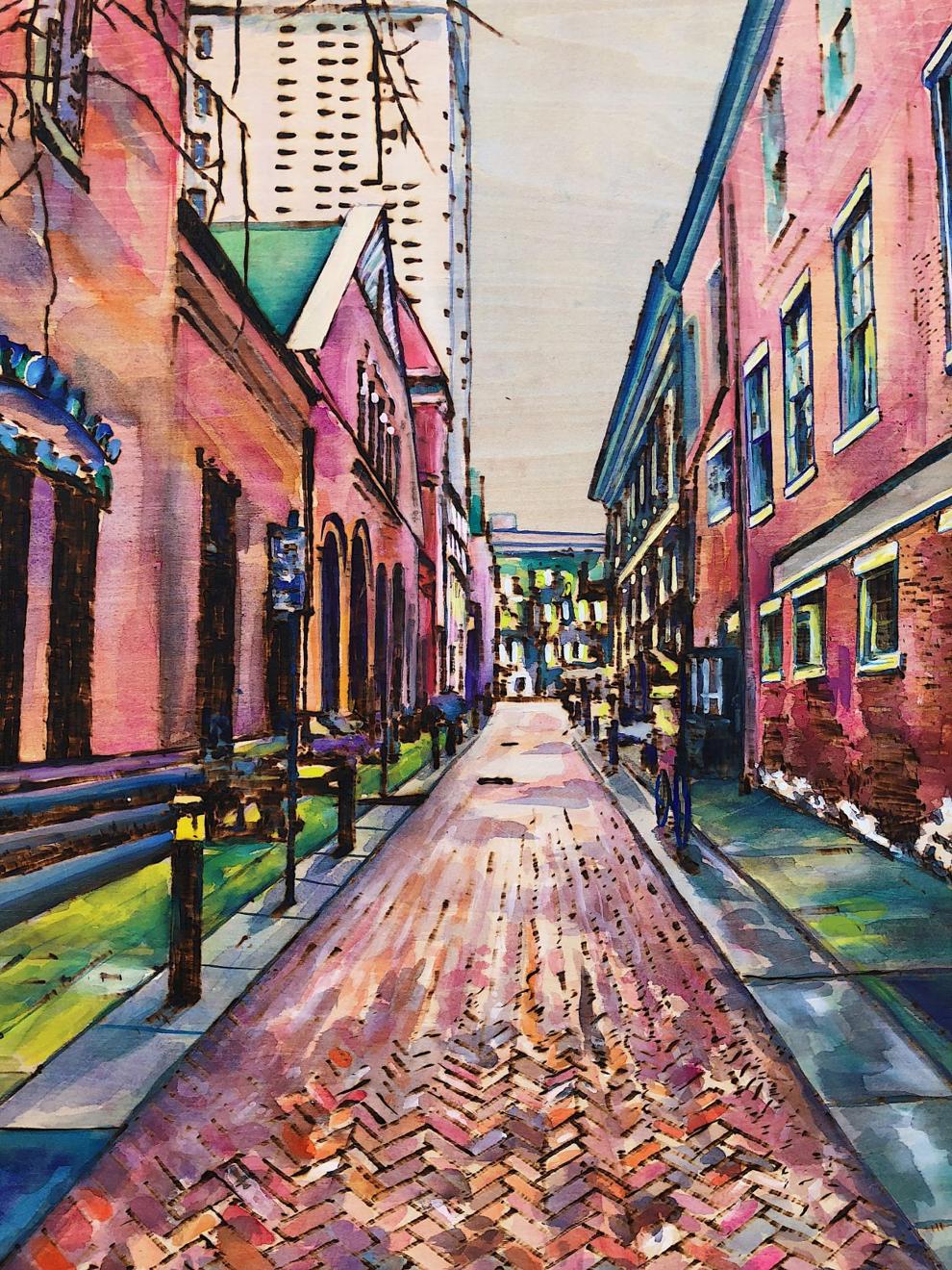 Her works range in size from a modest 12 by 12 inches to a substantial 28 by 40, and can take anywhere from eight to 40 hours to complete.
But for Germann, whose "day job" is executive director of the Manheim Township Educational Foundation, the work is a labor of love.
It's also an artistic chronicle of the city she's adopted as her own.
Back when Germann graduated from college about a decade ago, she and her now husband had planned to save their money and move to Chicago.
The couple moved in with her parents in Lancaster to help meet that goal.
But goals change.
"We were going to move to Chicago, but we fell in love with the area, the people, the culture, and we decided this is where we wanted to make our home.
"It's like the hometown that you choose rather than one you were born into. I'm here because I want to be."