Rodney Nell knew the house he bought at auction was built in the 1780s. He knew he was the first person outside of just one other family to own the log cabin home in Maytown. And he knew it was a fixer-upper. Standing in the kitchen one day, however, he had his doubts. "When I started tearing the plaster down," Nell says. "You could actually see the light coming through the side." He wondered whether he was in over his head.
"Don't worry about it," his father, Skip, said. "We'll fix it."
It took about seven years of time scraped together after work and on weekends, but Rodney, his father and his grandfather fixed his house, all 2,800 square feet of it. They had some help from professionals, but the three generations know this house down to the hardware they wire brushed, the floors they sanded by hand and the windows they pieced together.
Their work isn't a family secret. Historic Preservation Trust of Lancaster County thanked the family for their preservation work with a C. Emlen Urban award in the fall. The board recognized the Nells' work in Maytown, including Rodney's brother Ryan's nearby home project. These renovations are perfectly aligned with the sustainability award, says Kristi Stoehr, trust marketing and events manager.
Many people spend their free time doing anything other than hand digging a crawl space under that kitchen. But the Nells have a different perspective.
"It's a hobby," says Rodney's grandfather, Gordy.
---
Finding the house
The house on West High Street was vacant for more than a year, but the Nells saw potential. From their work with Maytown Historical Society, they knew it was one of the town's log homes and the property had been in the Beshler family since 1769.
So they went to the auction. Rodney made his father bid because he was "a bag of nerves." Soon, he was a homeowner at age 23. He bought the ¾-acre property for $150,000 in 2007. They started working outside.
The exterior didn't look too bad for a home built more than 200 years ago. Yet the paint on the wood siding was flaking. He, Skip, Gordy, plus his mother, Tina, stripped the paint by hand with heat guns, a process that took about two years. Using a blowtorch would have been faster, but they didn't want to risk setting the old dry wood on fire.
It took time, but removing those layers of paint revealed beading in the siding and exterior windows. They repainted the house yellow, as it was before, and changed the shutters from green to gray.
---
Original elements
The trio aimed to find original elements in a house that had changed through the years. When possible, they kept original wood and hardware. They proudly point out the original trim they reinstalled throughout the house.
"We actually had ...," Skip says.
"... the blades made," Gordy says.
"... so we could match the trim," Rodney finishes.
If they can finish each others sentences, they clearly worked well together.
Rodney is now 35. Skip is 61, Gordy is 81 and both live nearby. When they started this renovation, Rodney was working a full-time job and a part-time job. Skip also had a job and Gordy was retired. They made time for the house after work many days and on weekends. It was a family project, a construction project and a history project.
Gordy noticed one of the windows in the house was a six-pane over six. He took on the project of replacing the two-over-two windows. He found dozens of panes of vintage glass in the area. He found grill pieces from buildings as they were tore down. Together these pieces made new — yet old — windows.
He also made the glass above the double front doors a priority. The doors were topped with rectangles of pink stained glass. However, research pointed to a time when four squares of bulls-eye glass hung over each door.
They found someone local who had a few bulls-eye glass pieces from years ago but not eight. Gordy found an alternative when he tracked down a company that made reproductions.
---
Calling in help
While the house had no foundation problems, the Nells discovered a few rotted logs. Rodney hired Sload Brothers Carpentry, of Marietta, to replace the rotted logs.
Most of the work was done by the three handymen. They also had help removing paint on the tallest parts of the building and hired others to handle the plumbing upgrades (Mohr Plumbing, Bainbridge) and overhaul the knob-and-tube electrical system (Hawthorne Electric, Elizabethtown).
That still left plenty of work.
Much of the four additions to the home, built in the mid-1800s and later, had significant water damage. Those rooms were gutted and rebuilt.
In the original four rooms, the Nells removed wallpaper from the walls and the ceiling. A lot of plaster came down as well. They hired The Drywall Doctor in Lancaster to transform the rooms with a skim coat over mesh fabric.
Refinishing the floors also was a slow project. The floors in some rooms are yellow pine, too soft to use a drum sander. Once the shag carpet was removed, Rodney and Tina used hand sanders and block sanders on the wood floors and ripped up old linoleum.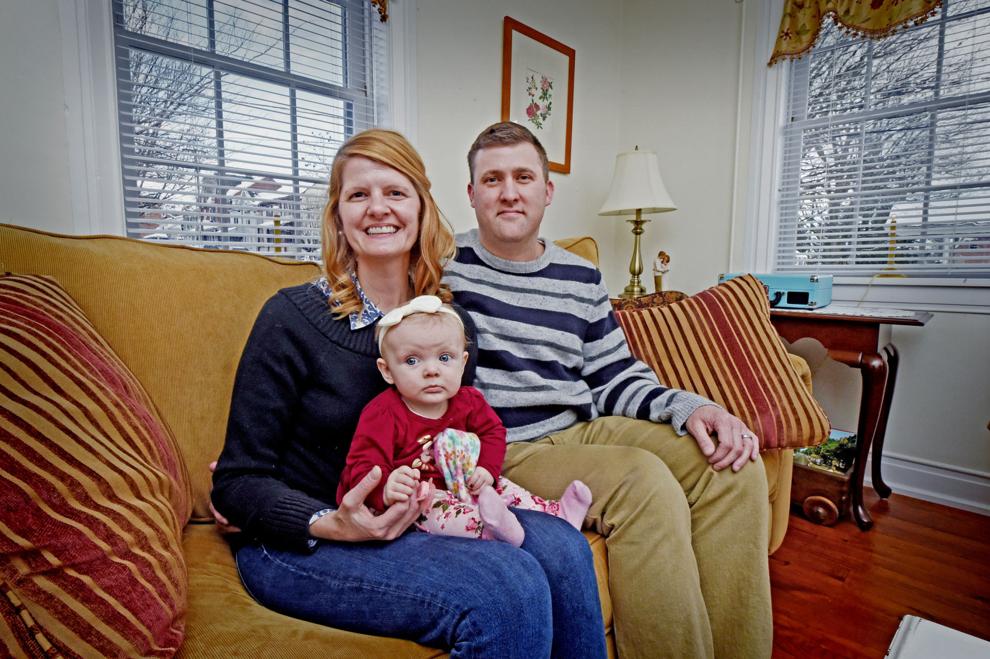 And that kitchen with the light shining through the plaster?
They gutted the room. Under foot, they realized the floor boards were sitting on dirt. So they dug out a crawl space, bucket by bucket.
Then, they removed 1950s-era metal cabinets and a single-bowl porcelain sink.
The kitchen is one of Rodney's favorite rooms because that's where he could use his skills as a CAD draftsman and lay out the space.
Through all of this, Rodney was still living at home. He was able to move into his home in 2012, and he hosted his wedding reception in the back yard in 2018.
---
A family home
His wife, Jen, 37, loves the details in the house, many of which were built or brought back by her in-laws. She's impressed by their patience, especially in such a fast-paced world of instant gratification.
"It's really remarkable how long it took them to do this work," she says. "I can appreciate that."
There have been plenty of surprises in this house. Upstairs, during demolition, they discovered brick behind a wall. A chimney, they guessed. Then, brick was uncovered on the other side of the room. That's when they realized the log house was 1 ½ stories with a brick addition on top.
They exposed the brick in what is now 7-month-old Jane's playroom.
"Rather than cover it back up, it really tells you the story of the house," Rodney says.
Overhead is the work of Jane's grandfather and great-grandfather. The ceiling of the room had sagged a few inches due to water damage. Skip and Gordy jacked the ceiling up and added a beam, reclaimed, of course, and sourced from Sylvan Brandt.
These renovations combined cost about $75,000 to $100,000, Rodney says. The house now tells more of a story from its past.
"Future generations can see how they did things back then," he says.
For now, it's become a place to gather for a big family meal or to watch the Memorial Day parade.
Gordy has a name for that.
"It's a family home," he says.