On a morning in early May, I'm in a field standing as still as I possibly can. I'm wearing a large black leather glove on my left hand and I'm holding a piece of dead mouse meat. It's fine. I haven't lost my mind. I'm at the Falconry Experience at the Hotel Hershey.
    All of a sudden, as if by some silent magic, a Harris hawk appears on my outstretched hand and starts wolfing down the "hawk fast food," as master falconer and instructor Jack Hubley, 67, calls it. It's cool. No big deal. Just a bird of prey (look at those talons!) devouring a meal while perched on my writing hand.
    Everything at the falconry program feels controlled and safe. Hubley puts me at ease with an avuncular approach and a mighty arsenal of dad jokes. He gets a laugh from photographer Vinny Tennis when he asks why it's important to keep your camera lens clean. (Because it's hard to be optimistic with a misty optic.) OK, he's no Seinfeld, but can Jerry summon a golden eagle?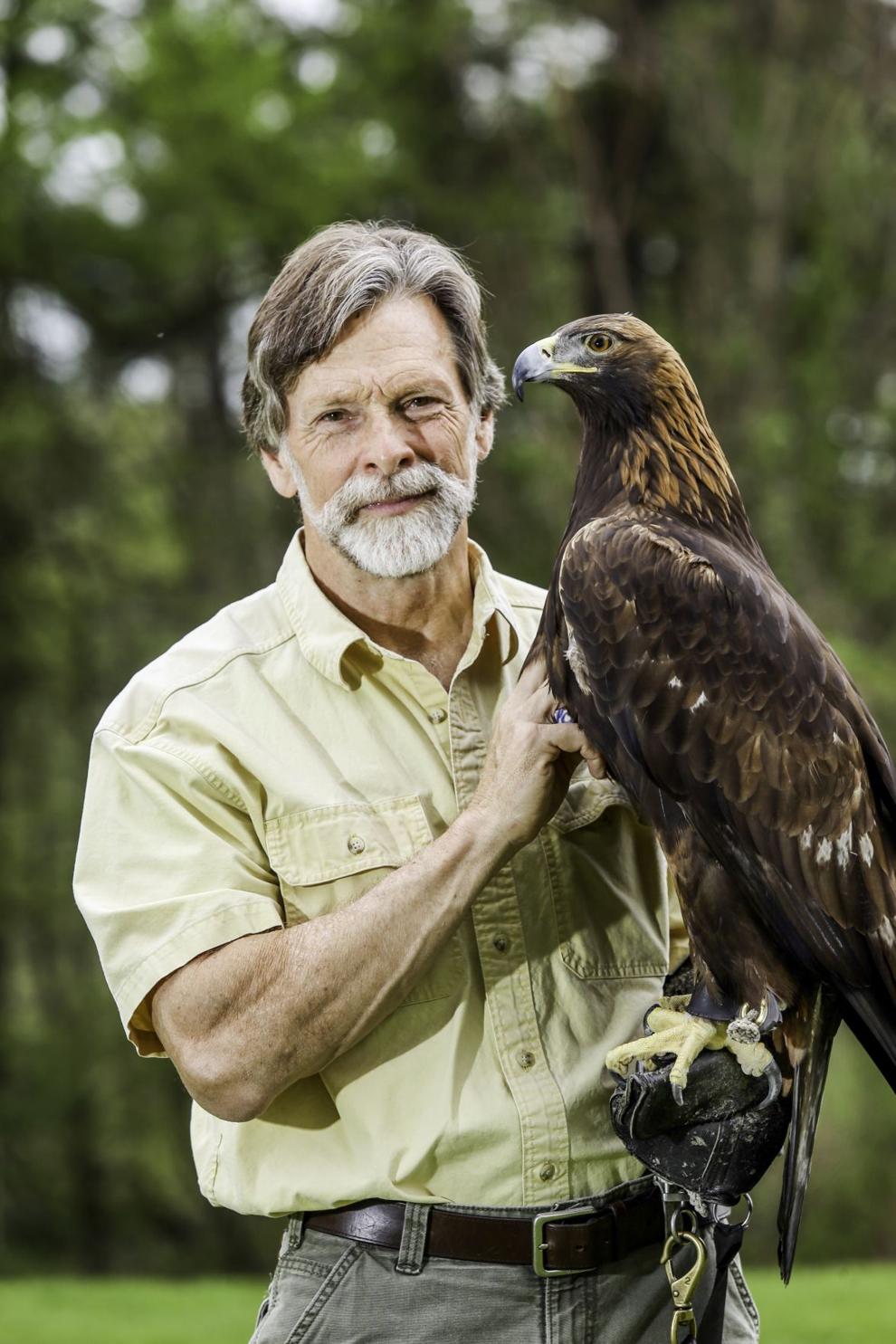 Call of the outdoors
    Hubley is a familiar face to wildlife enthusiasts. For nearly 30 years, until his retirement in 2017, Hubley regularly appeared on television.
    He worked as a reporter for Lancaster Farming and served as the outdoors editor in this newspaper's pages from 1982-2000. After years of entertaining readers, Hubley decided to try his hand at television. When the host of WGAL's "Call of the Outdoors" decided to call it quits in '87, Hubley auditioned for the job. That show lasted until '97, then changed format to a children's program called "Call of the Outdoors for Kids." In 2000, Hubley had a chance to host a nationally syndicated show.
    "I was hungry and I really wanted to do it," he says. "But I was scared to death." (It's nice to know that the man who handles golden eagles has experienced fear before.)
    Cara Williams Fry, senior vice president and chief content officer at WITF, recalls working at WGAL and being tasked to deliver a prototype for a potentially nationally syndicated wildlife show distributed with Hearst-Argyle in Boston. Jack Hubley's name came up as a possible host.
    "He's fun, he's quirky, he's this naturalist who does these little one-minute pieces, but the problem was (the people in Boston) couldn't visualize how to take his one-minute piece and create a half-hour show," Williams Fry says.
    But she could. She and a "small but mighty team" came up with a format consisting of four fast-paced segments, each about a different animal: African elephants, then snakes from Costa Rica, then orcas in Washington, then alligators in the Everglades.
    "Jack is a pro. He asks all the right questions. He was curious," Williams Fry says. "He wanted people to just get his enthusiasm for the outdoors."
    The show, called "Wild Moments," was picked up by Hearst-Argyle and eventually aired in 92 percent of the nation. Over the next four years and 91 episodes, Williams Fry and a small team accompanied Hubley (and occasional co-host Trusty, Hubley's English setter) to every corner of the United States and across the world shooting segments in Africa, Costa Rica and Mexico.
    Eventually, Hearst-Argyle was bought out by NBC. "Wild Moments" lasted another year and then Williams Fry got a call from the vice president of Universal saying, "It's a really nice little show, but…"
    Hubley continued with short two-minute features called "A Wild Moment" on Friday evenings for WGAL and then, after decades on the air, decided to retire.
    For Hubley, handling potentially lethal birds of prey, while delivering an informative, yet entertaining monologue to a group of paying guests at the Falconry Experience, is a sort of retirement job.
Nature boy
    Hubley, a lifelong Lititz resident — until three years ago when he and his wife Tina moved to Mount Gretna — grew up an only child on Cherry Street. His childhood bedroom was different than those of most other young boys. Where their rooms were lined with stacks of comic books, baseball cards and action figures, Hubley's was filled with cages and aquaria filled with raccoons, snakes and alligators.
    "I learned about nocturnal animals from two flying squirrels in my bedroom," Hubley says. "My parents bought them for me. In the '50s and '60s, the market in wild animals was wide open compared to what it is now."
    Hubley spent his youth hiking between the woods and the library learning all he could about wild animals.
    "Back then, if it was smaller than me, I was going to drag it home and stick it in a cage," he says. "I just always had an irresistible attraction to wild things."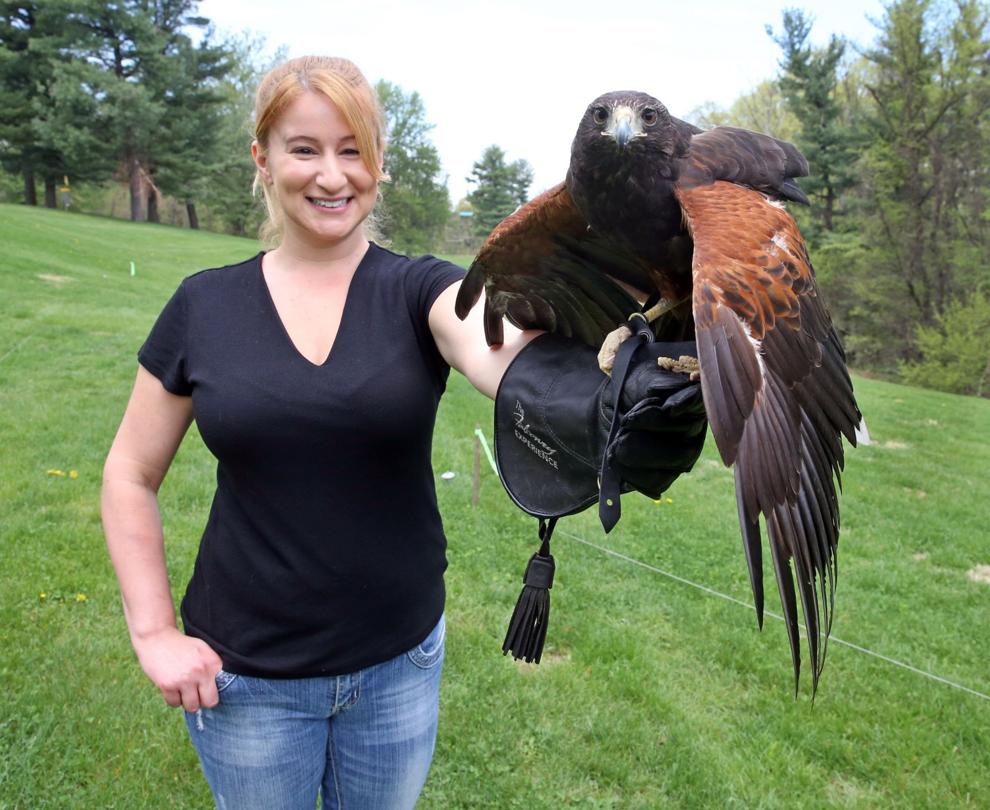 A falconer's apprentice
    Hubley's attraction to wild animals continued as he grew up. He soon combined his passion for hunting with his interest in wildlife.
    Luckily, Hubley happened to know a falconer. Mike Long went to Warwick High School  and was two years behind Hubley. Hubley accompanied Long during one of his hunts to take some photographs of the raptors in action and then started regularly showing up for every Saturday's hunt. Eventually, Long became Hubley's mentor in falconry.
    One day, the two of them set out into the woods of northeastern Pennsylvania and returned with two wild red-tailed hawks. Long trained one and Hubley trained the other. Long worked with his apprentice through the training process and then took Hubley and his hawk out on their first hunt.
    "It's a pretty seductive craft," Hubley says. "I feel a kinship when I'm out there with my eagle or with a hawk. I can't satisfy that desire any other way."
A quick disclaimer
    So, this all sounds pretty romantic. A man and his bird hunting the woods. But Hubley is quick to point out the many complexities of falconry.
    Before a budding falconer can handle a Harris hawk or golden eagle, one must find an even rarer species: a falconer who is willing to teach them. Currently there are about 180 licensed falconers in Pennsylvania. A falconer must possess some rudimentary veterinary knowledge, they must keep the birds at specific weights, there's some leather-working skills involved. And it sounds like there is quite a bit of paperwork.
    There's also the danger. Hubley goes into vivid detail about the time one of his hawks almost ripped his eyelid off in front of an audience. He shrugs it off. I decide to keep my sunglasses on if I get the chance to handle a hawk.
    "If you're a falconer, you're going to lose blood," he says.
    Still interested? Here are three things that anyone that wants to become a falconer must accomplish:
A: Find a licensed master class or general class falconer to be your sponsor and complete a two-year apprenticeship.
B: Pass a written test administered by a state game commission.
C: Build a falcon-friendly facility according to federal and state specifications and have it inspected by the state game agency.
    You'll also need to pass your hunter's education course, because, say it with me: falconry is hunting.
    So you've jumped through all those hoops?
    "Congratulations, you can get your first hawk," Hubley says with a grin before adding, "which you have to catch."
    HOW DO YOU CATCH A WILD HAWK?
    "Well, it's really easy if the hawk is hungry," Hubley says. "Darn, near impossible if the hawk is not hungry."
    The hawk you're most likely to catch in Pennsylvania is going to be a red-tailed hawk. You've seen them along the side of the road. Classically, falconers take passage birds – adolescent birds on the migration path. The licensed falconer can also take eyas – unfledged birds – from a nest.
    "The passage bird is often the preferable bird," Hubley says. "The adolescent is out of the nest, he knows how to fly, obviously he can kill stuff or he wouldn't be alive. So you can skip the elementary school."
    Hubley describes two common trapping methods falconers employ. There's the stationary method where the falconer sets up a bow trap – a spring-loaded circular trap – baited with a pigeon. Then the falconer waits for a hungry hawk looking to make a pit stop on the migratory highway.
    The other way is to go mobile. The falconer spies a hawk from afar and then rushes out to set up a bal chatri – a wire-cage trap baited with a rodent. The hawk sees dinner, dives down and inevitably gets his talons tangled in the wires.
    "Then you zip in and detain him," Hubley says.
    Don't you love how Hubley makes it sound so casual?
    A FRIEND FROM THE DARKNESS
    The hawk's whole world is what it can see.
    Birds of prey can see five times farther than we can – with more accuracy. The Kazakh eagle hunters of western Mongolia say that their eagles can see a fox at seven miles, Huble notes. But when a falcon is in the dark their entire world disappears and everything is fine. That's why the first thing a falconer does when they trap a wild hawk to train is to fit it with a little leather hood. The blinder acts as a stress management tool, he says. What the hawk can't see doesn't bother it. So it remains calm.
    But the falconer doesn't have the same luxury.
    "You're pretty nervous," Hubley says. "You've got quite an emotional investment in this. The last thing you want to do is hurt this bird."
    Next Hubley puts the hawk in a dark room and fits it with anklets and jesses. Every night, decked out in a headlamp, Hubley appears before the bird. Initially the bird is scared, but Hubley knows how to make fast friends.
    "Want to impress a predator?" Hubley asks. "Give them free lunch."
    Soon the hawk becomes comfortable around the handler. The falconer doesn't have to teach the falcon to hunt, Hubley reminds me. They're better hunters than we'll ever be.
    "They come out of the egg with all the equipment," Hubley says. "They don't need to go to Cabela's."
    The thing the falconer teaches the bird is to not be afraid of the falconer and to not see them as competition. And, most importantly to the bird, if they come to the falconer's glove they'll get their favorite thing in life: meat.
    It's one thing to get a falcon to tolerate your presence in exchange for some tasty meadow vole meat, but training it to allow the falconer to hunt with it requires a little more effort. I ask Hubley to explain some more about why the hawk would accept this partnership.
    "The magic of falconry is that you can take a wild bird and catch him – and he's scared to death of you – and within a month you can have it following you through the treetops. It shouldn't work, but for some reason with a feathered dinosaur it does," he says. "I can show you how it works, but I don't know why."
    The key to maintaining a hunting relationship with a wild falcon lies in the transfer. Later, during the program, Hubley demonstrates this with a simulated hunt. Instead of live quarry, Hubley uses a lure attached to a mechanical "rabbit" – the same kind used in greyhound races. Thunder, Hubley's Harris hawk, quickly snags the lure. As Thunder moves into his protective mantling stance over his catch, Hubley poses the age old falconer's conundrum:
    "My hawk has caught my dinner. Now how do I get it?"
    Sure, the falconer towers over the hawk and could just take the meat by force, but that would tarnish the relationship that the falconer has worked so hard to build. What about a trade? If a falconer offers up some ready-to-eat squirrel meat, the bird will take that. The hawk will grab it with its foot and, when it begins to eat, its other foot comes off the prey and now the falcon has accepted the trade.
    "Out of sight, out of mind," says Hubley as he slyly slides a large Rubbermaid container over the lure. "Did I steal the lure from him? No, he made the choice. He's not robbed. That's how falconry works. The relationship is preserved."
    As Hubley is explaining all this stuff, he does as he is inclined to do and takes a detour – albeit an entertaining and educational one – and breaks into a mini-lecture on the history of falconry.
    HERE'S HUBLEY'S BRIEF HISTORY OF FALCONRY
    "Four thousand years ago, some genius on the Asian steppe figured out that we could hunt in partnership with a bird of prey. It's my contention that the golden eagle was the first falconry bird, because these birds are found worldwide in the Northern Hemisphere in six subspecies, including Central Asia. If you're a Mongolian hunter, you really want a bird that can catch you clothing and food. (The golden eagle) can catch everything from marmots to antelopes and even wolves. She can make you a parka and feed you.
    "This continued for about 3,000 years. Then some genius invented black powder. … By 1,000 A.D., falconry fell into being a hobby.
    "Many think falconry originated in the Middle Ages. You've seen pictures of knights holding falcons? Actually social status determined what bird you flew in medieval times. I could not, as a blue collar guy, fly a peregrine. I'd be the goshawk guy. The poacher's bird. Sneak in the estate, whack a rabbit and get out before somebody cut your fingers off.
    "Remarkably, 4,000 years later it has survived. Today, it's still practiced in about 100 countries, with about 4,200 falconers in America. Every state but Hawaii."
    Hubley covers 4,000 years in less than four minutes. Not bad. Now we're caught up to the present.
    JACK HUBLEY'S FLYING CIRCUS
    The Falconry Experience is in its 11th year at The Hotel Hershey. The Hotel Hershey and Hubley obtained a special federal permit which allows the nonlicensed public to interact with the birds of prey. Here you get a quick crash course then put a glove on and call a hawk to your hand. That, as Hubley says, is the "big carrot."
    The name Falconry Experience is a bit misleading. Falconry, as Hubley reiterates, is the hunting of game with trained birds of prey. "We do not schedule live acts of predation here," he says as he picks a tick from off the wooden bleachers and crushes its head between his fingernails. Then smiles. "No live acts of predation," he repeats.
     Privately, he tells me that many of his guests would be horrified to witness a hawk catch and tear into live prey with its eight sharp daggers called talons. "Rabbits are the worst case scenario," he says. "They scream." Then he mimics the sound of a rabbit screaming for its life – and goes for a little longer than I expect.
    So, this isn't necessarily a falconry program as much as it is a demonstration of falconry techniques designed to showcase the amazing abilities of Hubley's trained raptors. Hubley shines in his role – part ring-master, part-naturalist and part-comedian.
    Today's group includes a middle-age couple, Sylvia and Doug (he's a hunter), and a young woman named Heather, who has swum with sharks and dolphins and is celebrating her birthday. Heather's firefighter husband was wary about being in such close proximity to birds of prey and decided not to come. Heather thinks this is funny. Later, hearing Hubley note that Bliss, his female golden eagle, can reach (and shred) any of his internal organs with her talons, I wonder if the firefighter had the right idea.
    Hubley's pre-program spiel includes some interesting facts about falcons and falconry, some history and some wild tangents. Such as the fact that hyenas can digest bone and tooth enamel and, therefore, if you ever suffered the fate of becoming hot lunch for a hungry hyena all that would be left of you would be your shirt, shorts and sneakers. (That grim scene actually somehow gets a laugh when Hubley delivers it.)
    With that image in mind, Hubley releases Thunder – one of his Harris hawks. It takes a majestic flight into one of the nearby pine trees.
    "Here's the first step in falconry: Release the hawk," Hubley says smiling. "The second step is far more critical: The hawk comes back. Without that, you go through hawks really fast."
    THE PURSUIT OF FALCONRY
    When you're focusing on one particular subject, you start seeing it everywhere. While preparing for this story, I happened to pick up Gabriel Garcia Marquez' crime novella "Chronicle of a Death Foretold." When I opened the book, I noticed this epigraph:
    "The pursuit of love is like falconry" – Gil Vincente.
    I asked Hubley his thoughts on this quote. It turns out Hubley's daughter Jade, a graphic artist, made an image of Hubley's golden eagle with that same quote on it. And it hangs on Hubley's office wall.
    "I would say the pursuit of falconry is the pursuit of love. It's sublime," Hubley says. "When you're sitting with a bird on your fist, at sunrise on an icy morning and the bird is content to be with you, that's miraculous to me. … It's a deep feeling akin to love."
    Marquez thought that quote was a good place to begin his story, but I think it's a good place to end this one.
For more information, visit www.thehotelhershey.com.