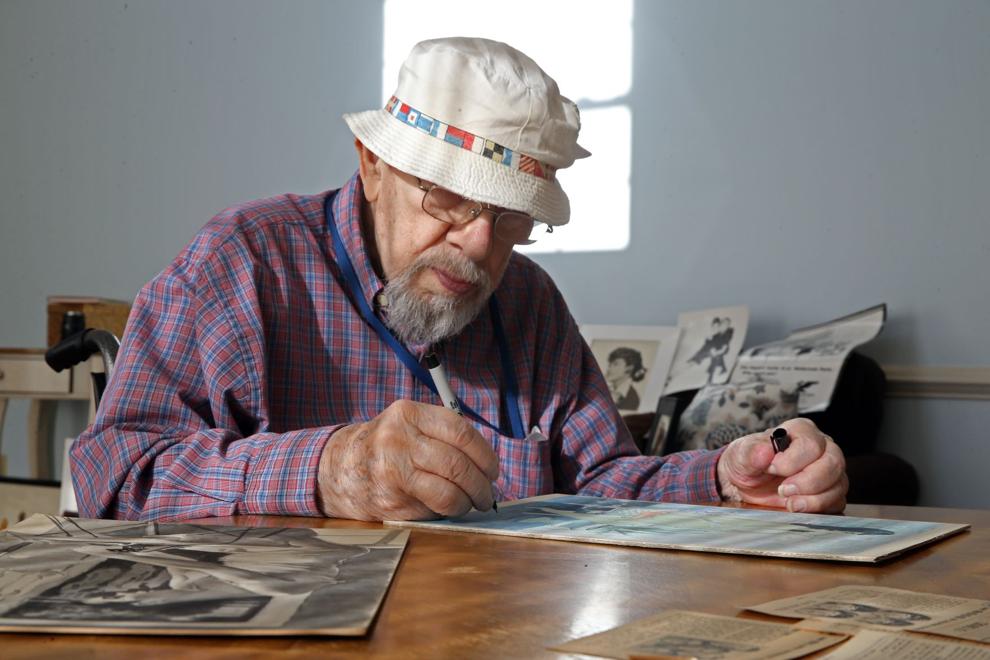 Frank Sinatra, Bob Hope and the Beatles stare up at us. Paul Hoover's celebrity portraits are spread out across a table at Longwood Manor in Maytown, where he lives with his wife, Louise. In the mid- '60s, Hoover's illustrations could be found on coffee tables all across America. Hoover, 92, drew the celebrity portraits for TV Guide.
I'm impressed with the reach of Hoover's work, not to mention his ability to accurately capture the celebrities' likenesses. It's not a big deal to Hoover.
"They were fun to do," he says. "It's nice to draw somebody and have it look like them. Everybody would fuss about it, but for me it was easy to do."
Hoover grew up in Lancaster city and enjoyed riding the trolleys through the city, playing baseball behind George Washington Elementary School and watching westerns at the Hamilton Theater on North Queen Street. But his biggest pleasure was always drawing.
    After graduating from J.P. McCaskey, Hoover enlisted in the Air Force where he served as a cryptographer in Italy. During his time in the service, Hoover lost one of his thumbs in an accident unloading a C-47. When Hoover returned home, he attended art school in Philadelphia and began a career as an illustrator.
    I spoke to Hoover one afternoon about his life and work.
     How do you feel looking back at these old illustrations?
    They were fun to do. Capturing the likeness. They always looked like who they were supposed to be. There's Peggy Lee. A lot of them were for "The Ed Sullivan Show."
     Do you remember watching "The Ed Sullivan Show" and seeing some of the celebrities that you drew?
    Yeah, it was neat.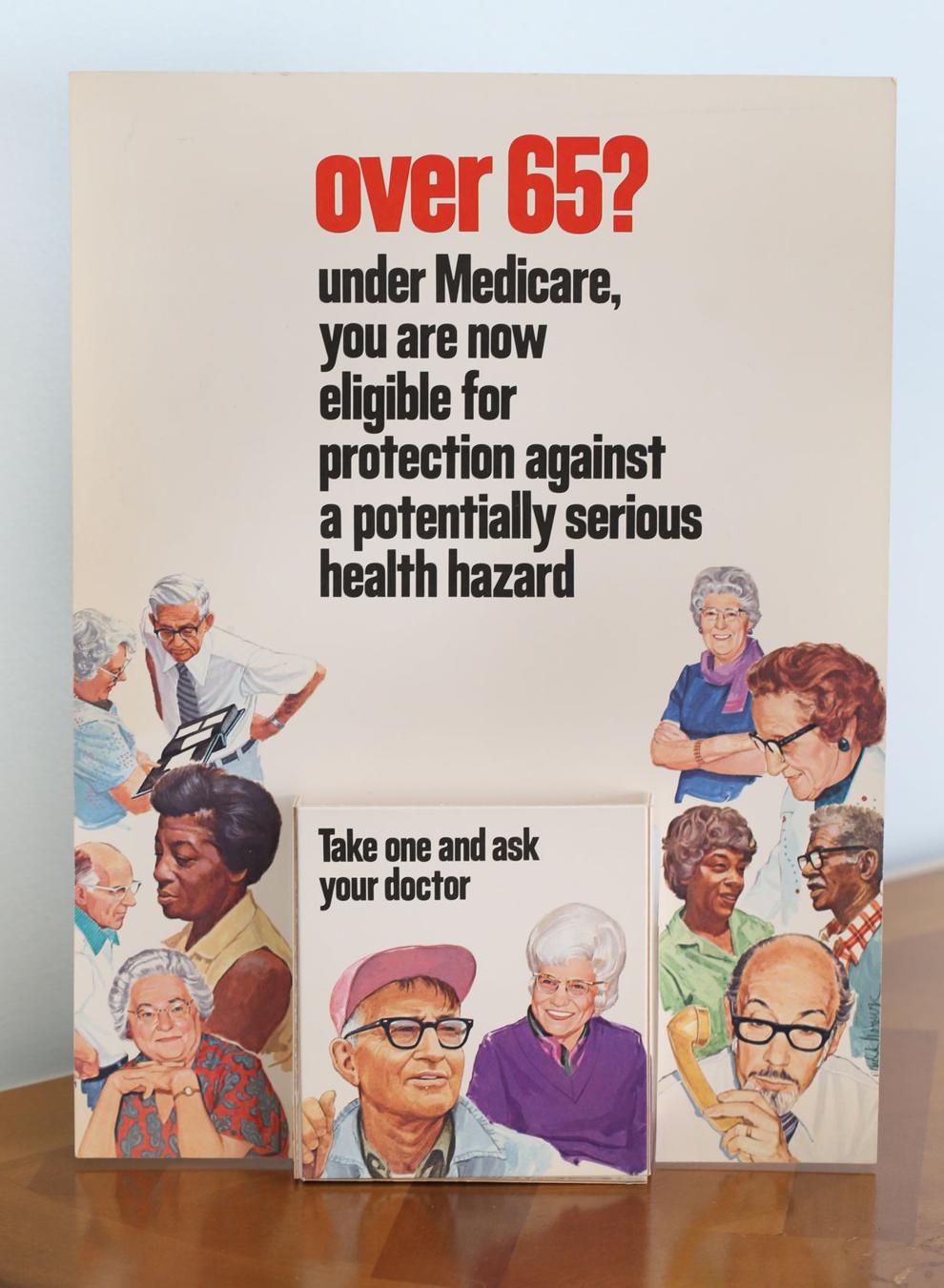 How long did each TV Guide portrait take you to complete?
    I usually had a week to get it done.
    Here's one for the Beatles. What did you think about the Beatles' music?
    I was more into jazz. I liked the big bands, primarily Stan Kenton. Kenton had a good band.
    Did you ever see him live?
    Yeah! At the Red Hill in Jersey. It was loud. Louder than I expected.
   What drew you to portraiture?
    I like portraits because you have to make it look like who it's supposed to be. And that I found to be important. You just have to be able to see them.
    What do you mean by "see them"?
    You have to be able to visually measure distances between the eyes and nose and all the facial features. You can't just sit down and start scribbling. I mean, you can, but you won't end up with what you want.
    These days, a lot of the kinds of commercial artwork you made is being done on the computer. How do you feel about that?
    It's just one of those things, I guess. I can't imagine that no one is interested in drawing someone and making it look like them. To me that's always interesting. If you can't make it look like the person you might as well forget about it. … Good old technology. It's taken over our lives. I think it's good. Gives the brain something else to think about.
    Were you constantly drawing as a kid?
     Yeah, I was. I forget what age, but I was basically trying to draw naked ladies. [Laughs] We lived in an apartment with a linoleum floor and you'd lift the linoleum and slide the drawings under them. But my mom always found them. There's nothing I find more interesting than the female form.
Well, drawing the human form is great practice for an illustrator.
    Yes, and I really enjoyed it.
    Do you still draw?
     I haven't lately. I never really think about it. That's weird, isn't it? I guess I figured I did all my drawing. I can draw flies — if I take my shoes off. [Laughs.]
    You said you started drawing as a kid. Was illustration something that you always wanted to do when you grew up?
    I don't think I knew what an illustrator was.
    After high school, you enlisted during World War II?
    Yeah, I did. I didn't like the idea of being drafted. So I enlisted in the Air Force. I ended up being a cryptographer.
    What codes were you working on during that time?
    We were working on flights. Bombing
raids and so forth. We try to find out what flights and when and where and notify the stations that needed to know. I was lucky enough to avoid the fighting.
    So you spent most of your time in Italy? What was that like?
    The Italian people were nice. Naples had great pizza.
    You lost your thumb in an accident during the war?
    [Laughs.] Yeah, we were unloading a C-47. And of course, I forget even how it happened, but the hand was there and the door came shut and BAM! How it just got the thumb, I don't know. It was weird, but it happened.
    When you came home you attended The Philadelphia Art School where you met your wife, Louise. Do you remember how you met?
    Yeah, in the lunchroom. Me and three other guys wanted to play cards and she was sitting right where we needed a seat. And I chased her away from the table. Then I chased her all around the school.
    When you wake up here at Longwood Manor, what's the first thing you like to do?
    Say hello to (Louise). That's the first thing I do.
    Could you talk about what it means to be able to be together right now?
    It's great. I can't think of anything better.