He's not Santa today. Jim Morrison, with his long white beard, and wearing his 19th-century top hat and International Santa Claus Hall of Fame jacket, sits on a golden chair with green padding that I'm told was the original Santa Claus chair from the Park City Center. Today, he's the Keeper of Christmas.
We're sitting inside the historic Star Barn, recently reconstructed piece-by-piece and moved to the Star Barn Village at Stone Gables Estate in Elizabethtown. The National Christmas Center will reopen in another historic barn on the property in 2021. Last year, Morrison and his partner shut down the beloved museum dedicated to the history of Christmas and sold it to the operators of the Star Barn Village. During the museum's 20 years of operation along Route 30 East in Paradise, thousands of people made their way through its doors to marvel at the antique decorations from Christmases past.
At 80, Morrison has difficulty walking, and in the last years at the National Christmas Center he took up a post in the lobby to welcome guests as the top-hatted Keeper of Christmas.
"I was Santa there for many years," Morrison says, "but then there'd be a clogged toilet which we'd have to fix and Santa Claus can't be the one doing that, you know? So we'd have other Santas there and we can't have a Santa out in the lobby and then a Santa in the back."
But regardless of his title, Morrison will always be Santa Claus. If you accept that the mythical figure Santa Claus who slides down our collective chimneys is someone that brings joy and hope to children on Christmas, then Morrison amply fills the role. And if that's not enough, there's still that International Santa Claus Hall of Fame jacket.
Yes, there is an International Santa Claus Hall of Fame. It's in Santa Claus, Indiana (and yes, Virginia, there is a Santa Claus, Indiana). Morrison joins the jolly ranks of other esteemed St. Nicks such as Edmund Gwenn (of "Miracle on 34th Street"), Mickey Rooney (who voiced Santa in a handful of films) and dozens more.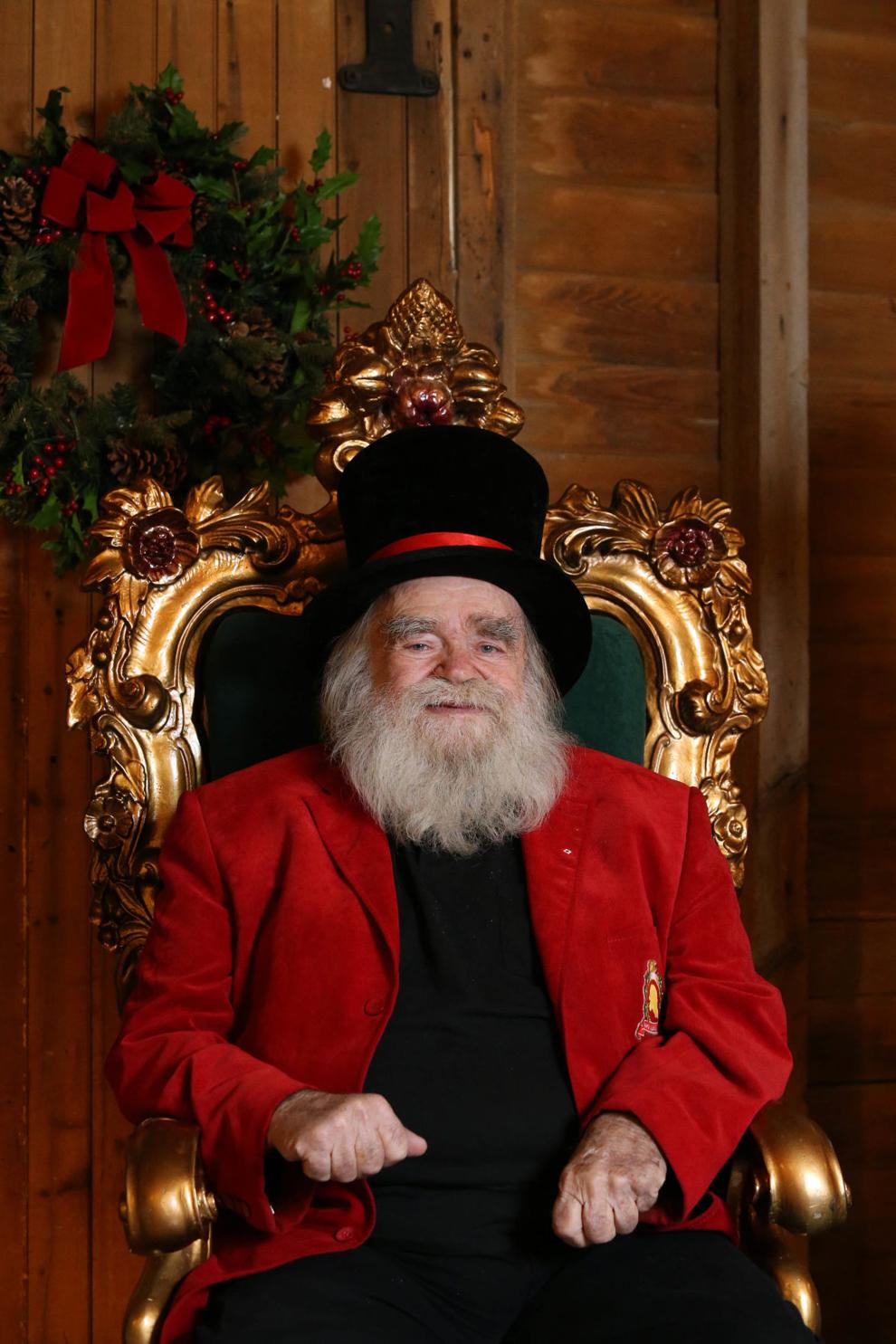 Morrison and I talk about Christmases past, present and future for about an hour. It gets a little uncomfortable sitting on his knee that long. (Just kidding; I had my own chair.) In the background, people were setting up a larger Nativity scene and preparing for an event, and Morrison had to answer a question every once in a while or take a phone call. But he was sure to wish everyone a Merry Christmas.
Star Barn Village will be the home of the National Christmas Center in 2021. What will your involvement be?
Well, I can't walk anymore, so I don't like to be Santa. Right now I'm the Keeper of Christmas. They're building me an office. They want me to keep doing it, but there are other people that will help. I feel like I've built the foundation and David Abel (proprietor of The Star Barn Village at Stone Gables Estate) is going to build the skyscraper for the future.
I heard you mention that the original Christmas Center building just sold today. How did the Christmas Center first end up in Lancaster?
Well, I tried different places. One was a building in Adamstown near Shupp's Grove (Antique Market).  But Lancaster has the traditions. I wanted it to be in Lancaster, because I feel the ties of Christmas are so strong here. The first documented Christmas tree in America was in Lancaster (city) in 1821.
It was the Germans that started the tree. Possibly Martin Luther by putting candles on the tree. So many things happen with immigration. They brought their traditions to Lancaster. They would wrap the tree in cotton to look like the new-fallen snow. All the references came from Lancaster and those trees. It's just a strong Christmas tradition in this area. And I wanted people to learn about that.
Was it a difficult decision to sell the Christmas Center?
I'm kind of sad to see the frenzy that goes on. And how people don't have enough time. We've had about 30,000 people a year visit the Christmas Center. Last year 55,000 came. People saying, "We've been here every year. This is part of our Christmas. What are we going to do?"
We wanted it to go on. But my age … When we started it 20 years ago, I was working 16 hours a day, seven days a week on it. I remember at 2 a.m. spraying the ceiling with dark blue paint.
We had (prospective buyers) that flew in from Las Vegas that wanted to put it in a casino. Someone wanted to move it to Orlando. Dollywood possibly. (One group) just wanted to buy like the Woolworth collection.
Emotions are running high at National Christmas Center in Paradise, as people make sure they get in before the museum's doors close for good o…
Was it important to you to keep the Christmas Center in Lancaster?
This is where I wanted it because of the traditions. Frank Woolworth's first store was here. One of the stories that gets written about was that in 1879, a (salesman) from Philadelphia came to sell him some glass ornaments and (Woolworth) didn't know what they were. He said he wanted his money back if they didn't sell. And he sold out in two days. I feel that Frank Woolworth spread Lancaster's Christmas across America.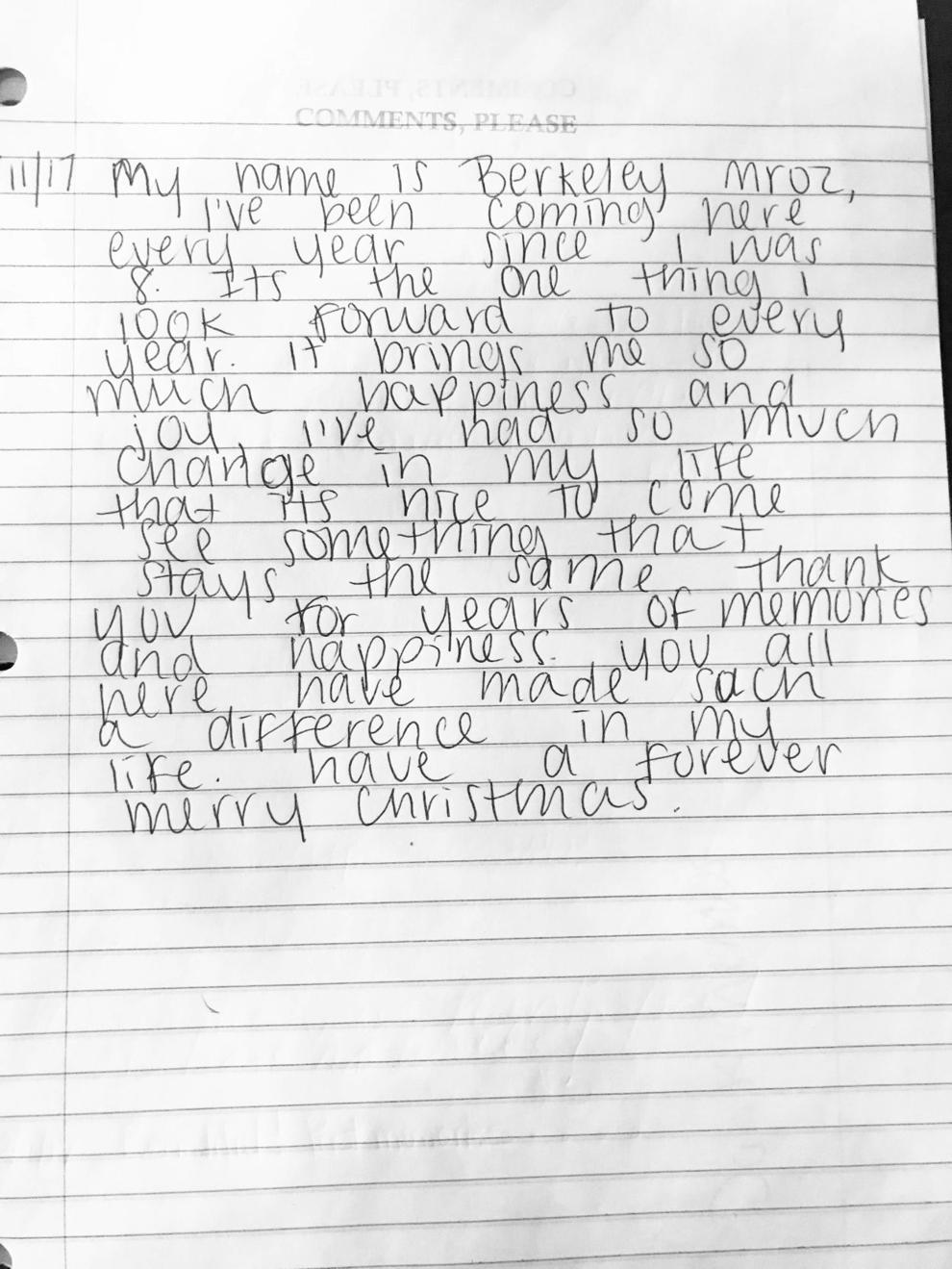 I guess the frenzy was an inevitable result of places such as Woolworth finding success with marketing during Christmas.
At this point in our lives, the merchants have really exploited it and taken over. But in the early years, people made their own ornaments. In this Pennsylvania German area, they would use quilt patterns and hang them on the tree. The Amish would make a toy for a child and the child would get one present. Now it's changed.
I mean this Black Friday thing that starts on Thanksgiving and the next day and then they are doing shopping in little stores because they are losing out and then Monday it's the computer. I just went by a place that said 60 percent off on all Christmas decorations and Christmas isn't even over yet. The younger generation is in too much of a frenzy.
The Amish have it done right. The have Second Christmas. On Christmas Day, they'll meet with his family and the next day, Second Christmas, they'll go with her family (they will alternate families and days every year). You'll see a lot of Amish businesses are closed on Christmas and the next day. They have it all worked out.
Can you tell me about the history of Santa Claus?
Christmas is centuries old. Seventeen hundred years ago St. Nicholas threw coins through the window of a needy family's house and they might have landed in a stocking. That's why we hang Christmas stockings. St. Nicholas loved the children. He took care of the children. He was the first to really find places for special needs people. There are more churches named after St. Nicholas than any other saint. His parents died and he was wealthy. He was a beloved priest in the church. He was known as the Boy Bishop. He gave money to the needy anonymously in the middle of the night. That's why Santa comes unseen in the middle of the night giving presents. 
The czars of Russia were named after him. The Dutch brought him to New York – New Amsterdam – as Sinterklaas and that's where the words Santa Claus came from. A corruption of Dutch pronunciation. He was brought here by the Germans as Pelznickle  – that became the Belsnickle character that we know in Lancaster. Mummering was done in the cities and belschnickling was done in the country towns. 
What about the image of Santa that we are familiar with today?
The commercialization of Christmas all developed from the image of the gift-giver Santa Claus. Thomas Nast really conjured the American look of Santa Claus. It wasn't until the 20th-century, when the Coca-Cola Company picked the prime spots in all the magazines and used their image of Santa Claus to sell the product. They advertised so heavily that it sort of became the Santa that we're familiar with today.
The reindeer started in 1815 with a story that has Santa going through the sky with a horse-drawn wagon dropping toys down the chimney. And then Clement Moore put him in a sleigh with eight reindeer and that was the traditional.
Montgomery Ward, in 1930, brought out a little booklet and they added Rudolph to that. When I was a little kid there were only eight reindeer and all of the sudden, after the Second World War, there's another reindeer. Well, that's a fake reindeer to me. I never accepted Rudolph – until he had his 50th birthday, then I accepted Rudolph as being all right.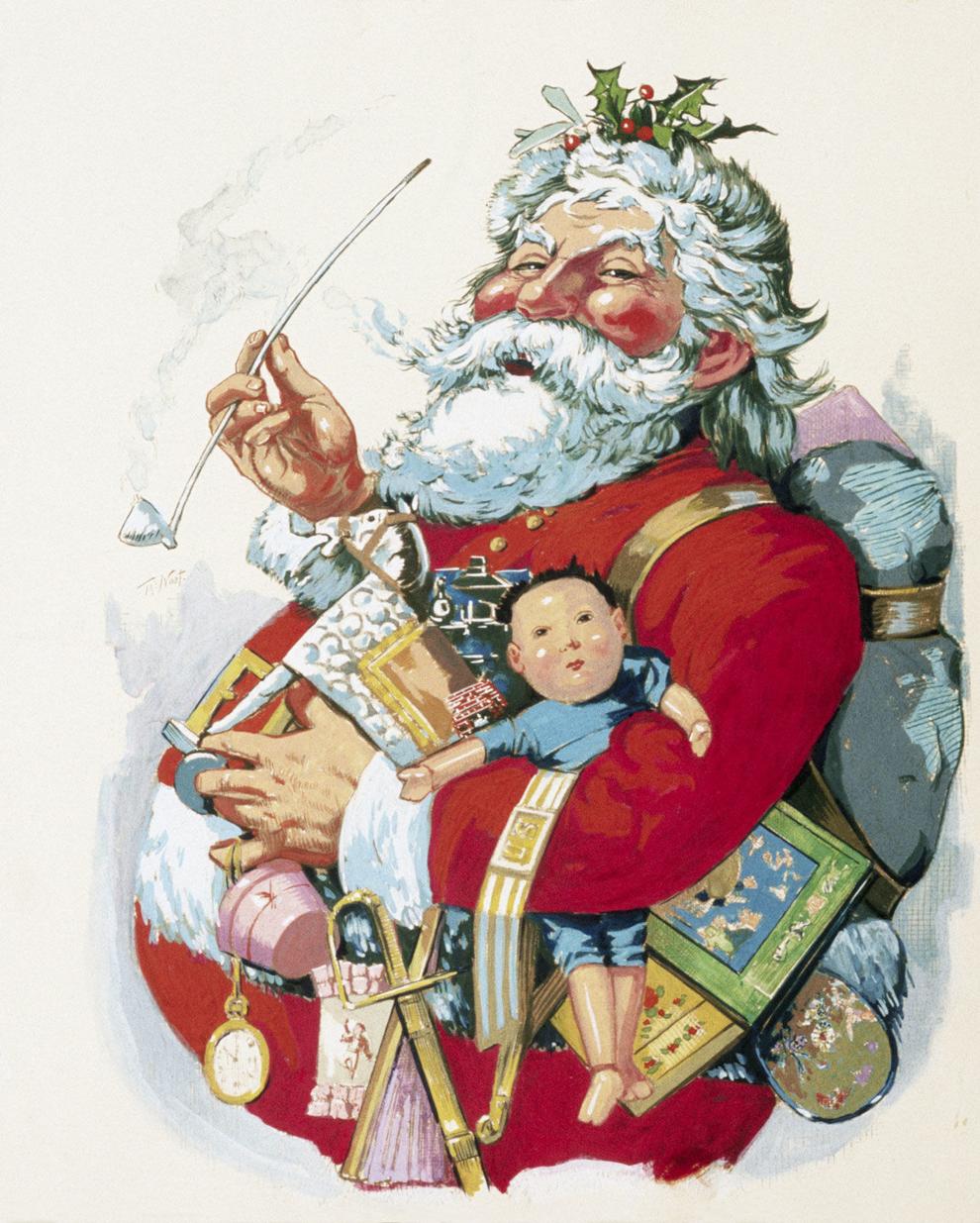 What happens when you become Santa Claus?
Being Santa Claus isn't easy. You get a lot of questions and you have to be very careful with your answers. The child wants things like the health of their parents or they want their daddy to come back home.
What can you say to that?
"We'll pray for you. I think Daddy wants to be with you." But you have to say the right thing. The innocent children are absolutely incredible. When I'm dressed as Santa, the children know me, they trust me, they believe in me. They come running over.
I was at a food court some months ago – like last month – late in November and was eating at a counter, and all the sudden a little boy comes over and says, "Santa Claus?" And I looked down and I started talking to him. And I said, "How are you doing?" and "I'm so glad to see you! I never have a chance to talk to you on Christmas. How are you doing in school? Would you study a little harder just for me? And I love you. I'm proud of you." And all of a sudden there's a whole crowd of people around just watching this with a child. That child won't forget that. I even got a free meal. [laughs.]
You wouldn't let your child run up to a stranger in a mall, but when your child sees Santa Claus … It's the most incredible feeling to be able to make someone happy. It's the biggest reward in the world. When they're walking off, they keep looking back and they'll wave and that child won't forget that.
What are some of your earliest Christmas memories?
I grew up in Haddonfield in southern New Jersey. The day after Thanksgiving you would go into Philadelphia and they'd unveil the windows and we'd do a day of that. It wasn't a shopping day – Mother would buy things – but everybody flocked to see the start of Christmas. Mother would give me a quarter if I'd been good all day.
My mother did so much to make Christmases great. There were stacks of presents that she'd been buying all year. Mother told me each year that when she was little she got an orange and a penny every year for Christmas and one year her cousin gave her a little doll. Every year she'd tell me that, and I was thinking that she was telling me that because I have so much and she didn't have anything. She got a penny that she could go to a store and on the penny she could pick a toy out and buy it. One year she got this little doll – and that was her Christmas and that's what it's all about.
What work did you do before you opened the Christmas Center?
I worked for a company before that that built architectural models. I worked for a model company and I worked on the Seattle World's Fair and built the IBM miniature building. The Selectric typewriters were introduced there and we built cases for those. There was a set of 10 machines that were based on Leonardo Da Vinci's sketches... I did a telescope based on his drawing and I've seen it twice in Antiques magazine for sale.
I was drafted to the Army. I got there on the day of the Bay of Pigs. I was in the Army Exhibit unit in Washington. This was out of the Office of Information. I was a model-maker. I framed the flags that were on President Kennedy's limousine at the assassination for General Westmoreland. I made 250 sets of bookends for a Christmas present for Lyndon Johnson. I would go to some generals' homes on Saturday or Sunday and put bookcases up. So, I was a model-maker in the Army then I did that privately. I could've gone into the Smithsonian, but I couldn't take the bureaucracy.
I started building architectural models and cases for harpsichords and little pipe organs. Then I started restoring houses in Washington, D.C., and Capitol Hill and won a couple of awards. I was putting houses back in the same period – most had been turned into apartments. I had 18 people working for me.
Then I was selling antique postcards and one of my customers turned out to own a bookstore in New York – the Gotham. I went to the Gotham Book Mart near Radio City in New York in the '80s and for about 12 years in December I would go up and decorate the tree with antique ornaments.
It was in the New York Times list of The Ten Best Things to Do at Christmas. It was filled with antique ornaments. I know that Walter Cronkite used to bring his grandchildren to see it. Mrs. Onassis. Shelley Winters. I wanted to get their autograph, but (my friend) wouldn't tell me (when they were there). I did meet Patricia Neal.
But one day I saw this disheveled man come up. His trenchcoat was torn and dirty at the bottom and his shoes were bad and not well-dressed and he wasn't quite the Gotham customer I'd seen before through the years, and I said, "You've been here before. Are you enjoying the tree?" 
He told me he was retired from the Broadway stage and lived in one room in a rooming house with everything he had in this one room. His friends were all dead. He was elderly and when he said, "When I need a Christmas tree, I come down here," at that point, all the cursing I was doing while cutting a tree down and taking it to New York and three days to trim it went away. I'll never forget him saying that to me.