Architects by nature are innovators as well as problem-solvers. Google CEO Eric Schmidt says innovators "don't just listen to what people tell them; they actually invent something new, something you didn't know you needed, but the moment you see it, you say, 'I must have it.' "
In 1952, architect Henry Y. Shaub sat down with funeral home directors Mr. and Mrs. Robert F. Groff Sr. and presented two very different design concepts for their proposed new funeral home on West Orange Street. According to their son, Robert F. Groff Jr., "Mom and Dad were handling half of all the funerals in the city and needed to expand their facilities."
Although funeral home designs were not Shaub's forte, he took this opportunity to think creatively and help the Groffs reinvent the aesthetic for a building of this type.
Good architects typically present their clients with several options from which to choose, with the hope that one will resonate and lead to further refinement. Historically, funeral homes or parlors in the city of Lancaster were housed in either repurposed mansions or in new structures designed in a conservative architectural style such as Colonial Revival. Shaub presented the Groffs with two very different options.
The first was a predictable and attractive three-story, three-bay, red brick Neocolonial concept with a one-story annex. It included an overhead garage door to screen visitor parking from public view. The second concept was an entirely different look for a funeral home and featured a style foreign to the city of Lancaster — Midcentury Modern.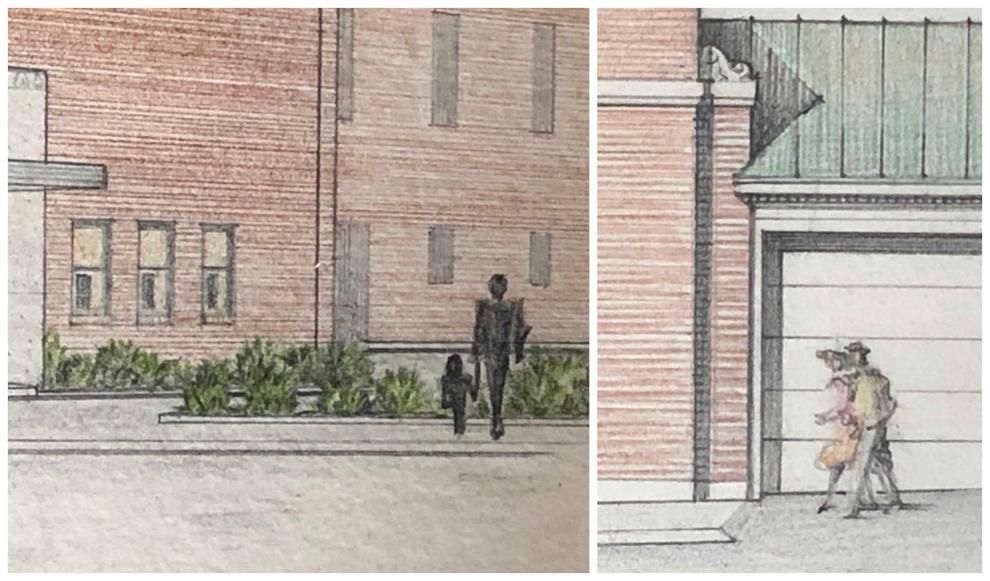 Characterized by a clean aesthetic with an emphasis on rectangular forms, horizontal lines and an absence of decoration, this second concept, which the Groffs selected, turned heads in a city steeped in traditional architecture.
Groff Jr. recalls that his parents told Shaub to "make it look like a marble monument and give the funeral home a new look!" The result was a building that stood out in sharp contrast to the surrounding neighborhood and remains one of the few genuine examples of Midcentury Modern architecture in downtown Lancaster today.
Why are there so few windows in the building?
According to Groff, his parents "didn't care to deal with window treatments or washing."
Are there other examples of Midcentury Modern in the city?
Yes. Architect H.C. Kreisle designed the Public Safety Building for the City of Lancaster in 1954.
What is the symbolism etched in stone to the left of the Orange Street entrance?
Sunrise? Sunset? References to the trinity? Gates to heaven? If you know the meaning of the trefoil, please let us know.
This column is contributed by Gregory J. Scott, FAIA, a local architect with more than four decades of national experience in innovation and design. He is a member of the American Institute of Architects' College of Fellows. Email GScott@rlps.com.