Authenticity is of the utmost importance to Sonya Mann-McFarlane.
Mann-McFarlane, director and founder of Imani Edu-Tainers African Dance Company, is committed to making every part of her group's annual show authentic to its West African roots, from the costumes to the music and the movement.
This year's Community Concert, the Lancaster dance company's 24th, will include a special harvest dance. If audiences miss this one, they'll have to wait until 2026 to see it again.
That's because the dance is only performed once every seven years in African cultures, a detail that wasn't lost on Mann-McFarlane. Each year she strives to make the performance even more authentic.
"That I take personal responsibility for," Mann-McFarlane says. "Just as I continue to study, and continue to develop, I try to transfer that over to my work."
The fruits of Mann-McFarlane and her company's labor will be on display Saturday night at The Ware Center. The show also will include vendors, and a happy hour precedes the performance.
McFarlane grew up in the Durham, North Carolina, area, where she first started Imani in 1992. Not long after starting the company, she relocated to Lancaster, where the group began to flourish.
Her personal relationship with African dance goes much deeper, though. As a child, she spent every summer living with relatives in Harlem. She began taking ballet and tap dancing classes from a studio near the famed Apollo Theater. But she found a special connection in music she heard on the city's streets during the Harlem Cultural Film Festival.
"That's where I first heard the drum," Mann-McFarlane says. "I didn't know what was going on, and when I got through the crowd, I just was mesmerized."
She vividly remembers the accompanying dancers' costumes, which helped her figure out what dance they were performing as she started her research.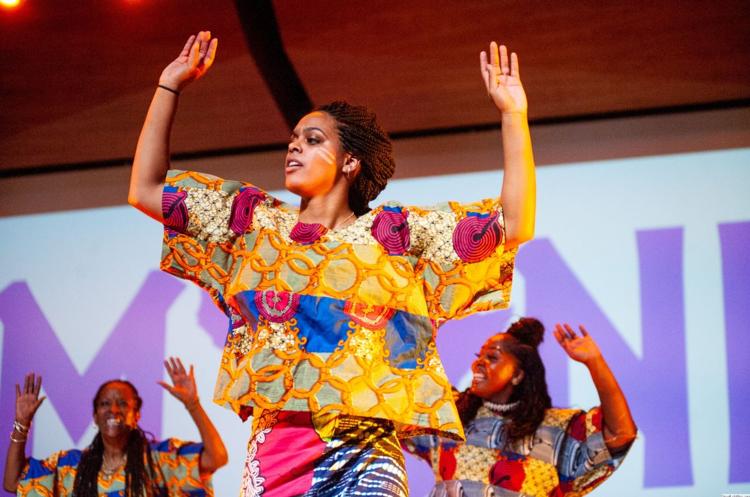 "That's another affirmation of (why) you have to be authentically dressed for you to represent the culture, because they had on feathers, and now I know they were dancing the bird dance," Mann-McFarlane says.
She studied African dance during her college years with The Cultural Movement African Dance Company. Mann-McFarlane's daughter danced there as a toddler, too. She founded Imani after local schools in North Carolina requested them for classroom presentations, she says.
"When I moved here, however, she was getting older and looking for a continued outlet to be attached to our culture, and there was nothing in Lancaster," Mann-McFarlane says.
She says Lancaster embraced the group, and its first public concert was made possible by a grant from the city. Grants, including one from the Pennsylvania Council on the Arts, help fund the dance company, which is a nonprofit organization.
In addition to the harvest dance, this year's performance is a celebration of balancing male and female energies, Mann-McFarlane says.
The show's first half is focused on sisterhood, including highlighting four young women in the group who have officially moved from the children's dance group to the adult dance group as part of Imani's Rites of Passage program. Rites of Passage is an African tradition that marks an individual's transition through stages of life. The second half of the show is more centered on masculinity.
Early on in the show, there will be an ancestral drum call dedicated to the late Rita Smith Wade-El, who founded the African American studies minor at Millersville University and was a longtime social justice advocate. Her son, Ismail Smith Wade-El, will participate in the ceremony.
The show also will feature Maryland group Keur Khaleyi African Dance Company.
The annual community concert is a culmination of a year's work in Imani's community dance and drum classes.
"It's a lot of hard work," Mann-McFarlane says.