As an artist, Lindsey Pei, of Lancaster, uses scale to inject a dose of surrealism into reality. Her creations seem to have shared the same refreshments that Alice dined on during her visit to Wonderland.
The jack-in-the-pulpit flowers that welcome you into "Luminaria" — an exhibit featuring larger-than-life illuminated sculptures on display at HACC's Lancaster campus through May 3 — are nearly the size of a regulation NBA hoop. And, as the founder of Ornament Incarnate, she designs and fabricates automata such as the miniature mechanical chameleon that rotates its eyes and tail and shoots fire from its mouth.
Pei, a graduate of Yale, moved to Lancaster with her husband about 10 years ago to attend the Lititz Watch Technicum — an exclusive watchmaking school. After graduating the two-year program, Pei spent about five years repairing high-end watches before setting off to create Ornament Incarnate.
"I just love the process," Pei says. "For me there is nothing more exciting than coming up with an idea for something that I want to create that doesn't exist and then figuring out how to do it technically and then putting it all together."
"Luminaria" — Pei's first art exhibit in Lancaster — finds Pei working on the other end of the scale. The more than half-dozen illuminated sculptures include a lotus flower more than 100 times its normal size and a moth that stands as tall as a man.
Besides size, Pei also delights in playing with expectations. And so, Pei would appreciate that as your eyes stroll through this seemingly normal sentence, rounding the corners of this upcoming comma, you'll encounter the unexpected: a firebird.
The mysterious bird from the myths and folktales of many cultures was the genesis for Pei's "Luminaria."
As Pei and a friend were hiking along a wooded trail on the friend's property in southern Lancaster County, they were discussing ideas for a winter festival that they could to do on the property. The trail opened up to a bamboo grove with a small pond surrounded by trees and Pei was suddenly visited by a burning vision of the mythical firebird flying through the bamboo.
"We wanted to create an event during the darkest time of the year … to bring light and hope into that time of the year," Pei says. "I think there's something kind of interesting about things being unexpected and not easily available. You go into the woods and you discover it. I love that aspect of creating an experience."
The initial event took place on New Year's Eve 2017. And if the goal of the winter festival was to bring light to a cold and dark season, Pei couldn't have asked for a better setting. It was the coldest day of the year and a full moon hung overhead like a fluorescent lightbulb.
On a night already buzzing with the excitement and magic of the past becoming the future, guests entered the path greeted by two giant illuminated jack-in-the-pulpits. As they followed the candles lining the path through the woods, they encountered an ethereal luna moth, the warm aura of an angel, a rainbow serpent from Australian aboriginal creation myths, a glowing lotus floating on the frozen pond and eventually the stunning firebird brightly shining in the bamboo grove.
"I'm captivated by magical creatures and the mysterious crossing between reality and the dream world," Pei says. "I'm fascinated by things on the edge of the line — when you're not sure if they're real or not."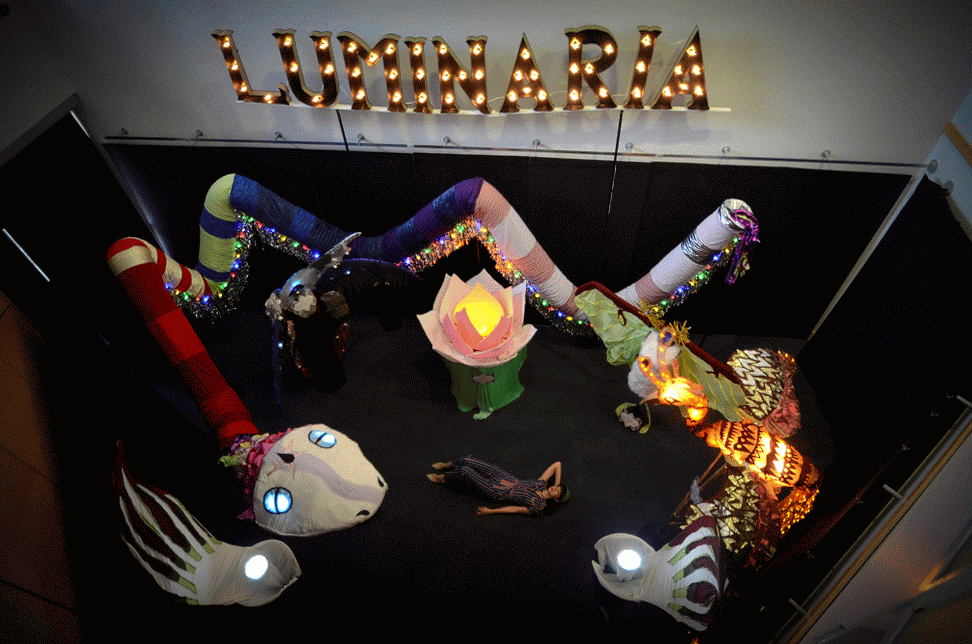 Encountering these illuminated creatures unexpectedly in the woods on a cold night would achieve this desired effect. Viewing "Luminaria" at the Art Space gallery creates a different, but also entirely pleasing, experience. It's a bit like entering a storage room for all the myths and folktales from humanity's collective unconsciousness. And Pei has provided cards with information on the origins of the sculptures with notes about the myths they emerged from and the process of building them.
"All of these things were originally created for an outdoor event where they are seen in nature against a vast backdrop," Pei says. "They weren't really meant to be an indoor gallery, although I think it's kind of fun to see them that way."
Viewing the sculptures up close can give some insight on how they were created. Pei approaches all her work in a similar fashion — size notwithstanding. She begins with a sketch of how she wants it to look and, if there are any moving pieces or mechanical elements, how they will work.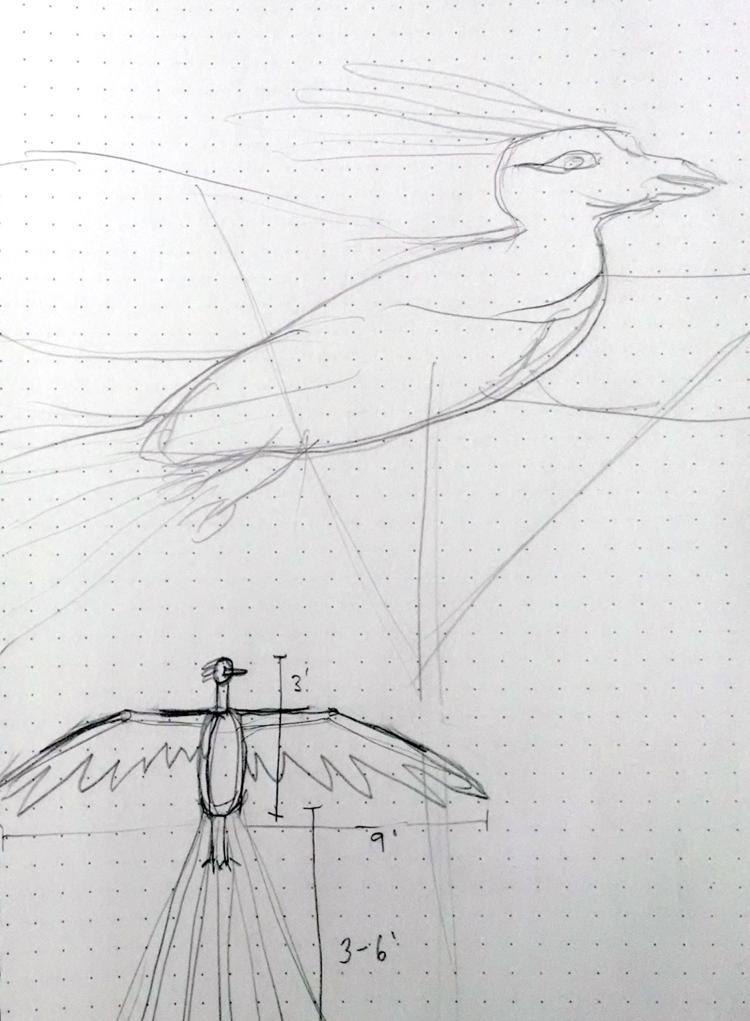 "So with the firebird, in particular, I was trying to create something that looked interesting and had a glow to it under different lighting conditions, so it had to be both translucent and iridescent," Pei says.
The firebird is mounted on bamboo poles — and is actually a puppet with movable wings — underneath the wings, Pei installed some decorative strings of LED lights.
"They're perfect, to me they look like embers," she says.
Pei built the sculptures for "Luminaria" in her home. For someone who enjoys inviting imaginary creatures into reality, it seemed perfectly natural to have a rainbow serpent stretching from her living room to her kitchen as she had some dinner.
"This all seems normal," Pei says. "This is just where my mind is at."
The living room was also the place where the mythic firebird from her vision came to life.
"The first time I turned the lights on, a shiver went down my spine," she says. "It's like a creature had just landed in the middle of my living room. It was like it was being born. I created something and I'd planned it all, but when it actually came to life it became something else. And I wasn't even really expecting it. For me, that's the best part, seeing these things come to life when, you've only had it in your mind."