Finding romance challenges some farmers.
A busy schedule and a rural location can mean fewer opportunities for socializing than people in many other professions. And, farmers looking for a partner want someone who shares their agricultural lifestyle — or at least understands and accommodates it — and that also narrows the dating pool.
For those reasons, Megan and Ryan Burley, owners of Burley Berries & Blooms in Warsaw, New York, met on www.farmersonly.com, a farmer-centric dating website. The theme of the online site clears up the question of profession immediately.
While joining a dating site may seem like an unconventional way to meet for the uninitiated, it worked out well for these two. The Burleys celebrate their eighth anniversary on Feb. 16, and have two children, Jud and Leena.
Ryan had been on the site for two years without finding anyone until Megan, then a junior at Penn State, joined the site.
"There were farmers around, but none I was interested in," she said. "I was looking for a vegetable farmer."
What she got was a dairyman. Thankfully, that was not a deal breaker for her.
Her concise website dating profile, which said that she was currently milking cows on her family's dairy, is what caught Ryan's attention, along with her photo. Megan was still in her free trial period on the site when Ryan reached out to her, and they began to chat.
He was working on his family's dairy, East Hill Farms in Warsaw, New York, which milks 700 cows currently. The two emailed each other for a while and then he drove five hours to meet her, "which is nuts," she said.
"I have asked him, 'What were you thinking on that drive?'" Megan said.
He was thinking about was how he was already smitten. The couple hit it off readily, but the distance made dating difficult. For a few months, they did not communicate until a friend of Megan's encouraged her to reach out to him again. Once they got the ball rolling again, they never stopped calling and emailing.
Megan did have one important concern about their possible future together. So, during Ryan's second visit to Reading, Pennsylvania, to see Megan, she told him that she wanted to start her own vegetable farm some day. Though a dairyman, Ryan did not balk at that prospect. They continued to date long-distance.
"Being apart two years was the hardest part," Megan said. "We talked every night. He didn't have a smartphone and still doesn't. Facetime (the video app) would've been helpful. I would totally recommend that to anyone trying to date long-distance."
"We talked for hours and my friends would always get mad at me because I spent so much time on the phone," she said.
Because of their distance, they could meet face-to-face only once a month. Ironically, Megan thinks that their odd arrangement made it easier for Ryan to fit her into his busy life as a dairyman.
"If I were close by, he'd have to take time away from the farm to see me," she said. "Farmers don't have time. He still doesn't. He'd still be looking if we didn't meet."
In 2013, she completed her education, the couple got married and they bought 120 acres to start Burley Berries & Blooms — a fruit, vegetable and flower operation. They use four of the tillable acres for the berry and flower business and the rest of the tillable acres to raise hay to sell.
The first year, they planted their strawberry beds. It takes a full year after planting for the strawberries to become productive. The following year, they had their first child and opened the business with their first season of strawberries.
The farm sells through its market and a community-supported agriculture (CSA) model, from June through early September. CSA members' shares include rhubarb, strawberries, cherries, blueberries, raspberries, peaches, plums, watermelon, cantaloupe and summer apples, along with cut-flower bouquets. Their value-added items include soap, cheese, jam, candles, lip gloss and gift boxes. The CSA shares may include processed chicken, honey and eggs. Some of the CSA items come from other area farms. In early fall, shareholders can harvest their own radishes, beets, turnips, lettuce, and carrots.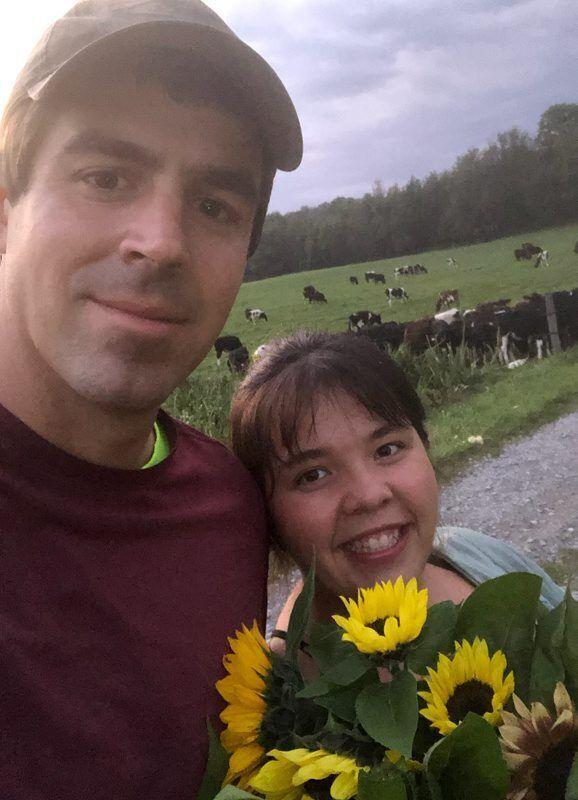 The Burleys also maintain an online shop with some value-added items. They host weddings, seasonal workshops and other events, pandemic permitting.
Ryan is still a co-owner at his family's dairy farm. Between the two operations, the young family remains plenty busy.
Fancy dinners and upscale venues are not as practical for many farm couples and the Burleys represent no exception.
Recently, Megan said, they went on a "date" that consisted of buying a truck through Craigslist and taking a 12-hour drive to go purchase it.
"Our dates are related to the farm," she confessed.
Another time, they had a "date" as they picked up a walk-in cooler.
Because he was so successful with his use of a farmer dating site, Ryan recommends that other farmers looking for love, "get on Farmersonly.com," he said. "It worked for us."
"Just keep trying; you'll find someone out there," Megan added. "There's someone for everyone, even if you are a dairy farmer."
"He's a keeper," she said. "It'll last."