Willow Valley Quilt Guild's latest project is a green and orange quilt, with little blocks crisscrossing over a star.
This quilt, adorned with what is called a pathways design, is the group's biggest project yet.
That's because it's 8 feet tall, made of aluminum and attached to the side of a barn at Willow Valley Communities.
This barn quilt is the latest design in Lancaster County to decorate a building, not a bed. The guild wanted to share the beauty of quilts with a larger audience.
The group would love for more quilters in the area to follow their lead, making enough of the mammoth quilts for a Lancaster County barn quilt tour.
Barns have been decorated with stars and hex signs for centuries. Some barns also became billboards, with advertisements for things like tobacco and soda.
The first quilt trail goes back to 2001, when an Ohio woman wanted to honor her mother and painted a quilt block on her tobacco barn, according to Suzi Parron, who has written two books about barn quilts. The Ohio woman decided the project had wide appeal and decided to create a "clothesline of quilts" in the area.
Parron has found quilts on barns around the country.
Before the one created by the Willow Valley Quilt Guild, there were two in Lancaster County, one along Strasburg Pike and one along Landisville Road.
Flora Poulos came up with the idea for the barn quilt at Willow Valley Communities. Poulos is secretary of the community's quilt guild. The group meets monthly to share their quilting projects and make blankets for local children in need through Project Linus.
"We don't sit around a quilting rack and do any hand quilting," Poulos says. "That's not usually a good idea because everybody has their own technique."
She is a retired program director for Girl Scouts' Heart of Pennsylvania council. It was at Girl Scout camp where she learned such crafts as sewing and quilting.
Poulos makes quilts and wall hangings at her home in Willow Valley.
The guild also invites speakers to teach new techniques, like string quilts or Hawaiian applique. Last year, Parron spoke on barn quilts.
"After this gal (Parron) spoke to us, I thought, 'I'm going to ask somebody to see if we can get a quilt here,' " Poulos says.
Poulos pitched the idea of a barn quilt to the administration at Willow Valley. Once she got the thumbs-up, she recruited two members of the guild, Judy Homan and Betsy Lowrey, to help. Homan and Lowrey came up with a pathways block design.
"That is the perfect design," Poulos says. "Because it's the paths we've taken to get here, the paths we're continuing on."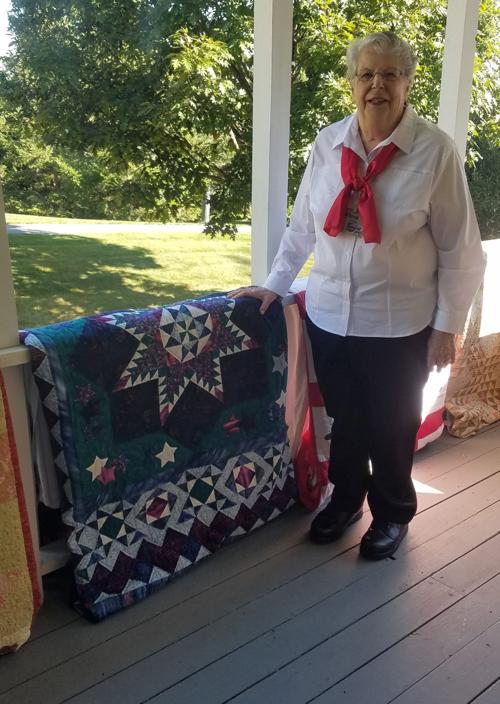 They incorporated Willow Valley's colors of green and orange.
They decided to put the quilt on a barn next to the Mylin House and the upper cultural center. The spot is a social hub of the community because there are shows and events at the cultural center, says Maureen Leader, Willow Valley's marketing and public relations coordinator.
They asked Ryan Hardy, audio/video theater technician, to find a company to make the quilt and then hang it.
Hardy asked Horst Signs in Denver to make the aluminum quilt. The guild members got a 12-by-12-inch sample made by the company and loved the shading and dimension added between each "block."
In the meantime, the group decided to hold a quilt exhibit in the Mylin House and the cultural center, recruiting pieces made by members of the quilt guild.
They also organized a tour of a barn quilt trail in Perry County and filled two buses. And they asked Parron, the barn quilt expert, to return to talk at the unveiling at Willow Valley.
As a final touch, they sewed a black nylon curtain large enough to cover the barn quilt.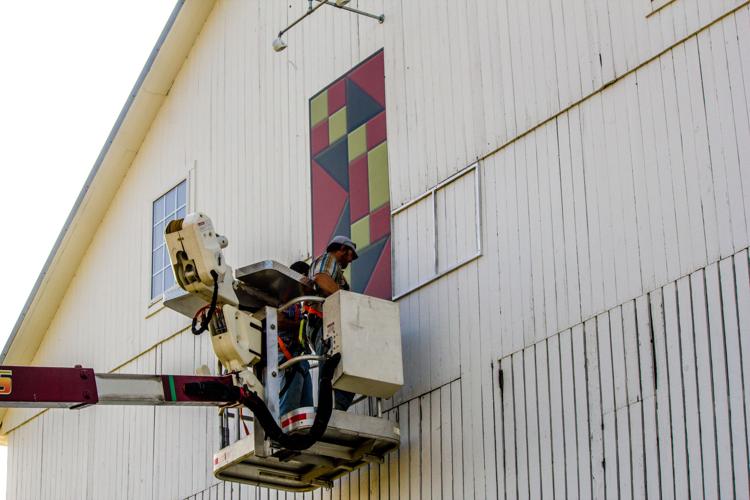 On the big day, the curtain dropped and Lancaster County got a look at its third barn quilt.
"They are not cheap, but it's a beautiful thing," Poulos says.
Willow Valley paid for the project but declined to give the cost.
Poulos has since met with a staff member of Discover Lancaster to encourage more barn quilts in Lancaster County.
"What I'd love to see happen is a group come together about a barn quilt trail," she says.