Inside a greenhouse near Columbia Avenue in Lancaster Township are row upon row of tropical orchids, including some that are bright white and others that are spotted brown. There are orchids with lips like a pelican, orchids that smell like bubble gum and an orchid that inspired Charles Darwin to consider evolution.
It's always 65 degrees with 85 percent humidity inside the greenhouse because that's what environment orchids like best.
Ask Trey Pyfer which orchid he likes best, and that gets a little trickier.
"Whatever blooms last, I like," says Pyfer, the manager of Little Brook Orchids, 25 Rider Ave.
While many plants go dormant during winter, orchids keep blooming, and their showy flowers often last for months. They might look like tricky diva plants, yet orchid growers say these plants aren't difficult. Give them the right conditions, leave them alone and you'll be rewarded.
"Everyone says they're so hard to grow, and I wonder where they got that idea," says Denise Conklin, an award-winning orchid grower. "If you can raise a cactus, you can raise an orchid."
This is prime time to learn about orchids. This weekend, Susquehanna Orchid Society brings its annual orchid show to Hershey Gardens. And at Longwood Gardens, the Orchid Extravaganza fills the conservatory through the end of March.
Hover your mouse over the 360 degree photo below to explore:
Both Pyfer and Conklin have been growing orchids for about 20 years.
Conklin has entered her orchids and begonias in several shows, including the Philadelphia Flower Show, through the years and has brought home awards. She now has more than 100 in the sunroom of her Lancaster home.
"I like orchids because of the flowers," she says. "The flowers are gorgeous."
Conklin also likes that she only needs to water her orchids once a week, on Sunday before church. That's easy compared to other plants, she says. She recalls losing many bonsai plants when her husband was in the hospital years ago. That wouldn't happen with her orchids.
"If you get sick and can't water it for a week, they're going to do fine," Conklin says.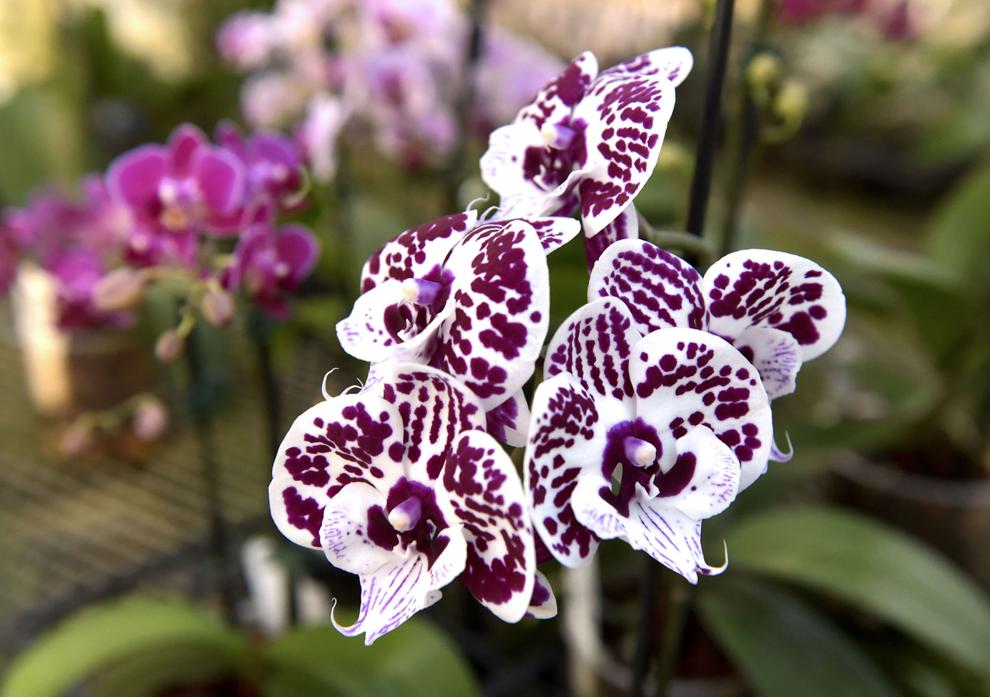 Pyfer joined the family orchid business about 20 years ago. He says it's interesting work, rewarding and a lot of fun.
"I like to see the plants bloom," he says. "I guess it's a nurturing thing."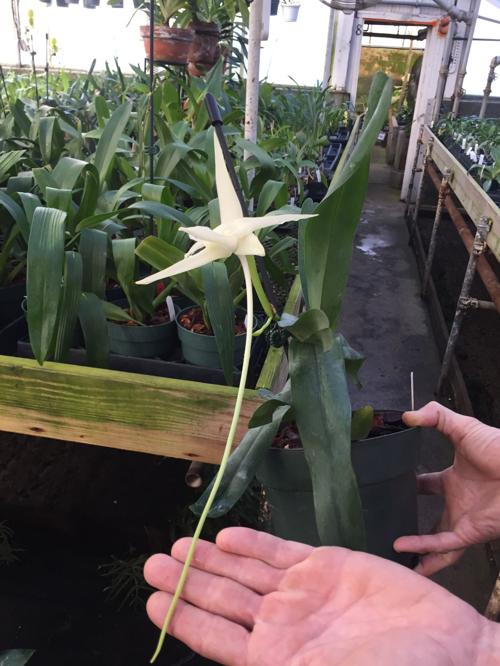 Little Brook has about 8,000 square feet of space for plants found around the world. There are orchids that trail, orchids with tiny flowers and orchids that smell like coconut. Pyfer points out a group of Angraecum sesquipedale, or Darwin's orchids.
This variety has a nectary that extends down to the ground. In the 1860s, Charles Darwin wondered if there was a moth that evolved with this plant and had the organs necessary to pollinate this oddly-shaped flower. There was.
Each one of these orchids is on its own schedule to bloom. This week, Pyfer will see what's blooming and decide what to take to the Susquehanna Orchid Society show, both to sell and to enter into competition.
He's hoping to win an award for an orchid named garciana that smells like bubble gum. With that award, he can name the cultivar. Pyfer wants to call it Jerry in honor of the late Grateful Dead guitarist.
Here's more information about seven garden (and home) shows coming this winter and spring.