Linda DiBartolo is a little confused about what's happening with Hummel figurines.
"It's been weird lately," says the co-owner of Tannery Antiques in New Holland. "Five or six people in a row came in asking for them."
DiBartolo no longer carries the rosy-cheeked figurines because the way she sees it: "Hummels went out years ago. You could buy a table full of them (at auction) for $10 and sometimes they wouldn't even get a bid."
She may be witnessing part of what could be considered the return of the tchotchkes.
While minimalism is still going strong in many households, the pendulum has swung to maximalism in others where you're unlikely to hear anyone complaining about things just collecting dust.
Some Hummel collectors may take issue with being lumped under the tchotchkes tent. After all, some of the rarer ones are still fetching decent money at auction. But such collectibles do fit Merriam-Webster's basic definition of tchotchke: "a small object displayed for its attractiveness or interest."
It's when connotations come into play that things get a bit touchy.
"Just as trinkets can dress up your shelves or coffee table, many words for 'miscellaneous objects' or 'nondescript junk' decorate our language," according to a Merriam-Webster online extra. "Knickknack, doodad, gewgaw and whatnot are some of the more common ones. While many such words are of unknown origin, we know that tchotchke comes from the Yiddish tshatske of the same meaning."
Appeal to young buyers
Esther Glick wrinkles her nose and shrugs her shoulders at the term.
"Eh, I use it kind of in a negative way. I tend to refer to that kind of stuff more like my lunch money stuff," says Glick, proprietor at Antique Village of Strasburg.
"Personally, I try not to do what I consider a tchotchke," Glick says. "I've had this place for 25 years and I always tell my dealers: A $5 item is going to take up as much space on the shelf as a $20 item. So what do you want to have on the shelf?' "
Price points can go higher than $20, notes a 2021 New York Times piece titled "So many tchotchkes, so little time." That examined a growing, pandemic-era-fueled marketplace for "thrift store detritus" on Instagram.
"These are not Salvation Army or Goodwill prices, where a glass may be $2; customers are paying a markup for the eye of the seller," writes the Times.
In many cases, they are Gen Z and millennial peepers.
"Overall I see the 20-somethings buying more of the midcentury," Glick says. "That's what they remember their grandmother having."
The bigger story, she adds, is not what they're buying but that they're buying at all — given the often-touted narrative about the younger generations' fondness for wide, open spaces.
"The 20- and 30-year-olds are coming in," she says. "They're actually a boon to the business."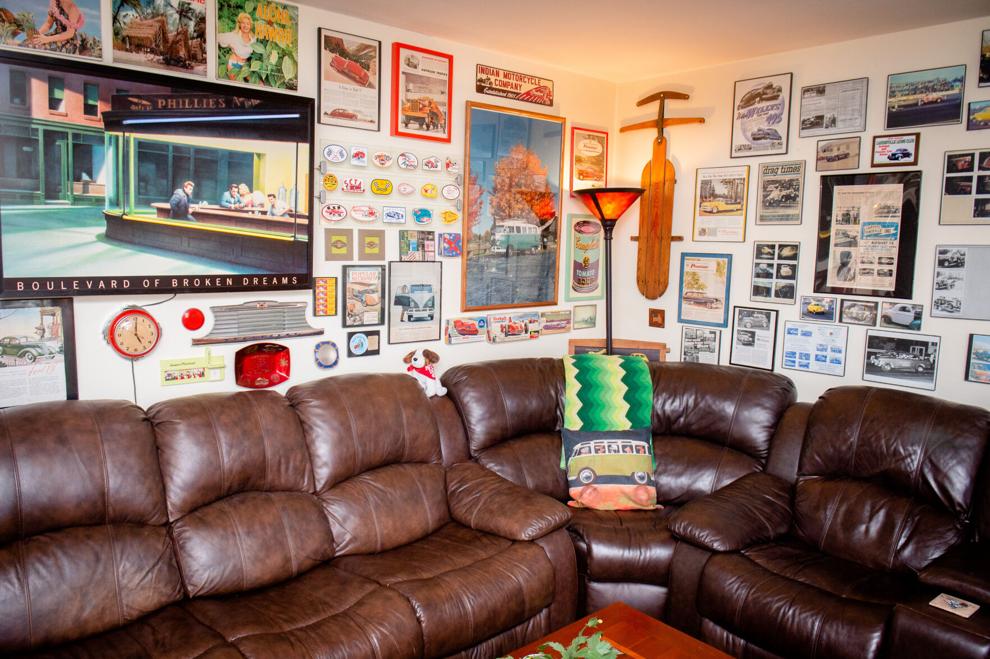 Cluttercore trend
Architectural Digest offered a glimpse at doing doodads in December, with a profile on the Malibu home of whimsical fashion designer Betsey Johnson.
The magazine says her home "sets the ultimate standard for cluttercore with shelves full of tchotchkes."
For those unfamiliar with the term cluttercore, picture your great-aunt's curio cabinet or your teenager's closet, spread that to the rest of the room, then turn up the dial as far as it goes.
"Is 'Cluttercore' the chaotic good we need right now?" pondered a headline in a 2022 Architectural Digest piece that describes how the style is infused with personality and that the term has millions of views on TikTok and thousands of tags on Instagram.
Chris and Joyce Kelley, of Lancaster, say their style fits that hashtag.
"Cluttercore is pretty much about collecting things you have an interest in and, instead of storing them in a closet somewhere, you actually display them," Chris says. "You cover your walls and whatnot — within reason."
Visitors will often tell the couple that their home is like a museum. World's Fair items. Lancaster paper goods. Finds from a trip to Ireland. Car parts. Old pictures of the street rod that Chris rebuilt. The list goes on and on.
Joyce, once a Longaberger basket aficionado, has long embraced the aesthetic.
"Ever since I was a little girl," she says. "I saw a New York apartment that had pictures floor to ceiling, and I loved it."
With Chris she found someone willing to go there.
"I have old 78 records hanging because the jackets are really neat," he says. "I would say it's classy, not hoarded piles of stuff."
Chris enjoys pinstriping as a hobby and finds inspiration on his shelves and walls.
"This is a way I can look at different colors and see how they go together to get an idea of what to use," he says.
Chris was into cluttercore long before anyone coined that term.
"I'm 52 now and my style was like that growing up as a kid with posters of rock bands and whatnot," he says. "Model collections ... I never seemed to get rid of any of that."
He chuckles at the idea of what some people are paying for nostalgia.
"That's the way trends go. If something's not trending now just wait. In 15, 20 years it will come back around," he says. "Think about how many people now are trying to buy back their youth."
It's not like he doesn't keep buying, though. He does.
"Wherever I see a little bit of space where I can put something relatively small, I'll do that," he says.
So what percentage of horizontal planes in the Kelley home are already covered?
"Maybe 90%," Joyce says.
"No, no. Not 90%," Chris says. "I don't think we're quite there yet. Maybe 80."
And what about dusting?
"We do have a cleaning lady that comes in and I'm sure it's one of her favorite things to do," he says. "There is definitely a little upkeep in it. But that's just the nature of the beast."
His advice for those who are feeling the cluttercore call is to hit yard sales and flea markets for frames for an inexpensive way to get rolling. Maybe put up some shelves, he says.
Most importantly, he says: "Have fun with it."