Drive down a country road in Lancaster County and it's not uncommon to see bright bouquets of flowers for sale next to fresh produce.
At several of these farms, you can be the florist and pick your own bouquet. While some types of flowers already have bloomed and won't be back until next year, many of these farms will have flowers through October.
Old Homestead Farm in Ronks has long raised flowers for bouquets at its farm stand on Hartman Bridge Road and at markets in the Philadelphia suburbs.
This year, Jenelle Peters, the farm's director of sales, moved the flower patch closer to the farm stand and opened it up to the public, which can pick flowers for 50 cents a stem. Members of the Old Homestead Farm's community-supported agriculture program can pick flowers for free.
"I thought it would be cool for people who aren't able to grow their own or just want to grab a couple of stems here and there for this and that to be able to come and grab something," says Peters, who represents the fourth generation working at the farm.
Stumped by what to pick, when to go and what tools you need? Here's a guide from a flower farmer and a floral designer.
Tools
Bring a pair of scissors or pruning shears in case the flower farm doesn't have a spare pair.
Bring a clean bucket filled with water to hydrate the flowers as you pick them and for the flowers on the way home. "You don't want to waste any time in between," Peters says. "That will just dry them out and tire them out, and you'll have a longer vase life (by hydrating them sooner)."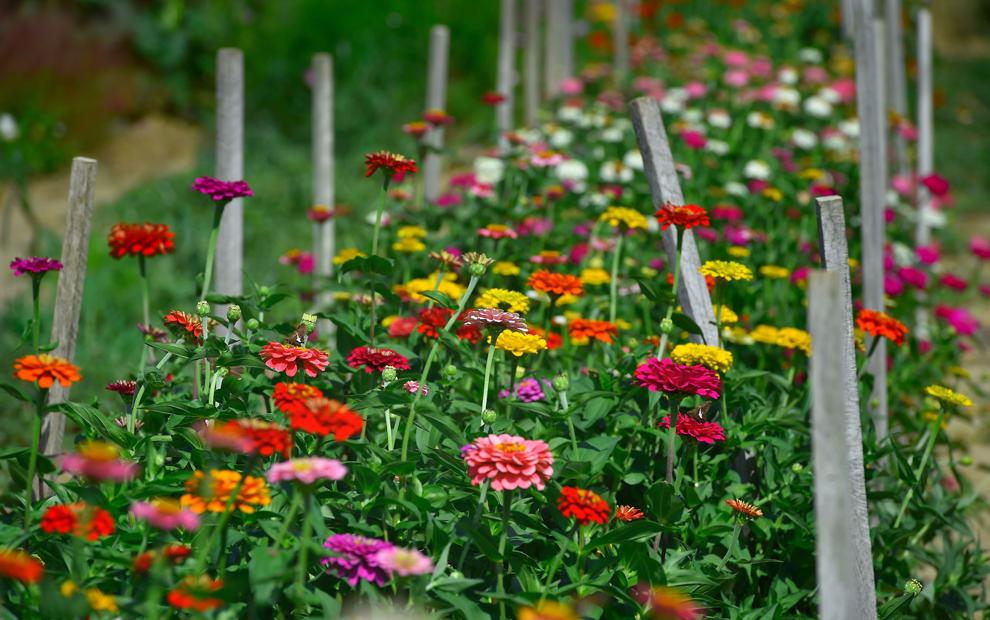 When to pick
Some flowers are delicate, so especially on a hot day, pick your bouquet in the morning. Peters says you should pick by 11 a.m.
Delores Nolt suggests going out even earlier if you can. Nolt, of Ephrata, is a master gardener who is certified in floral design by Longwood Gardens.
"If it's going to be a hot one, I'd pick before 7 (a.m.)," she says.
Pick later on, especially on a hot day, and the blooms might be stressed and less likely to bounce back.
Design
Think about where the arrangement will be placed. Sketch out a design before you start picking, considering height and color.
Or, let the flowers in the field inspire you.
Here's a simple equation to help guide you when making an arrangement: Add together a few large/main flowers, a few tall flowers and filler.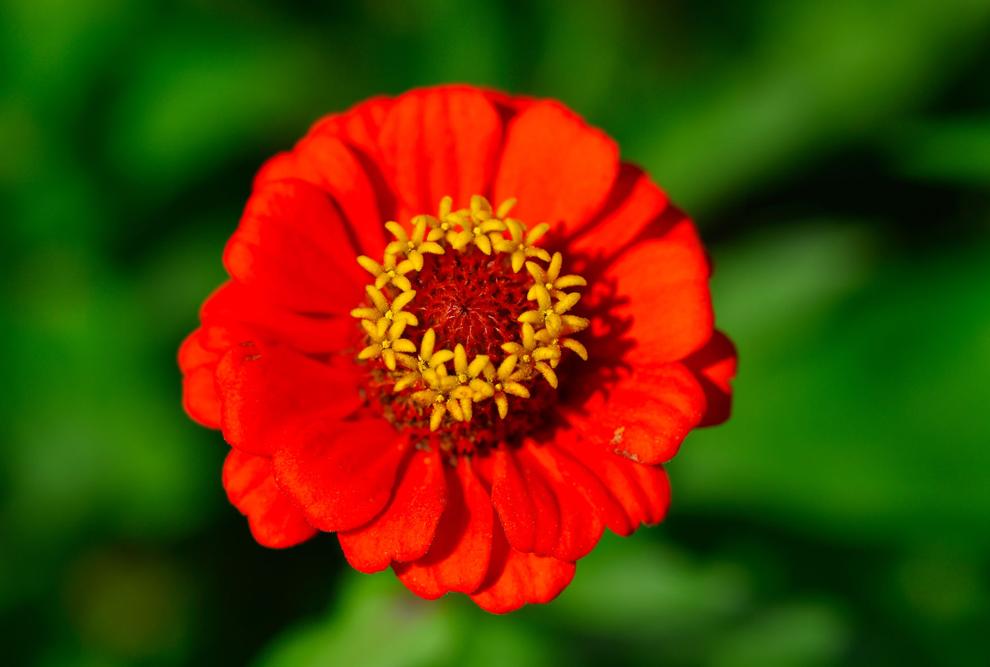 Large/main flowers
Zinnias: These are Peters' staple flower, and the staff at Old Homestead spot it in just about every bouquet that is made there. "Zinnias are my favorite summer flower because it's all colors; they are so pretty and perfectly shaped and (attract) tons of butterflies and bees," she says.
Black-eyed Susan: These flowers add size, color and will last longer than a week in the vase.
Kale or cabbage plant: Add for a fall look.
Lisianthus or Dahlias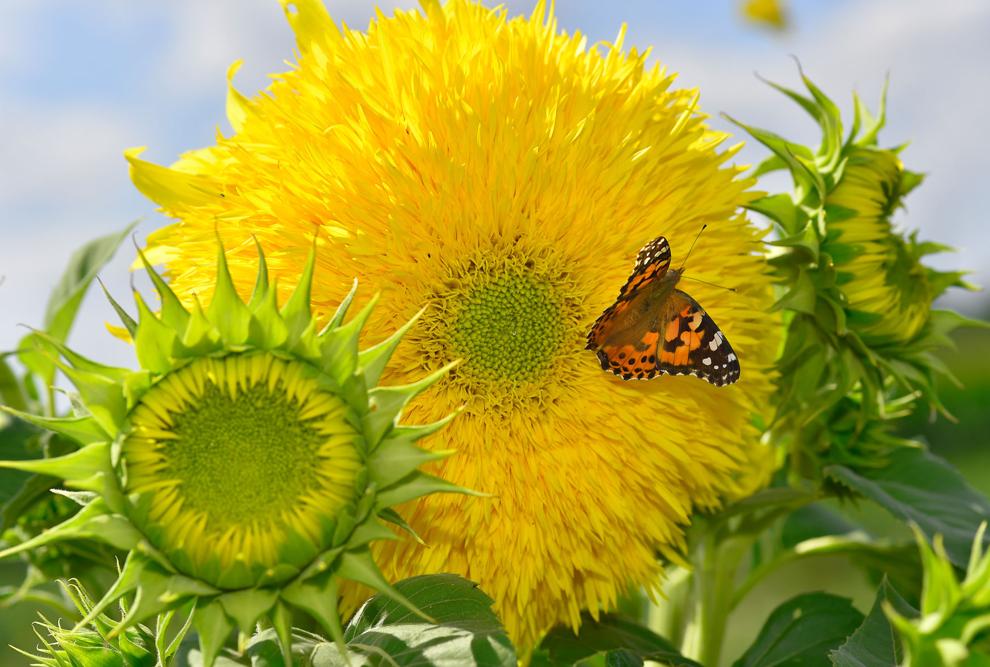 Tall flowers
Sunflowers: These are large flowers with striking petals and often contrasting centers. Different varieties have diverse colors and sizes. The teddy bear sunflower is yellow and shaggy.
Also consider a gladiolus, tall celosia like the Pampas Plume, feathertop wheat, a grass with a texture, and snapdragons.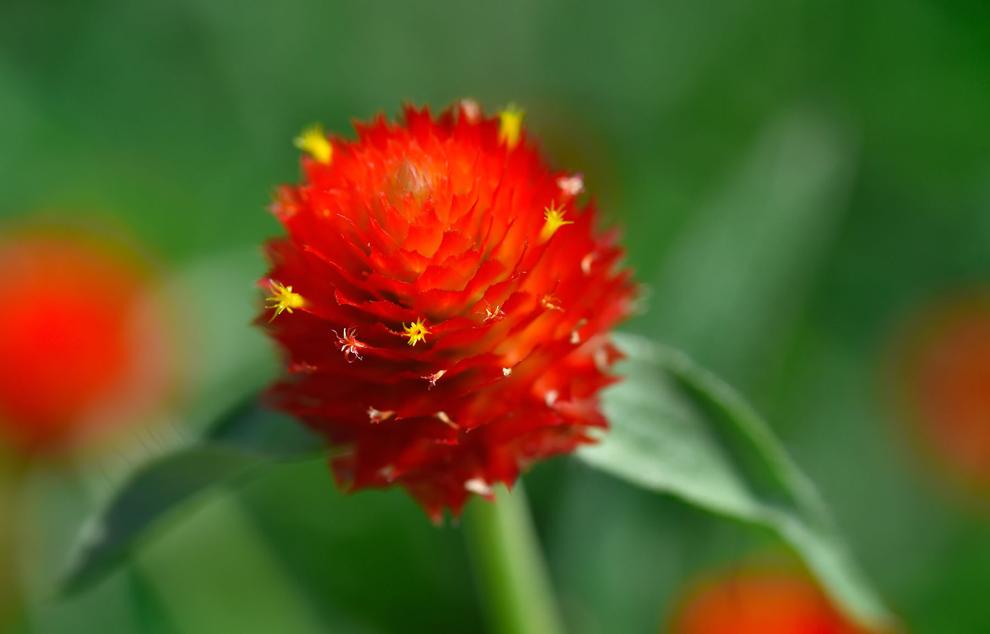 Filler
Cosmos: This flower is tiny, so group them together and add to the bouquet by the bunch.
Statice: This flower is hardy enough that it doesn't need water and can be used in dried arrangements.
Globe amaranth: This flower has long stems with a small ball of color at the top.
Frosted explosion grass: Also called fiber-optic grass.
Search your backyard or your sidewalk for a filler that catches your eye.
"I picked some greens from the raspberry patch, or (you can pick) branches from your trees," Peters says. "You never know how exactly they're going to do, but sometimes they do great. ... Or grasses or even weeds you see. If you see a weed growing in the sidewalk and you like it, I like to do that stuff, too."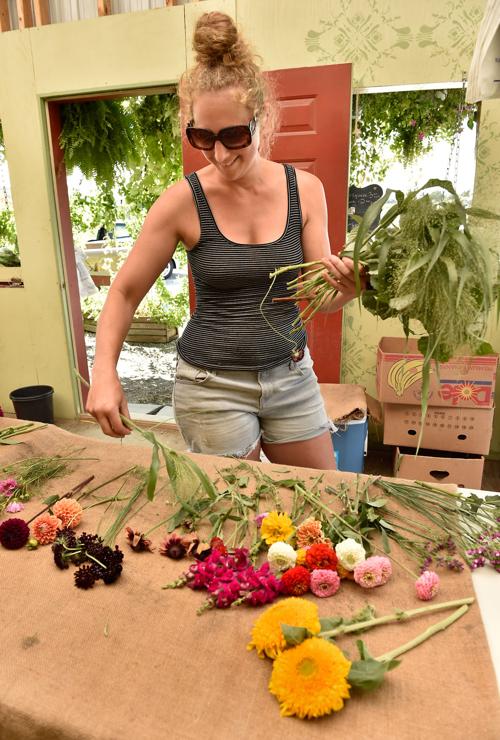 When picking
Avoid brown petals or drooping stems.
Cut flowers that have already bloomed, rather than an unopened bud.
Cut a long stem to give yourself more options, "unless you know you have a really cute, short vase you're going to use, then go ahead and cut it short," Peters says. "I usually try to cut it a little longer, and then I'll chop it off at the end. Then you get a fresh cut when you're arranging."
Putting it together
You can cut and arrange the bouquet in your hand in the field. Or you can pick some, take them home and arrange in a vase.
The trip home
Keep flowers in a bucket of water, or wrap a wet paper towel around the stems.
Care at home
A bouquet will last five to seven days. Changing the water regularly and clipping a half of an inch off the ends of the stems helps extend the life.
With a larger bouquet, pull out a few flowers as they fade.