The McDonalds' front yard in Wrightsville, with its flower beds and the river in the background, is so striking the couple regularly sees people gather there for photos.
If the neighbors only knew what was in their back yard.
It's bananas.
Yes, this couple is growing towering banana plants near the banks of the Susquehanna. And for the first time this summer, their tropical wonders sprouted fruit that looked like tiny bananas.
The McDonalds have lived in this home across the street from the river for decades. Melodie McDonald's family grew up there. When the owners wanted to sell, Melodie, now 62, and her husband Rick, now 70, took a chance. They've modernized the inside of the home and spent a good amount of time transforming the outside as well.
"This is where we go on vacation," says Melodie McDonald as she points out what they've created.
These days, there's a pond filled with water lilies and fish. There are paths winding around and underneath unusual trees.
"Not one normal tree," she says. "They're all weird."
Vegetables are planted next to the fence. And two fairy gardens grow with each mail-order delivery of buildings and characters.
"Fairies are supposed to bring you lots of luck," Melodie McDonald says. "We are six years out of cancer. Both of us had it at the same time. We're hoping these fairies just keep it rolling, man."
The backyard is decorated with statues and decorations (suns and frogs are favorites).
And there are tall banana plants.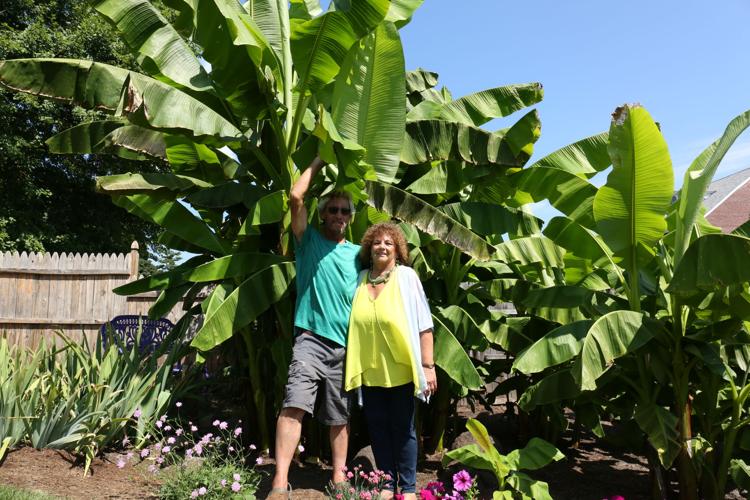 Three years ago, Rick McDonald ran into a childhood friend at the Washington Boro Tomato Festival. The friend talked about his banana plants. They sounded like a perfect fit for their garden of eclectic plants, so Rick bought four.
As the temperature dropped the first year after he planted the bananas, McDonald followed advice he found online. He cut them down to 3 or 4 feet high, wrapped them in bubble wrap and then built a box around the stumps, stuffing it with an insulating mulch of leaves and straw.
In April, he peels away the insulation and watches the stumps sprout.
Melodie usually waters them daily through the growing season. The bananas grew bigger each year.
"We didn't expect them to bloom," he says. "Everybody I've talked to said, 'You'll never get bananas.' But here they are."
This summer, the plants sprouted tiny clusters of bananas.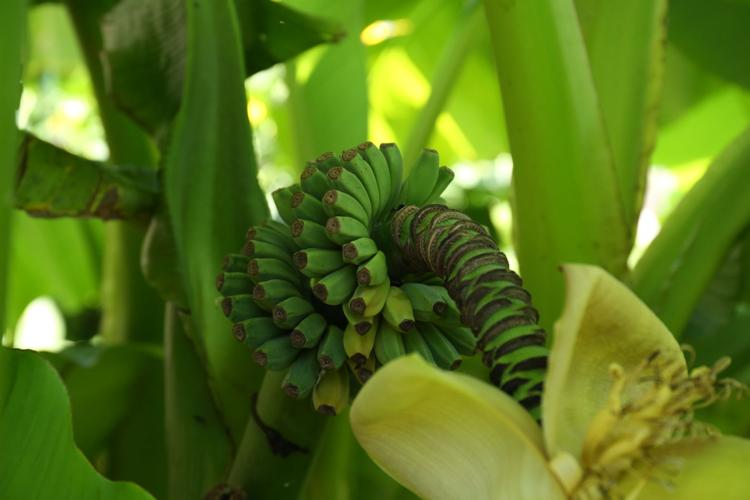 Rick McDonald called his friend who sold him the plants. It was the first time one of these banana plants had fruited.
The McDonalds were stumped by whether the bananas are edible and, if so, when to harvest.
"We're learning as we go," he says.
So, what are these banana trees?
Greg Griffis, senior horticulturist at Longwood Gardens, has some answers. Longwood has 30-feet-tall banana plants growing year-round inside the botanical garden's indoor banana house.
Bananas may be tall as trees, but they're actually herbaceous plants, Griffis points out.
Griffis identified the McDonalds' plants as Musa basjoo, also known as the Japanese fiber banana. This banana is native to the Ryukyu Islands of Japan, a string of islands that stretches toward Taiwan.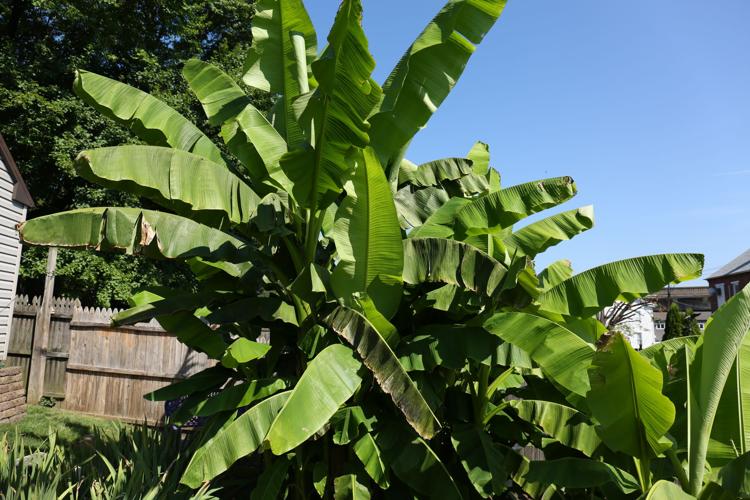 Bananas usually thrive in tropical regions, but the fiber banana is the hardiest type of banana. It will survive in nontropical areas. Fiber bananas will survive the winter unprotected in the deep South and southwest (in USDA hardiness zones 9-10). With some protection, the plants will survive in areas as cold as Zone 5. Most of Lancaster County is a bit warmer than that, Zone 6, as is Wrightsville.
While the plants are fairly common in the plant trade, it is uncommon for them to fruit in this region, Griffis says.
"It doesn't typically have a long enough growing season to mature, flower and fruit," he says. "It's a credit to the culture of the folks who are growing it."
This summer's heat and rain may have helped as well, he says.
Fiber bananas traditionally are grown for their looks. The fiber of the trunk is used to make a fabric called banana cloth.
As far as eating the bananas, the fruit isn't edible.
"They're not as tasty or as edible as the grocery store banana, which is the Cavendish banana," says Sinclair Adam, Penn State Extension educator from the Southeast Agricultural Research and Extension Center near Landisville.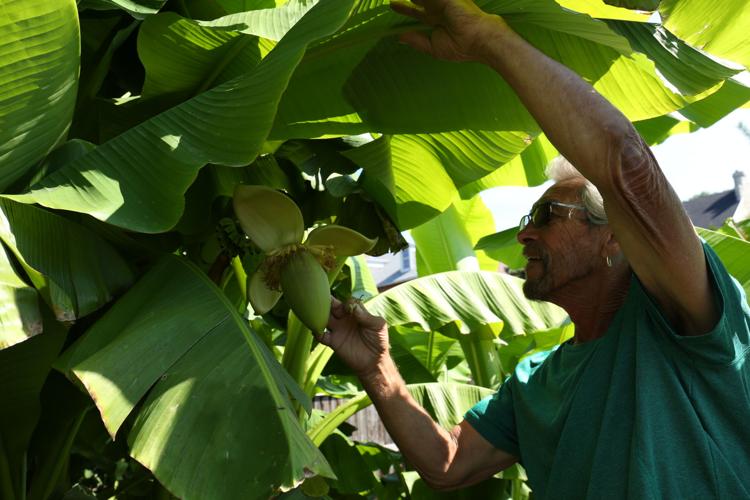 The McDonalds are still proud of what they've accomplished in their little backyard.
And at the end of the month, Rick McDonald will cut back those banana plants once again and wrap them up for one more winter.