In the midst of acres of in-bloom apple trees with petals aflutter, white towers of pallets are easy to ignore.
Yet the wooden stacks, filled with bee hives on the edge of the field, hold the key to turning these flowers into a fruit crop.
Just before moving day, Tim Miller waves his smoker filled with smoldering pine needles at the entrance to one of his bee hives.
"To let them know that we're here," the Manheim resident explains.
He pops off the top frame of the bee hive. You can hear the buzzing and feel the heat on a chilly spring morning.
In the next day or two, Miller will move the honey bees from this orchard to their next job site: produce farms in Lancaster County and beyond. There, they'll pollinate vine crops such as squash and pumpkins.
These bees are known for their namesake honey. Yet how they make the honey is even more important to the agricultural industry than the honey itself. They're essential for apples and cherries here, and avocados and almonds in California. That's why Miller's bees-for-hire are on the move throughout the region.
With bee populations declining, it's harder for farmers to raise their own bees. So they turn to commercial beekeepers like Miller to bring the bees in at the right time to pollinate crops.
"We don't have enough native pollinators to really get a good pollination," says Clair Kauffman, orchard manager at Kauffman's Fruit Farm & Market, Bird-in-Hand.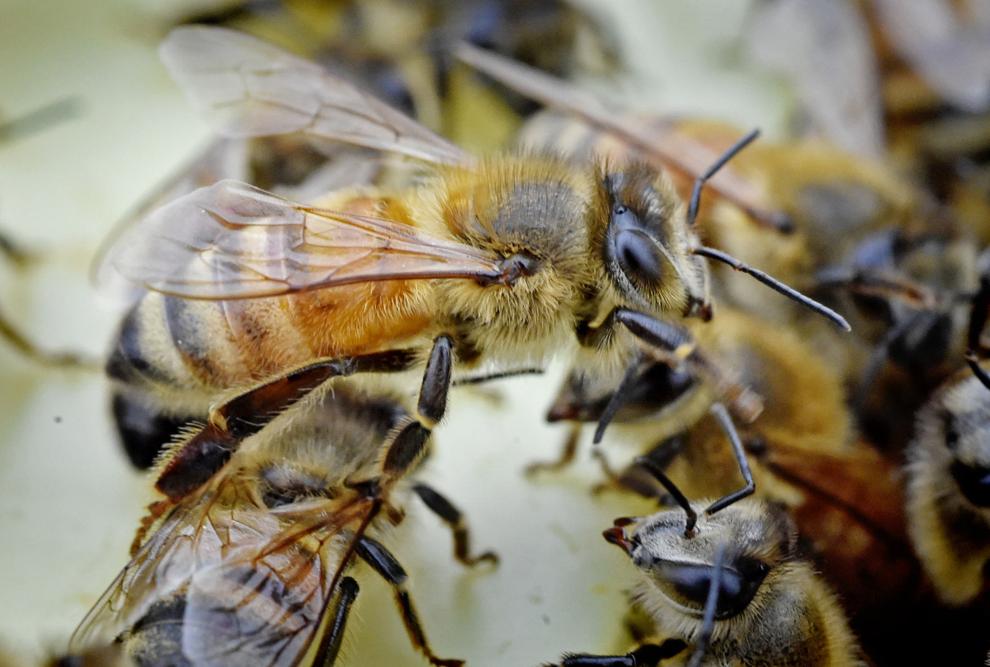 Many insects pollinate crops, but bees are especially good at it. When they're gathering nectar, pollen clings to the tiny hairs covering their bodies. That makes them flying pollen magnets, Miller says.
"As it flits from one flower to the next, it transfers pollen from one flower to the next," Miller says about the bee. "So you get that cross-pollination."
Many crops, like corn, are self-pollinating, with help from the wind. But crops such as apples need cross-pollination, or pollen from a different variety, to produce fruit.
Crops like squash and pumpkins need bees to transfer pollen from male to female flowers, says Margarita Lopez-Uribe, Penn State Extension apiculturist.
While strawberries can self-pollinate, this can result in the shape and the size of the fruit not being ideal, Lopez-Uribe says. So farmers bring in the bees to do the job, making better berries.
(Store continues below.)
At Kauffman Orchards, Kauffman points to four rows of gala apples and 12 rows of ginger gold.
"They need to get pollen from each other," he says.
The farm used to raise bees, but that took time away from the orchard. It also was done at a time when beekeeping was easier.
"You use to be able to put a bee hive behind a shed. Next year, you still had a bee hive behind the shed, even if you didn't hardly do anything to it," Miller says. "Now, my average for the last nine years has been 55 percent loss (in bee population)."
A decade ago, beekeepers in Pennsylvania started noticing large losses in their colonies. There has been lots of research since then to try and understand this colony collapse disorder and stop it. Lopez-Uribe is studying pollinator health from several angles, including land use, pesticides, the environment and beekeeping practices.
Pennsylvania has one of the highest percentages of colony loss in the country, with about 45 to 50 percent of colonies dying, she says.
In Lancaster County, survivorship is 60 percent. That's much better than nearby counties such as Berks and Schuylkill with their 25 percent survivorship, she says.
Growers with small farms or diversified crops usually can get by with pollination from native or wild bees, Lopez-Uribe says. Larger farms or farms with fewer types of crops often need to rent hives. Wild bees live in hedge rows or in natural areas at a property lines and often can't reach the center of a large farm.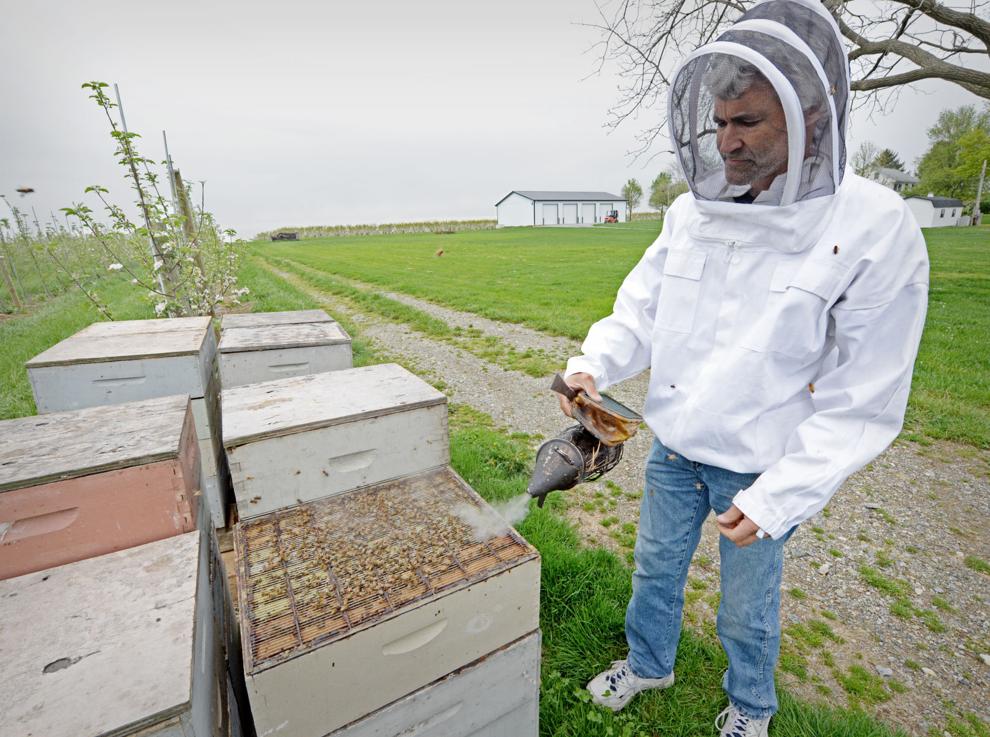 That's when commercial beekeepers like Miller enter the picture.
Miller's business started as a hobby. He saw his first three hives die early on, but decided to start over again. A few years later, Miller and his wife, Kelly, bought the Wampler packing business in 2002. It was a side business while he worked in construction.
In 2008, he decided to focus on bees full time. "You only go through life once," he says. "I decided to follow my heart on that one."
Going full time gave him the opportunity to do things such as take bees to Florida and California.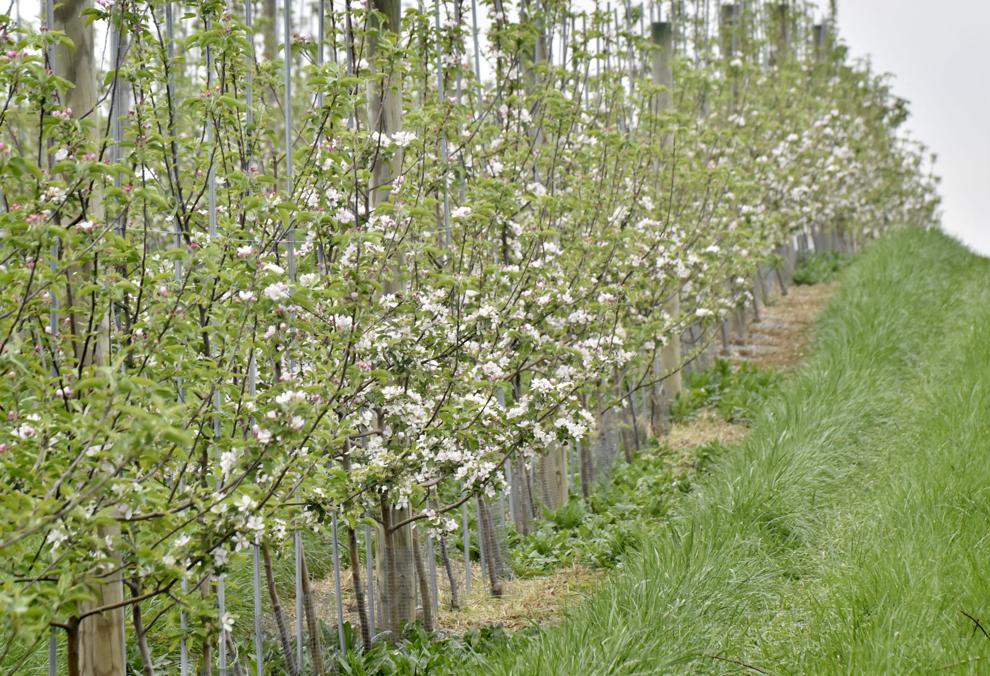 The busy bee time in Pennsylvania starts in April, when the bees are sent to orchards.
Kauffman says he likes working with Miller, but he also wants to boost the wild bee population at his farm.
"In the orchard, I would like to see a future where we have a lot of habitat and management practices that allow a greater population of native bees," Kauffman says.
Newly replanted orchards there will have hedgerows to create habitat for native bees. That's one of the three things farmers can do to encourage more wild bees, Lopez-Uribe says. They also can plant flowers to give bees food after crops bloom. And they can use bee-friendly pesticides and avoid spreading them when flowers are in bloom.
Home gardeners can follow the same rules plus leave a patch of bare soil to attract ground-nesting bees, she says.
When the petals fall from the fruit trees at the orchard, it's time for the bees to move on. It's also "time for a pretty critical application of an insecticide that the bees don't like," Kauffman says.
By May, the bees are working on produce farms in the region.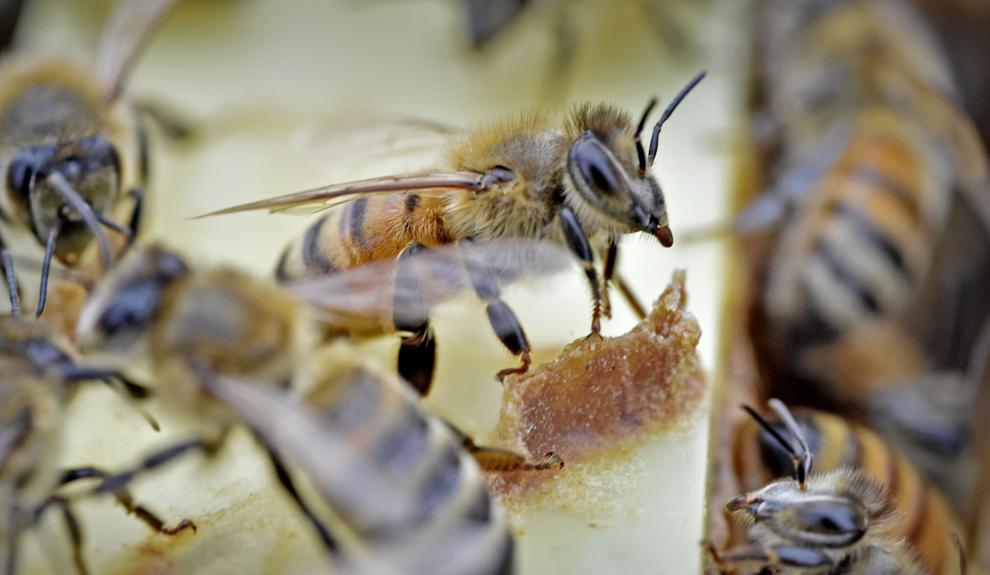 As the bees feed and store honey, Miller checks each of his 300 hives monthly to see if there's still space for honey or if more hives are needed.
As the hives fill with honey, Miller and his wife work with their four children to extract, bottle, label and sell the honey through their business, the Honey Bee Shoppe in Manheim. They also buy honey from suppliers in the Midwest. They sell honey at Roots Country Market near Manheim and New Eastern Market in York.
In September, Miller takes the bees north to Lycoming and Tioga counties, where they feast on aster and goldenrod flowers. Around Thanksgiving, the bees go to Florida for the winter and produce honey in the orange groves.
In April, the bees return to Pennsylvania, where Miller splits the hives and adds new queens before sending them back into orchards in Lancaster, Lebanon and Chester counties.
Then he hopes for sunshine and not too much wind, so the bees can do what they do best.