Here's a tip. If you ask someone who works in an antique or vintage shop to tell you their "most requested item" they're probably going to laugh at you.
Or they might sit there in silence for an uncomfortable amount of time. Or give you that look that says you have absolutely no clue what it's like to live in their world.
"That's a difficult question," says Ron Madar, owner of Rivertowne Antique Center in Columbia.
Tastes and interests of those who do the antique and vintage circuit tend to be all over the map, he says.
"There's a run on one thing one day and the next day it's a run on another," says Karen McClure as she greets a steady stream of Saturday shoppers at Strasburg Antique Market.
One man abruptly hung up after saying, "Miss, we can't figure people out either."
But some owners and managers queried did their best to humor the question. Here's a 10-shop sampling of what gets asked for a lot.
Swung vases at The Vintage Kitchen & Antiques in Adamstown
The popularity of these tall, colorful, irregular-shaped glass creations landed them a front-and-center display at this shop.
"This has been for the last year, and it's all demographics," says owner Tommy Niner. "The young ones buy the $50 or $100 vases and the older people buy the $1,000 vases."
The size of the vase's base and the height of the area stretched out at the mouth both play into pricing, he says.
"If you look online, there are YouTubers, Instagrammers and Facebookers selling these vases," Niner says. Many show off how to make rainbows with them.
"That whole (social media) side of the business is new for the antique world," he says. "But it is now a driving force."
That's even with Niner deciding not to ship from the store.
"If people are driving from Pittsburgh to Philly, they get off the turnpike, run into the store, buy a couple vases and get in their car and head on their way," he says. "It's just a crazy phenomenon."
Midcentury furniture at Space in Lancaster
That's in general, says owner Jesse Speicher.
"More specifically, midcentury bedroom sets ... We sell those like they're going out of style," he says. "Same with dining tables. We can't keep them in."
Easter items at Strasburg Antique Market
"So much of it is seasonal," McClure says.
So right now eggs are an it item — be they hand-blown versions or pysanky Easter eggs from Ukraine, she says.
Uranium glass and railroad items at Bootleg Antiques in Columbia
Geiger counters will click if you point them at this glass. There's actual uranium in there — specifically, in most cases, uranium oxide. The amount varies by piece.
The U.S. Nuclear Regulatory Commission has said there's no danger to handling it. Lately the glass has been hot, says shop owner Connie Anderson.
"That's been going on for the last 60 to 90 days," she says. "Country Living always puts out its 'most desirable collectibles' and whatever they put on there (uranium glass, recently) is what people come in here looking for."
Some vendors put black lights on their displays.
"It glows neon green with purple in it," she says. "It's really cool to look at."
Railroad items also draw shoppers. They're a specialty of one of her vendors.
"These are full-scale, big commercial railroad items like bells and lights," Anderson says, adding they seem to be headed for an increasing number of homes.
"I don't know if it's the good-old-days kind of thing where people want to reminisce," she says. "But he's got a following, that's for sure."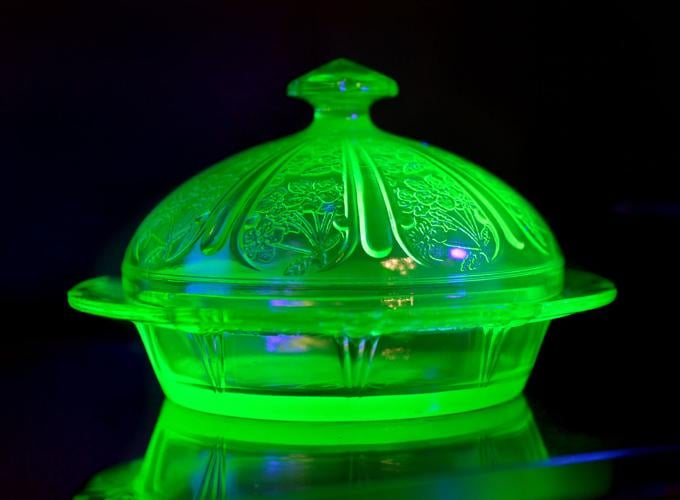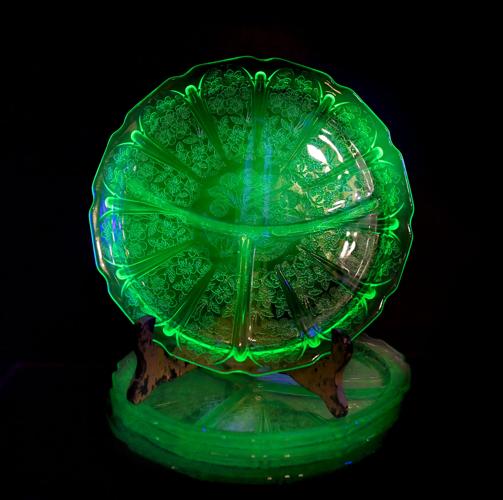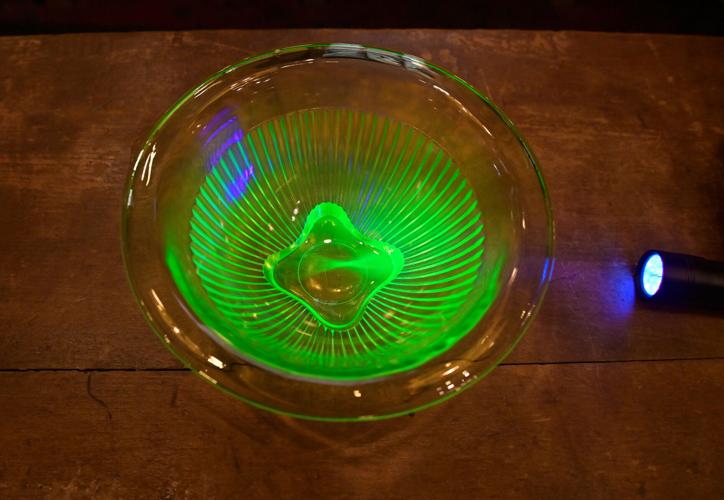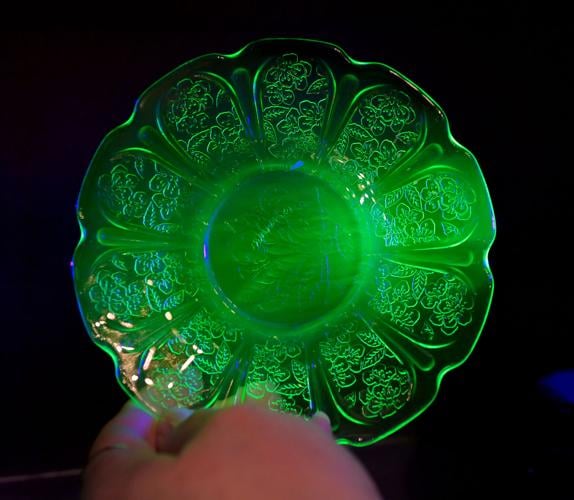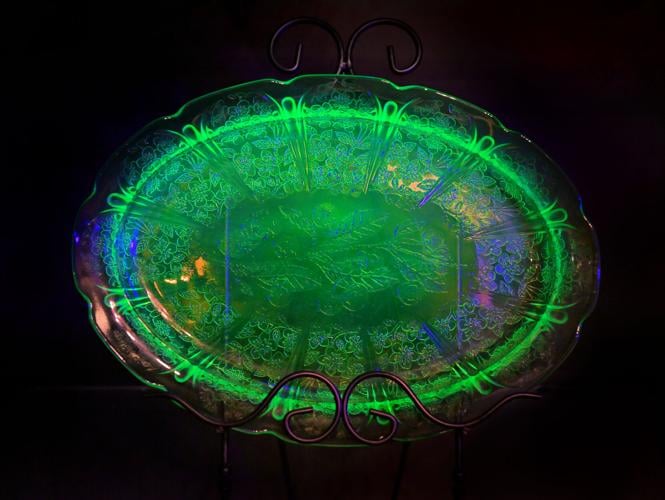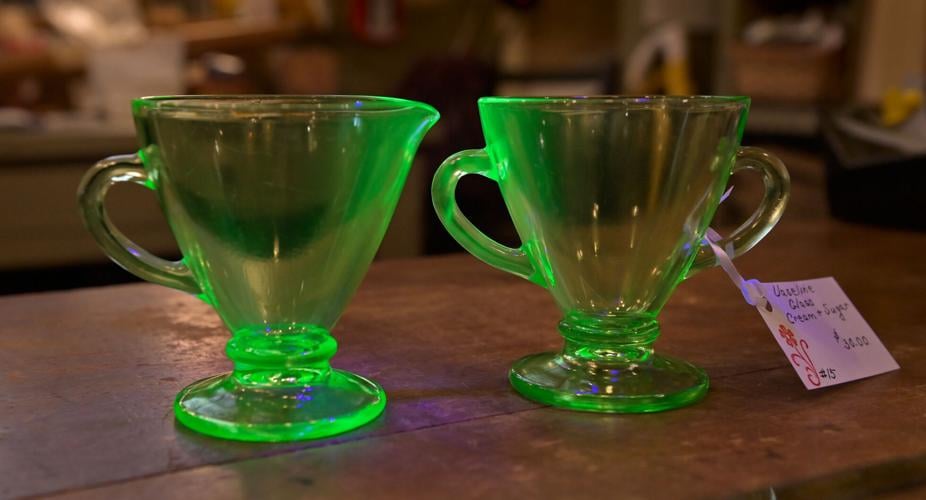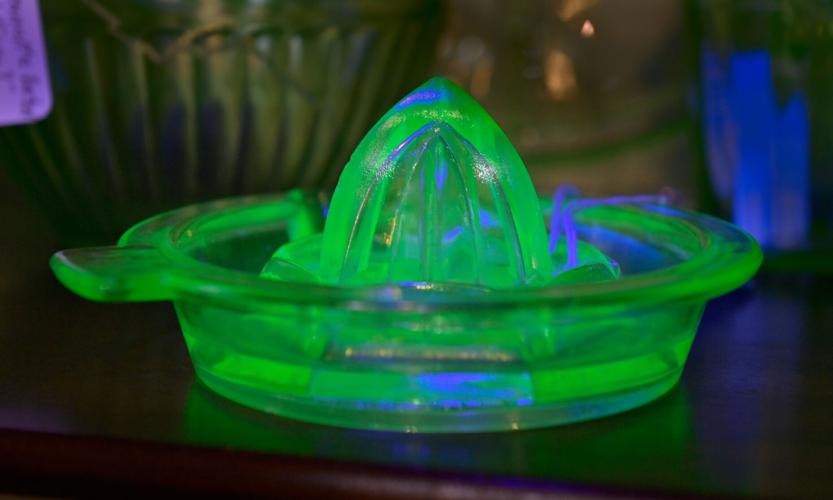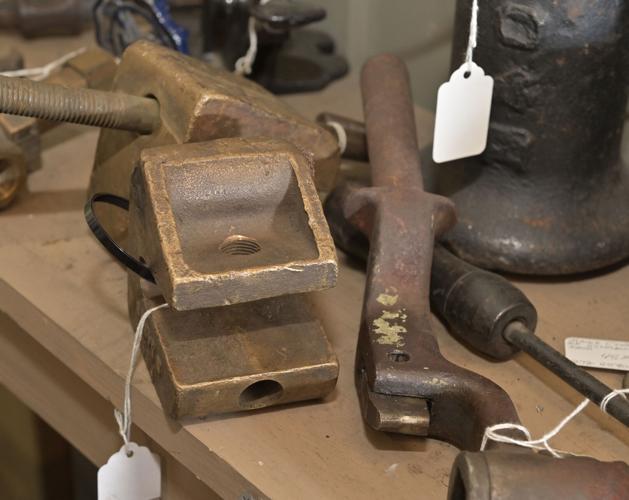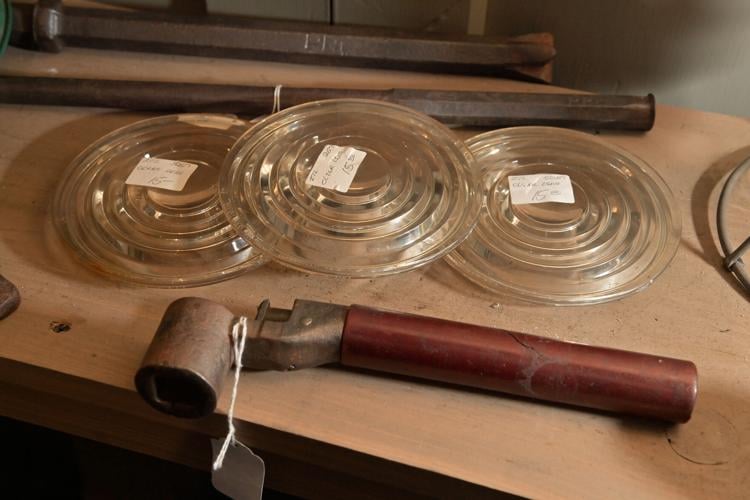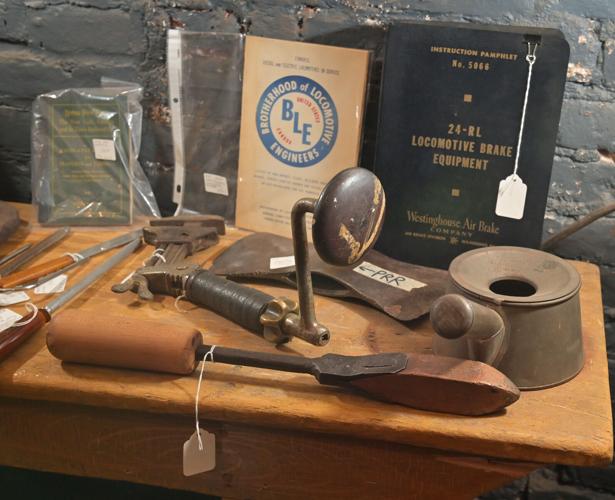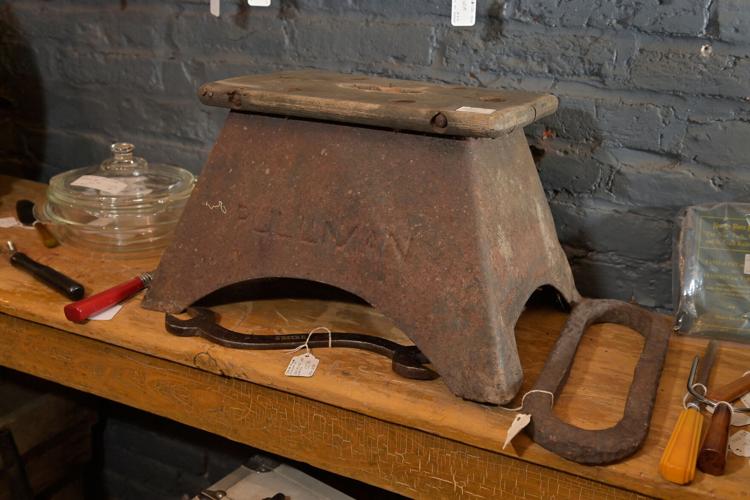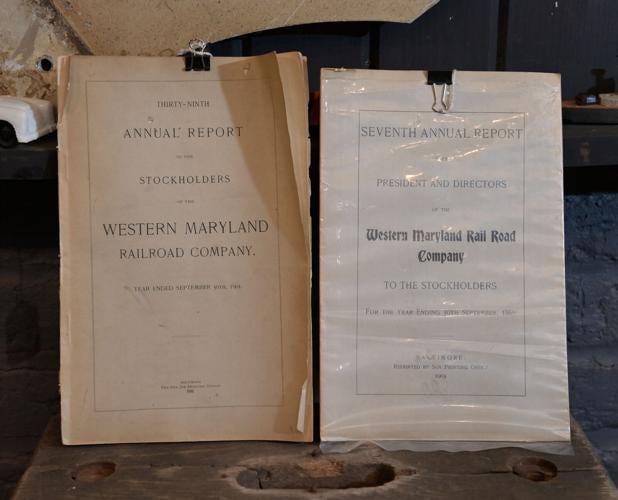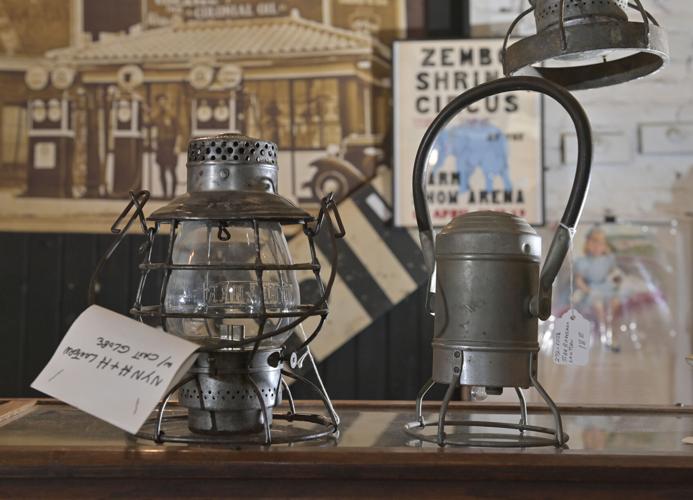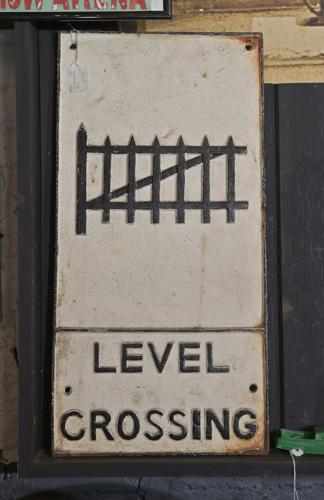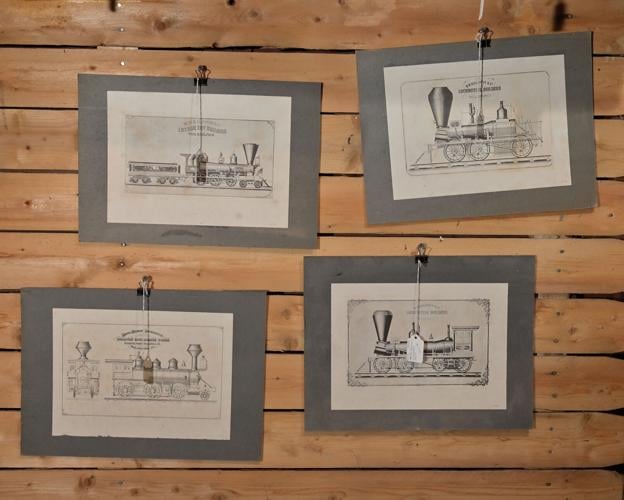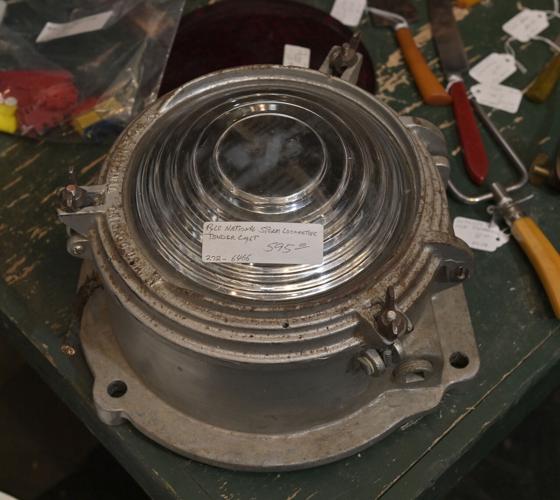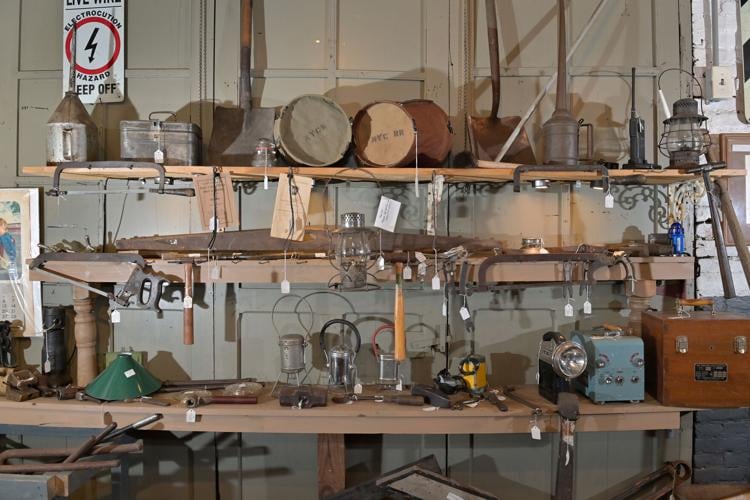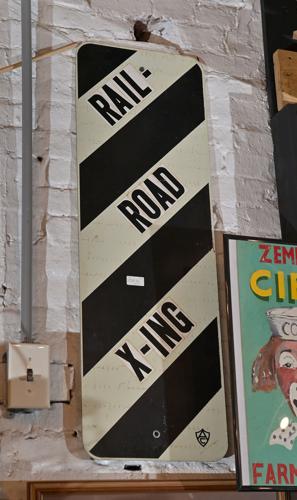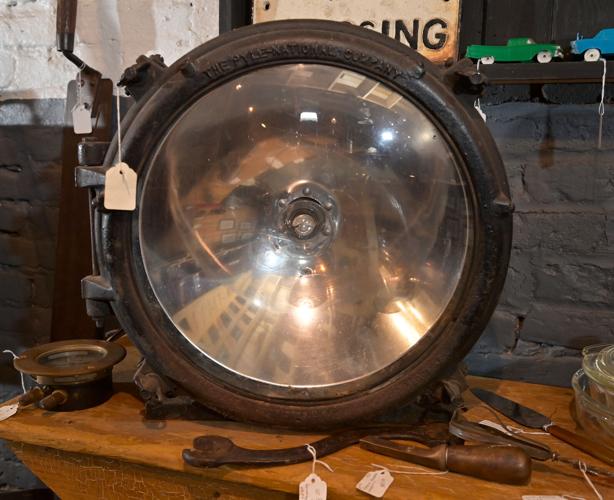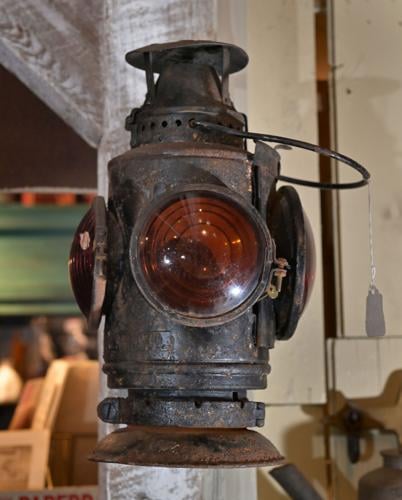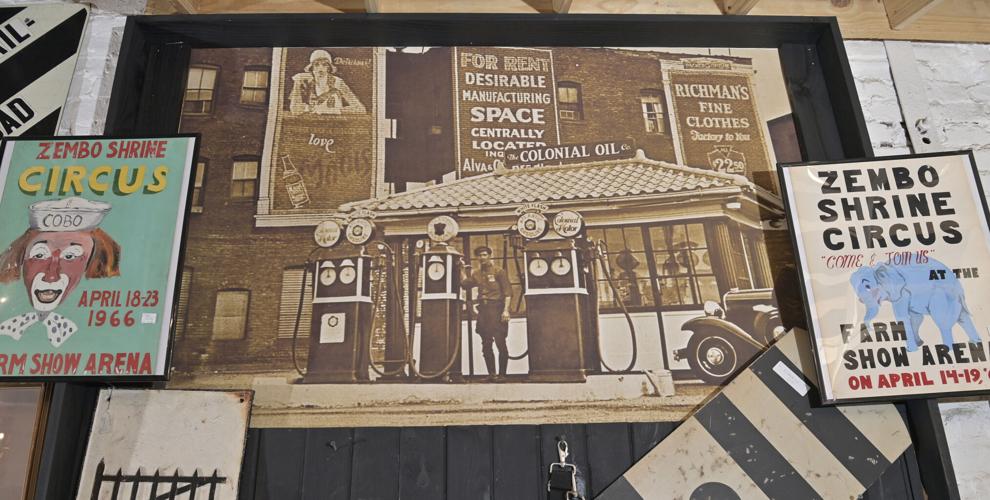 Bootleg Antiques in Columbia has uranium glass and railroad artifacts [photos]
Uranium glass and railroad items at Bootleg Antiques in Columbia have been popular items for shoppers to pick up in the last several months.
A Geiger counter will click if you point them at the glass, as there is actual uranium in there. Specifically, in most cases, its uranium oxide and the amount varies by each piece. If you hold a blacklight to the glass, it will glow a neon green with some purple in it and it's cool to look at.
Railroad items are also popular with the crowds nowadays. There are lanterns, tools, artwork, oil cans and signs. Just about anything you can imagine when it comes to railroads. 
Top hats at The Scarlett Willow in Lancaster
"I get asked about really specific clothing a lot. Things like top hats," says owner Jodi Pabon. "It's a very iconic vintage look and people assume that they exist in plentiful numbers."
They don't. A ton of top hats weren't made to begin with and many didn't survive, she says. Those that did?
"Most times they are either really tiny or they're just not in good shape because they've been sitting around for 110 years," she says. "Over the last 10 years I've probably had a total of like five top hats."
Buffets and mirrors at Vintage & Co. in Lancaster
"A lot of times they're going to use them (buffets) maybe as a media console to put their TV on," says owner Jill Marhevka. "They are also looking for regular buffets for their dining room."
Mirror requests are often for bathroom makeovers, she says, adding, "a lot of them are looking for the pretty, vintage gold ones. Or we paint them white to make them look new again."
Pantry boxes at Brickerville Antiques Barn in Lititz
"They're mostly from the 1800s. They're bent wood with a lid and exactly what they say they were," says owner Penny Knight.
The containers held dry goods.
"They like them with the original paint," she says. "Some people repaint them but the good dealers prefer to have the old and original."
Advertising items at Rivertowne Antique Center in Columbia
"We do get a lot of people interested in advertising and signage," Madar says.
This should come as no surprise to anyone who has seen an episode of "American Pickers."
Rivertowne carries items from $1 to in the neighborhood of $15,000, the latter being where a chest from Soap Hollow is priced.
"Back in the day, Soap Hollow was a small community in (what is now Somerset County) Pennsylvania where they had five or six craftsmen, furniture guys, who all made furniture the same way," Madar says. "They were all painted and stenciled in a similar fashion."
Granted there aren't crowds coming in clamoring for that, but there are those who will.
"Those pieces are few and far between and highly sought by people who are looking for good, early Pennsylvania furniture," he says.
Fenton glass at Antique Village of Strasburg
That's one of the few things Esther Glick is hearing multiple people looking specifically for. Fenton has history going back to a couple of Ohio brothers by that name. A Fenton factory was built in Williamstown, West Virginia, in the early 1900s. Production ceased there in 2011.
Glassware in general and pottery have regained some lost traction as of late, she says.
"Twenty-five years ago when I started you couldn't buy the pottery like Weller and Roseville McCoy," Glick says. "Those were just stupid crazy prices. Then all of a sudden it just dropped in the toilet."
The prices aren't back to their highs but have been ticking up, she says.
"I think the resurgence in glass is really the biggest surprise for me," Glick says.
Die-cast tractors and postcards at Tannery Antiques in New Holland
Other than taxidermy, which is a specialty at this shop, die-cast tractors may be harvesting the most attention, says co-owner Linda DiBartolo.
"Oh, and postcards are coming back," she adds. "I probably sold $50 or $60 worth of postcards in the last two weeks. At $2 and $3 a piece that's a lot. Or even 25 cents a piece."
DiBartolo says destinations may be driving that.
"People aren't going to travel," she says. "They're collecting places they might like to see."
In the mood now to go treasure hunting? The first Vintage Revival Market of 2023 starts today at The Shops at Rockvale, 35 S. Willowdale Drive., with food trucks, music and over 55 vintage and "vintage vibe" small businesses expected. It's $3 to shop today from 6 to 8 p.m. It's free to shop Saturday from 10 a.m. to 4 p.m.
REBECCA LOGAN FOR LNP | LANCASTERONLINE