Frank Lloyd Wright (1867-1959) designed private residences, buildings of worship, office buildings, schools and ateliers, urban civic architecture and even art museums. He united the indoors with the outdoors in his buildings, highlighting landscape vistas, gardens and waterfalls. 
Wright's prairie-style structures focused on what he called organic architecture, which made his buildings stand out in the realm of 20th-century architectural history.
Wright was interested in devising architectural plans that encouraged visitors to make a pilgrimage to the front door of his private homes, as is the case with the famous Frederick C. Robie House on the campus of the University of Chicago. He thoughtfully designed stained-glass windows to fit within an overall design aesthetic. For instance, Wright's colorful stained-glass windows for the children's playhouse of the Avery Coonley House in Riverside, Illinois, focused on the family's active lifestyle with young children.
Wright's buildings made the hearth the center of the home. The nucleus of his residential structures, the fireplace serves as a meeting place in Wright's home designs, with ample seating and room for a large roaring fire. That's the case in Wright's architectural design of the massive hearth in the Darwin D. Martin House in Buffalo, New York.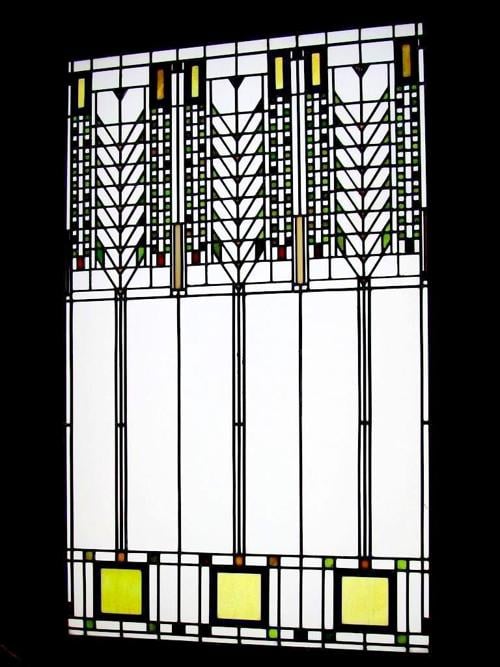 The architect designed all aspects of his buildings, so it follows that, while many of Wright's buildings have been on the real estate market for high prices, his furnishings and design elements from these houses also are captivating to collectors. The market for Wright's design objects indicate the current interest in architectural salvage, vintage and antique furnishing and accessories. He was a highly respected designer, from the foundation of his buildings to the furnishings, and he designed windows in stained and leaded glass, as well as chairs, tables, serving pieces, built-in seating spaces and storage areas, textiles, carpets, light fixtures, planters and sculptures. These objects have become of great interest to collectors.
Some interesting Wright objects demonstrate the interest in architectural elements as a sector of the antiques market, as well as the way collectors are engaged to live among Wrightian objects. Popular Wright objects range from light fixtures and stained-glass windows to lounge chairs and carpet remnants.
Here are the top Wright objects that have sold on the market in the last year, showing the interest in the architect as a designer:
— Hanging lamp, John Storer House, Hollywood, California, 1923: $36,000.
— Lounge chair, Clarence Sondern House, Kansas City, Missouri, 1939: $15,000.
— Stained-glass window, Lake Geneva Hotel, Lake Geneva, Wisconsin, 1911: $10,000.
— Stained-glass window, Avery Coonley House, Riverside, Illinois, 1908: $8,500.
— Leather chair, Francis W. Little House, Wayzata, Minnesota: $4,750.
— Standing oak desk, Frank L. Smith Bank, Dwight, Illinois, 1905: $4,500.
— Upholstered bench, First Unitarian Society church, Madison, Wisconsin, 1951: $3,500.
— Wastebasket, Larkin Building, Buffalo, New York, circa 1906: $2,100.
— Bound carpet remnant, Arizona Biltmore, Phoenix, 1929: $300.
— Buffalo Pottery china plate with Larkin Co. logo by Wright, circa 1905: $150.
As Wright enthusiasts consider taking on the project of buying and updating a Wright home or building, many lovers of modern architecture are quite satisfied with a planter, wastebasket or rug designed by Wright. Today, these architectural elements are become much easier to find and afford.
Dr. Lori presents appraisal shows nationwide and is the star appraiser on History channel's "The Curse of Oak Island." Visit DrLoriV.com or Facebook.com/DoctorLori, or call 888-431-1010.