Sundays are busy days in Kate Wall's kitchen: She works long hours in corporate communications and has a significant commute to her office, so she sets aside that day to get her meals prepared for the week.
"I mean, I spend hours every Sunday prepping my food for the week," Wall says. "I'm cleaning vegetables, or throwing chicken in the (slow cooker), and I think of kitchens where you don't have much counter space, or rooms that are very (separate) from the rest of the house, or not designed for getting around, or where there's no natural light.
"It doesn't feel like a place you want to be, or have room where more than one person can work at a time."
Homeowners like Wall are driving one of the trends identified at the 2018 Global Wellness Summit: the "wellness kitchen."
A report issued after the summit, held in Florida, said consumers are looking for kitchens that are held "to the same standards of wellness as the food we keep within (them)."
Beyond a basic setup of stove, sink, refrigerator and worktop, the report says, people are starting to take a look at kitchens that aren't just functional, but rooms that make life easier to follow a lifestyle that incorporates healthy eating, emphasizes fresh food and makes storing and preparing it a priority.
A combination of design and technology trends is making that easier in high-end kitchens — but some of those ideas are adaptable to just about any home kitchen.
The high end
In Lancaster County, its easy to get fresh food from markets and seasonal roadside stands. Grocery stores, too, display "homegrown" produce, especially during the growing season.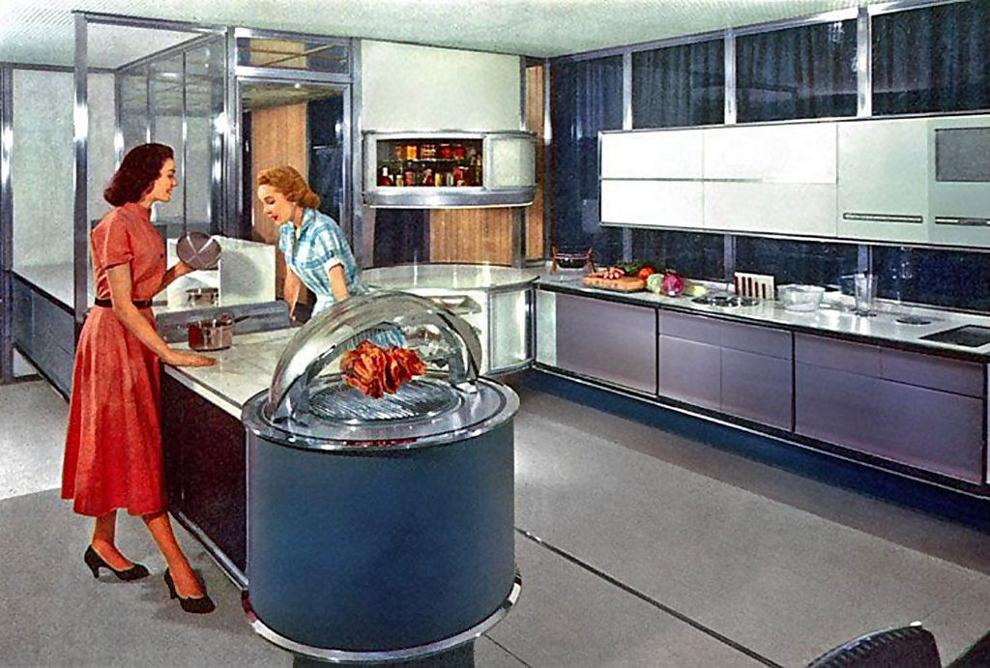 But having access to that fresh food only gets a home cook so far. Storing it properly, and being able to use it before it spoils or turns into a slimy refrigerator-drawer mess, is important, too.
So it's not surprising that, in a world in which a smartphone user essentially holds a computer in her hands, kitchen appliances also are incorporating more technology.
There are "smaller" options, such as tiered steamers that quickly cook several foods at once, or Bluetooth-enabled scales that calculate the nutritional information of whatever it's weighing, while providing recipes for that ingredient.
On the upper end? Samsung, LG and other large manufacturers are incorporating technology into their refrigerators and freezers, with touchscreens to access the internet or automate shopping lists, look up recipes, and track when produce was purchased so it can be used before it spoils.
Other "healthy kitchen" products coming down the pike include Whirlpool's Zera Food Recycler, which transforms food scraps into compost within 24 hours, and cabinets with running water and temperature control that function as indoor gardens.
The everyday
All that technology, of course, still comes with a heftier price tag at this point than a typical kitchen remodel with off-the-sales-floor appliances.
Wall, who recently bought a house in Lancaster city's Old Town neighborhood, has undertaken multiple renovations and at least one full-house gutting in places she's lived before.
She says some of the higher-end trends seen in design magazines, such as glass-front refrigerators that make all that healthy food visible, aren't always as practical as lower-tech options.
"I just can't!" Wall says of refrigerators with transparent doors. "I can make things look really beautiful, but would it be functional for me? On Sunday, my fridge looks really good" and organized, "but by Tuesday? No one wants to see that! I can't go there."
Instead, when it comes to reminding herself to eat nutritious foods and not empty calories, she goes a simpler route.
"I have a pretty wooden bowl and I put fruit in it, and that's my decor right now, you know?" Wall says.
If she's choosing a refrigerator during a remodel, she says, she'll go for one with the freezer on the bottom and a pair of French doors on the refrigerator above.
When the refrigerator is on the bottom, and the produce drawers at floor level, she says, "I sometimes throw food away because I forget I have it."
In those cases, she says, it's matching the design of the kitchen with how you really use it that encourages healthy eating.
"When I redid my kitchen" in a previous house, "I spent a lot — a lot — of time and energy thinking about what are the appliances I use the most, how do I flow, what am I really doing in there?" Wall says. "Like, I make a smoothie every morning. So I want somewhere to put my blender away that's easily accessible, not 20 steps away in a pantry. I want a big sink where I can wash fruits and vegetables. I want ample space where I can store food."
Other elements factor into Wall's kitchen planning, too, for her own projects as well as those she's taken on through her Designed By Kate business.
Plenty of light makes growing fresh herbs, possible. Baskets are inexpensive, and make storing produce easy. Proper lighting over the countertops makes it easier to prep meals. Put those lights on dimmers so the space is useful for both working and dining. And make sure your layout can accommodate everyone who will be using the room.
An awkward setup, Wall points out, combined with the small kitchens often found in older homes, would mean she and boyfriend Chris Firestine wouldn't be able to use the kitchen at the same time.
The kitchen is often the center of home life, Wall says, and cooking meals isn't always the sole responsibility of one person.
"There are some ways that we've designed kitchens in the past," she says, "that don't really work for modern life anymore."