The snow is melting and the daffodils and crocuses are blooming.
Early spring is the time when you have an almost-blank slate to plan the area outside your home for the rest of the year. Take some time to do chores in the next few weeks and you'll have a healthy lawn and healthy trees and a plan for flower beds, vegetable patches and container gardens. Experts in the region shared their spring to-do and not-to-do lists. (And don't forget to weed, especially before the plants go to seed.)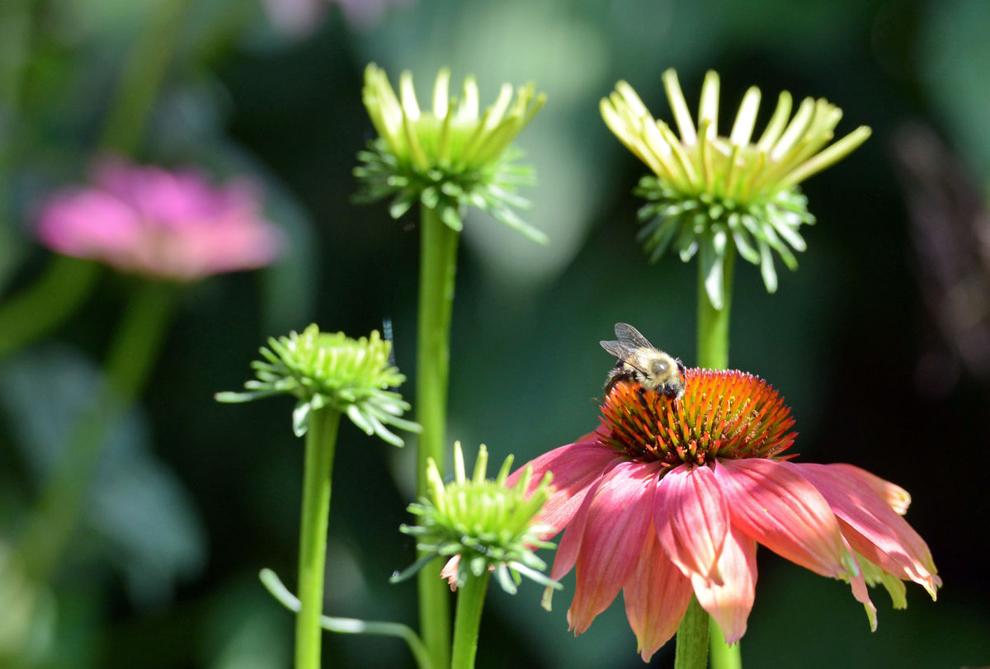 Flower beds
Whether you're starting a new bed or assessing an existing bed, this is a good time to make changes, says Connie Schmotzer, consumer horticulture educator with Penn State Extension in York County.
Assess an existing flower bed and see how many and what type of plants could be added. A new technique is planting every inch instead of separating plants with large moats of mulch. Plant beds in layers, keeping in mind tall plants like Joe Pye weed and shorter plants that can live underneath. "This keeps out weeds, which makes it much easier for the gardener," Schmotzer says. "And also holds the soil and even reduces or eliminates the need for mulch."
At the end of March through the beginning of April, cut back dead material. It's OK to leave it out over winter to provide shelter for beneficial insects. Set the material aside in a corner for a few weeks and then chop it up to make mulch.
Annuals like pansies can tolerate early spring's cooler temperatures and can be planted now. For less hardy annuals like marigolds or petunias, wait until the middle of May.
If the perennial plants you're adding have been grown in an unheated greenhouse and hardened off, plant as soon as you can work the ground when it's not too wet or cold.
If you have plants from a heated greenhouse, harden them off or wait until closer to Mother's Day to plant them. If temperatures dip, these plants might need to be protected.
Don't add fertilizer to native plants. They do not like rich soil.
Vegetable garden
It's easy to get excited and plant your entire garden in early spring, says Maggie Saska, plant production specialist at Rodale Institute, a nonprofit that focuses on organic farming. People come to Rodale's first plant sale (this year it's April 7 and 8) and ask for tomatoes. Be patient. There's plenty to do before it's time to plant those tomatoes in mid-May.
Clean up debris in the vegetable garden.
Loosening the soil makes it easier for new roots to grow. If you have the time, when the ground is workable, turn over the soil manually with a tool like a broadfork.
Add about an inch of fresh compost to your garden bed.
As soon as the ground can be worked, plant hardy vegetables like peas, spinach, onions and brassicas like kale, cabbage and broccoli. These should be planted by mid-April. Spring greens can be started now and could be protected by a row cover, which can be used to extend the season in the fall. Mark where you plant seeds so you won't walk on top or accidentally weed your seedings. Save the less-hardy plants until mid-May.
Don't break up soil with a tiller or plow. This breaks up soil aggregates and removes many of the spaces for air and water. Tilling can lead to soil compaction.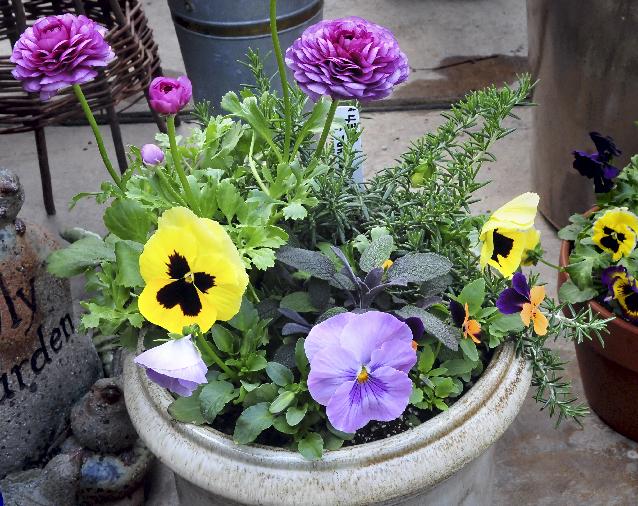 Container garden
You don't have to wait two months to fill your containers with blooms and edible plants. You can plant pansies, cold-tolerant annuals, lettuce and hardy herbs now, says Laura Lapp, owner of Perfect Pots Container Gardening on Strasburg Pike.
First, remove old roots and plant materials from the containers.
Freshen the top of the pot with good quality potting soil. Lapp recommends Frey Professional Potting Mix, which is made in Quarryville.
It's OK to reuse potting soil from season to season, as long as the planter was pest- and disease-free in the previous season. When reusing potting soil, refresh the nutrients with a slow-release fertilizer at the time of each planting. Lapp recommends Osmocote plant food or an organic fertilizer for container grown edibles.
Then it's time to plant.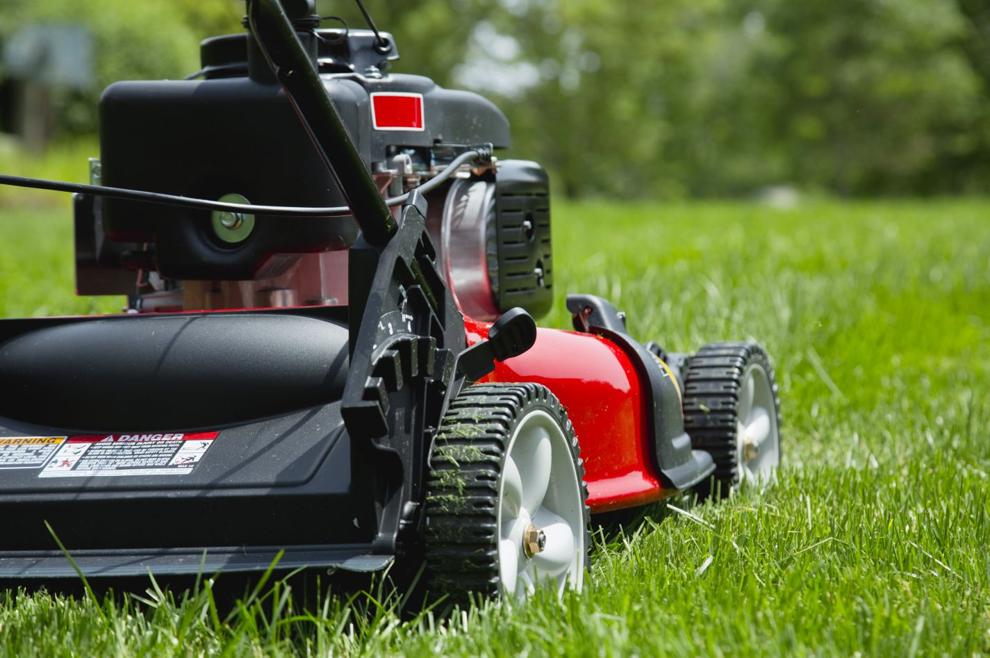 Lawn
Spring is an easy season for lawn care, says Tanner Delvalle, commercial horticulture educator for Penn State Extension in Schuylkill County.
Once the snow melts, add fertilizer to your lawn.
If you have a bare area, plant seeds now. If you can wait, reseeding in the fall is the best time because the seed doesn't compete with many weeds.
Once the lawn starts growing, one of the best things you can do is not mow the lawn lower than 3- to 4-inches-high.
Don't aerate in early spring. That will create holes where weeds can germinate.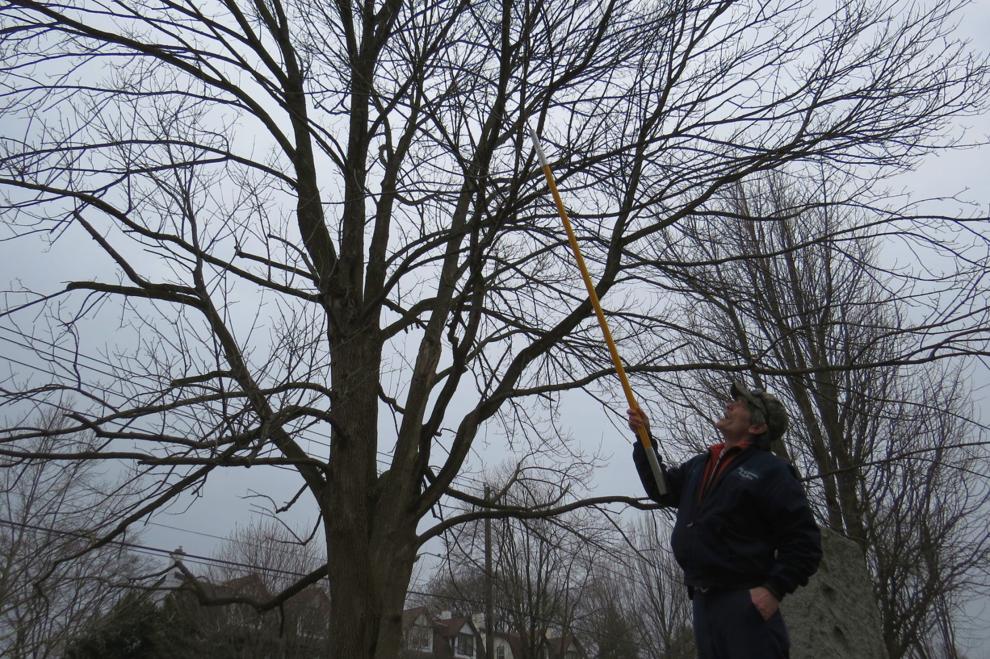 Trees
Before trees sprout leaves is a great time to look for broken or dead branches, says David Kantner, landscape horticulturalist and arborist at Conestoga House, which is open to the public for summer garden tours.
If you spot a branch that's dead or looks like it might fall on a car or driveway, contact a certified arborist. (Find a local certified arborist through the International Society of Arbiculture at isa-arbor.com.)
Otherwise, now might be the right time to prune branches. It's usually best to prune when a tree is dormant or after flowering, but Kantner prefers pruning when it's needed. Use a three-step cut: an undercut a few inches from the end of the branch and cut a third of the way through the branch to eliminate the risk of tearing the bark down the trunk; saw the branch a foot beyond the undercut to remove weight; and cut outside the branch collar to remove it.
Adding mulch under a tree conserves moisture for the tree and prevents it from competing with other plants for water and nutrients. Spread the mulch to the edge of the tree canopy, which keeps the roots cool. Keep two to three inches of space between the mulch and the bark, to prevent the bark from staying wet. The mulch should be no more than 3 inches deep so rainwater can reach the ground.
If you have a new tree, don't keep guide wires attached in the second or third year. Otherwise, the wires will start growing into the tree.