When you ask some of the kids at Edward Hand Middle School what their favorite thing was about being in the school production of "The Lion King Jr.," and then going to see it on Broadway,  they all said the same thing.
It wasn't about applause.
Or being a star.
Or even going to their first Broadway show.
"The best part was making special connections with people I didn't know," says Aurelia Cogley, who just completed seventh grade. "
"Making connections with people I never talked to before, opening up," agreed Nenishka Beronudez, who also just completed seventh grade. "Not only did we all work hard, but not one person was left behind. It brought us all together."
"The Lion King Jr." was the first theatrical production Hand Middle School had staged in more than 20 years and it turned out to be quite a production.
"There was a buzz in the community, a lot of pride" says Hand principal Mark Simms. "It was amazing for the students, their families and (for the school)."
"They packed the house," says  Ty Bair, a seventh grade social studies teacher at Hand who helped with the production.
Several years ago, he and Shayne Meadows, a sixth grade science teacher at Hand, founded a program now called Advantage Lancaster, which tutors and offers  summer school classes to students.
They worked with a number of organizations to bring "The Lion King Jr." to the school, including  the Find Your Light Foundation, the Lancaster County Community Foundation and the Lancaster Education Foundation, which all gave financial grants to the program.
Also supporting "The Lion King Jr."  was In the Light Ministries, Ray's Temple, Thaddeus Stevens College of Technology (where Advantage Lancaster is based), Fruition Collective and Speak to My Soul.
Bair and Meadows knew the director of the show would be Lisa Atchison-Taylor, a  speech pathologist at Hand.
"I wrote plays for my students to work on in class," she says.
Some students jumped right in, while others took a little more convincing to become a part of the show.
"This was my first play,"   Beronudez says. "I was interested because I always watched 'The Lion King,' but I didn't want to be in it. I'm really shy. But Mr. Bair encouraged me."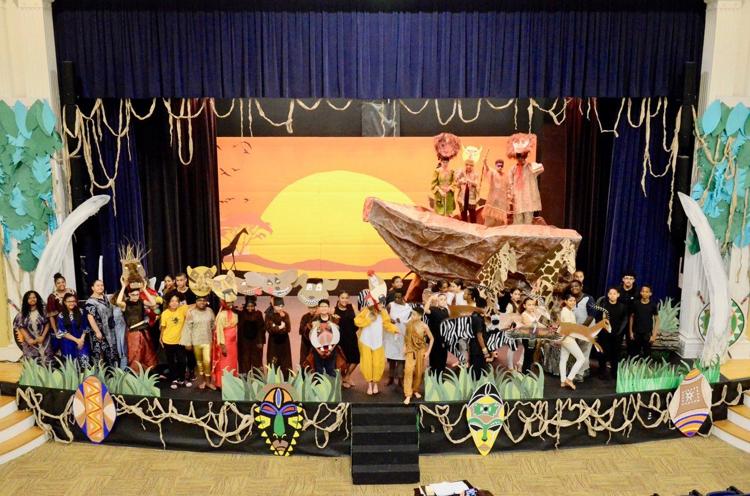 "At first, I wanted to be back stage," says Eva Ojeda-Laurencio, who will be entering ninth grade.
"Through the show I got to know Eva and I didn't know how well she could sing and act," Bair says. .
And Danny Hollman, who's going into eighth grade, wanted to be in the ensemble but was also manager of the track team.
He happily took on the extra work.
"I got us all to admit we're showoffs," Atchison-Taylor jokes.
 All the hard work was worth it, of course. The show was a hit.
"I was nervous until about half way through the first show," Atchison-Taylor says.  "And then  I was confident they had it."
"I was scared, but then I went down the aisle (in the opening scene) and I thought, I can do that," Hollman says.
"It was an amazing production," Bair says.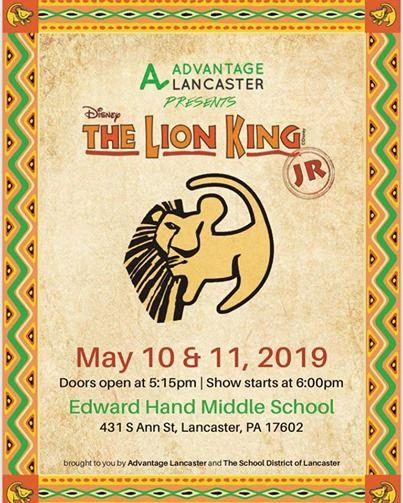 "And the time the students invested in it was amazing," Simms adds.
But more amazing was to come.
Word leaked out that there was going to be a special announcement for  kids who participated in the show.
"I thought they were giving us pizza," Hollman says.
Instead, they found out they were  going to New York City - 36 in all - to see "The Lion King" on Broadway.
For many, it was their first time going to New York, let alone a Broadway show.
"The elephant was so big and the wildebeests kept getting closer and closer to us," says Jaelynn Hargrove, who's going into 7th grade.
"It looked so real, the way they moved," says Beronudez.
"After watching the show, my appreciation for what the students did  grew," says Atchison-Taylor. "There was not that  large a disparity between the productions."
All the students we spoke to would love to do another show. 
"'Lion King Jr.' set a standard for future performances," Simms says. "Yes, we have to do another one."