Local parks have tons of equipment for kids, but what can grown-ups use to get a good workout?
With a little imagination, just about anything can become part of a workout.
A bike rack doubles as a bar for bodyweight rows.
A slide is just right for arm dips and seated leg tucks.
That bench? Perfect for jump squats and push-ups.
The entire park is your gym. That's the idea behind Lancaster Recreation Commission's Big Green Gym park workouts.
The group made workout guides for seven parks throughout the city to make it easy and cheap to get fit.
Bodyweight rows at 6th Ward Park.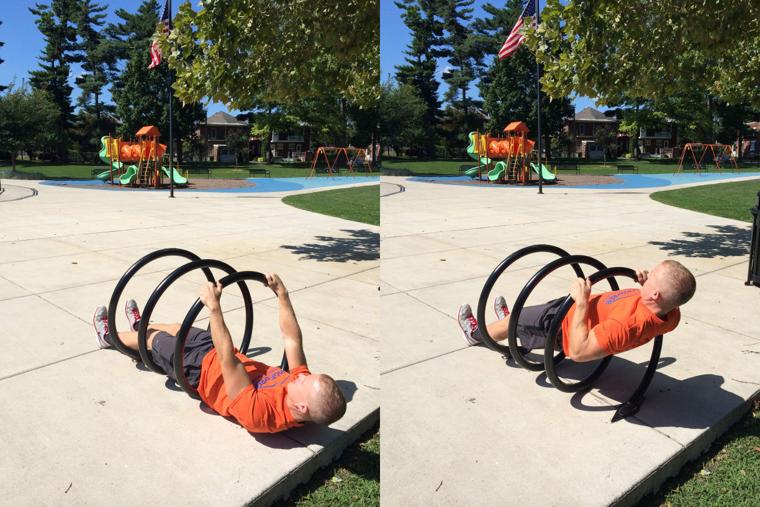 The staff started with city parks, several of which have been newly renovated.
"They're so beautiful and they're transforming the parks in such an amazing way," said Audra Landers, director of sports services for the commission. "Everyone wants them to be utilized."
The nonprofit commission is a partnership between Lancaster city, the School District of Lancaster and Lancaster Township.
Push ups at Brandon Park.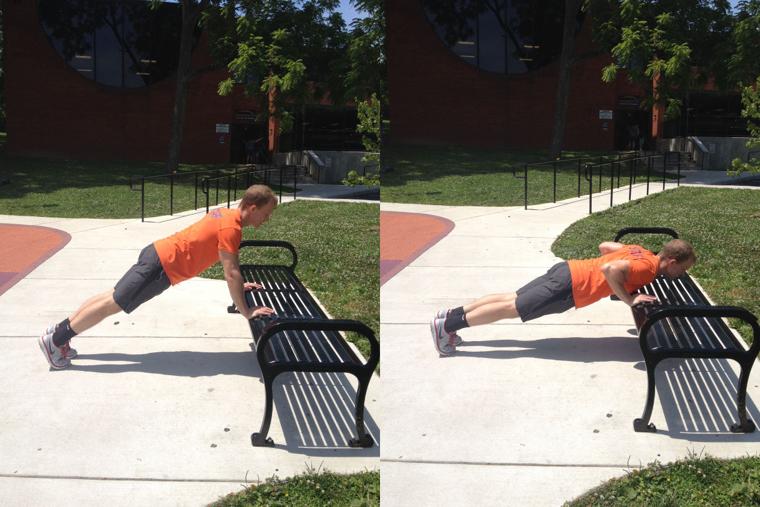 The commission launched the program in May, at a time when people want to get outside after a long winter, Landers said.
Staff went to seven city parks and looked for anything that could be used in a workout. They also looked for a balance of exercises for the upper and lower body and the core.
Sit ups at Buchanan Park.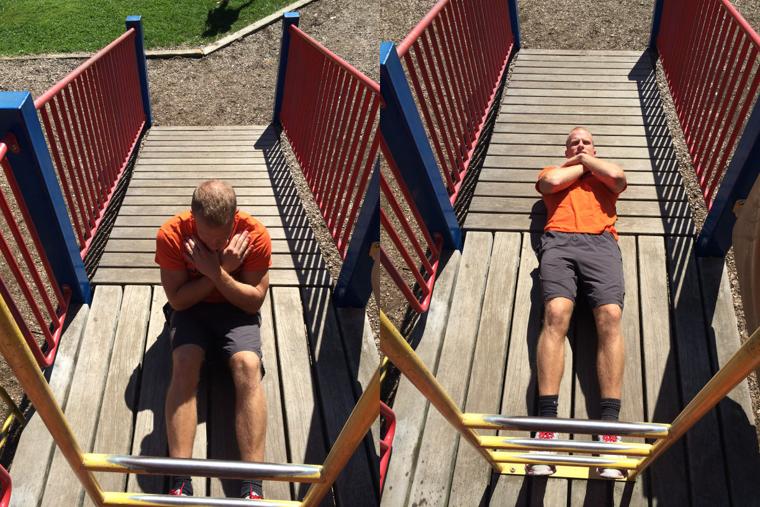 The city's marketing department organized the photos into two-page guides.
Lancaster wants to encourage people to use the city's parks, said communications specialist Amber Strazzo.
"We put a lot of time and effort and money into revitalizing the parks," she said. "This is another way to get people out and use them."
Swing rows at Crystal Park.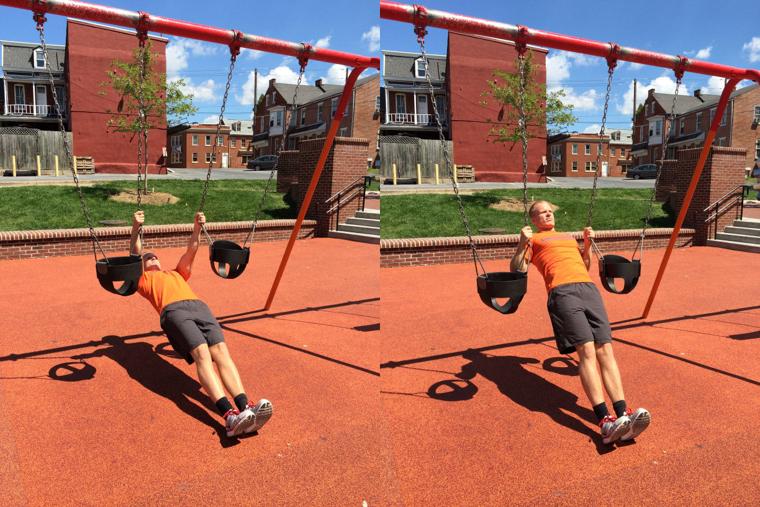 Parks around the country have been adding fitness equipment to encourage people to exercise outdoors, which is good for physical and mental health, said Zarnaaz Bashir, director of health initiatives with the National Recreation and Park Association.
There's even more need for these kinds of programs in low-income areas, where it's a luxury to go to a gym and access to parks can be limited.
Hanging leg raises at Farnum Park.

Exercising outdoors might reduce stress, but it can be challenging in winter weather. Park departments should also install signs that offer clear instructions on how to properly use the equipment and maintain the equipment, Bashir said.
The Lancaster project did not have a budget, so the guides are only available online. The workout sheets include suggested warm-ups, cool downs and photos of eight exercises that are different for each park. The guides suggest doing the exercises in a circuit and jogging between each rep.
Hanging pull ups at Reservoir Park.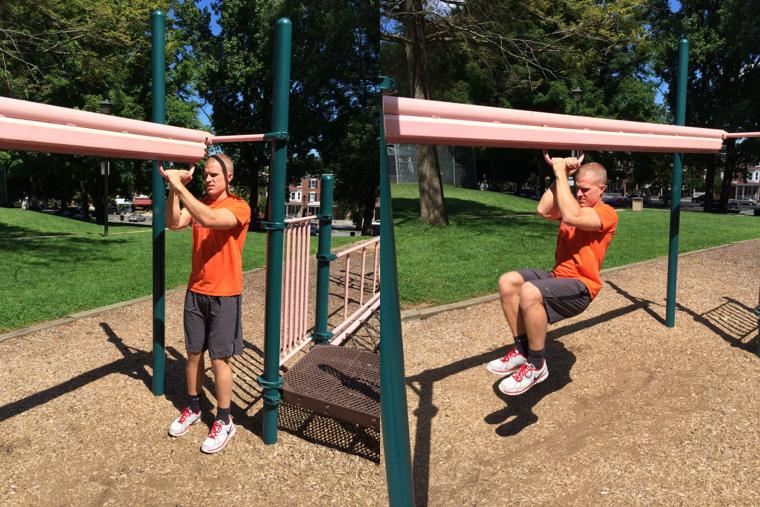 Warming up is key because muscles are kind of like saltwater taffy, said exercise physiologist George Cattell, who works with the MyHealthyLiving team, LGH's internal wellness program. Not warming up increases the risk of pulling a muscle. Depending on your activity level, a 10-minute walk to the park might be a good warm-up, he said.
Otherwise, the guides get people outside, which gives a boost of vitamin D. They bring people to parks, where parents can bring their children to play outside, and the workouts are free, he said.
"Playgrounds are great areas to work out in," Cattell said.
Seated leg tucks at Rodney Park.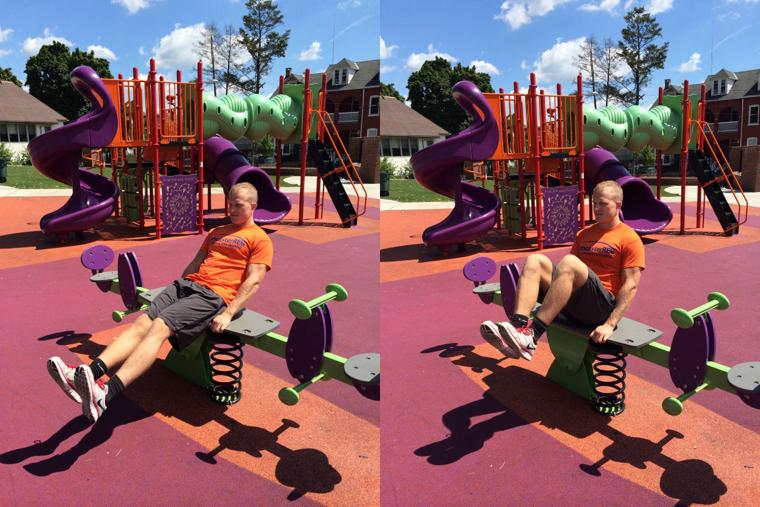 Remember to have solid foot placement, especially when exercising on grass, he advised. Also, drink water before, during and after exercising.
Now that the city park guides are available, recreation commission staff plan to make guides for Lancaster Township parks and publish them online by July.