So far this season, Gretna Theatre has featured smaller shows, with casts of no more than six actors.
But the next show is a whopper.
"Oliver!" the musical version of Charles Dickens' classic novel, will feature 29 actors on the Gretna Playhouse stage.
"We're pulling out all the stops for 'Oliver!' " says Jack Rizzo, who does the marketing for Gretna Theatre.
It is a big tale from the beginning, when young Oliver (Gavin Alvarez) has the audacity to ask for more food at the workhouse where he lives.
That sets the wheels in motion.
"Oliver is an orphan, and all he is fed it gruel," Alvarez says. "He has a rough life."
Indeed. After his request for a little more gruel, Oliver is sold to an undertaker and life looks bleak. At one point, after Oliver is locked in a coffin, he decides to run away and lives in the streets of London for a time.
"He meets the Artful Dodger (Cody Knable) and becomes friends with him," Alvarez says.
"Dodger is spunky," Knable says. "He takes a liking to Oliver and takes him under his wing. He wants to bring him into the family."
That family is Fagin (Don Richard) and his boys, who he's trained to be pickpockets (some girls are in the cast, too). They are all much like Oliver, with no homes and no place to go.
"He's a father figure and a mother figure to them," Richard says of his character. "He's everything to these boys."
And Dodger is the leader to the boys.
"He's very proud of what he does," Knable says. "He's gung-ho and all-in. He want to impress Fagin."
Richard understands that Fagin is a complicated man.
"I see beautiful vulnerabilities (in Fagin), flashes of light. That's where I want to go with him. What was his past life like? Maybe he loved the theater? He can be joyful and gleeful; he sees what he missed in his life."
Nonetheless, Fagin can be quite nasty when he needs to be.
"How much can he sacrifice for what he thinks should come first, which is himself."
And Oliver has no idea what is going on.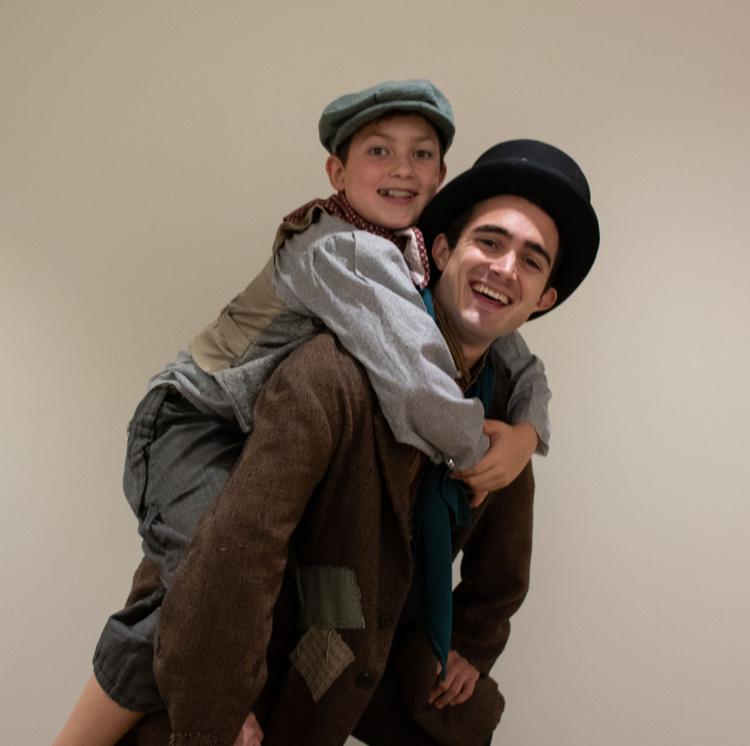 "He just kind of goes with the flow," Alvarez says. "He's reserved, he holds back."
Darkness comes into this happy criminal family through Bill Sikes (Jake Blouch), an associate of Fagin's and a nasty thief.
"Fagin depends on Bill's muscle and power," Richard says.
Bill is involved with Nancy (Dakota Mackey-McGee), who was one of Fagin's kids and now works at the Three Cripples pub. She meets Oliver and is delighted with him.
For Oliver, Nancy is as close as he's gotten to a mother figure.
But bad things will happen; darkness will descend on this makeshift family.
There is hope in "Oliver!" too.
Maybe Oliver will find a real home. Maybe Fagin will put an end to his criminal activities. Maybe the Artful Dodger will find a better way to use all his spunky energy.
Director Peter Reynolds is emphasizing the positives in the story, rather than the negatives.
The three actors playing these lead roles are all at different points in their acting careers.
Alvarez, who is from Elizabethtown, is in his first leading role ever.
"I've wanted to do a show for a while," says Alvarez, who is 11 and a sixth grader at Bear Creek Elementary School. "And I thought it was time to do something to fill my summer."
He's finding the experience be be great.
"Everybody is so nice," he says. "I'm trying to keep my head focused on what I need to do, to keep looking forward," he says.
Knable, who is 25 and a Hempfield High School graduate, has known for a while he wanted to work in theater.
He was Romeo in Hempfield High School's Dance Theatre and majored in dance at Temple University before switching to musical theater.
He graduated three years ago and has been working steadily.
"Oliver!" is a chance to visit home and catch up with his family.
Richard is a Broadway veteran who has been in the business for 40 years. His Broadway credits include "Side Show" (2014), "Jane Eyre" (2009) and "Urinetown" (2001). And he's been involved in a number of national tours.
He still gets excited about capturing the energy of an audience and the exploration of characters and relationships.
His Fagin is still very much a work in progress.