Looking to go out and spice things up this weekend? Lancaster County has quite a few events this weekend for those needing their next entertainment fix. Our entertainment team offers their picks for great weekend arts.
---
CONCERTS
Trust Concert Series
This season continues with a performance by Grammy-nominated a capella quartet New York Polyphony. The concert features the world premiere of the Lancaster County-inspired piece "The Bitter Good." It will be held on Sunday and Monday at 7:30 p.m. Dessert reception follows performances. (Also, an optional pre-concert lecture will be held on Monday at 6:15 p.m.) 
Tickets are $37 for adults, $29.60 for seniors and veterans, and $18.50 for students with ID. Trust Performing Arts Center, 37 N. Market St., 717-560-8241. lancastertrust.com.
Tedeschi Trucks Band
This genre-busting group will be in concert on Sunday at 7:30 p.m. Tickets will start at $49.50. Hershey Theatre, 15 E. Caracas Ave., Hershey, 717-534-3405. hersheyentertainment.com
---
SHOWS
'Lucky Stiff'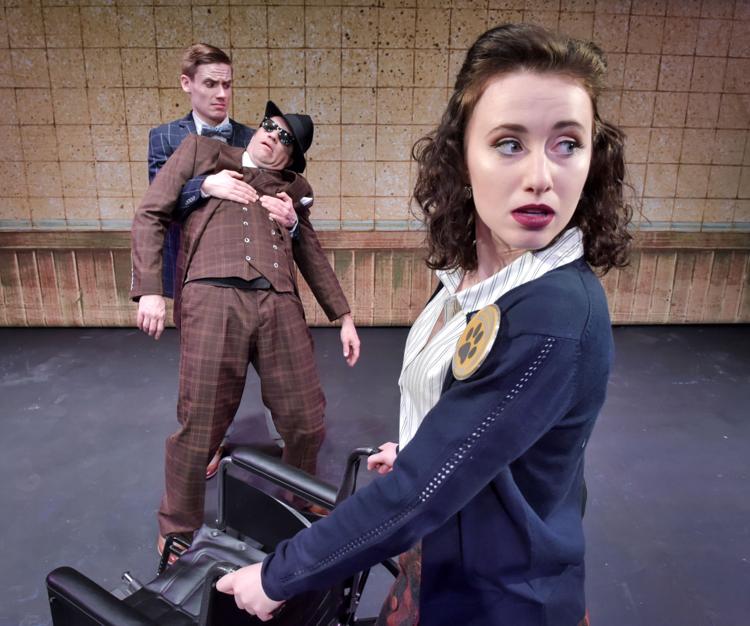 In order to inherit millions, a shoe salesman must take his dead uncle on a trip to Monte Carlo and participate in a number of events. But other people are looking for that money, too, in this musical comedy. The show opened on Thursday and will continue through March 16. Check the website for times: dutchapple.com. Tickets are $58-68 for adults, $30 for ages 13-18, $25 for children until 12. Dutch Apple Dinner Theatre, 510 Centerville Road. 717-898-1900.
'Kingdom City'
Based on a true story, the play explores the dynamics of the American Midwest and the politics that arise from differing beliefs. The play will show at 7:30 p.m. Saturday; Sun. 2 p.m. Tickets are $10 adults, $5 seniors, $1 students. Green Room Theatre, 530 College Ave., F&M College campus, 717-358-4646. fandm.edu/box-office.
'Little Shop of Horrors'
What happens when loser Seymour finds a man-eating Venus Flytrap, which turns into a phenomenon? It's strange stuff in this musical comedy. It opened on Friday, and continues through Feb. 24. Shows will be: Sat. 7:30 p.m.; Sun. 3 p.m. Tickets are $27 adults, $25 seniors, $15 youth 18 and under. The Belmont Theatre, 27 S. Belmont St., York, 717-854-5715. thebelmont.org.
'Men Are From Mars - Women are From Venus Live!'
The best-selling book by John Gray has been turned into a one-man theatrical comedy. Sat. 8 p.m. Tickets start at $45. Hershey Theatre, 15 E. Caracas Ave., Hershey, 717-534-3405. hersheyentertainment.com.
---
EXHIBITS
Brandywine River Museum of Art
- "Phyllis Mills Wyeth: A Celebration,'' a special exhibit in honor of the late Phyllis Mills Wyeth, featuring works by her husband Jamie Wyeth. Continues through May 5.
- "Winslow Homer: Photography and the Art of Painting.'' The exhibit continues through Feb. 17. Daily 9:30 a.m. to 5 p.m. $18 adults, $15 seniors, $6 students and children 6 and up, free children 5 and under. 1 Hoffmans Mill Road, Route 1, Chadds Ford. 610-388-2700, brandywinemuseum.org.
The Gallery at Garth
Winter Group Exhibit. Cont. through March. Tues.-Fri. 8 a.m. to 5 p.m.; Sat. 8 a.m. to 1 p.m. Tickets are ree. 22 S. Second St., Columbia, 717-847-1718. garthart.co.
Pa. College of Art and Design
Exhibit by Brazilian found object artist Bruno Miguel featuring a large installation the artist made specifically for Lancaster from objects he collected while previously visiting in the county. Admission is free. The exhibition continues through April 19. Mon.-Fri. 9 a.m. to 8 p.m.; Sat. 9 a.m.-5 p.m.; Sun. noon-5 p.m. Free. 204 N. Prince St., 717-396-7833. pcad.edu/gallery.