Thirteen paintings hang in the Steinmetz Gallery of Lancaster County Art Association.
There's nothing particularly unusual about that since every time the association hosts a show in the main gallery (currently their holiday membership show), a smaller show gets hung in the entry gallery.
But this exhibit gives patrons a chance to see and even purchase some of the works from the Lancaster County Art Association's permanent collection.
And some of those go back a while.
Carol Herr, gallery director, started volunteering at the association in 1980, when it was still located on Vine and Queen sts.
There were works stored in the basement there that made the move to its current location in Strasburg almost 20 years ago.
Some works were donated by past members. Others were left over from classes, and still others were given to the association as gifts from patrons.
Some of the collection adorns the offices, hallways and teaching spaces of the facility. Most are stored in a back room.
"It's a shame, really,'' says Herr. "Some of these paintings are really beautiful. It's a shame to have them back where people can't see them.
"If we sell them, people could have them in their living room and enjoy them.''
The occasional sale of works also helps the facility fund its ongoing classes and operating costs.
In the current show, 10 of the 13 are offered for sale. Three works by founding LCAA members Grace Steinmetz and Mary Black Diller, are for exhibit only.
If you're looking to collect some art, here is a little background on some of the artists in the exhibit.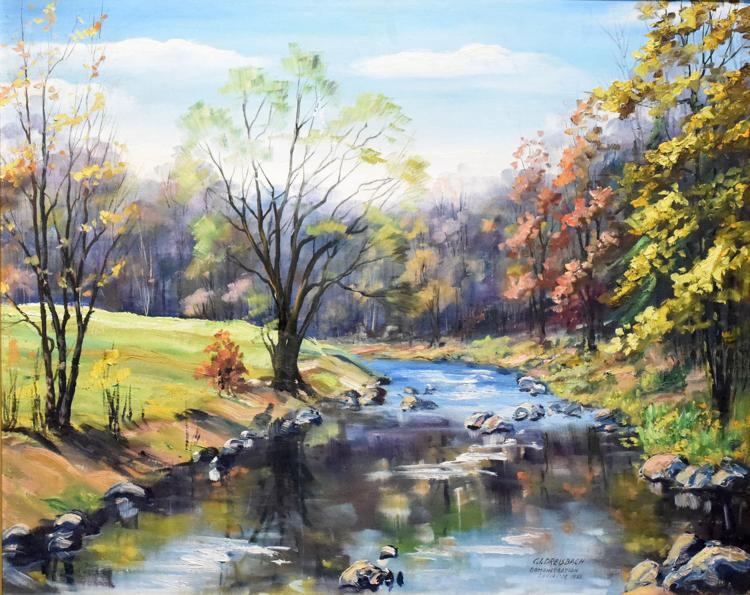 Clarence I. Dreisbach, 1903-2001, was born in Carbon County, Pa. He was an engineering draftsman, commercial artist and industrial designer who taught landscape painting at Allentown Community College and Baum Art School.
Dreisbach's beautiful landscape painting, "Trees Along Stream,'' is the highest priced work on exhibit at $3,000. Apparently the work was a demonstration Dreisbach gave probably at the association, back in 1955.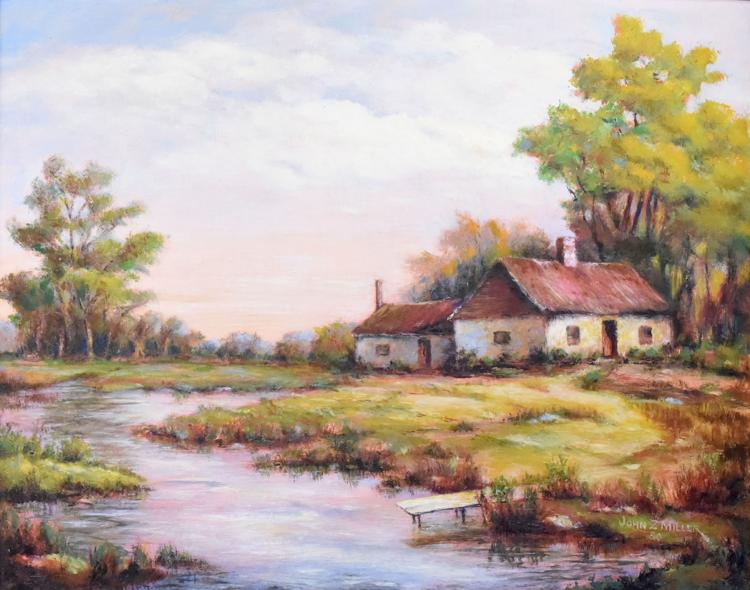 John Z. (Zollinger) Miller, 1867-1958, was born in Lancaster but moved to Harrisburg with his family as a young boy. He became an inventor of early telephone equipment and headed a couple of large phone companies.
He was also an artist, obviously, and his pastoral landscape shows a bucolic country house by a stream. A dock invites the viewer into the scene. Fishing anyone? It'll cost you $750.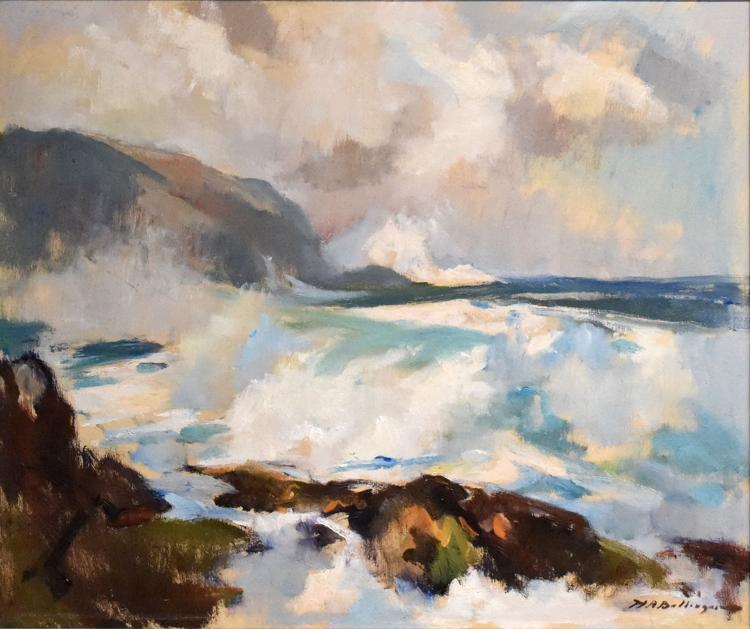 Harry Russell Ballinger, 1892-1993, was born in Washington but lived in Connecticut and Maine. He was a writer, illustrator, painter and teacher whose works are in a number of museum collections. Although adept at many media, Ballinger preferred working in watercolors and oils.
His "Sunlit Seascape with Rocks'' is done in oils and is priced at $1200.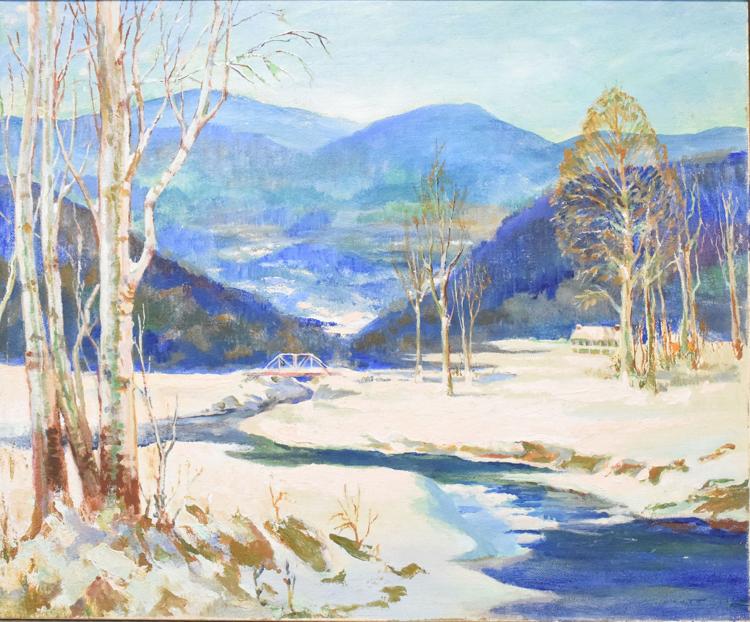 Wilson Chambers, who died in 1980 at the age of 86, was born in Philadelphia, but called Lancaster County home from 1940 until his death.
Chambers was an illustrator for the Saturday Evening Post and Ladies Home Journal. He was best known for his mountain landscapes and Maine and California seascapes.
Offered here for $1000 is "A Snow Scene Landscape,'' a depiction of a waterway winding through snow-covered mountains.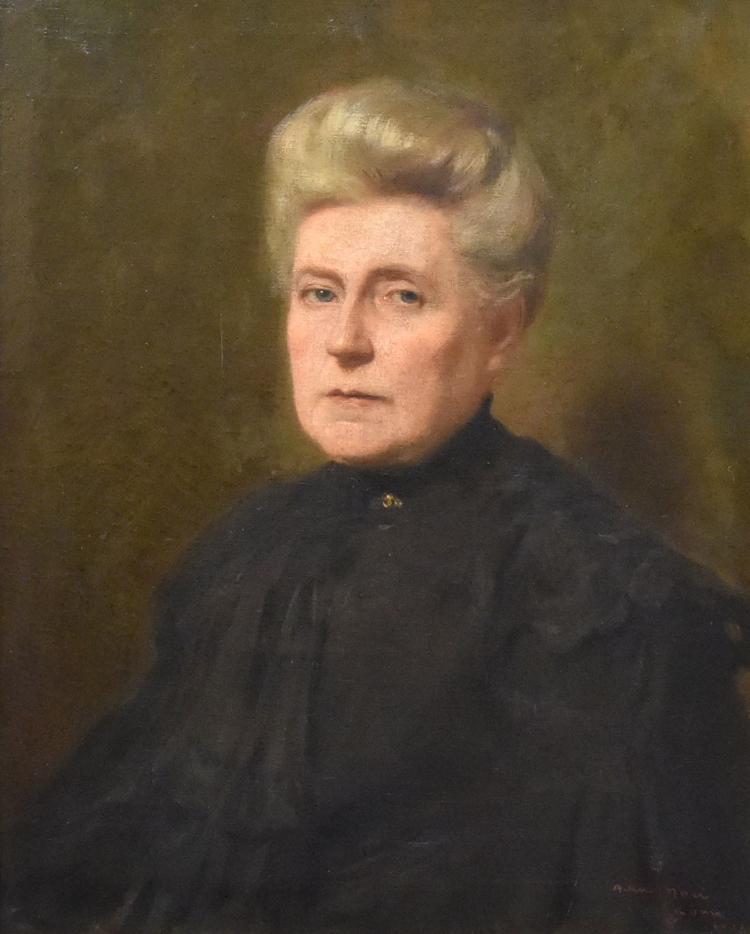 The only portrait in the exhibit was painted by Arturo Noci, 1874-1953. Noci was born in Rome but moved to New York City where he became a popular portraitist of high society.
His oil painting, "Portrait of an Elderly Woman,'' shows a turn-of-the-century woman, gray hair gathered up and dressed in black. It sells for $1500.
Several works are by more contemporary artists with strong Lancaster County ties.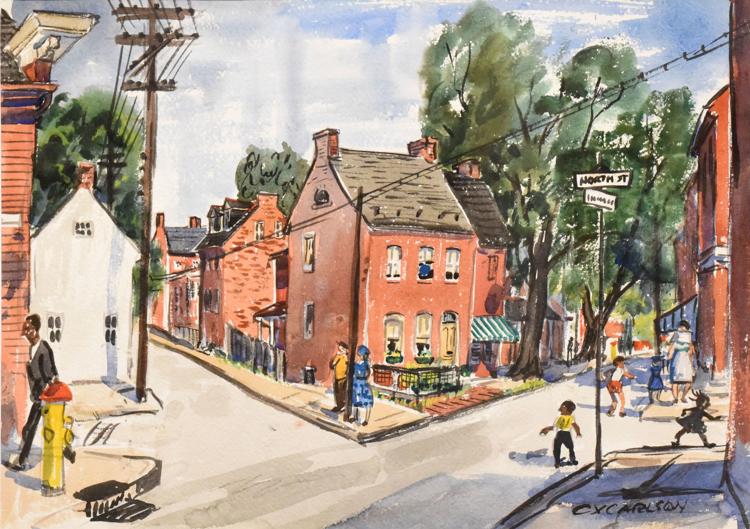 Charles X. Carlson (1902-1991) settled in Lancaster in 1947 after having a career in the public relations bureau of the War Department during WWII.
His colorful painting of Lancaster City, "Strawberry & North Sts., Lancaster'' is offered for $1500.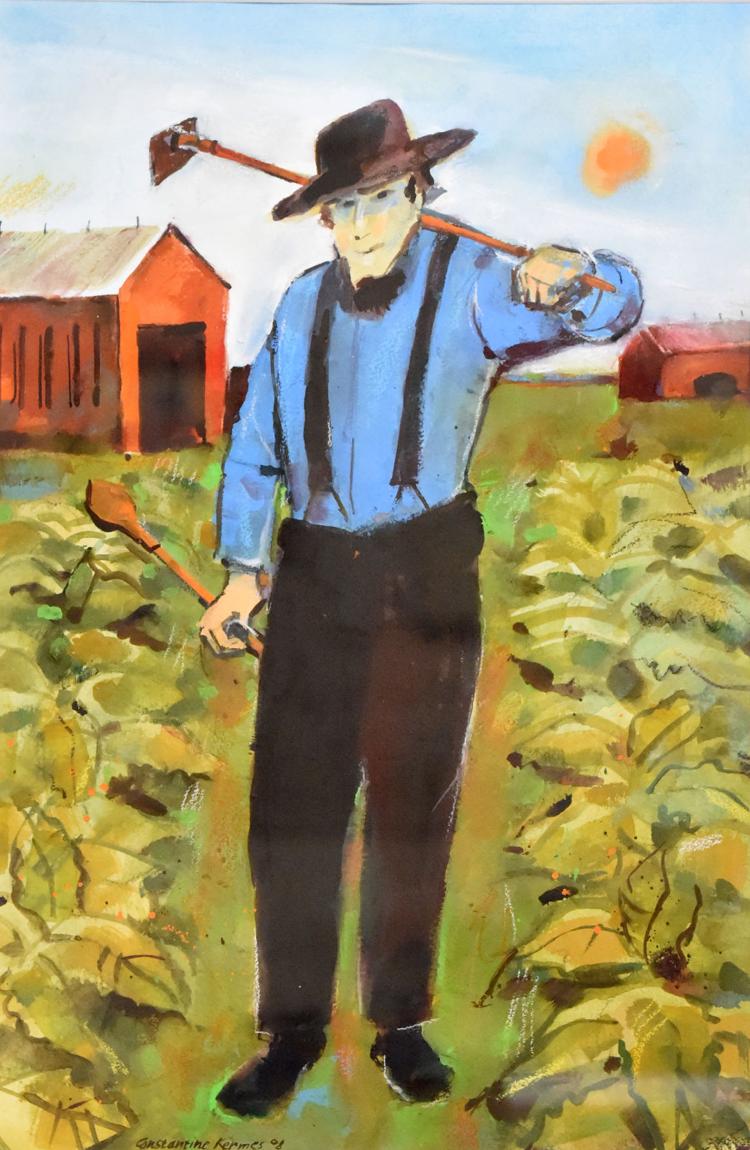 Constantine Kermes, who died in 2009 at age 86, was well known for his stylized paintings of the Amish, although he experimented with many other styles, including abstract works. He was past president of the Echo Valley Art Group.
"Cultivated'' is an informal watercolor portrait of an Amish farmer with a hoe over his shoulder, the sun descending behind him. It sells for $800.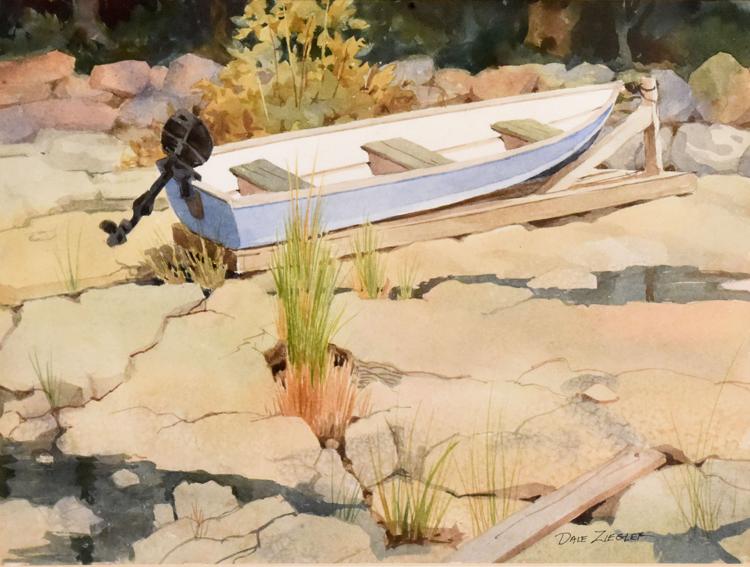 Dale Ziegler, 1924-2016, was a well known watercolor painter. A graphic artist for RR Donnelly, Ziegler retired here in Lancaster County and was a prolific painter involved in a variety exhibits and community events.
His "Fishing Boat on the Rocks'' watercolor is offered for $450.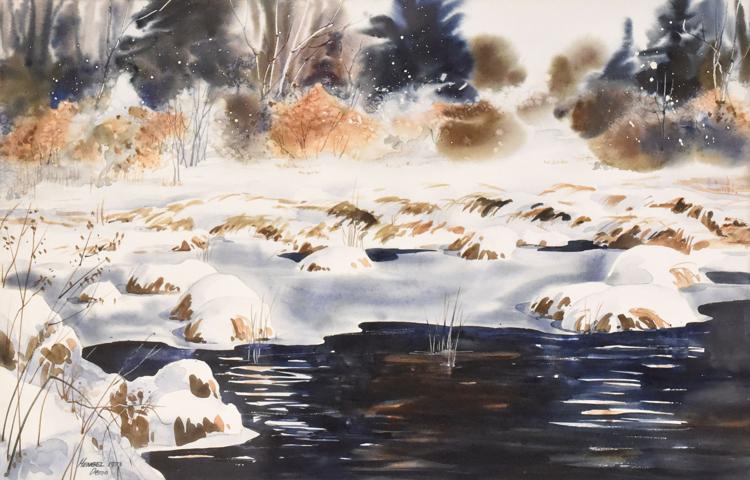 Joann Hensel has the distinction of being the only living artist in the exhibit.
An Emeritus Member of the Echo Valley Art Group, a Signature Member of the American Watercolor Society and an Honorary Life Member of the Lancaster County Art Association, Hensel has participated in numerous shows and festivals around the region.
In her painting, "Snowscene,'' winter's chill is evident in the dark, slightly ominous water, surrounded by banks covered in snow. It sells for $550.