Pennsylvania artists have been thinking about refugees and the nature of memory, sexual identity, the state of American politics and agriculture-threatening insects.
But they've also been thinking about cats and sheep, cabbages and lemons, trees and cityscapes.
And 103 artists from 35 Keystone State counties, chosen as finalists in the 52nd annual "Art of the State" exhibit at Harrisburg's State Museum of Pennsylvania, have expressed all this and more through painting, sculpture, photography and craft.
The works in the show were chosen from 2,170 submissions, says curator Amy Hammond.
"This is the largest number of submissions we've had in a decade," Hammond says.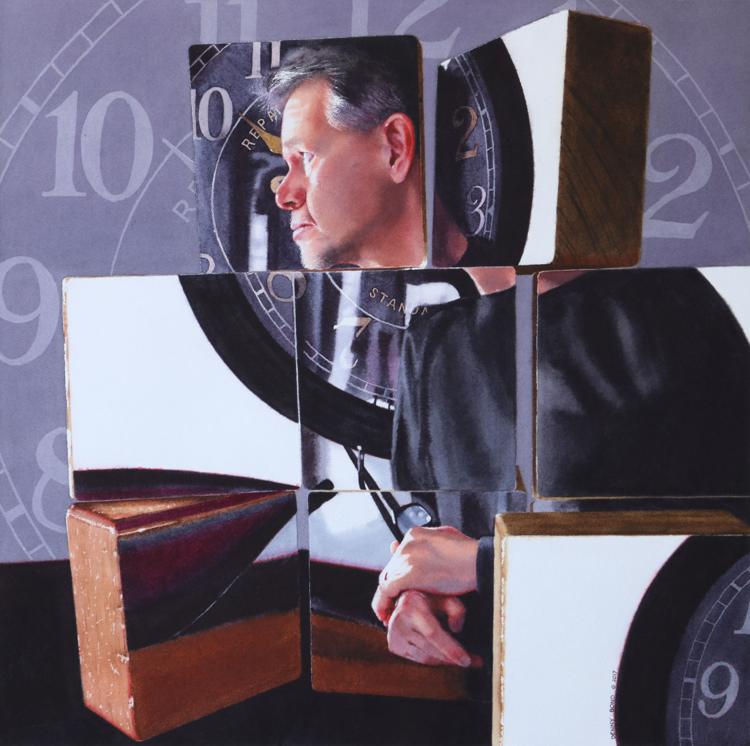 Self-portrait
A perennial finalist and prize winner in the "Art of the State" is Denny Bond, of East Petersburg, who took first place in painting this year with his self-portrait, "DIY."
Bond's watercolor on paper shows him looking off to the left of the painting in a thoughtful pose, his hands folded, with layers of clock faces behind him. But his portrait is painted on what look like large wooden blocks that fit together like a puzzle.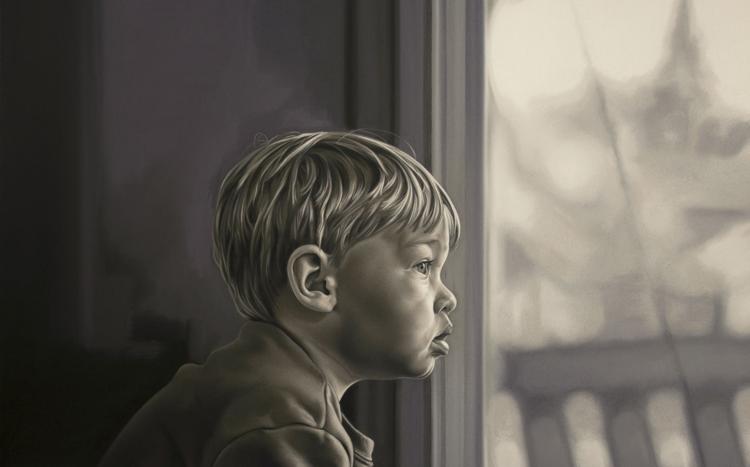 The blocks are tilted at different angles, lending the realistic rendering of Bond's image a cubist effect.
"I look at this and I can feel the contemplation involved in it," Hammond says. "Watercolor is not an easy medium to work with. It's not easy to go back and make changes. ... In his making of this painting, there was a lot of planning  and focus, as well."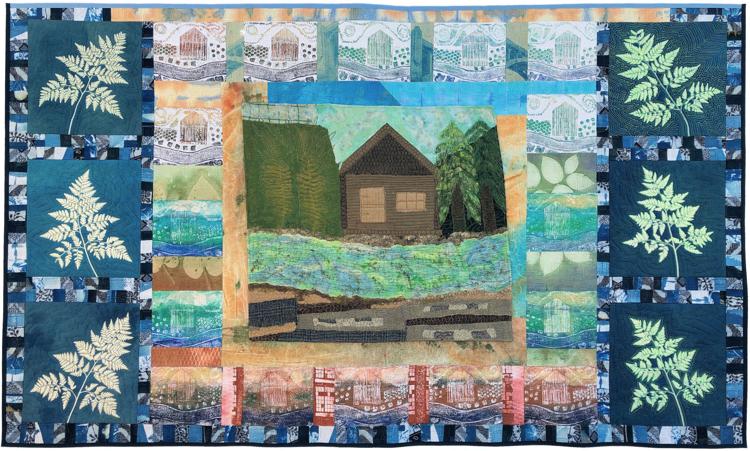 Another frequent "Art of the State" finalist, textile artist Sue Reno, of Columbia, is back this year as the third-prize winner in the craft category.
Reno's "In Dreams I Slept in a Cabin" brings together her assured stitching, patchwork and needlefelting techniques with collograph and cyanotype prints of plant life.
Repeated blue, white, green and brown images of those ferns and a rustic cabin surrounded by trees and and water capture the dreamlike effect of the work's title.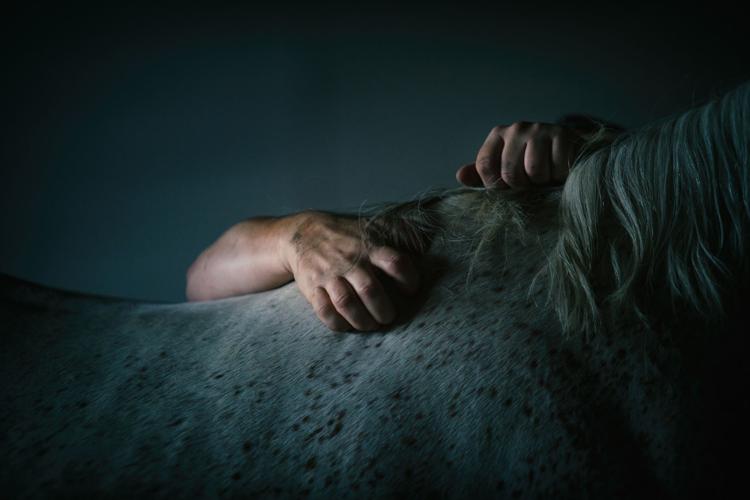 Another East Petersburg artist, frequent "Art of the State" exhibitor Jennifer MacNeil, is represented in the exhibit with her equine giclee-print photograph, "Back Scratch." In it, a patch of light illuminates one of two disembodied hands scratching the shadowy back of a horse.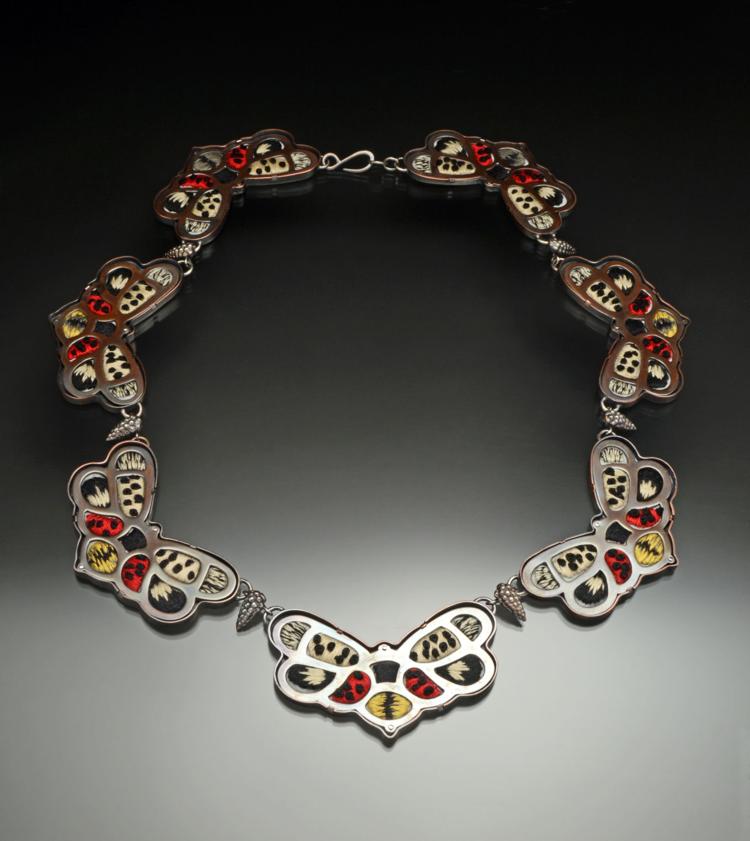 Lanternfly jewelry
The spotted lanternfly may be a disaster for Pennsylvania crops, but it becomes a thing of beauty in "Si Eam Videris, Occidere; If You See It, Kill It," a work in jewelry by Amy Edwards, of Lancaster.
The necklace is a circle of brightly colored lanternflies, their outlines rendered in copper and silver, and their colorful bodies created with cotton and embroidery — the black spots in little stitched knots.
Using a technique in which he draws colorful abstract buildings — Florentine structures in Italy, and on a piece of plastic film placed over the window, Brant Schuller of Lancaster is in the show with two intricate acrylic-and-ink works on paper.
Looking for all the world like a complex pen-and-ink drawing, Strasburg artist Virginia Pollock's "Mix of Motifs" is rendered entirely in hand-cut paper.
A tangled ganglion of white stems against a black background fills the woodcut "Garlic Patch" by Lancaster's Gene Shaw.
A photographic image of a grouping of parents and kids is recreated in layers of yellow and white house paint in "Family Portrait 1972," by Teri Hay, of Lancaster.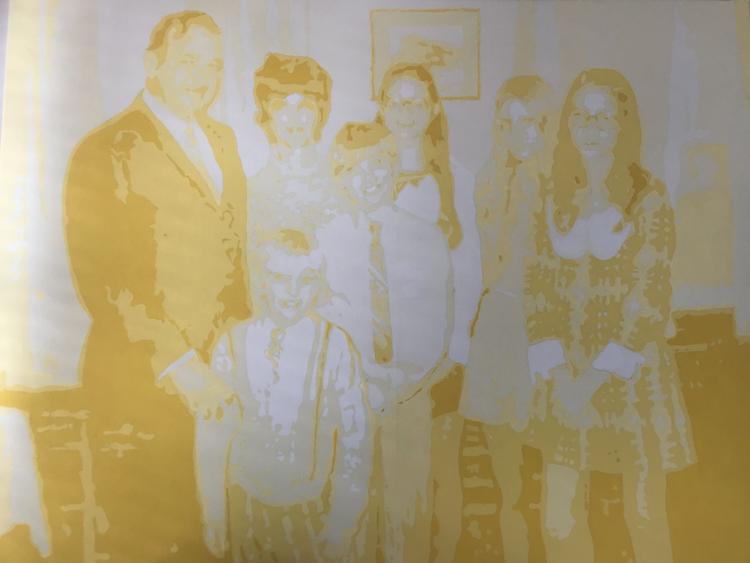 James Evangelista, of Oxford, won third prize in photography for his black-and-white image of a young face, eyes downcast, behind barbed-wire fencing. In Evangelista's "The Laws Must Change," the fenced-in person grips the fence with the fingers of one hand.
Evangelista's artist's statement leaves the work open to the viewers' interpretation. But it's hard not to connect the photo with current headlines about refugee detention camps.
A startling image near the entrance to Art of the State is "Dismembering America," a digital print of one  red stripe of the American flag succumbing to the blade of a paper cutter. It's by Thomas Notarangelo of York.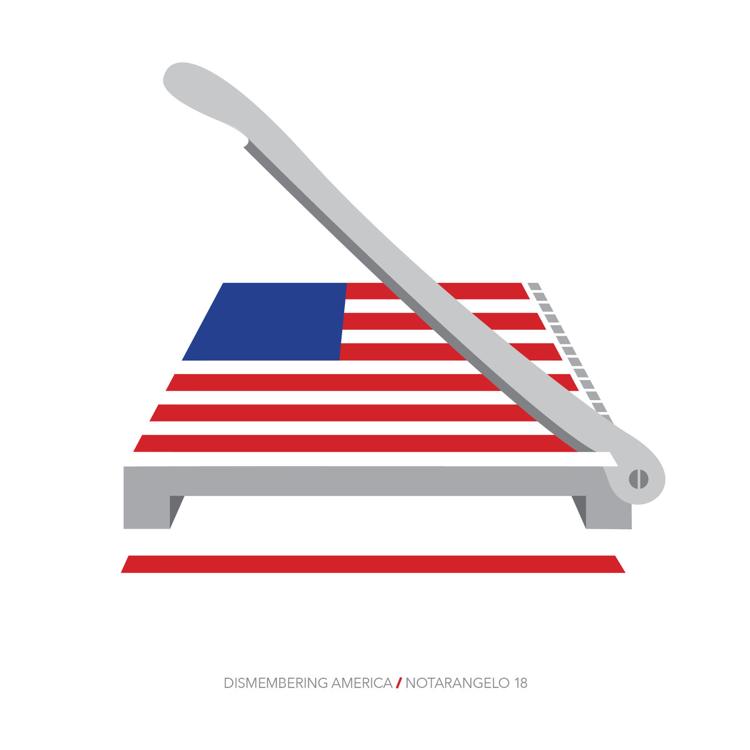 Sculptures in the exhibit include first-prize winner "Installation: Selective Processes of Memory," by Diane Pepe, of Philadelphia.
Pepe's sculpture, with its patterned acrylic discs suspended on wires and casting moving shadows on a pale abstract print below, can be seen as a meditation on how how our memory works and changes, Hammond says.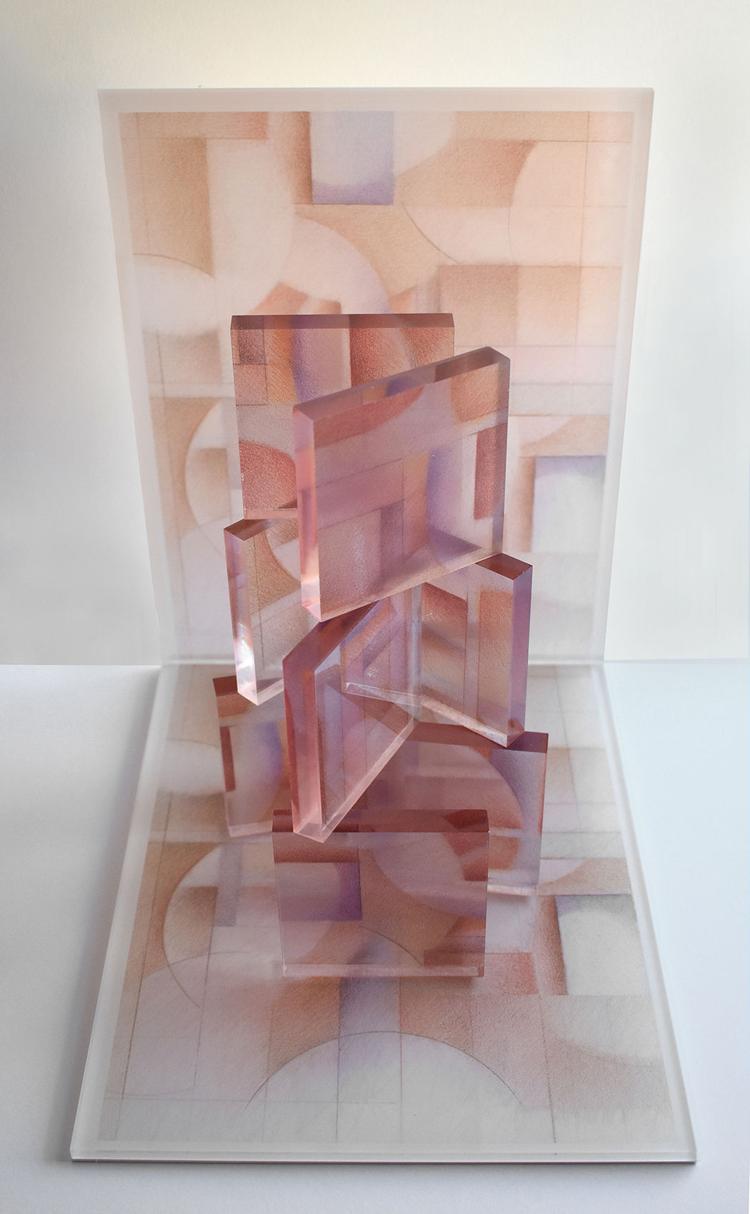 And if you have ties either to Penn State and Happy Valley, or to Berks County, you'll want to leave some time to peruse two paintings by Steve Scheuring, of Douglassville, which are oil-painted collages of dozens of images of memorabilia, cultural touchstones and famous faces from both places.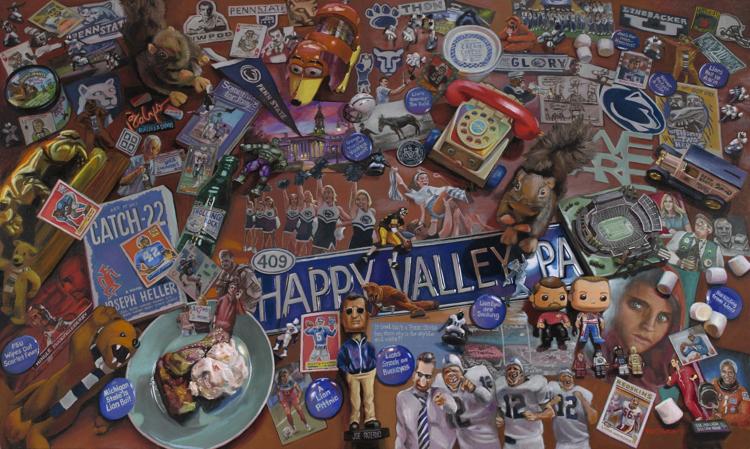 It's fun to spot the cultural icons and figure out their connection to the two places — including a Funko Pop! figure of Jonathan Frakes, the "Star Trek: The Next Generation" actor and Penn State grad, and art and literary works by Reading natives Keith Haring and John Updike.