When Seth Ebersole arrived for his first saxophone lesson with Ken Blekicki, he looked around the musician's home with wonder. He was amazed by the number of black-and-white photographs that lined the wall, signed by jazz greats like the Dorsey Brothers, Buddy Rich and Lionel Hampton.
Even as an 8-year-old, Ebersole knew he was in the presence of someone special.
"They were all made out to 'Little Kenny,' " Ebersole says. "I was like, who is this guy that has all this amazing history with music? I better listen to everything he says."
Blekicki, a Reading native, was considered a saxophone prodigy by big-time musicians and local publications alike. But he almost lost his ability to play at age 5 in a tragic accident that claimed the life of his mother.
His father intervened when doctors wanted to amputate his arm and leg. Miraculously, Little Kenny recovered and was able to keep playing, earning attention from some of his musical heroes before he reached double digits. As an adult, he would play with legends like Ray Charles, Sammy Davis, Andy Williams, Nat King Cole and Jimmy Dorsey, just to name a few.
After he retired from teaching music, Blekicki relocated from Reading to Lancaster and spent the last years of his life working and living with James Easton at Abbeyville Road Studio, a private home recording studio just off Millersville Pike. There, he stayed engaged with young musicians just starting their careers.
Blekicki died May 18 at the age of 76 at Lancaster General Hospital following a brief illness. A celebration of Blekicki's life featuring a handful of musical performances will be at One United Church of Christ in Reading on Sunday night.
---
An illustrious — and generous —performer
Blekicki's long career included work as music director for Albright College and the Reading Civic Opera Society. He was a member of the Hershey Symphony Big Band, and worked as the pit conductor for Circle Arts in Los Angeles. He performed in the pit bands of many theatrical productions in New York City and London.
Those who were close to him describe his playing as spirited and joyful. He could sight-read just about anything, and it was clear he was having fun while doing it.
But his longest gig was as a music educator at Fleetwood Middle School, where he worked for more than 40 years. He personally awarded scholarships to countless young musicians to attend band camp and college — the scope of which Easton only discovered in recent weeks.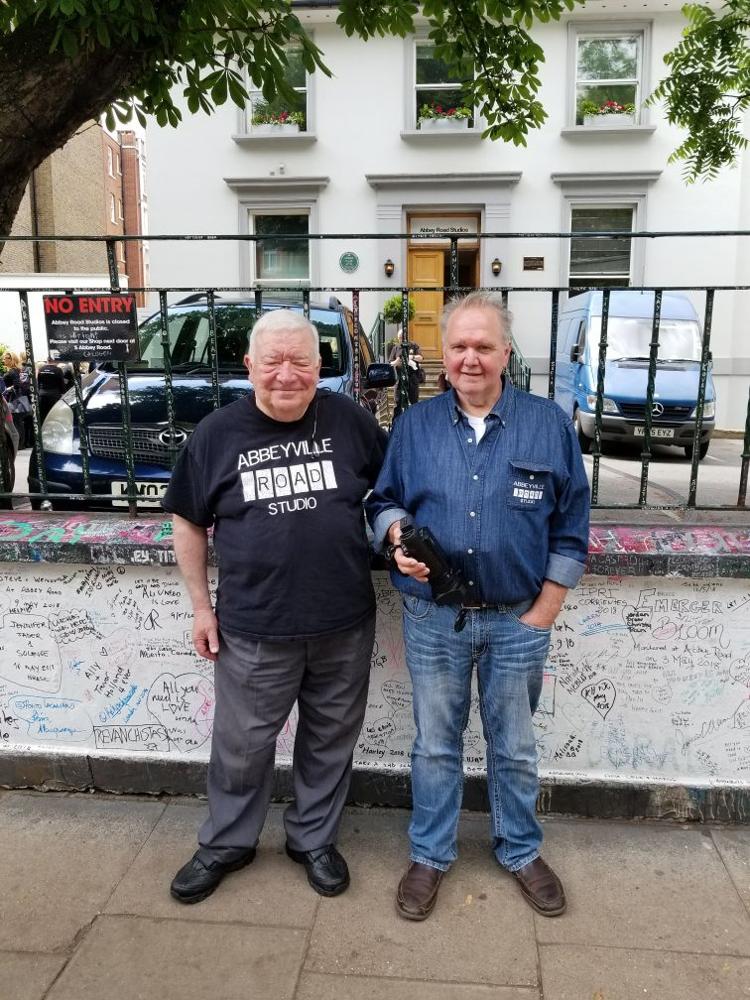 "I've known him since 2010 or something, and never knew any of this," Easton says. "He didn't talk about it, brag about it or anything. … When I started finding out all this other stuff, it was like, oh my goodness. He really meant a lot to a lot of people that I didn't even know."
"Altruistic" is the word Easton repeats in his conversations about Blekicki. And the students who were touched by his life echo those sentiments.
Ebersole and Alex Koppenheffer, who both were mentored by Blekicki, say they never paid a dime for their weekly private lessons, which spanned years of their adolescence.
"He was never in it for a dollar figure by any means," Koppenheffer says.
Like Ebersole, Koppenheffer met Blekicki through his father. Jeff Koppenheffer, Alex's father, and Blekicki played in the band Watts Line together.
Blekicki met Alex Koppenheffer when he was just a baby, and they remained close through his childhood. Music was always at the heart of their connection.
"There was something about saxophone that I was intrigued with," Koppenheffer says. "When I was probably 1 and 2, I would sit on his lap and try to put my hands on his hands and try to play, and that just continued on."
When Koppenheffer reached third grade, Blekicki got him his own saxophone and began giving him private lessons. After high school, Koppenheffer shifted his focus from performing to recording engineering, and has worked with Reba McEntire and Carrie Underwood. He's now the owner and chief engineer of the small private studio Highland Audio in Reading.
Blekicki remained a confidant to Koppenheffer throughout his life.
"Whenever I needed professional advice or a sounding board, he was always the guy that I would call," Koppenheffer says.
Koppenheffer was integral in installing equipment at Abbeyville Road Studio, where he occasionally worked side by side with Blekicki, bringing their relationship full circle.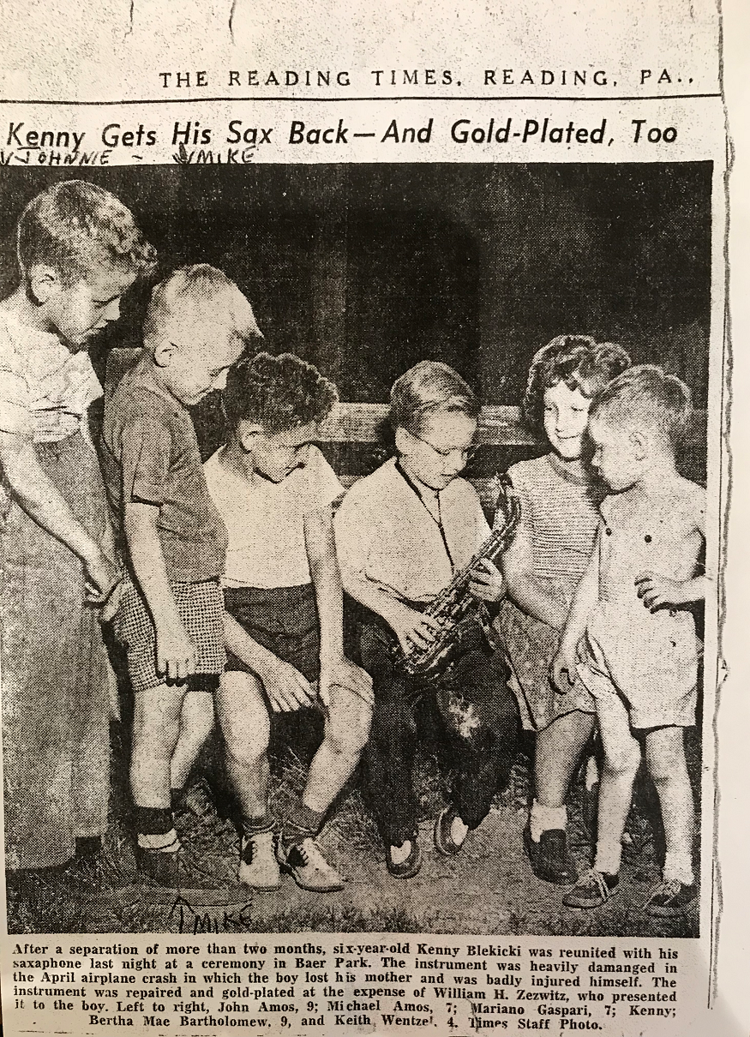 ---
Abbeyville Road
Easton, himself an accomplished musician who has appeared with Judy Collins, Earth Wind & Fire and the Coasters, bought Abbeyville Road Studios in 2007. The home was already equipped with a studio space on its ground level, which the previous owner used for photography.
Easton met Blekicki when his jazz group Gamut recorded at Abbeyville, and soon after, Blekicki asked if Easton was interested in a business partner. He drove a hard bargain, Easton says. Blekicki even offered to buy a grand piano for the space.
He followed through on that promise, and handled the scheduling and business operations of the studio, while Easton worked the soundboards. Both men helped young artists develop their sound, often collaborating on new arrangements of recognizable songs. They also cohabitated, each taking a room in the house's upper level.
The studio was also an outlet for Blekicki to stay connected to music education. Groups from Garden Spot High School, Hershey High School and Fleetwood High School recorded there, often as part of a school project.
"He was so lively about that, because he stayed connected with the schools and the kids and everything he did before, but now he didn't have all the responsibilities," Easton says.
As their friendship progressed, Easton learned more about Blekicki, including the details of the plane accident that left him badly injured. Easton says that Blekicki's mother wrapped her arms around her son during the crash. She and all the other passengers — with the exception of her son — died.
Still, he wasn't bitter. In addition to being talented and generous, Easton says Blekicki had quite the sense of humor.
He liked to play tricks on people, Easton says, and those who traveled with Blekicki needed to be prepared for some exploring. He'd often lose his traveling partners to make them find their own way back to their hotel. Once, he purposefully separated himself from Easton while they were in London.
"I was really upset," Easton says. "I said, 'You know what, I didn't appreciate that.' He said, 'Well, how else are you supposed to get around London?' "
Blekicki's plan worked. Because of his wandering, Easton happened upon the historic Tin Pan Alley, a focal point of the British music industry. During their trip, they crossed Abbey Road and enjoyed many other landmarks associated with the Beatles, whom Blekicki loved.
Wherever they went, no matter the city, Easton says Blekicki always knew someone.
"All he had to do was walk in the door," Easton says. "It's kind of like 'Cheers.'"
---
Bernstein and beyond
Ebersole recalls a story Blekicki used to tell about someone who surely didn't recognize him: famed composer Leonard Bernstein.
Once, Blekicki found himself in an elevator alone with Bernstein after a show. An avid musical theater fan, Blekicki scrambled to think of something memorable to say to his hero, something that would demonstrate his own musical prowess.
"I bet this musical is scored for concert bass clarinet, isn't it?" Blekicki said.
Bernstein was less than impressed, Ebersole says.
"Bernstein just turns around, gives him an ugly look, says, 'Of course it is,' and kind of waves him off with his hand," Ebersole says.
But Blekicki wasn't upset by the encounter. He was happy, because he had interacted with one of his idols, even if only briefly.
That cheerful attitude made him an effective teacher, Ebersole says. No complex concept or difficult musical skill was ever insurmountable.
"Ken never made it feel like it was something inaccessible," Ebersole says. "He might say, 'This is a little more challenging, but of course you could learn this.'"
At the end of each of their lessons, Blekicki rewarded Ebersole with a treat: his favorite Tropicana ice pop.
The true gifts of those sessions are much more long-lasting.
"The thing Ken shared with me the most is a love for melody, and in a way, a love for poetry, a love for beauty," Ebersole says. "I very much believe Ken is the first person to bring art into my life, the first person to bring profundity into the way I thought about music, and the way I thought about anything."