Spring in Lancaster County brings with it a harvest of bright pink, tart stalks that somehow finds themselves transformed into the sweetest desserts, condiments and beverages.
It's rhubarb season, a time for celebrating this vegetable that thinks it's a fruit. We celebrate with the annual Rhubarb Festival at Kitchen Kettle Village (see related story), and by making plenty of pies, cakes, crisps, jams, sauces and punch.
Rhubarb is also very good for us, says Stacy Reed, a new educator with Penn State Extension in Lancaster, focusing on food safety and nutrition.
"It does have some great health benefits," Reed says, including for your immune system and digestion. A National Institutes of Health study noted some possible cancer-fighting properties in the vegetable, as well, she says.
"In its raw form, it's pretty low in calories — 26 for 1 cup," Reed says, " and it's very low in saturated fat (and cholesterol). It's good for someone who may have heart issues, or may want to lower their cholesterol."
It's high in potassium, dietary fiber and vitamin C, Reed notes, and is a good source of calcium and vitamins A and K. It contains iron and other minerals, as well.
Because it's "very tart and sour, "she says, many people use sugar, maple syrup or honey to sweeten rhubarb.
Kitchen Kettle Village in Intercourse will hold its 33rd annual Rhubarb Festival Friday and Saturday.
In addition to cakes, pies, jams and sauces, Reed notes, rhubarb can be drizzled with honey or maple syrup and used in a salad or yogurt, or even as a pizza topping.
"It's not very popular with the younger generations, but it could be something they might want to get more of into their diet," Reed adds.
"It's a pretty hardy plant," Reed says, that will come back in your garden year after year, producing for 10 to 15 years. You should probably wait to harvest it, however, until the second year.
And be sure never to eat rhubarb leaves, Reed says; they're poisonous because of the oxalic acid.
Readers' rhubarb
We recently asked LNP readers how they use rhubarb, and many contributed tips and recipes for desserts, sauces, beverages and more.
Diane M. Gathercole of Willow Street found this recipe while visiting Vancouver, British Columbia, in September 1996.
"I made a few changes to the original recipe," Gathercole says. "Our family thinks it is an excellent dessert."
RHUBARB CRISP WITH HONEY AND GINGER
Makes 10 servings
Topping
• 1 cup all-purpose flour
• 1 cup regular oatmeal
• ¾ cup packed brown sugar
• ½ cup finely chopped crystalized ginger
• ¼ teaspoon salt
• ½ teaspoon ground cinnamon
• ½ cup butter, at room temperature
Filling
• 10 cups rhubarb (cut in ½-inch slices)
• ¼ cup honey (use ½ cup if want sweeter)
Topping: In medium bowl, combine flour, oats, sugar, ginger, salt and cinnamon. Blend in butter until mixture forms coarse crumbs; set aside.
Filling: In large bowl, combine rhubarb and honey. Transfer to butter-sprayed 9-by-13-inch baking dish.
Sprinkle topping evenly over rhubarb.
Bake in preheated 375 degree oven for 40 to 45 minutes or until rhubarb is tender.
When rhubarb arrives in abundance, Dorothy Lower of Elizabethtown plans ahead for making her favorite rhubarb recipes.
"Wash and cut the rhubarb into bite-size pieces, put them in vacuum freezer bags and freeze them raw," Lower says. "When ready to use, take out the amount you want and cook you favorite recipe. Stew it with a little water and either sugar or stevia to taste.
"It's great just like that, or over ice cream as a dessert," she adds.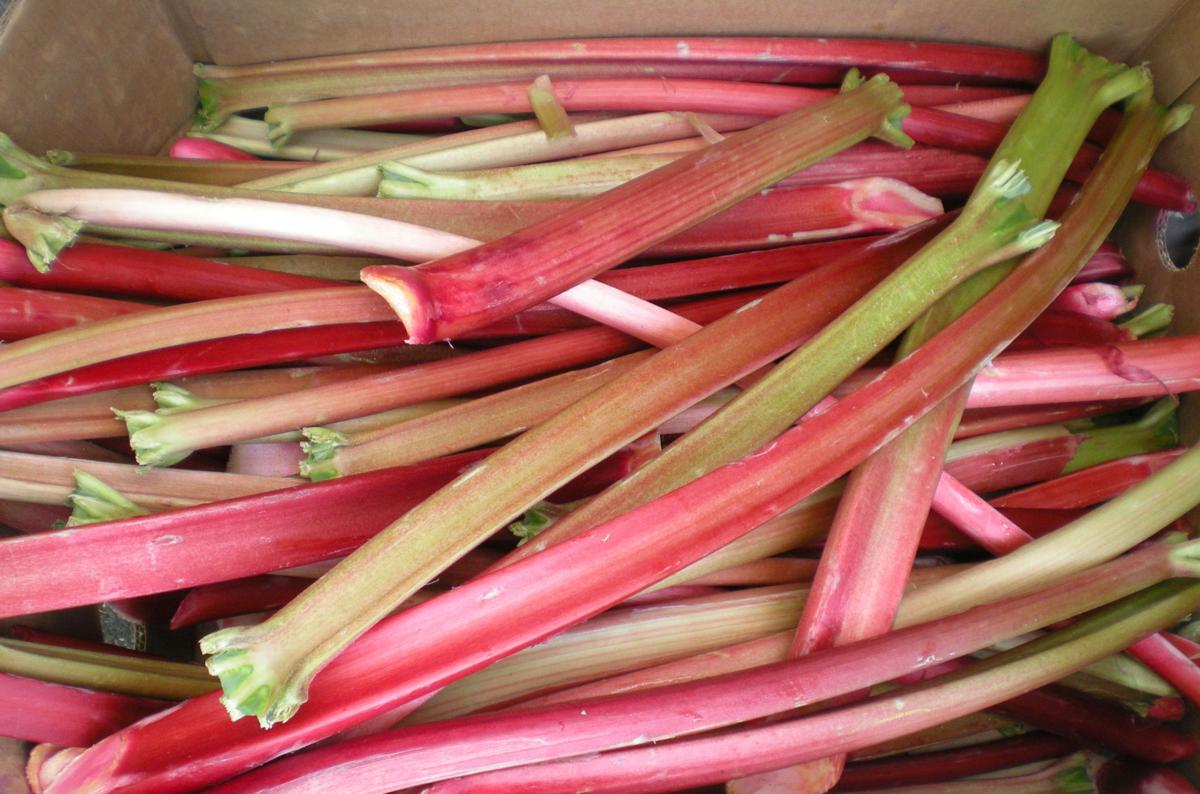 Ethel Stoner of Stoner's Homegrown Vegetables at Lancaster Central Market offers this beverage recipe, which she says is a "yummy punch."
"No one will know it has rhubarb in it unless you tell," Stoner adds.
RHUBARB PUNCH
Ingredients:
• 1 quart rhubarb, cut in inch pieces
• 1 to 2 cups sugar (depending on your taste)
• Juice of 6 lemons (may substitute strawberries)
• 1 1/2 cup pineapple juice
• 1 quart ginger ale
Directions:
Cover rhubarb pieces with water and cook about 10 minutes until soft. Drain, reserving juice — about 3 cups.
Dissolve sugar in 2 cups water and cook 10 minutes.
To sugar syrup, add the juice of the lemons and pineapple juice, (or, if you prefer, add 1 cup fresh strawberries instead of lemons, and mash into syrup).
Mix well and add rhubarb juice. Mix again. When ready to serve, add ginger ale and ice cubes.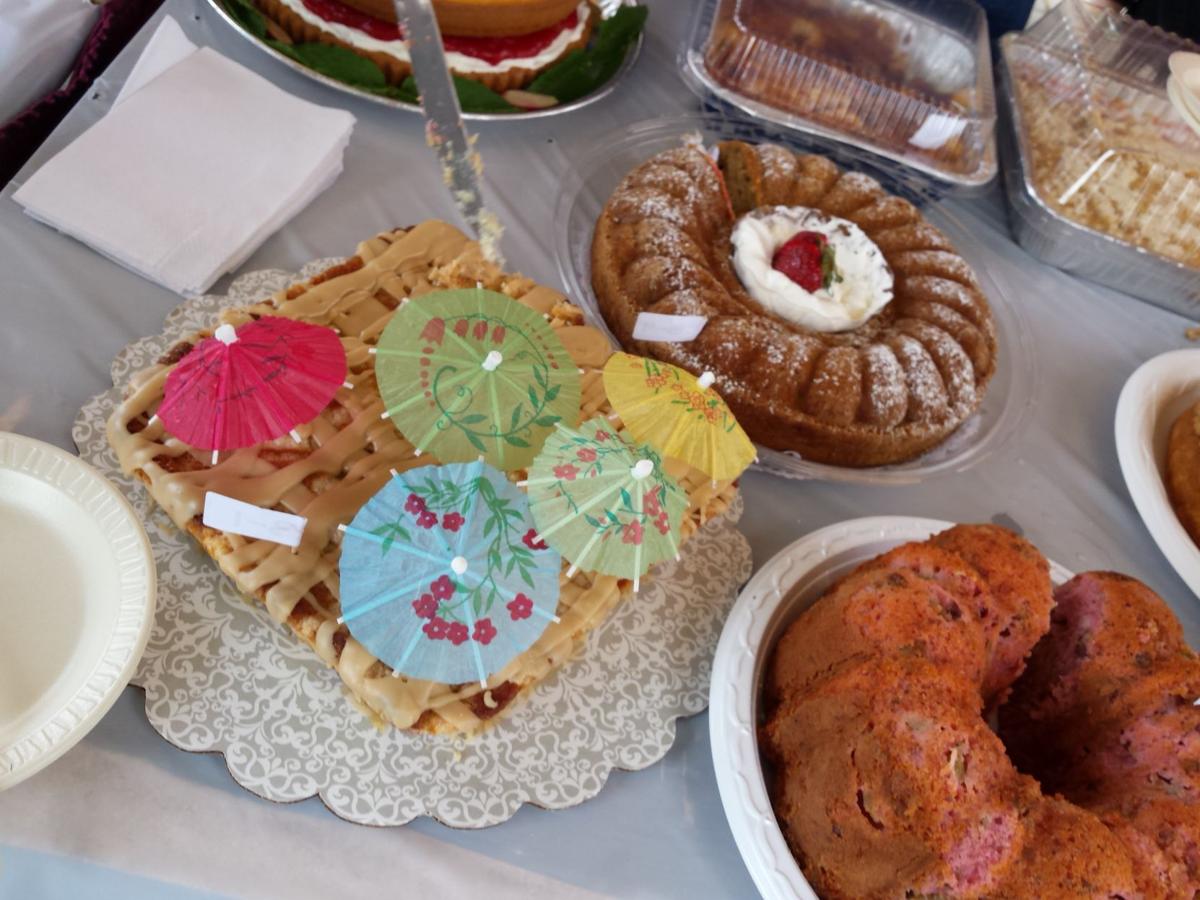 Here's a rhubarb pie recipe submitted by Joyce E. Ricedorf of Mount Joy.
RHUBARB PIE
Makes 2 pies
Crumb topping ingredients:
• ½ cup oatmeal
• ½ cup brown sugar
• ½ cup flour
• ¼ cup butter
• ½ teaspoon cinnamon
Mix together crumb ingredients; set aside.
Pie ingredients:
• 2 prepared pie shells
• 1 ¾ cups water
• 1 ¾ cups sugar
• 4 tablespoons cornstarch
• Red food coloring (optional)
• 4 cups rhubarb, cut up
Directions:
Preheat oven to 350 degrees. Boil water, sugar and cornstarch until clear. Stir in rhubarb. Pour into pie shells and top with crumb mixture.
Bake at 350 degrees for 30 to 40 minutes.
"I never liked rhubarb growing up," Ilene J. Sangrey of Paradise notes. "My mother would always make pies with it, and every year for the last 40 years she would make my husband one.
"He loved her rhubarb pies, and I could never make one like hers," Sangrey adds.
Her mother has since passed away, and she still makes her husband rhubarb pie (though, she confesses, still not as good as her mom's).
Sangrey offers this recipe for baked bars, which she says are a little on the sweet side.
"You'd never know there's rhubarb in them."
RHUBARB BARS
Crust ingredients:
• 1 ½ cups flour
• 1 ½ sticks margarine
• ½ cup confectioner's sugar
Directions:
Preheat oven to 350 degrees. Mix ingredients together, place in a 13-by-9-inch pan. Bake 10 minutes in a 350 degree oven.
Topping ingredients:
• 3 eggs, beaten
• 2 cups sugar
• 1 teaspoon vanilla
• 1 teaspoon baking powder
• 1/3 to ½ cup flour
• 4 cups diced rhubarb
• ½ cups chopped nuts (optional)
Directions:
Combine beaten eggs, sugar, vanilla, baking powder and flour and mix well. Add rhubarb and nuts (if using). Mix well and pour over baked crust Bake for 35 minutes at 350 degrees.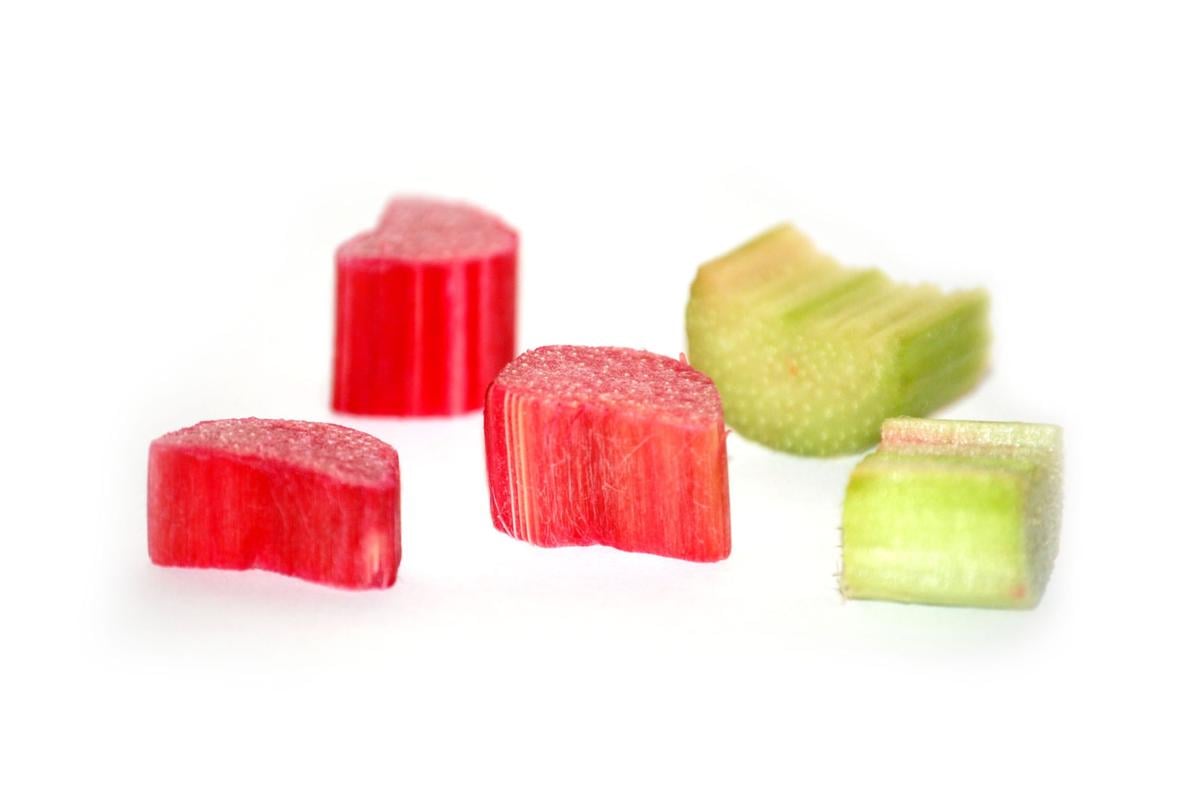 "I have one rhubarb plant in my garden," says Lynn M. Kreider of Lancaster, "and love to watch it growing every spring."
Here is Kreider's favorite rhubarb recipe:
RHUBARB AND PINEAPPLE JAM
Ingredients:
• 1 pineapple, cut up
• 1 orange, peeled and cut up
• 1 lemon, peeled and cut up
• 7 cups rhubarb, cut up
• 7 cups sugar
Directions: Mix pineapple, orange, lemon and rhubarb in a food processor. Mix together the fruit and sugar and refrigerate 5 hours.
Boil the mixture for 25 minutes or until thickened.
Can the jam in jars, freeze and give to friends for Christmas gifts.
This recipe for baked rhubarb with a meringue topping comes from Janet Harry of Columbia.
RHUBARB STRAWBERRY MERINGUE
Ingredients:
• 3 cups rhubarb, with leaves and root end trimmed off and cut into ½-inch pieces
• 2 tablespoons flour
• 1 ¼ cups sugar
• 2 tablespoons water
• 1 pint strawberries, washed and hulled
• 2 eggs, separated
Directions:
Preheat oven to 350 degrees.
Put rhubarb in saucepan with flour and 1 cup of the sugar. Blend, add water and simmer 10 minutes while stirring. Add berries.
Remove from heat and stir in well-beaten egg yolks. Turn mixture into 8-inch square casserole dish and bake at 350 degrees for 10 minutes.
Reduce oven heat to 300 degrees.
Beat egg whites until stiff, fold in remaining ¼ cup of sugar, spread over baked rhubarb mixture and return to oven at 300 degrees. Bake 15 minutes or until the meringue topping is lightly browned.
Catherine Mills of Willow Street offers this recipe for coffee cake.
RHUBARB AND ORANGE COFFEE CAKE
• 1 1/3 cup flour, wheat or white
• 1 ½ teaspoons baking powder
• ¼ teaspoon salt
• 1 tablespoon orange rind
• ¼ cup butter
• ¾ cup sugar
• ½ cup orange juice
• 1 egg slightly beaten
• 1 1/3 cup rhubarb, cut into 1-inch pieces
• 2 additional tablespoons sugar
• ½ teaspoon cinnamon
Combine flour, baking powder, salt and orange rind.
Beat together butter and sugar until light and creamy.
Stir in orange juice and egg and mix well. Add dry ingredients and mix only until evenly moistened. Fold in rhubarb.
Pour into a 9-by-9-inch cake pan. Combine sugar and cinnamon, and sprinkle over batter.
Bake at 350 degrees for 30 minutes.
Helen Becker of Lititz says her mother always added a touch of vanilla to her rhubarb sauce, "and for 62 years, I have done the same."
Rhubarb with vanilla doesn't need as much sugar, Becker says.
Finally, Romaine Wetzel of Ronks makes her rhubarb sauce — adapted from "A Taste of Home," one of the 250 cookbooks she owns — a couple of different ways.
For a pound of rhubarb, cut into 1-inch pieces, add a small amount of water — ½ to 1 cup — and ½ cup sugar. Simmer, covered, for 25 to 30 minutes, until tender. Add a dash of cinnamon, if desired, or a little more sugar, to taste.
"I always freeze rhubarb and strawberries," Wetzel says. When making strawberry-rhubarb sauce, she simmers together the pound of rhubarb and 1 quart of frozen strawberries, with no water and using Splenda instead of the sugar.
"I simmer until all the fruit is mixed together and looks stringy."