To find pawpaws in the wild, first look for a small tree with a thin trunk and big tropical leaves. And then take a deep breath.
"Look around, they're nothing like anything else," says Lydia Martin, standing in the woods of Shenks Ferry Wildflower Preserve, north of Pequea. "And you can't miss the smell."
Pawpaw fruit smells supersweet and tastes tropical. The largest edible native fruit in the United States is now in season.
If you didn't know that, it's probably because pawpaws are called America's forgotten fruit.
Pawpaw's taste
How a pawpaw tastes depends on the variety and the person describing it.
Like banana mango, says Bob Stanley, who has a few pawpaw patches on his West Donegal Township property.
Or like custard with hints of caramel, rosewater and orchids, says food historian William Woys Weaver.
Soft and creamy, with the consistency of a mango, says Martin, director of education at Lancaster County Conservancy.
Like bananas with a twist, along with a hint of mango, pineapple and strawberry, says Glenn Brendle, co-owner of Green Meadow Farm in Gap.
Quite an exotic taste for a fruit found along the East Coast and in the Midwest. In Pennsylvania, pawpaws are primarily found in the southeast portion of the state, Weaver says.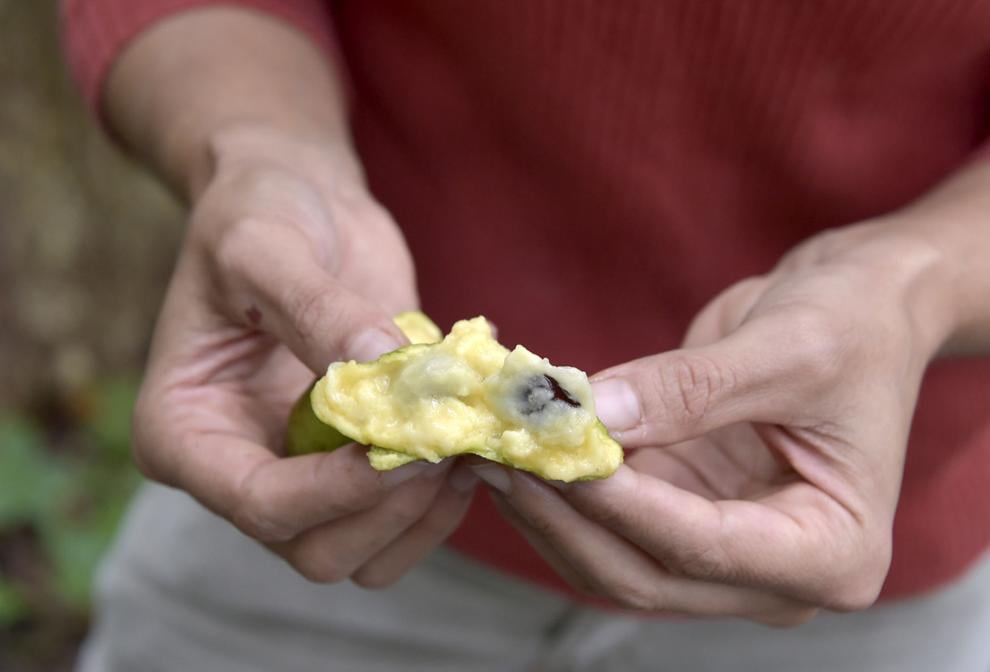 Pawpaws' past
In the 1800s, pawpaws from local patches were commonly found at markets in September. The fruit tree grows in flood plains, and as these areas were lost to development, the pawpaw tree became harder to find.
Known as custard apples generations ago, it was common to eat a pawpaw with a spoon for dessert, Weaver says.
"It's like pudding," he says. "And they're quite exotic."
Historically, pawpaws were common in Lancaster County, Weaver says.
"Especially in southern Lancaster County, there were lots of pawpaw groves at one time, and along the Susquehanna," Weaver says.
Facing extinction?
"I think one of the reasons we don't see them in supermarkets and what have you is they don't ship very well," Weaver says. "They're soft to begin with when they're ripe and they bruise extremely easily. I've seen them sold in that fake grass/straw you put in Easter baskets to pad them so they don't get damaged."
Not helping pawpaw's image is the fact that to attract flies for pollination, an old custom was to hang roadkill in the tree, according to one West Virginia grower.
It's such an at-risk fruit that pawpaws made Slow Food USA's Ark of Taste, a catalog of delicious and distinctive foods facing extinction.
A pawpaw comeback
While Stanley is not a fan of the super-sweet flavor or the stringy texture of the pawpaw, he still wanted to share this rare fruit with his master gardener class with Penn State Ag Extension in Lancaster County.
"If they're like me, they haven't had much experience about what a pawpaw is," Stanley says. "So I went down, picked a bunch and brought them in."
That kind of curiosity surrounding a newly rediscovered native fruit is helping the pawpaw make a resurgence.
Food magazines and websites have shouted their praises for the pawpaw.
Michelle Obama planted a pawpaw sapling in the White House kitchen garden in 2014.
Chefs see an opportunity to explore a unique flavor that comes from a rare, seasonal fruit. The local pawpaw season usually runs from late August through September.
"I know that the farm-to-table restaurants in Philadelphia are sucking up all of the pawpaws they can get while they're in season," Weaver says.
Green Meadow Farm in Gap, for example, grows and sells pawpaws, mainly for restaurants in Philadelphia. This year, most of the crop went to Franklin Fountain for pawpaw ice cream as part of its Forgotten Flavors series.
There's even a festival. The Ohio Pawpaw Festival, held Sept. 15-17 in southern Ohio this year, had a pawpaw "Jeopardy" game, pawpaw education and a pawpaw cook-off. Pawpaws are big enough of a deal in Ohio to be named the state fruit in 2009.
Recently, Horn Farm Center in York County had a pawpaw tasting, with six varieties of pawpaw, plus pawpaw salsa, ice cream, cookies and muffins.
Pawpaw nutrition
Pawpaws are high in vitamin C, essential amino acids, magnesium and iron, says Fran Hadley, clinical dietitian at the wellness center at Wellspan Ephrata Community Hospital.
The fruit also has high potassium levels, high enough for her to caution those with kidney problems from having too many servings.
A 3.5-ounce serving of pawpaw has a similar amount of calories and fat as a banana — 80 calories, more than a gram each of protein and fat, 18 grams of carbohydrates and 2 grams of fiber.
The pawpaw tree
When it comes to landscaping, the pawpaw tree has large, exotic leaves and doesn't require a lot of pruning.
"It's a pretty tree," says Stanley, who has a few patches of pawpaw trees on his West Donegal property.
In the spring, it blooms with bell-shaped, dark purple flowers. After a frost, the leaves turn a brilliant yellow.
Yet pawpaws have deep roots, which makes them hard to transplant, Weaver says. More than one tree is needed in one location because they don't self-pollinate. And trees can take 10 to 15 years before they start bearing fruit, Weaver says.
Green Meadow Farms' pawpaw trees were planted about 20 years ago and they took a while to produce fruit, Brendle said. But he picked a variety with fruit several times larger than those found in the wild.
Martin, who has cultivated dozens of pawpaw trees, says she has seen severely pruned pawpaw trees spring back and bear fruit after just a few years.
For years, Stanley says, he didn't see any fruit in his pawpaw trees. Then last year he says it was hard to escape what he called a nauseatingly sweet smell.
The pawpaw tree is pest-free and attracts beneficial insects. The tree also attracts butterflies like the zebra swallowtail, which eats the young pawpaw leaves at the caterpillar stage.
"We would not have the zebra swallowtail if we didn't have pawpaws," Martin says.
When the fruit is ripe, squirrels and other animals will eat it.
There are many pawpaw varieties, some producing small fruit and others producing larger-sized fruit. The flavors vary as well, and breeders are working to develop new varieties that are bigger, have a good flavor and don't bruise as easily.
Martin, who has grown the trees from seed and has given dozens away, has selected varieties that pass her family's taste test.
"They're a native tree you can cultivate and you can get fruit from," she says. "How cool is that?"