Bakers in the 2019 Pennsylvania Farm Show shared their award-winning recipes.
PA Preferred Chocolate Cake
Tracy Deneen of Fulton County took home first place for her salted caramel toffee crunch cake, a recipe that won a blue ribbon at the 2018 Fulton County Fair.
PA Preferred Chocolate Cake... by on Scribd
---
Incredible Angel Food Cake
Laura Fultz from Liverpool, Perry County took home first prize for her angel food cake.
Incredible Angel Food Cake by on Scribd
---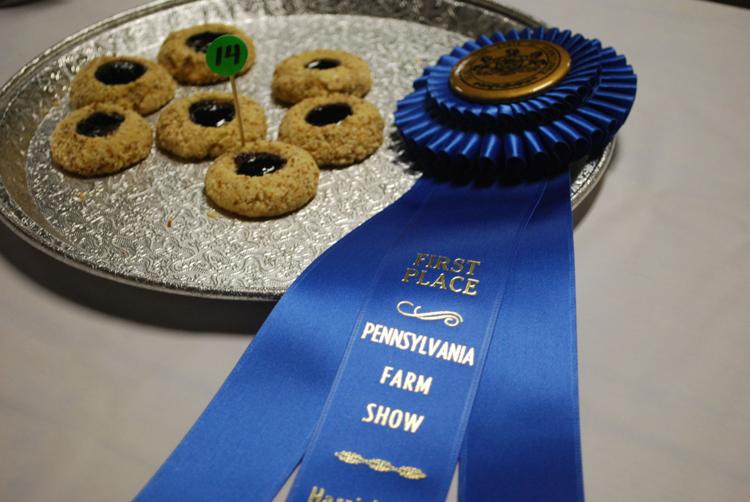 Thumbprint Cookies
Debra Martin Berkoski won first place for her thumbprints cookies made with mom's own black raspberry jam.
Thumbprint Cookie recipes by on Scribd
---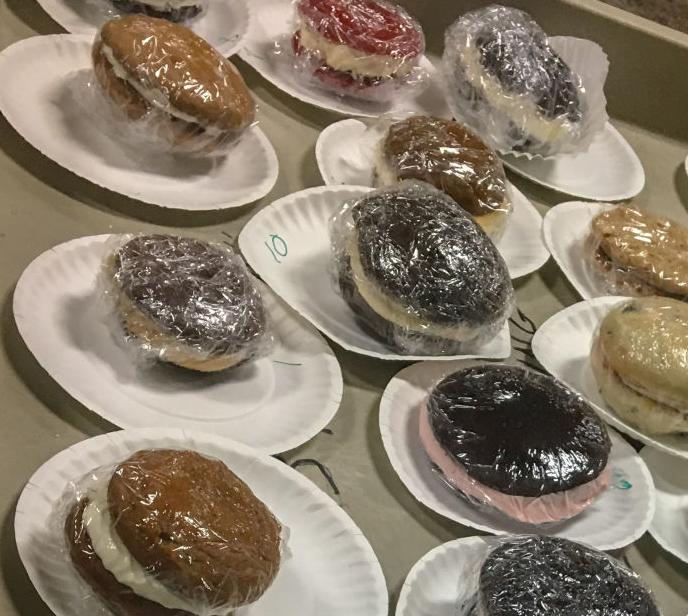 Jim Harper, Pennsylvania Furnace, Centre County, earned a blue ribbon for the second year in a row for his whoopie pies.
Chocolate Peanut Butter Whoopie Pie
Ingredients:
3 cups flour
1 teaspoon salt
1½ cups cocoa
1 teaspoon baking soda
½ teaspoon baking powder
1 cup butter
2 cups sugar
2 eggs
1½ cups buttermilk
1 teaspoon vanilla
Filling Ingredients:
1 cup butter
1 cup peanut butter
1 teaspoon vanilla
2 cups 10X sugar
Directions:
Preheat oven to 350 degrees Fahrenheit.
Combine first five ingredients and set aside. Beat together butter and sugar. Add eggs one at a time, blending well after each addition. Add buttermilk and vanilla, mix well. Add dry ingredients blending until just combined.
Grease cooking sheets.
Scoop 1 ounce of batter and drop onto pan.
Bake 12 minutes. Allow to cool for 5 minutes before removing from pan.
To make filling, beat butter until smooth. Blend in sugar until well incorporated. Add vanilla and beat until light and fluffy.
Assemble whoopie pies by placing heaping spoonful of filling on one side and sandwiching the other side onto it.
---
Marie Miller of Mechanicsburg, Cumberland County, won the Blue Ribbon Apple Pie Contest with this recipe:
Caramel Pecan Apple Pie
Crust
2-1/2 cups unbleached all-purpose flour
1-1/2 teaspoons sugar
1 teaspoon salt
½ cup chilled shortening cut into ½ inch cubes
½ cup (1 stick chilled unsalted butter, cut into ½ inch cubes)
5 tablespoons ice water (or more if needed)
Blend flour, sugar, and salt in a food processor. Add butter and shortening; blend until mixture resembles coarse meal.Transfer mixture to medium bowl. Add 5 tablespoons ice water and mix with fork until dough begins to clump together, adding more water by teaspoons if dry. Gather dough together. Divide dough in half; flatten each half into disk. Wrap each disk in plastic and refrigerate at least 1 hour. Roll one disk into a 9-inch circle and save the other for the top. Fit the dough into a 9-inch pie pan and trim the edges into a 1-inch overhang. Fold the dough under and crimp the edges. Place in the refrigerator for 20 minutes. Use half of the crust for the bottom crust and the other half of the crust for the bottom crust and the other half for decorating the top. (makes 2 single crust)
Filling
7 cups apples (peeled and sliced)
1 teaspoon lemon juice
1 teaspoon vanilla extract
½ cup chopped pecans – toasted
1/3 cup packed light brown sugar
3 tablespoons white sugar
2 teaspoons ground cinnamon
1/3 cup pie enhancer
1/3 cup caramel topping, room temperature
¼ boiled cider
Streusel Topping
¾ cup all-purpose flour
2/3 cup chopped pecans
¼ cup light brown sugar
6 tablespoons cold butter
¼ cup caramel topping, room temperature
In a large bowl, toss apples with lemon juice, ¼ cup boiled cider and vanilla. Let this mixture soak for an hour in covered bowl. Drain excess liquid from the mixture.
Combine the pecans, brown and white sugar, cinnamon and pie enhancer; add to apple mixture and toss to coat. Pour 1/3 cup caramel topping over bottom of pastry shell; top with apple mixture.
In a small bowl, combine the flour, pecans and brown sugar. Cut in butter until mixture resembles coarse crumbs. Sprinkle over filling.
Bake at 375 degrees for 30 minutes uncovered. Cover edges with foil; bake 30-40 minutes longer or until filling is bubbly and topping is browned. Immediately drizzle with caramel topping. Cool on a wire rack. Top with pastry cut-outs if desired. Yield: 8 servings.