Editor's note: This story was originally published May 2018.
John Smucker starts with a pie crust, fills it with a syrupy mixture and tops it with some crumbs.
When the shoofly pie comes out of the oven, it has a gooey layer on the bottom and brown sugar-cinnamon crumbs on top.
"This is a family recipe from my grandmother," says Smucker, chief executive officer of Bird-in-Hand Bakery, 2715 Old Philadelphia Pike, Bird-in-Hand.
The bakery staff makes stacks of shoofly pies, from 10-inch pies to 3-inch "cutie" pies. Last year, they made nearly 17,000 shoofly pies.
It's such an important treat that company executives turned to shoofly when thinking of ways to celebrate the company's 50th anniversary. They came up with a shoofly pie ice cream: vanilla ice cream with a caramel swirl and chunks of shoofly pie.
The new flavor will be released in early June.
Shoofly pie is a rich treat made from two Pennsylvania Dutch "food groups": sweets (molasses and sugar) and butter (or lard, if you prefer). More a coffee cake than a pie, this dessert is often served at breakfast, but some like it as a dessert or even a meal.
This pie dates back to the Civil War, long after the Pennsylvania Dutch first settled in southcentral Pennsylvania.
Bakers started making shoofly pies because the main ingredients — brown sugar, molasses, flour and lard — were always available, according to Phyllis Pellman Good, who wrote "The Best of Amish Cooking." And shoofly pies don't need to be refrigerated, which is a plus.
The origin of the name is up for debate. One story says the pies are so sweet that, as they cool, flies have to be shooed away. Another links the pie to the Shoofly brand of molasses from Philadelphia.
Lancaster County's tourism industry has played a large part in spreading the popularity of shoofly pies, as well, writes food historian William Woys Weaver.
Still, generations of bakers have made shoofly pies and turned the treat into a Lancaster County symbol.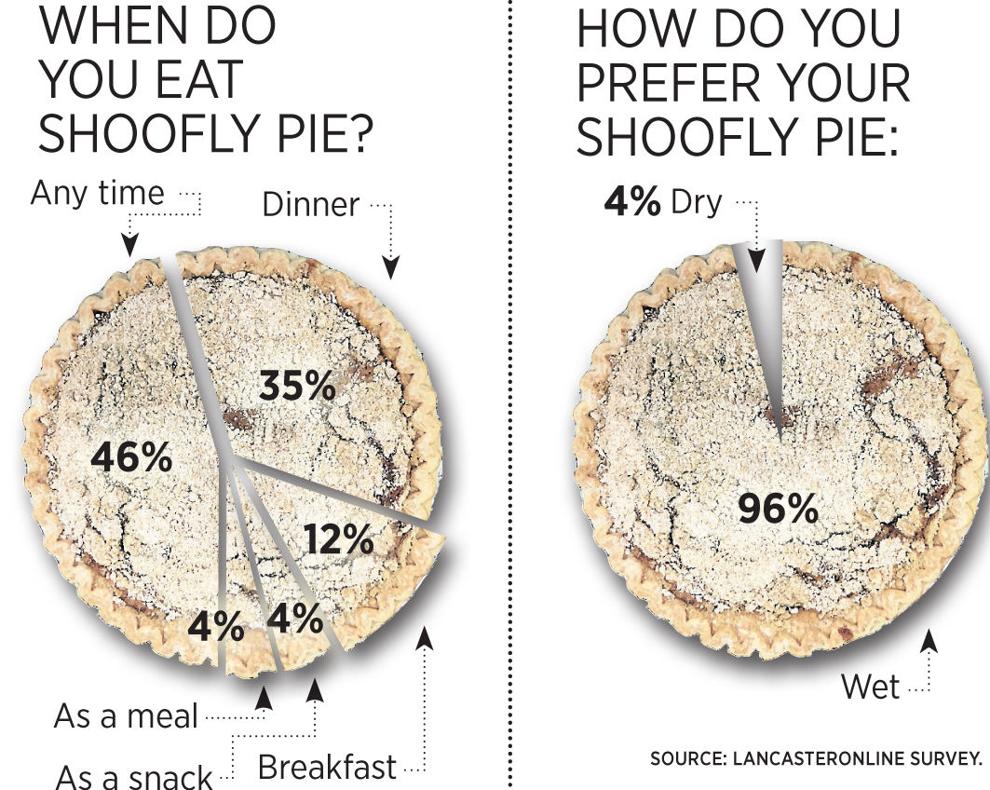 Boy Scouts from New Holland gave President Dwight Eisenhower a shoofly pie as a gift when they served as honor guard for a day in 1953.
Shoofly is popular enough for variations like chocolate shoofly pie. There are also shoofly whoopie pies, and Lancaster Brewing Co. makes a shoofly beer, Shoo-Fly Pie Porter.
At Lancaster County's local fairs, shoofly pie bakers vie for ribbons. And that practice shows.
In 1999, the first year the Pennsylvania Farm Show held a shoofly pie competition, Debra Martin, of Conestoga, won first place and Doris Kreider, of Bird-In-Hand, was second.
A few years ago, Michael Firestine had the difficult job of judging shoofly pie at the state farm show. Firestine, senior vice president of Fulton Bank, chairs the Farm Show Committee. He also loves shoofly pie.
"I'm Pennsylvania Dutch, and shoofly pie is as Pennsylvania Dutch as you can get," he says.
As a farm show judge, Firestine tasted more than 100 shoofly pies.
"I love shoofly pie so much, I didn't pace myself at the beginning," he recalls. "By night, I had a queasy stomach."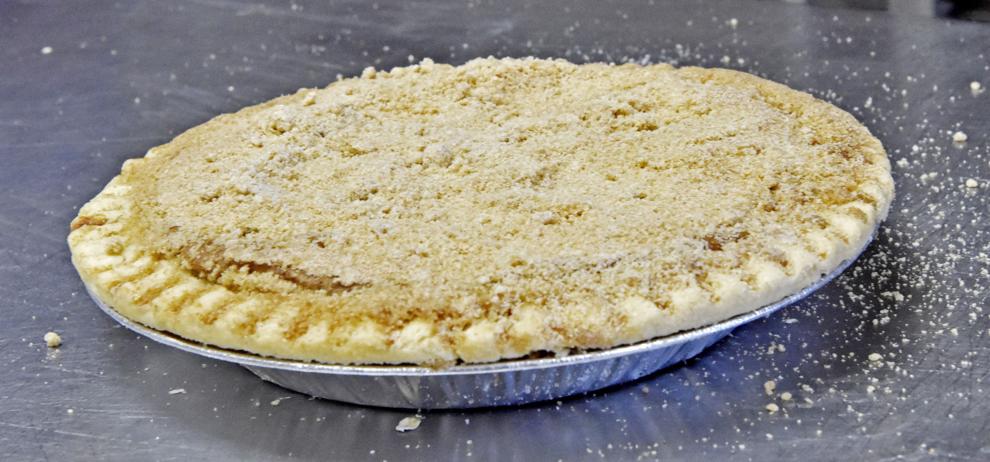 For Firestine, the best shoofly pie is wet with a thin layer of molasses at the bottom.
"I like a good, sweet molasses taste, not tarty, like a blackstrap molasses," he says.
And don't even talk about dry shoofly pie, which can be described as coffee cake with a crust.
"It's sacrilegious to have dry shoofly pie," Firestine says.
LancasterOnline readers agree. In a poll, 96 percent of readers say they prefer wet shoofly pie.
Fans of the dry pies like the cake texture, but still prefer a thin layer of molasses on the bottom.
Wet-bottom shoofly fans say the gooier, the better.
They eat their slices of pie warm and might add some vanilla ice cream, a cold glass of milk or whipped cream.
"Gooey molasses with a crumbly dry top gives the best of both worlds," says Charlotte Knauer-Mason.
Abby Fox likes her pie just like her father taught her.
"The best way to eat it is to pour coffee over it," the Ronks woman says.
She doesn't make shoofly pie, but once in a while, she'll buy one at a roadside stand or have a slice her mother got from Amish neighbors.