As Lancaster County students head back to school, some as early as next week, their parents and guardians will begin another year of making sure they have the proper nutrition to maximize learning.
That means packing nutritious lunches that students will want to eat, and providing a healthy breakfast before sending them off to school.
We asked some nutritionists who work or consult for local hospital systems and grocery stores to answer some questions about how to ensure kids have a healthy diet as they return to classes.
Offering their suggestions are Janelle Glick, wellness dietitian at Penn Medicine Lancaster General Health; Kaitlyn Berkheiser, clinical dietitian for WellSpan Good Samaritan Hospital in Lebanon; Stephanie Snader, dietitian with WellSpan Ephrata Community Hospital's Wellness Center; Kilene Knitter, Lancaster nutritionist for Giant Food Stores; Elizabeth Stark, registered dietitian and manager of lifestyles initiatives for Weis Markets, based in Sunbury; Debra Heverling, corporate nutritionist for Stauffers of Kissel Hill Fresh Foods; and Marda Heuman, Pennsylvania nutritionist for Wegmans (opening a store in Lancaster next month).
Their answers have been edited for length and clarity.
Question: What are a couple of healthy lunchbox ideas for kids?
Glick: Younger children often enjoy finger foods, so make a healthy "lunchable" that includes hard-boiled eggs, cheese cubes, turkey roll-ups, veggies or fruit on a skewer, whole-grain crackers, tortellini or ravioli with spaghetti sauce for dipping, a yogurt tube or cup, or a homemade granola ball or bar.
Nut butter, banana or dried cranberries and grated carrot on a whole-grain wrap is a tasty alternative to PB&J.
For any age, but especially for more mature taste buds, use leftovers in creative ways, such as roasted veggies in a whole-grain wrap with hummus; bite-sized pieces of chicken breast with a pesto dipping sauce, reduced-sugar ketchup or barbecue sauce; or leftover steamed green beans with hummus or salad dressing.
Berkheiser:
— Pinwheel sandwiches: Whole-grain tortilla with one or two slices of lean-protein lunch meat, such as turkey or chicken breast, and low-fat cheese with some lettuce. Wrap it up and cut slices at an angle to make the pinwheels.
— Cold pasta salad: Whole-grain pasta, edamame (for protein) and dried cranberries with Italian dressing.
— Lots of kids are "dippers," so take advantage of some nutrient-dense dips, such as veggies with guacamole, hummus or veggie dip made with Greek yogurt.
Snader: A balanced meal would include at least three to four food groups, which includes a good source of protein (lean meats, low-fat cheese, peanut butter, nuts, beans, eggs, yogurt or cottage cheese).
— Do meat/cheese or fruit/veggie kabobs on nonsharp wooden kabob sticks.
— Personalized pizza: Pack pita bread or a small pizza crust, and then tomato sauce, cheese and veggies for toppings that kids add at school.
— Homemade trail mix: Whole-grain cereal of choice with dried fruit and nuts.
— Salad greens: Make sure it's a balanced meal by adding protein (chicken, eggs or low-fat cheese, for example) and adding one to two other food groups such as yogurt, whole-grain crackers or fruit on the side.
Knitter: Pack lots of colorful fruits and vegetables, choose whole grains with fiber, aim for at least one serving of dairy, include protein to keep them full — and remember to have fun.
Bento boxes (served in containers with separate compartments) incorporate all the tips above, plus they allow your child to personalize their pack. The possibilities are endless, including:
— Turkey and spinach pinwheels, yogurt and apple slices.
— Edamame, sliced strawberries, popcorn and part-skim cheese stick.
— Tuna salad made with Greek yogurt, whole wheat crackers, 2 percent milk, cheese and unsweetened applesauce.
Stark: Give these "outside-the-lunchbox" ideas a try:
— Build your own parfait with Greek yogurt, cut fruit, granola and chocolate chips.
— Layer nut (or sunflower seed) butter, sliced berries, bananas and raisins and roll them up in a whole-grain tortilla.
— A snack lunch with pita triangles or whole-grain crackers, veggies, cheese cubes and hummus for dipping.
Heverling: I like to suggest bento-style lunches with items that can be mixed and matched to fit the food groups and (U.S. Department of Agriculture's) My Plate recommendations.
Doing a roll-up with hummus or avocado spread and thinly sliced veggies, beans and shredded cheese can be tasty. Or try cut-up fruit and nut butter rolled up in place of a traditional PB&J.
Heuman: Think "half-plate healthy." Make half the plate fruits and veggies and the other half anything else, like a whole-grain mini bagel sandwich or a few slices of cracker-cut cheese together with some whole grain crackers. Let appetite guide your quantities.
For larger appetites, add a small meat or cheese quesadilla or even a couple of hard-boiled eggs that you made the night before.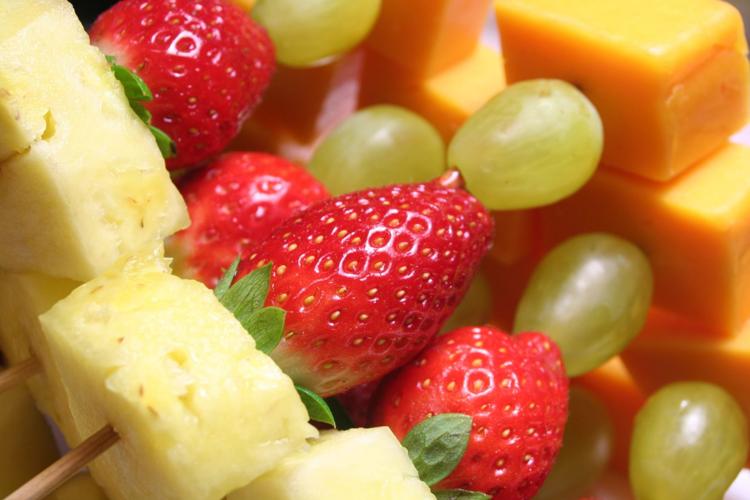 Q: What are some new ideas to make school lunch more appealing to both picky and nonpicky eaters?
Glick: It can help to have a variety of healthy options and allow kids to be part of the lunch-packing process and choose an item within each category.
Begin with a veggie: raw veggies like celery, peppers, broccoli, cauliflower, or baby carrots or steamed leftover veggies like carrots or green beans. Add a dip to make veggies more interesting.
Next, choose a fruit: Fresh fruit may be easier to eat if it's cut up.
Add protein: Turkey, chicken, or roast beef cubes or slices, cheese sticks or cubes or chickpeas or other starchy beans. Add a nut or seed butter for dipping.
Be sure to add a calcium-rich item, like cottage cheese or plain yogurt with apple butter, cinnamon or powdered peanut butter for a touch of sweetness.
Add a whole grain: Crackers, flatbread, English muffin, wrap or bread.
A healthy sweet treat: Graham crackers, homemade granola bar/ball, small homemade whole-grain muffin or a small piece of dark chocolate or a few semisweet chocolate chips.
Don't forget a drink: Water or plain milk are the best options.
Perhaps your child would rather drink lunch than eat it. A green smoothie in a thermos (where they can't see the color) is a good way to get in lots of great nutrition.
Spinach or kale, banana, blueberries, unsweetened almond milk, collagen protein powder, cinnamon, chia seeds or ground flax seeds are some of my favorite ingredients for a healthy green smoothie.
Berkheiser: Be creative with your presentation. Make foods look more appetizing to children by presenting them in a fun way. For example, use a fun cookie cutter shape to cut bite-sized sandwiches. Allow children to be produce pickers.
Expand your child's interest in food and cooking by allowing them to be involved in the grocery shopping, cooking and choosing meals
Taking children shopping can allow them to pick out some healthy items that they would like to try and can make meal/snack time fun and exciting while also increasing their confidence.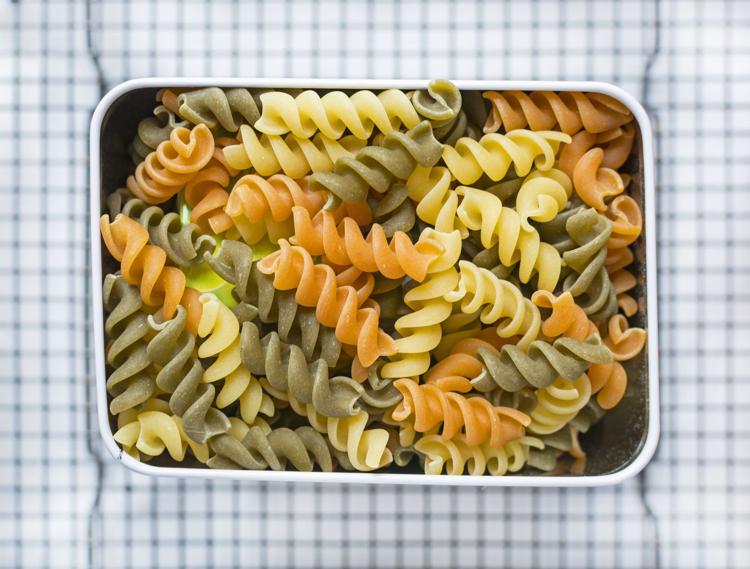 Knitter: This school year, make their PB&J gourmet using sunflower seed butter, sliced strawberries and mini chocolate chips served on whole-wheat bread, with baby carrots and cottage cheese on the side.
Add lots of color and flavor by trading out typical pasta dishes for tricolor pasta salad topped with edamame, rainbow carrots and mini cucumbers tossed with a light dressing and pear slices.
Also, try deconstructing their favorite foods, like pizza. Fill their lunchbox with whole wheat crackers, pizza sauce, part-skim mozzarella cheese, any other favorite toppings and a piece of fruit for a balanced and fun new favorite.
Stark: Both picky eaters and nonpicky eaters will have fun with finger foods like snack-type lunches, kabobs or cereal trail mix with dried fruit, nuts, mini pretzels, seeds or granola.
Involve your kids in the planning, shopping and even the prep of their lunches.
Not only will this help to instill a sense of ownership with their choices, it will also teach them healthy eating habits and make them more likely to eat the lunch versus trading it away.
Heuman: Make lunches that are simple, yet colorful and fun. Include a rainbow of fruits and veggies like purple grapes, blueberries, grape tomatoes, orange baby carrots, and green celery and pack a dip like hummus, guacamole or organic black bean dip for fun dipping.
Make lunch-box-sized skewers and stick Swedish meatballs, chicken satay or black forest ham together with bread chunks, lettuce and other veggies to make a "stick sandwich."
For picky eaters, my recommendation is always to include them in the packing process and propose foods they like so they are not hungry and can focus on their teachers instead of their growling bellies.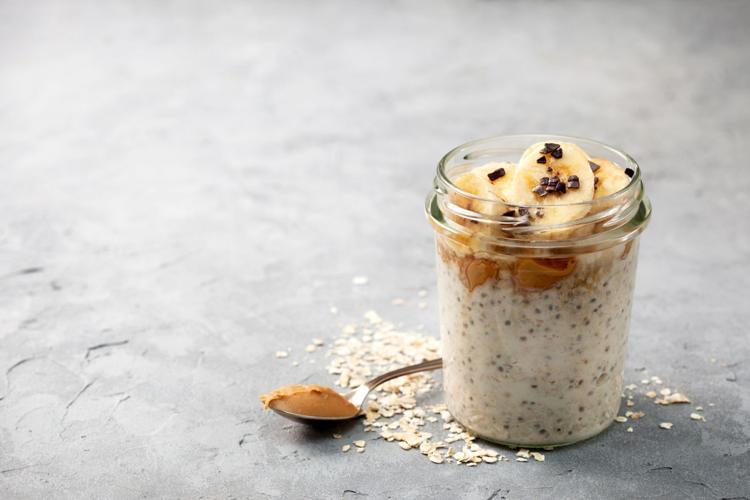 Q: What are some healthy, nutritionally sound ideas for breakfast for kids before they go to school for the day?
Glick: Have kids try a breakfast banana "split": Sliced banana with plain or vanilla yogurt, topped with granola or nuts, strawberries and drizzle of peanut butter.
Egg "muffins": Scrambled eggs baked in muffin tins with veggies, meat, cheese or whatever your child prefers. Serve with whole-grain wrap, mini-bagel or toast.
Make a pile of whole-grain protein-rich pancakes or waffles on the weekend, and they'll be simple to reheat in the microwave before school. Serve with peanut butter for extra protein.
Berkheiser:
— Scrambled egg wrap, made with one to two scrambled eggs, a 6- to 8-inch whole-wheat tortilla, 2 percent cheese and mild salsa.
— Hard-boiled eggs are something you can make the night before and have ready to grab in the morning as an easy breakfast. Eggs provide that high-quality protein that is especially important for growing children
— Kid-friendly smoothies, such as one made with a half to one cup of low-fat, plain yogurt, a cup of fresh or frozen fruit (no sugar added) and a tablespoon ground flaxseed blended together. You can add a spoonful of peanut butter for additional protein and flavor.
— Older kids (teenagers) may enjoy whole-grain toast topped with nonfat Greek or Skyr yogurt, berries of choice and chopped raw almonds.
— If your kids enjoy oatmeal, try easy, overnight oats. Combine oats, milk, nonfat, plain Greek yogurt, vanilla, cinnamon and chia seeds in a Mason jar overnight to grab and go in the morning.
Snader:
— Smoothie: Lowfat yogurt with frozen berries and banana.
— Whole-grain cereal with milk and fruit.
— Eggs with whole-grain toast and fruit.
— Refrigerator oatmeals.
— Oatmeal with fruit and nuts.
— Half bagel with peanut butter and fruit.
— Yogurt parfait: Low-fat yogurt, fruit and granola.
— Breakfast wrap: Eggs and veggies in a tortilla.
Knitter: Prepping breakfast foods the night before can help make getting out the door on time a little bit easier.
To create a balanced breakfast, aim to include at least three food groups, like protein, grains and fruit.
Start the day with quick, balanced breakfast ideas, such as broccoli and cheddar egg muffins served with an apple or a whole-grain tortilla with sunflower butter spread and sliced bananas.
Stark: For ease for parents and portability for kids, try make-ahead oatmeal breakfast cookies, egg and whole-grain muffin sandwiches or higher protein and fiber granola or snack bars with a piece of fruit.
Heverling: I like to suggest baked oatmeal cut into bars that are grab-and-go.
Fruit and Greek yogurt smoothies or parfaits are a great option, too.
Egg-based breakfast wraps or sandwiches, or even just a single hard-cooked egg, are a great source of protein to start the morning off right.
Heuman: Kids need fuel in the morning in order to be at their learning best. Cereal gets a bad rap, but I'm a fan when chosen wisely.
A whole-grain cereal with a lower amount of added sugars, with low-fat milk or almond milk, is a simple breakfast. Quick oats mixed with a nut butter and some dried fruit is a warm way to quick start a cold morning.
And who says breakfast foods need to be traditional? How about a peanut butter and banana on whole-grain waffle sandwich to start your day? It's easy and can be eaten in the car or on the bus if time is an issue.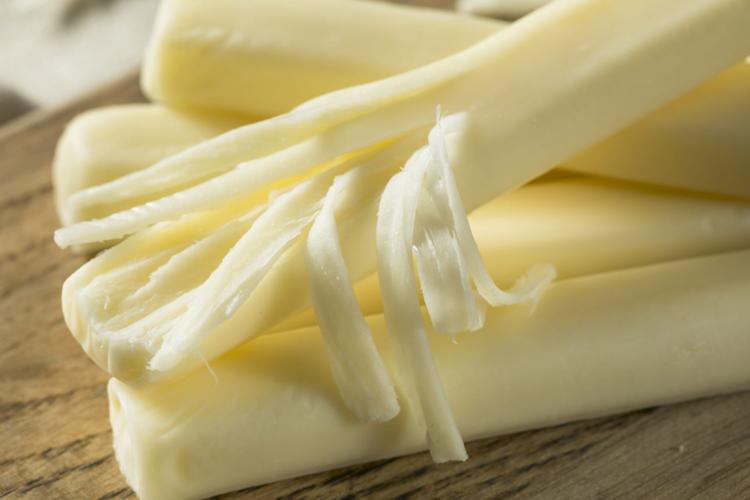 Q: Are there any new grab-and-go-type products you recommend for making packing a school lunch easier?
Glick:
— Pre-portioned cheese, nut, and dried-fruit snacks like Sargento's Balanced Breaks.
— Larabars are a healthy, whole-food bar that can be purchased in small- or medium-size bars.
— Portioned bags of Pirate's Booty or Skinny Pop.
— Portioned Greek yogurt or cottage cheese.
— Small cups of unsweetened applesauce or mandarin oranges in water.
Berkheiser: There are multiple brands of lunch boxes that have pre-portioned compartments for each food group (fruits, veggies, lean protein, whole grain, etc.). This is a nice tool for parents to use to ensure they are building a balanced meal for their children based on the My Plate recommendations.
Snader: There are pre-cooked hard boiled eggs available.
There are also grilled chicken kabobs available in the refrigerator section.
Prepping ahead for lunches helps to save time in the mornings. Freezing the meat and cheese on bread and then adding condiments and lettuce/tomato in the morning is a quick way to prep in the morning.
The meat and bread thaw before lunch.
Knitter: Find nutritious grab-and-go snacks with Guiding Stars, Giant's nutrition navigation program. Look for 1, 2 or 3 stars showcasing "good," "better" and "best" choices that help to take the guesswork out of nutrition.
Include Guiding Stars-rated snacks, like fresh-cut fruits and veggies ready-to-go, unsweetened applesauce, roasted chickpeas, individual bags of sea-salt popcorn and dry-roasted edamame packs in your student's lunchbox to keep them full and focused throughout the school day. Guiding Stars: giantfoodstores.com/guidingstar.
Stark: String cheese, ready-to-pack cut fruit/veggies from the Weis produce department, single-serve yogurts, hummus and cracker cups, StarKist tuna and chicken pouches, higher protein and fiber granola or snack bars, single-serve boxes of raisins or single-serve rice cups.
Heverling: Kind brand has introduced a variety of new bars, but I encourage people to check out the Kind Kids chewy bars, which have less added sugar than other brands of granola bars marketed to children.
Kind also offers Pressed by Kind bars, which contain two ingredients: fruit puree and chia seeds. They're a fantastic alternative to more processed fruit snacks marketed for children.
Heuman: Wegmans offers a wide variety of grab-and-go lunch ideas throughout the store.
In the produce section we have pre-portioned packages of apples, grapes and cheese bites ready to throw in a lunch bag. We also have family packs of sliced apples in single-portion bags and a good selection of organic salad bowls, including my fave — cranberry and nut with spring mix — that make for a refreshing lunch.
In our prepared-foods section of the store, we offer several larger salad bowl choices like Caprese salad, pre-packed subs and wraps, sushi (our coconut shrimp dragon roll is fun and we even have kid-friendly veggie-only sushi choices), plus flavorful, whole-grain salads..000=