If you'd like to learn more about how to prepare and enjoy raw foods that don't contain animal products, you might want to check out the monthly Raw Food Potluck in Kinzers tonight (Monday, June 15).
The group will meet at the Kinzer Fire Hall, 3521 Lincoln Highway East, Kinzers. The meal is served at 6 p.m., with a speaker scheduled for 7 p.m.
Tonight's speaker is Jamie Leedom, who teaches raw-food classes at Lemon Street Market in Lancaster and who operates the raw-foods lifestyle website Juicy Raw Beauty.
Leedom will be talking about raw chocolate, said potluck organizer Terri Roberts. 
The potluck group gets together every third Monday of the month to share a meal, swap recipes and learn about how to get more healthy foods into its members' diets.
Families of one or two people should bring a 9-by-13-inch raw-food dish (or an equivalent amount of food).
Raw food recipes, as defined by the group, "are made with fresh fruits, vegetables, nuts, seeds, sprouted grains, herbs, spices and some seasonings. They contain no animal products, dairy, eggs or anything that is cooked over 118 degrees."
Families of three or more should bring two 9-by-13-inch dishes to the potluck.
Everyone should also bring a place setting, with a plate, bowl, napkin and eating utensils.  
A recipe must accompany every dish that's brought to the potluck, so that diners can use each other's recipes at home, and also check for foods in the dishes that they may be allergic to.
Everyone attending is asked to contribute $2 per person or $4 per family toward the rental of the fire hall. For information, contact Terri Roberts, 725-8617 or terri17579@comcast.net.
Thumbs up for a faux fromage
Kelli Kennedy of the Associated Press swears the vegan Holy Grail has been found.
In other words, there's a new vegan cheese on the market that tastes good (and authentic) enough to be stocked beside the real stuff at Whole Foods stores.
Kennedy reports that vegan chef Tal Ronnen, who has cooked for Oprah Winfrey and Ellen DeGeneres, was developing vegan menus for Steve Wynn's Las Vegas hotel restaurants when he realized how yucky many people find vegan cheese.
So Ronnen set up Kite Hill, a California-based partnership, to create pasteurized, cultured vegan cheeses with flavor good enough to stand alone on a cracker, the AP story said.
The partnership, which includes a biochemist and a skilled cheesemaker, developed the cheese from almond milk, using enzymes and cultures just as in the making of animal-based cheese, Kennedy reports.
Some of the cheeses are aged 20 days.
A celebration of summer squash
The first day of summer is not far off. It's a great time to celebrate warm-weather squashes, such as zucchini, crookneck, pattypan and yellow summer varieties.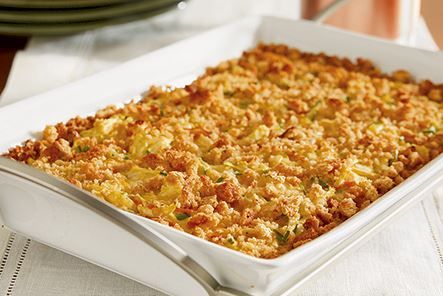 The folks at Campbell's have a recipe for a colorful summertime Squash Casserole — termed "crispy on top and creamy in the center" — on their website.
It looks like a simple way to put a vegetable side or main dish on your table in under an hour. We've included the brand-name stuffing and soups Campbell's uses in the recipe, but you can certainly use your favorite brands.
Squash Casserole
3 cups Pepperidge Farm Cornbread Stuffing
¼ cup butter, melted (1/2 stick)
1 can (10½ ounces) Campbell's Condensed Cream of Chicken Soup or Condensed 98 percent Fat Free Cream of Chicken Soup 
½ cup sour cream
2 small yellow squashes, shredded (about 2 cups)
2 small zucchini, shredded (about 2 cups)
1 small carrot, shredded (about 1/3 cup)
½ cup shredded cheddar cheese
Stir the stuffing and butter in a large bowl. Reserve ½ cup of the stuffing mixture and spoon the remaining stuffing mixture into a 2-quart shallow baking dish.
Stir the soup, sour cream, yellow squash, zucchini, carrot and cheese in a medium bowl. Spread the mixture over the stuffing mixture and sprinkle with the reserved stuffing mixture.
Bake at 350 degrees for 40 minutes or until the mixture is hot and bubbling.