Editor's Note: This story originally appeared as part of the Pa. Dutch Eats series on LancasterOnline in March 2018.
Leave it to the Pennsylvania Dutch to use just about every part of a pig but the oink.
Take the pig's stomach, for example. It becomes a giant casing stuffed with potatoes and crumbled sausage.
Whether you call it hog maw, seimaage or stuffed pig stomach, this is a polarizing dish. Some LancasterOnline readers say they love hog maw, especially when it's homemade.
"Just had some on Sunday," says Bernice Copenhaver. "Delicious!"
Other people shared their opinions by posting GIFs of folks gagging or vomiting.
"Hard pass," says Christopher Patton.

Stuffed pig stomach can be traced to ancient tables in southwest Germany and the Alsace region of France. It became a Pennsylvania Dutch staple in the New World, according to food historian William Woys Weaver in his book "As American as Shoofly Pie."
At butchering time, just about every part of family-raised pigs were put to use. The intestines became sausages and the stomach was saved so it could be stuffed.
This stomach "sausage" is found in other cultures, from Chinese cuisine to soul food. In Scotland, haggis has organ meat wrapped in a sheep's stomach lining. In Pennsylvania Dutch country, the pig's stomach is often roasted.
"When it starts splitting open, it's done," says Kay Smith, meat clerk at Groff's Meats in Elizabethtown.
When it's ready, the hog maw is sliced or scooped out to serve.
Town Hall Restaurant in Blue Ball adds filled pig stomach to its menu as a special, usually as a comfort food in the fall and winter.
"It seems that people, they like it (but) they don't get it that often any more," says owner Alan Hummer.
Pig stomach takes time to make so Town Hall lately has bought stuffed stomachs from Weaver Markets in Denver. Cooks roast the stomachs at the restaurant, slice it and serve it with beef gravy. It's on the lunch and dinner menus, but people also sometimes order a slice with eggs for breakfast.
Town Hall's hog maw is made with sausage and potatoes, seasoned with salt and pepper.
Hummer has heard some people like to add carrots, celery or peas to their pig stomach.
At Groff's Meats in Elizabethtown, its staff stuff stomachs twice a week with a family recipe that includes potatoes, sausage, parsley and onions.
The butcher also sells cleaned stomachs for people who want to make their own at home. Nancy Groff, the business' secretary/treasurer, has heard of customers who stuff pig stomachs with such things as smoked sausage, cabbage, carrots and even pork ribs.
She and her sister, Virginia, keep filled pig stomach in the butcher case because customers like the convenience.
"I don't think it's easy for people to fill them," Nancy Groff says.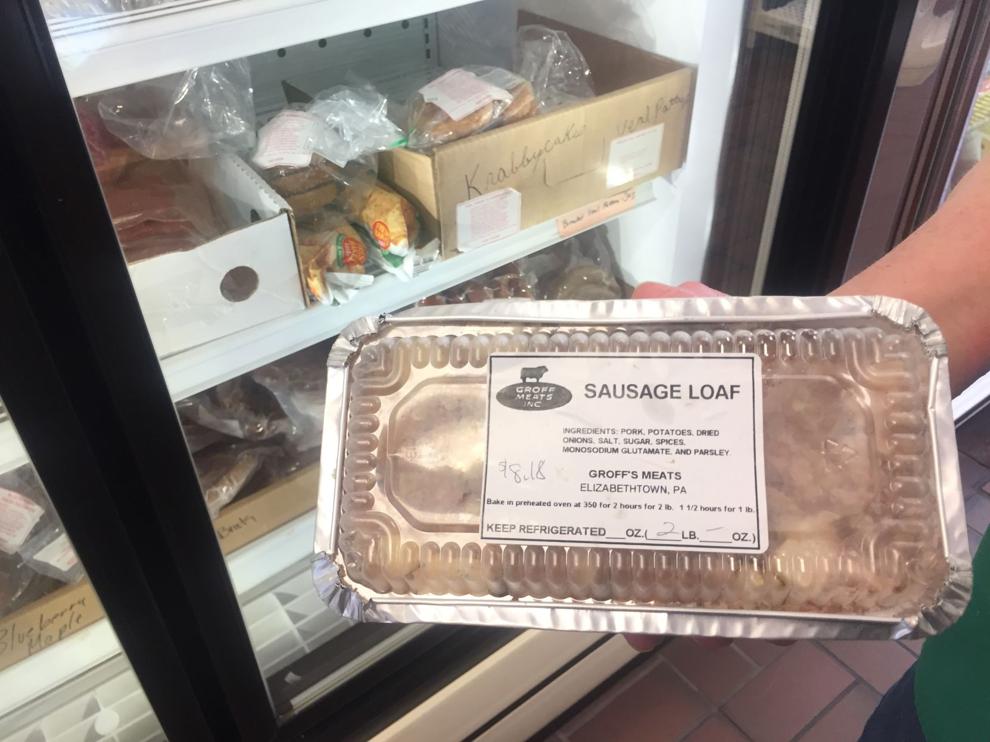 For those who like the filling but not the stomach, Groff's packs the sausage and potato stuffing into foil pans. The sausage loaves are also smaller than a full stuffed stomach, which is usually five to eight pounds.
"I had a nine-pounder before," says clerk Kay Smith.
Groff's gets the stomachs from its own plant next to the butcher shop. The pink stomachs they stuff are what's left after removing the inside liner and the tough outside layer, Nancy says. It's not easy work and it's been difficult to find people to do it.
In the past, the business would sell cleaned stomachs wholesale to local businesses. However, they recently slowed that part of their business.
That means places like Town Hall haven't recently been able to buy stomachs. So there was a little less hog maw in Lancaster County this winter.
For more Pa. Dutch eats in Lancaster County: