Editor's Note: This story was originally published July 9, 2018.
When Vaughn and Lisa Starr planned their wedding, a simple cake just wouldn't do.
Instead, they set up pyramids of chocolate whoopie pies as a fun and delicious way to share their Lancaster County heritage.
The Clay Township couple clearly was on to something. By the time the reception was over, there was only one whoopie pie left to take home.
Lancaster County loves its whoopie pies, and it doesn't matter if they're chocolate, red velvet or even boozy. This treat is like grabbing a slice of cake to go. They're sweet, come in a lot of flavors and are a Lancaster County tradition. You can even hug a life-sized whoopie pie mascot at Shady Maple Smorgasbord.
Jennifer Pfaultz puts it bluntly.
"What kind of monster doesn't like whoopie pies?" asks the Lancaster woman.
Even during last week's heat wave, Vernon and Kathryn Stoltzfoos tended to a steady stream of customers at their business, Miriam's Pies, at Root's Country Market in East Hempfield Township south of Manheim. The couple and their children handed out chocolate whoopie pies, red velvet whoopie pies and mini whoopie pies with pink, white and blue icing for the Fourth of July. They make whoopie pies that are soft enough to melt in your mouth, with fluffy icing sandwiched between two cakes.
When the couple from Ickesburg, Perry County, took over the family business, they continued making fruit pies, shoofly pies, sweet breads and whoopie pies.
"They're a good grab-and-go snack," Vernon Stoltzfoos says of whoopie pies.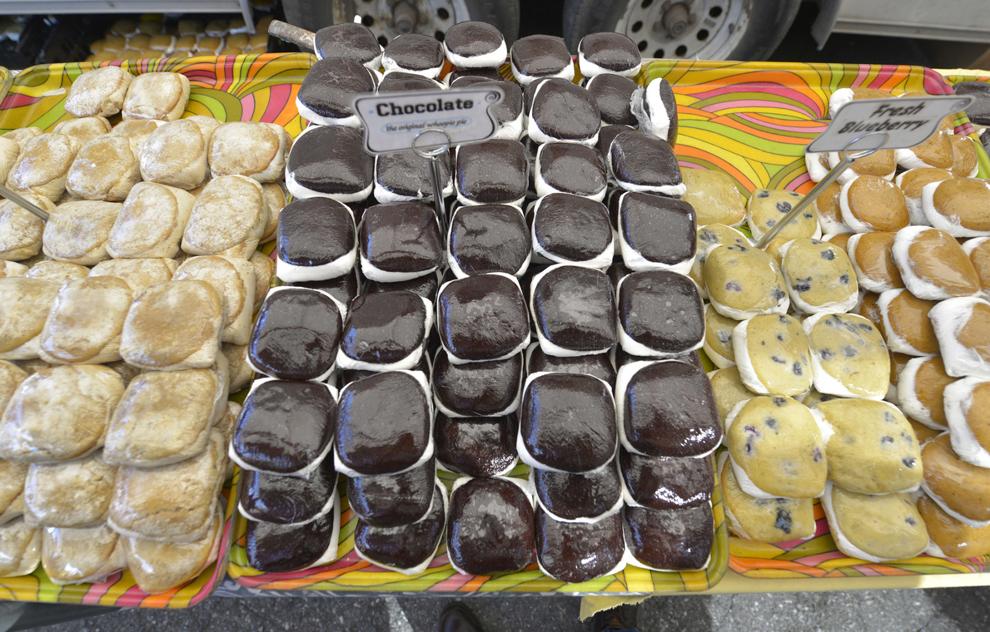 Fans call whoopie pies an iconic Pennsylvania Dutch food that's universally beloved. They're less messy than a slice of cake and a great combination of moist cake and creamy icing.
Bakers throughout the county make whoopie pies; some are large enough to slice and others are tiny enough to pop into your mouth. The perfect whoopie pie is the size of your palm, according to a LancasterOnline poll. More than half of our readers liked palm-sized whoopie pies, followed by mini (around 2 inches). A few readers like them as large as possible.
The first whoopie pies were chocolate with vanilla filling. That traditional combination reigns in our reader survey, with 20 percent picking the chocolate and vanilla combination as their favorite flavor.
Pumpkin whoopie pies are a close second, though there are plenty of fans of chocolate with peanut butter icing. Then there are folks who want their whoopie pies made with carrot cake or red velvet, snickerdoodle or Rumchata, a cinnamon-flavored cream liqueur.
That last flavor comes from The Sweet Spot, another stand at Root's. Owner and operator Rochelle Boone's grandmother started the family tradition of selling whoopie pies at Eisenberger's Bakery at Lancaster Central Market in the 1950s. Her mother took those recipes to Southern Market Center and then Root's. After Boone took over the business about five years ago, she kept whoopie pies on the menu.
"They are our best seller. They are the thing that people come for year-round," she says. "It doesn't matter if it's summer (or) winter; everybody wants a whoopie pie."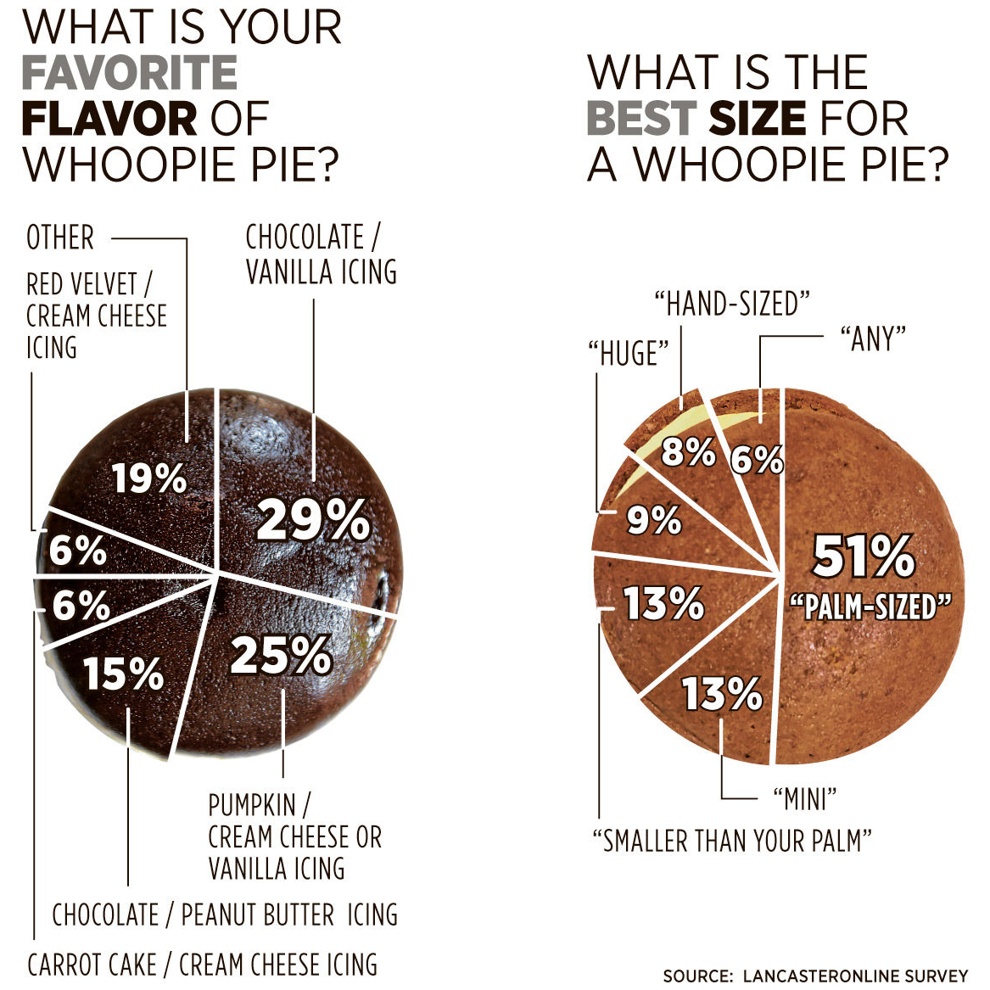 She expanded from the traditional flavors like chocolate, pumpkin and red velvet, and now sells 16 different flavors. She's found fans of flavors like Cinnamon Toast Crunch, cookies and cream (chocolate cakes and vanilla-Oreo filling) and tie-dye (a vanilla cookie with psychedelic swirls).
Boone has come up with soda-inspired whoopie pies: Mountain Dew, Fanta (orange) and grape. She'd like to make a Cherry Coke whoopie pie, but hasn't found the right cola flavoring yet.
Not every flavor works. For example, there's the Sriracha whoopie pie Boone devised a few years ago. She took chocolate and vanilla cookies, added a large "S" on top in the hot pepper sauce and filled them with salted vanilla icing.
"I thought they would try it," Boone says. "There were a few brave souls."
A few years ago, she added boozy whoopie pies made with alcohol, including a cinnamon cake filled with a Rumchata filling and a mudslide, a chocolate cake sandwiched around icing mixed with Baileys Irish Cream and Kahlua.
"I have a lot of Amish competition. I felt that they would not copy the boozy pies," Boone says. "I decided (to make them) as a way to grow the business. We have a food truck that we do on the weekends and we do a lot of wineries, and boozy pies are awesome there."
There's a lot of whoopie pie variety. You can find vegan and gluten-free whoopie pies at Sugar Whipped Bakery in Lititz. Bird-in-Hand Bakery and Good Life Ice Cream on Fruitville Pike have whoopie pies in ice cream flavors. The Whoopie Pie Festival at Hershey Farm Restaurant and Inn (which will be held Saturday, Sept. 8) usually has more than 100 different flavors. And Lancaster County Coffee Company has a whoopie pie flavor.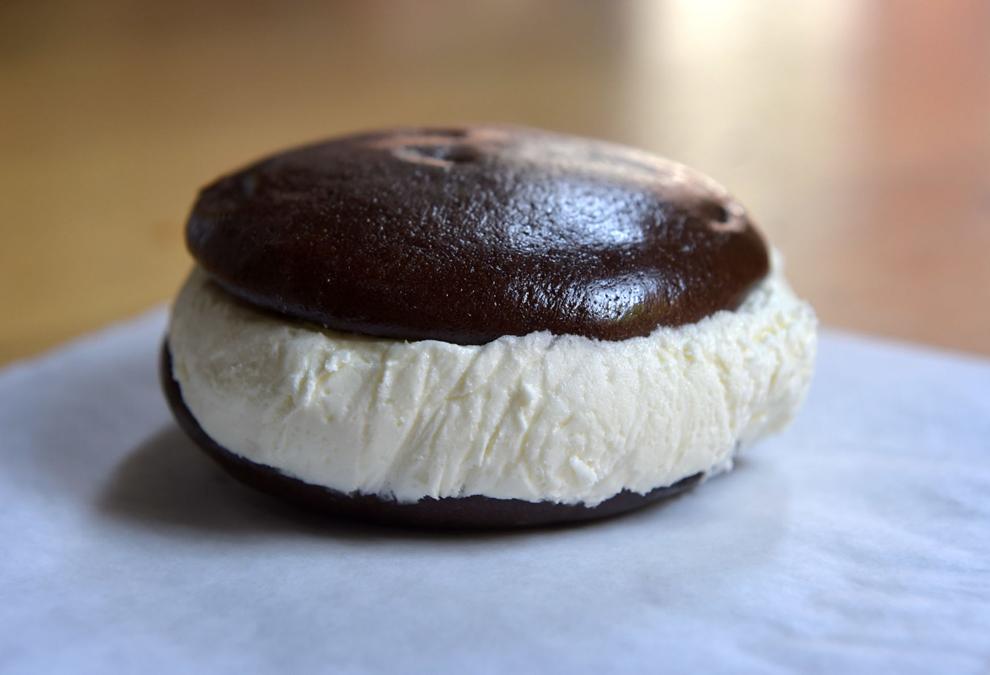 At Reiff's Farm Market near Ephrata, next to the produce, are whoopie pies in traditional flavors, plus a few extras, like chocolate filled with mint icing and seasonal versions made with fresh fruit. Erma Reiff, co-owner of the business, is a fan of the chocolate-peanut butter whoopie pies. She also asked the Amish baker at Millport Baked Goods to come up with an Oreo flavor.
Reiff says it's important to have the goodies delivered daily, so they're fresh. Another key to a great whoopie pie is the right icing, she says.
Millport Baked Goods has supplied Reiff with whoopie pies for nearly 20 years. Not too long ago, Reiff noticed the flavor had changed. She asked and learned one of the ingredients changed as suppliers moved away from trans fat.
The baker had tweaked her recipe to accommodate the change in ingredients. The world and its tastes might change, but whoopie pies are as delicious as ever.