When the Cocalico School District served chicken drumsticks in its lunchrooms recently, one student wasn't sure what he was eating.
"I didn't know chickens had bones," he said.
In another instance, a student liked the treat the cafeteria was serving so much that he asked, "Can I go get some more popcorn?"
The treat, however, was raw cauliflower, says Christopher Dunn, Cocalico's director of food services.
Even in Lancaster County, with its long history of rich agricultural resources, plenty of children don't know where their food comes from.
Connecting what goes on at a farm to what is served in a school cafeteria can help educate students about food and farming.
There's also an opportunity for farms to get a portion of the more than $10 billion schools across the country spend annually on food.
And giving children quality, fresh produce the first time they try it could make them fans for life.
Those first impressions count.
"If a student's first introduction to a new fruit or vegetable is something that is fresh and high quality, they're obviously going to enjoy a product and to continue to want to eat it," Elaine McDonnell, coordinator of Project PA, recently told a group of regional school food directors and farmers.
"If it's a low-quality product, and it's the first time they're introduced to that item, you may never have that chance to try that product again."
Project PA hosted the workshop at Lancaster Farm Fresh cooperative for representatives of food nonprofits and government officials as well as the school food directors and farmers.
Project PA is a collaboration between Penn State University and the state Department of Education. It aims to present nutrition information and promote healthy eating by children through sharing best practices and connecting farms and schools.
School meal programs used to be locally sourced. But as food systems grew, that went out of favor, says Tegan Hagy, Farm to School regional lead for the U.S. Department of Agriculture. School systems in Florida and California started the first modern farm-to-school programs in 1996.
Today, more than 5,000 such programs exist throughout the country, covering about 42 percent of school districts. Forty-four percent of Pennsylvania school districts have the programs, including about half of Lancaster County's 16 public school districts.
---
Learn more: Lancaster County's Farm to School programs in the USDA census
---
In response to a survey recently conducted by the agriculture department, several other county districts indicated they plan to start a farm-to-school program.
Some county schools are adding local foods to their breakfast and lunch menus, conducting tastes tests, and organizing field trips to farms.
At Cocalico, for example, students try new fruits and vegetables on Try Me Tuesdays. Pluots, a hybrid fruit that combines plums and apricots, were a big hit.
So were apricots, but interest lagged when students learned they weren't tiny peaches, Dunn says.
Also not a hit were blood oranges on Valentine's Day.
"I should have called it something else, I guess," Dunn says. "I thought, 'blood, a red color for Valentine's Day.' They were really good. They have a nice raspberry flavor. I think it was the name (that turned students off)."
Dunn hopes students will ask for these fruits and vegetables at home.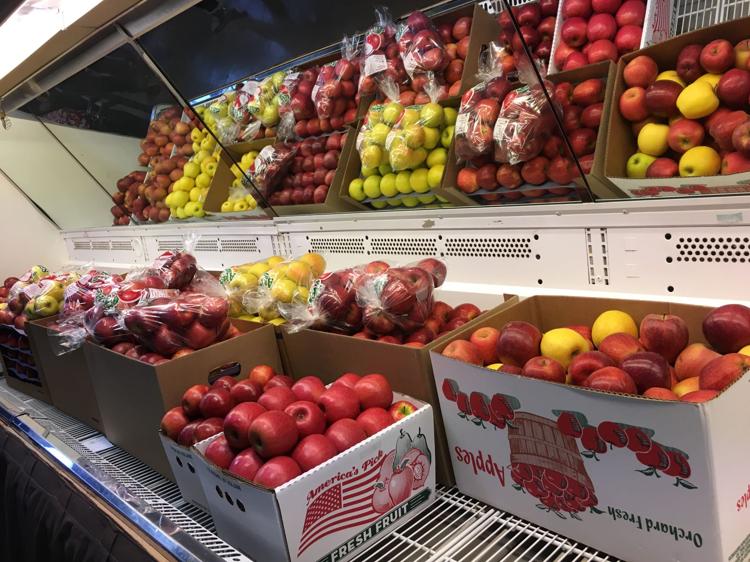 While there is interest in farm-to-school programs, Lancaster school food directors say it can be difficult to find local produce year-round. Sometimes prices are higher, and vendors don't always have a wide range of products, as responses to the agriculture department survey indicated.
Buying local can save money. At the session, Melissa Harding, food service director for Upper Moreland School District in Montgomery County, a Philadelphia suburb, talked about the district's cosmetically imperfect produce program.
A regular case of 175 apples from anywhere in the U.S. costs $35 to $38.
Buying a case of the same grade apples from a local producer is $25. And local seconds — which lack a perfect appearance — are $12 a case.
"Our kids don't notice the difference. They love the farm apples because they're not necessarily uniform," she said. "They look like they're fresh picked. They're not always the same colors. Our kids pick those much more than the ones that come in from our distributors."
Farmers and school food service directors might worry about the paperwork and certifications needed to work together.
Jim Stauffer, owner of Country Barn in Manor Township, already sells produce to restaurants and other stores, plus direct to customers at a farm market. He was curious about what schools wanted.
"We're always searching for markets," Stauffer says.
He was pleased to hear schools are looking for agricultural education opportunities like farm tours, which Country Barn offers. Stauffer also learned more about the rules governing selling produce to a school and the options districts have concerning certain commodities, like dehydrated potatoes.
The state Department of Agriculture is working on putting together a session for farmers, so they can learn more about selling their products directly, or wholesale, to institutions like schools, says Patrick Andrews, the department's division chief of markets.