There's nothing more "Lancaster County" than a 3-foot whoopie pie. 
This Saturday, bidders will have the opportunity to take home the oversized whoopie pie goodness at the Clinic for Special Children's annual Lancaster County Benefit Auction.
Shady Maple's bakers are making the whoopie pie. The 3-foot-wide treat is "the biggest they can make it," said Adam Heaps, the executive director of the Clinic for Special Children.
One of the patient's grandmothers donated the pie, said Heaps. It will have the Clinic for Special Children's logo on it.
In addition to the whoopie pie, people can bid on other local goods, such as homemade clocks, quilts, carriages and farm stands, according to the Clinic for Special Children's website.
Non-whoopie pie food options include chicken barbecue, ice cream and baked goods.
---
Background on the whoopie pie
Fans call whoopie pies an iconic Pennsylvania Dutch food that's universally beloved.
They're less messy than a slice of cake and a great combination of moist cake and creamy icing. Bakers throughout the county make whoopie pies; some are large enough to slice and others are tiny enough to pop into your mouth.
In 2018, LNP/LancasterOnline polled readers. The perfect whoopie pie is the size of your palm, readers said. More than half of our readers liked palm-sized whoopie pies, followed by mini (around 2 inches). A few readers like them as large as possible.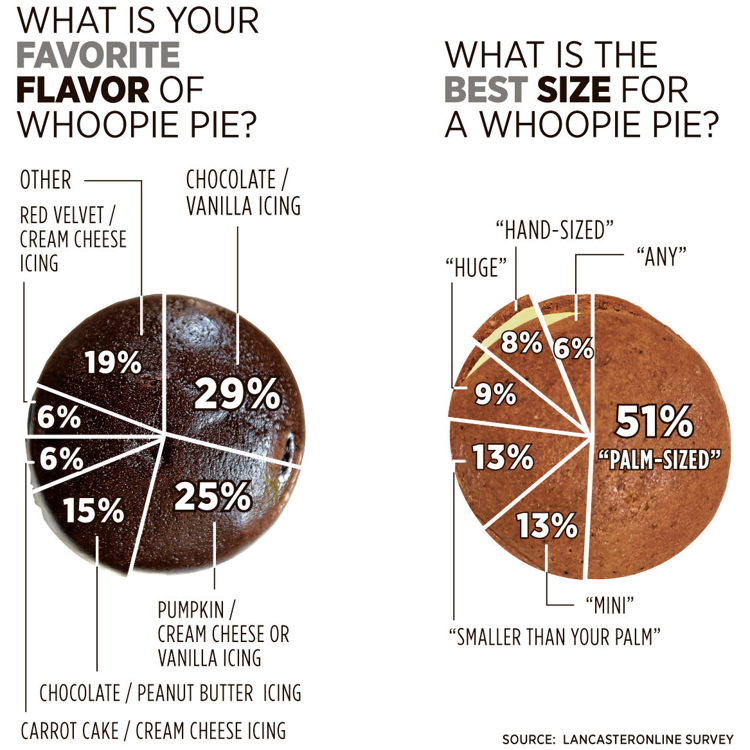 The first whoopie pies were chocolate with vanilla filling. That traditional combination reigned in our reader survey, with 20 percent picking the chocolate and vanilla combination as their favorite flavor.
What's your favorite whoopie pie, and where's the best place to get it? Let us know in the comments.