The roots of the Lancaster County tourist trade, says food historian William Woys Weaver, helped spread both the folklore and "fakelore" of Pennsylvania Dutch cooking.
Weaver, a speaker, gardening expert, author of several food history books and founder of an heirloom seed project, will talk about the origins of what we know as Pennsylvania Dutch cuisine during a Dec. 13 presentation at LancasterHistory.org.
He says some of that cuisine was created to draw visitors to local restaurants as early as the 1930s.
All tickets to Weaver's talk, "As American As Shoofly Pie: The Foodlore and Fakelore of Pennsylvania Dutch Cuisine," are already reserved. But Weaver will be back in Lancaster early next year for some winter workshops at Landis Valley Village & Farm Museum.
Weaver recently answered a few questions by phone about regional food history, his upcoming Lancaster appearances and the latest of more than 15 regional food books he has written.
This interview has been edited for length and clarity.
What will you be telling the audience at LancasterHistory.org?
I'll be talking about my (2013) book, "As American as Shoofly Pie," because we'll have that book on hand to sell.
They wanted me to give sort of an updated history of Pennsylvania Dutch cooking — where it really came from and where it's headed and how the real thing is not at all like the tourist menus.
And I'm going to show pictures. (The audience will) see pictures of (regional restaurant) menus from the 1920s and '30s that I don't think anyone knows exist.
Are these menus from former restaurants in Lancaster County?
Well, from all over. We keep forgetting that the Dutch country consists of about 25 counties. If you look at Franklin County and Mifflin County and all these other places where there are different groups living, it's a big area, about the size of Switzerland.
And the food is very different from county to county. But then there were restaurants that actually specialized in Pennsylvania Dutch cooking, very high end, if you will.
The Black Horse (Hotel) in Reinholds was very well known. It's been torn down. It should have had a landmark marker in front of it, because it was very famous in its heyday.
How did the Amish get connected with tourism and Pennsylvania Dutch cooking?
The Amish thing takes over in the 1930s, and that's kind of a complicated story in its own right.
There was a restaurant in Lancaster called the German Village. It was near the bus terminal (and was a precursor to the present-day Village nightclub). In the late 1930s, they began putting (images of) Amish people on their menus as decorative motifs and then offering a special "Amish menu."
And the guy who owned that restaurant also owned the bus company that took people around (the county) on tours. So, you see, it all worked hand in hand.
I have a postcard view of the interior of the place, and they had chandeliers made out of beer steins. It was really kitsch. It's fun to laugh at these things now.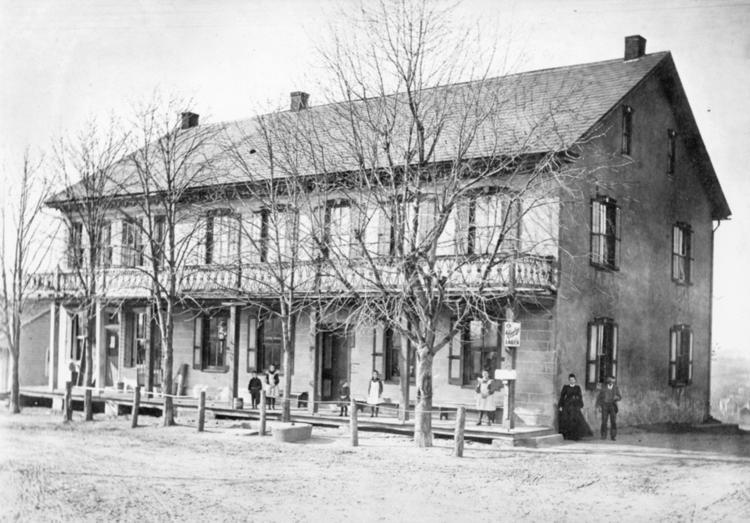 What were some of the early Pennsylvania Dutch dishes on local restaurant menus?
They started serving the so-called seven sweets and seven sours. And even schnitz-un-gnepp (an apple and dumpling dish). And, of course, weinerschnitzel, which has nothing to do with Pennsylvania Dutch cooking.
They had a special block on the menu where they had "local specialties," and that's where they had the Pennsylvania Dutch stuff.
Otherwise, it was hamburgers and french fries and the regular nine yards you would get in any diner anywhere in the USA.
What were some Pennsylvania Dutch foods created for the tourism scene?
The seven sweets and seven sours were created at the Valley Hotel in Skippack (Montgomery County).
What the guy did was that he would have a sweet item and a sour item every day of the week. This was a way to keep wealthy Philadelphians coming out Skippack Pike in their touring cars ... because every day was a different menu, a different specialty.
And then, on Sunday, they were all together on one table. It wasn't something that existed before that. It was just an interesting marketing trick.
Another one was whoopie pies, which were not invented by the Amish, but they adapted them and they've taken it to another level.
The originals were created in a factory in Massachusetts and you had to have the industrial baking equipment to make the whoopie pies that they produced.
So, what people make today are look-alikes. They're not the same in texture or taste.
Were authentic Pennsylvania Dutch dishes being served along with the invented ones?
Some of the real dishes were more or less overlooked, like gumbis, which was a layered baked (cabbage and meat) dish people made for Sunday. One of the 1937 pamphlets that were printed for the tourists, and sold in a tobacco shop in Lancaster, actually has a recipe for that in it. They had this, but they weren't sure what to do with it.
Some of the best recipes, the most authentic, are preserved in many of the church charitable cookbooks, where the women would donate a recipe from their family. And that's about as close to reality as you get.
What do you tell audiences about our regional food heritage?
There are high-end chefs who are very interested in exploring the regional foods.
When I did my doctorate in Ireland on Pennsylvania food tourism, I surveyed a 25-county area and identified 1,600 dishes that are not made in restaurants, that are not found in cookbooks.
We have an extraordinarily rich food heritage here, and we're very diffident about it.
Tell me about your heirloom seed project.
My grandfather (Ralph Weaver), who was born in Lancaster, by the way, had an extraordinary collection.
He started it to, more or less, feed his family during the Depression — and all of the Weaver relatives who were out of work. He died suddenly in 1956, and then about 10 years later, when I was in college, I found the collection in the deep freeze.
I took that collection out of the freezer, and I started growing it, and I added to it. And that has become the Roughwood Seed Collection.
We have over 5,000 varieties, and we have people who grow them for us.
And that's how we get enough seed to sell commercially to Baker Creek Heirloom Seed Co., which is one of our primary buyers. That cash flow is what's going back into the Roughwood Table nonprofit to help pay for (the seed project).
We have a website, roughwoodtable.org, and it explains what we're doing. We will be reorganizing the nonprofit (starting in January). We're going to have dinners and classes, and bring in chefs from New York (and elsewhere).
Do you have any other presentations coming up in our area?
Yes. I'll be doing workshops at Landis Valley (Museum, Feb. 23).
One of our board members specializes in Appalachian food and foodways of western Pennsylvania. She is going to do a workshop on salt-raised bread.
I'm going to talk about Pennsylvania Dutch foods and foodways, and the kitchen garden.
Stephen Smith, or Dancing Wolf, our seed manager, is part Cherokee and he's going to talk about Native American foods and foodways and do his own workshop.
What is your next book about?
It's "The Roughwood Book of Pickles, Salsas, Chutneys, and Vinegar Infusions," and the publisher is Rizzoli. That'll probably be the first of several Roughwood books.
We had this wonderful pickling tradition in the family, and I grew up with it.
Rizzoli wanted (this book) because of this garden revolution we're undergoing — people going back to growing their own food. What do you do with 30 pounds of zucchini? It sort of ties in with that whole thing.
Information about Weaver's Feb. 23 Landis Valley workshop will be posted in the next few weeks at landisvalleymuseum.org.