National advocacy group Environmental Defense Fund (EDF) released a report this week, warning of what it called a "hidden health threat" — a "surprising" amount of lead in food.
Based on 11 years of data from the U.S. Food and Drug Administration, EDF found baby food in particular to be a significant source of lead, emphasizing that "no safe level of lead in blood has been identified."
Small amounts of lead in children are enough to cause behavioral problems and lower IQ, according to EDF.
"Protecting children's ability to learn and thrive demands that we find effective ways to reduce exposures to lead from all sources," the report read.
Lead was detected in 20 percent of 2,164 baby food samples, compared to 14 percent in 10,064 samples of other foods, EDF said.
Findings were reportedly based on FDA figures from 2003 to 2013.
While the group declined to identify brand names, its report indicated lead was most commonly found in several types of baby food, including fruit juices, root vegetables and cookies.
"EDF also found that more than 1 million children consume more lead than the FDA's limit," the report said. "Eliminating lead in food would save society more than $27 billion annually in total lifetime earnings from saved IQ points."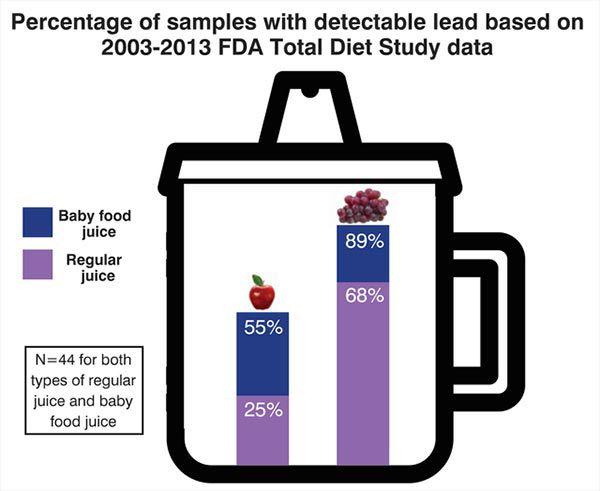 The FDA measures lead limits in parts per billion (ppb), which reportedly represents the number of units of a given contaminant per billion units of total mass.
Current guidance levels for lead include 5 ppb for bottled water, 50 ppb for fruit juices and 100 ppb for certain dried fruits as well as candy "likely to be consumed frequently by small children," according to FDA.org.
The FDA cites an overall lack of feasibility as a reason for not establishing a zero-tolerance stance for lead in food.
"Lead is in food because it is in the environment and lead cannot simply be removed from food," according to FDA.org. "The FDA's goal is to protect human health by ensuring that consumer exposure is limited to the greatest extent feasible."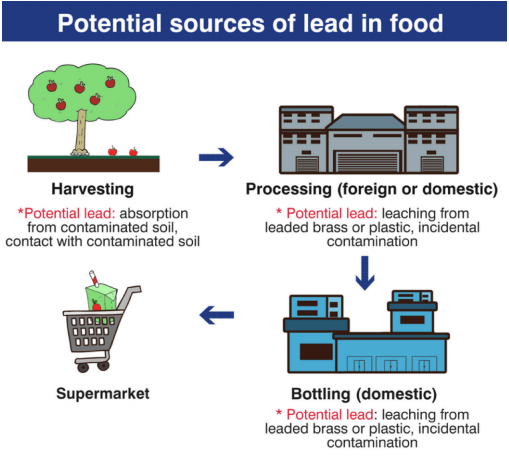 EDF's report lists several recommendations for the FDA, including updating its current limits and food safety guidelines as well as making absolutely clear that the international standards for fruit juice "are inadequate."
EDF also recommended that the FDA put safeguards in place to make sure lead isn't added to any foods or materials that may come in contact with food.
Manufacturers can take better precautions on their own, like increasing and improving testing for possible lead contamination, EDF said.
"In the meantime, parents of young children should consult with their child's pediatrician to learn about all the ways to reduce lead exposure," the report advised.
EDF also encouraged parents to "check with their favorite brands" and ask companies whether they regularly test for lead and if they guarantee less than 1 ppb of lead in the products they sell.
The full EDF report can be found here, or below. Information about lead from the FDA is available here.
EDF Lead Food Report Final by LancasterOnline on Scribd