On a mild spring afternoon, naturalist Lisa Sanchez identified more than a dozen wild edible plants growing within 200 yards of the Shuts Environmental Library in Lancaster County Central Park.
She pointed out dandelions, stinging nettles and chickweed. She found clover, ground ivy and wild onion. She spotted little Indian strawberries that taste like "puffs of air." Garlic mustard that seemed to be growing everywhere. She located a patch of poke (known as poor man's asparagus), which needs to be harvested when it's less than 6 inches tall and boiled in three different baths of water before it's edible ("Just buy asparagus," Sanchez says).
She found violets and May apples — parts of both plants can be used to make jellies. She found red raspberries and notes that you'd have to get up pretty early in the morning to get those before the birds have at them.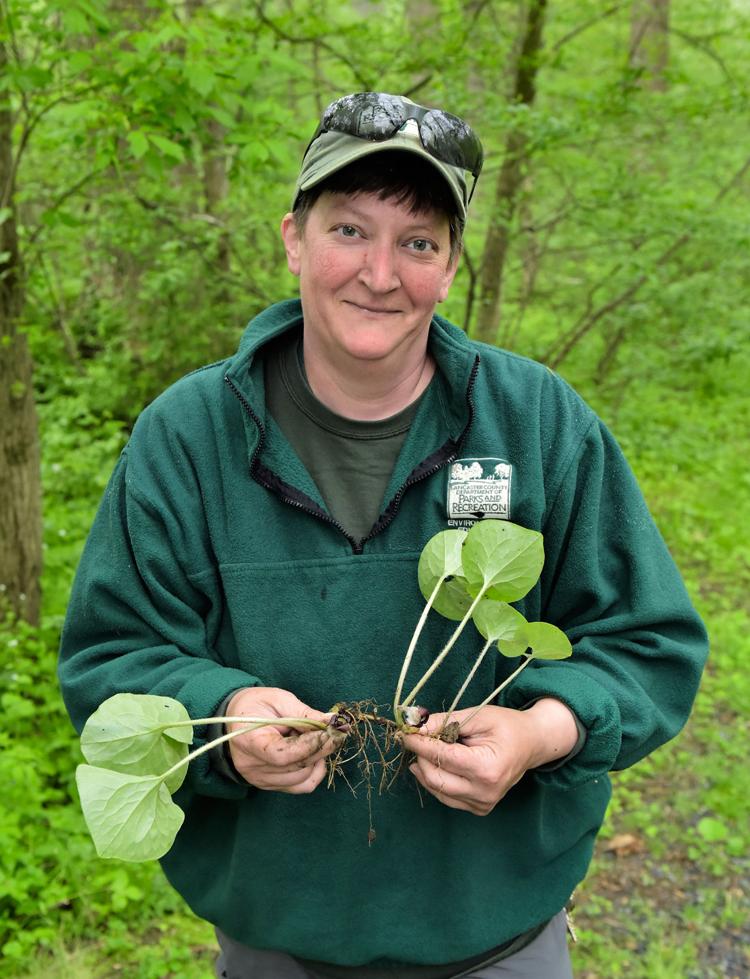 She showed off some cleavers — also known as bed straw because pioneers and Native Americans used it to sleep on — and she mentioned that cleavers are used in the cheese industry because the sap curdles milk.
In fact, many of these nutritious edible plants had alternative uses — one can even predict the weather.
Sanchez has been teaching everyone from kindergartners to octogenarians about wild edible plants at Lancaster County Central Park for decades. She especially loves talking about wild plants with older people who remember when foraging was a common practice.
"I love doing programs for our older community because they remember when 'mom sent me in the backyard to collect those dandelion greens,' " Sanchez says. "I'm hoping that younger generations are going to get more into foraging or even just allowing what a lot of people consider to be weeds to grow in our garden because they are so good for us."
---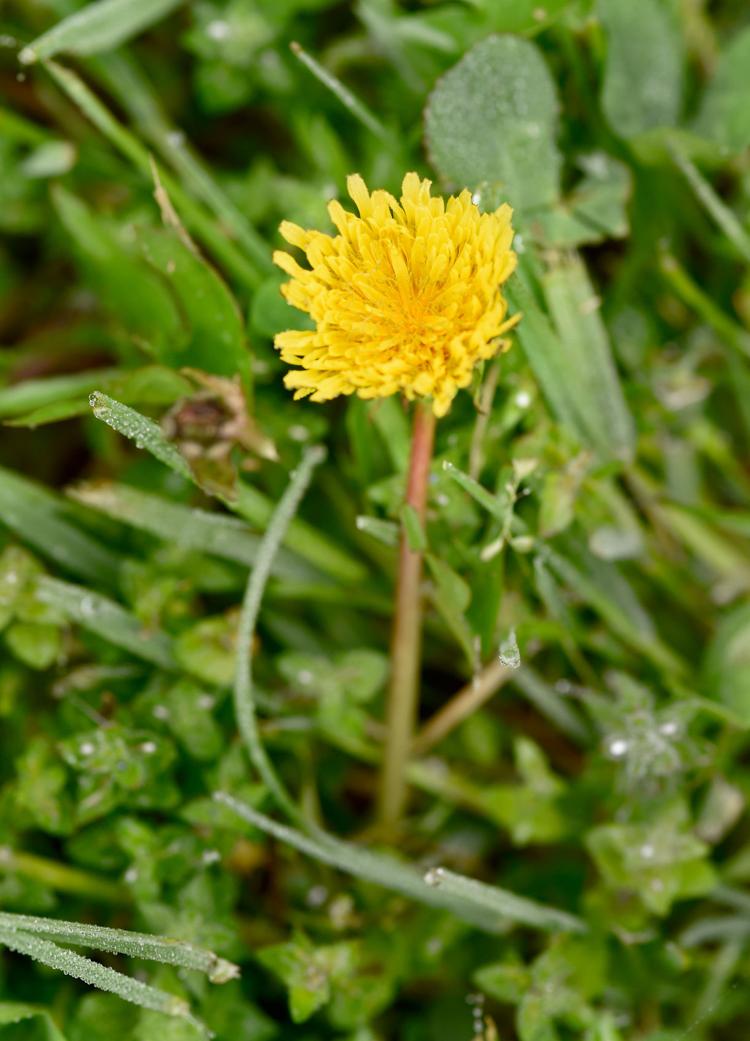 Dandelion
Dandelions are everywhere, but interestingly, they are not native to the United States. Early European settlers prized the dandelion for its nutritional value and its health benefits as a tonic. In fact, the vitamin D and potassium-rich plant is so good at flushing the system that the French refer to it as "pissenlit," which roughly translates to "wet the bed."
The dandelion gets a bad reputation as a weed, but as Sanchez points out, the definition of a weed is open to interpretation. Weeds are basically "plants growing where you don't want them to grow." Sanchez welcomes dandelions in her garden. Every part of the dandelion is edible, including the flowers, leaves, seeds and the root.
"You can do a lot of things with the dandelion," Sanchez says. "I like to dip the flowers in a little batter and deep-fry them; people make wine out of them; you can make a coffee substitute by roasting and grinding the root. In Louisiana, they put chicory in coffee and chicory is related to the dandelion. If you're a true Lancastrian, you eat your dandelion greens with hot bacon dressing. That gets rid of any bitter flavor the greens may have."
---
Wild onion
"Everybody has wild onions," Sanchez says, "but most people just mow them down, so they never get these nice long chives that you can eat. You can eat the bulb. It's just a quick peel and it's ready to go. Free onions!"
Sanchez also mentions that if you let onion plants grow into the late summer, they will develop a purple- pink flower.
"If you find something that smells like an onion, it's edible," she notes.
---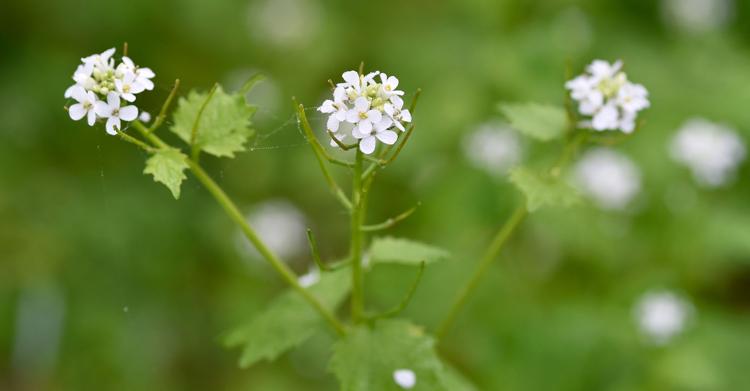 Garlic mustard and winter cress
Garlic mustard and winter cress —the plant, which has yellow flowers, can often be found growing on the side of the road — are two of the many varieties of wild mustard.
Winter cress leaves often make their way to bagged salads. Another interesting fact about winter cress is that it's the plant that was domesticated into broccoli. Broccoli is actually a mustard. Garlic mustard tastes a bit like broccoli with a kick of garlic.
"If you continue to let broccoli grow it gets a little yellow flower with four petals, and four petals is the classic cress, or mustard," Sanchez says. "We just domesticated broccoli to make it taste less bitter."
Garlic mustard is an invasive plant. "When I started at the park 26 years ago, there was very little garlic mustard. All of the sudden it just erupted," Sanchez says.
Sanchez has made homemade mustard from garlic mustard. When the wild mustard plants go to seed you can make homemade mustard by grinding up the seeds, adding brown flour and vinegar. You need a lot of seeds to make the mustard. She recalls hatching a plan to save the county park from garlic mustard by making mustard. But there was just too much of it.
"If you can't beat it, you might as well eat it," she says.
---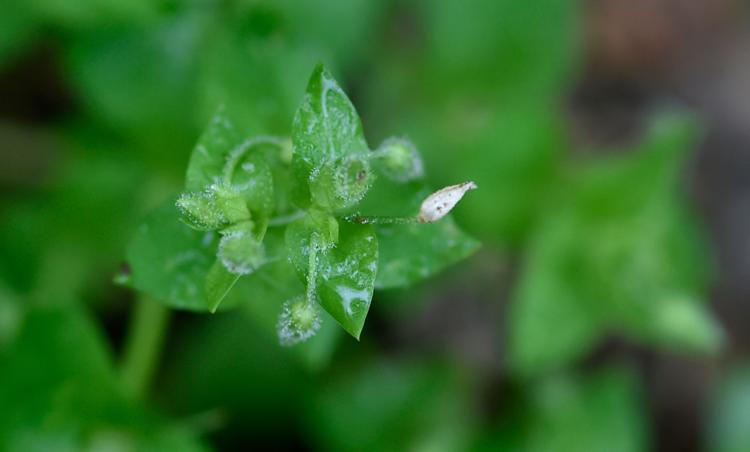 Chickweed
Chickweed is another plant that is completely edible, from the leaves to the flowers to the seeds. Chickens and other ground-feeding birds love to eat the seeds.
"The books say chickweed tastes like peas," Sanchez says. "Some people get a little bit of that fresh pea flavor, but (to me) it tastes the way the hair on corn smells."
You can probably find the plant with the little white flowers growing in your flower bed and garden, and on the edges of woods throughout the summer and, sometimes, even into the winter.
As well as being a tasty wild plant, chickweed has another interesting use.
"Chickweed was used by Native Americans to predict the weather," Sanchez says. "When the flower closes, it's going to rain. It's that simple. Now if only we could get a plant that would tell us how much snow we're going to get, the meteorologists would all be out of a job."
---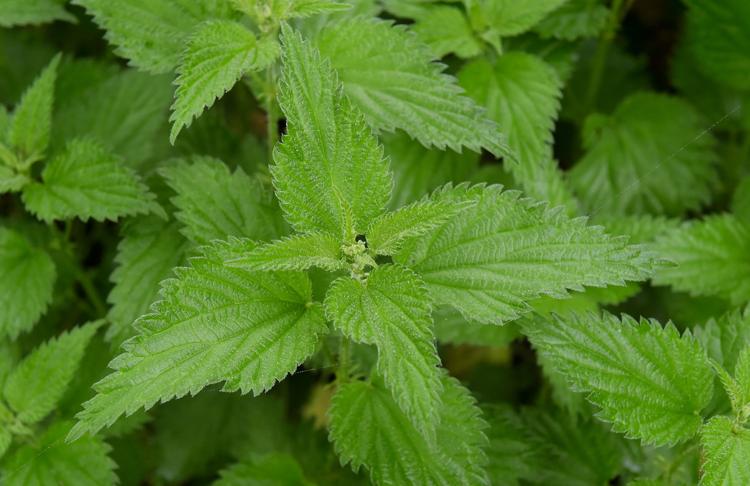 Stinging nettle
People know stinging nettle ("also known as burn hazel if you're from Lancaster and Lebanon counties," says Sanchez in a playful imitation of a Pennsylvania Dutch accent) as a plant that can hurt you. It's covered in little hairy thorns. But it's edible. The plant has formic acid (a chemical also produced by some species of ants) on it so it must be boiled for about 10 minutes before eating it.
"It tastes similar to spinach," Sanchez says. "I boil it, add a little bit of feta cheese and roll it in filo dough and call it spinach pie."
Sanchez lets stinging nettles grow in her garden and harvests them throughout the year.
---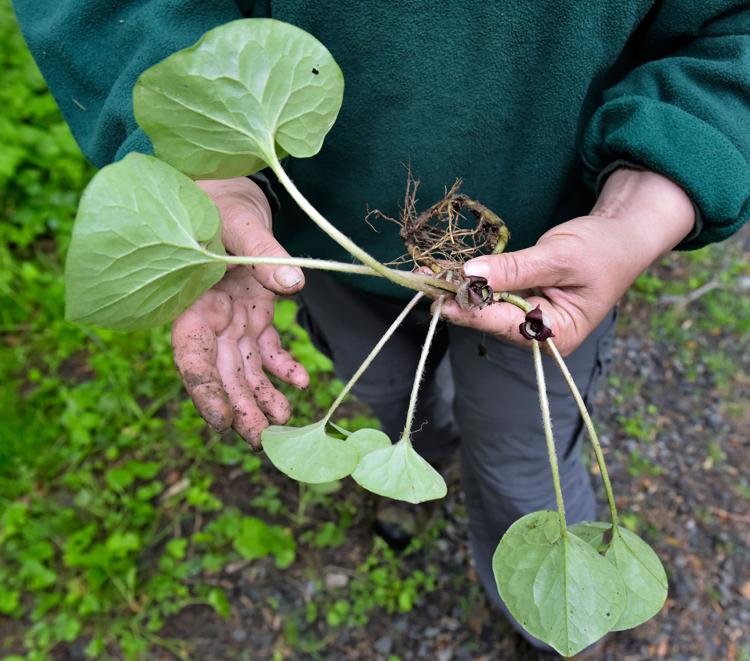 Wild ginger
"The very last thing you do after you have a meal of all these things," Sanchez says, "is go out and gather some wild ginger."
Wild ginger has a heart-shaped leaf with a maroon-colored flower on it. The plant is pollinated by beetles.
Native Americans were candying ginger long ago. They would dip the root into maple syrup to make a dessert that helps with digestion, notes Sanchez as she reburies the root so it will continue to grow.
---
RECIPES
The Shuts Environmental Library at 3 Nature's Way in Lancaster Country Central Park is a part of the Library System of Lancaster County and specializes in books about nature. The library features a collection on edible wild plants. If you're new to foraging, field guides and reference books are a valuable resource.
Here are two recipes from "Bill & Bev Beatty's Wild Plant Cookbook," which is available to check out from the Shuts Environmental Library.
-
FRIED DANDELION HEADS
Ingredients:
• 1 cup dandelion flower heads
• 1 egg
• 1/2 cup wheat germ
Directions: 
Beat eggs thoroughly.
Mix dandelion flower heads with egg.
Coat flowers with wheat germ.
Fry until golden brown.
-
CHICKWEED AND MUSTARD GREENS 
Ingredients:
• 1 quart chickweed (leaves and stems)
• 1/2 quart mustard greens
• 1 ramp, diced (can substitute wild onion)
• 2 tablespoons butter
• salt
• 1/2 cup of bacon pieces or grated cheese
Directions:
Boil mustard greens in 2 quarts of water for 10 minutes.
Add chickweed and boil for 2 more minutes.
Drain and chop the greens.
Mix in diced ramp or wild onion.
Season with salt and butter.
Sprinkle with bacon pieces or grated cheese.
---
Related articles