When Linda Cwynar bakes, she often has an audience.
Cwynar practices her craft in a glassed-in demonstration bakery called Corner Sweets, located inside the North section of Willow Valley Communities, south of Lancaster.
She makes the cookies, danishes, cupcakes and muffins used to stock the Overlook Artisanal Coffeehouse and Wine Bar in Willow Valley's North community and the Market Place Cafe in the Lakes community. She also makes special-order cakes and cupcakes that can be bought by anyone who works or lives at Willow Valley.
And while Cwynar is baking, residents passing by her kitchen often pull chairs or their mobility scooters up to the window to watch her at work.
The demonstration bakery was the idea of Willow Valley Living CEO John G. Swanson, who saw that type of kitchen in Las Vegas and brought the concept back to Lancaster, according to Cwynar's boss, Megan Supeck, who is the coffee shop and retail supervisor.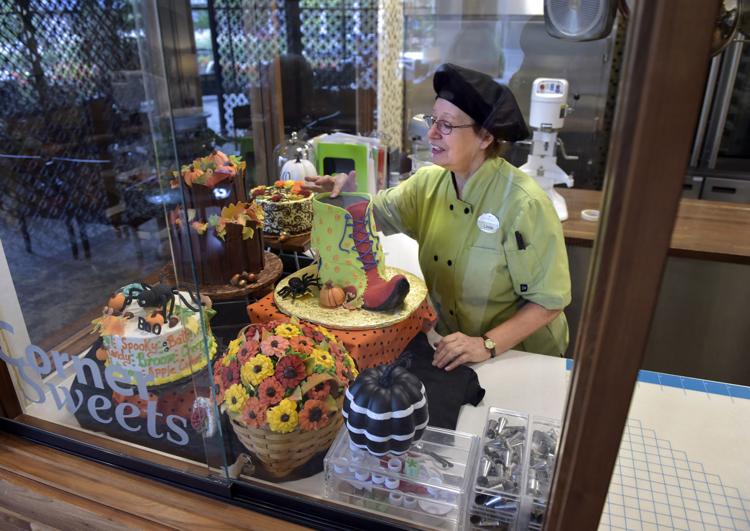 "Some weeks she'll make four to 20 cakes, from basic to showstopper," Supeck says.
Cwynar also does scheduled baking demonstrations, starting at 1 p.m. every other Wednesday, so residents can come watch her work.
Cwynar is currently baking fall- and Halloween-themed cakes, including an elaborate one shaped like a large green-and-orange lace-up boot; one that resembles a wood-plank planter filled with autumn leaves; and a "bouquet" of fall cupcakes that looks like a basket of flowers. They sit in the window of her kitchen as examples of treats residents can order.
Cwynar set down her spatulas and piping bags for a few minutes recently to answer some questions about her job and what she bakes. This interview has been edited for length and clarity.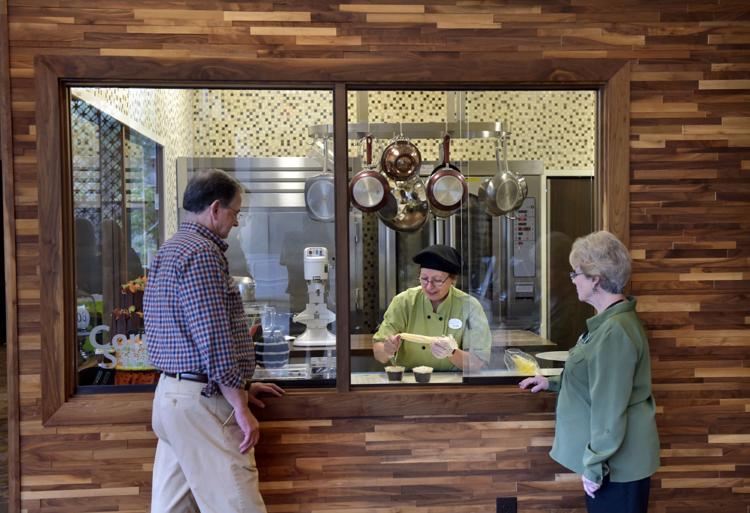 How long have you worked at Willow Valley, and where did you work before that?
I've worked here since April of 2016. For 14 years before that, I had my own business (Linda's Cakery). I was a licensed bakery. But I decided to close the business. With the cupcake coming in (for weddings), there wasn't as big a profit as there was in the big cakes. I had been doing 100 wedding cakes a month in 2008 and '09. Then people were unemployed real fast, and I saw a real drop in business. I was grateful for the opportunity to work here. I thought I would fit in perfectly here.
Where was your pastry training?
The school of hard knocks, actually. I took some (baking) classes. And I took cake decorating (classes) when I lived in New Castle (Lawrence County). After I moved here (to Mount Joy), I taught classes at A.C. Moore in Lancaster. And I (baked and did cake decorating) at the Country Table and Ridge View Farms.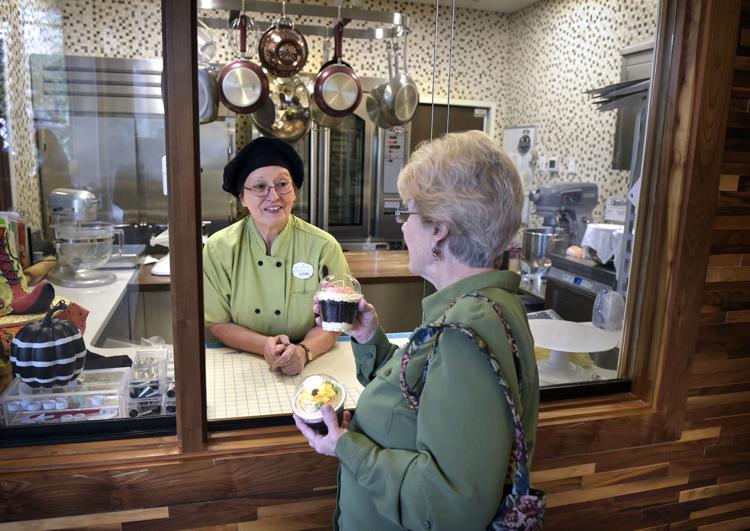 What's it like to bake all day with people watching you through the glass?
It doesn't bother me because I worked in a grocery store. There was a Plexiglas window and people could watch me (decorating cakes). I kid along with people. Sometimes I'll open the window and talk with them. If my back is to them, they'll knock on the window.
When do you work?
I usually start at 6 a.m. and work till 3. I keep moving. Every day's a different thing. Today alone, I did 20 danishes and 3 1/2 dozen muffins before 9 (a.m.).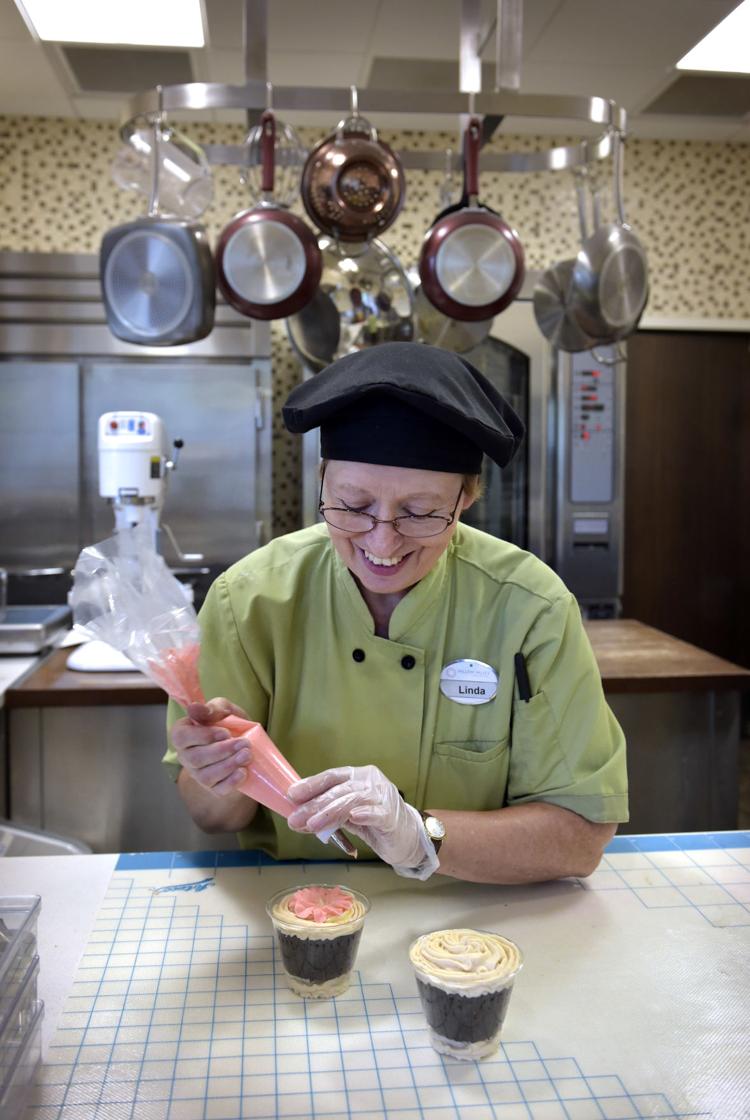 What's the most common kind of cake people at Willow Valley want you to make?
Usually white or chocolate. And then we put a filling inside, like chocolate mousse or raspberry.
What's the most complicated cake you've made?
Probably a firetruck (in my own business), because of all the detail that was on it. Somebody wanted it for a fireman who was retiring. It took me a whole day to do that cake.
What's a challenging cake you've made at Willow Valley?
There was a cake for a (bridal) shower for a team member. She made a special request: Her wedding theme was superheroes, and she wanted the Disney princess from "Tangled" (Rapunzel) and the groom (wanted) Batman. I made the (Rapunzel) braid that goes around the bottom tier of the cake, and we put the Batman logo on the front and center. And the picture on the top was a silhouette of the couple in a boat, with sparkles around it.
Any other memorable cakes?
I did a cake that was an octopus coming up around a ship. I delivered it to the Catacombs at Bube's Brewery.
Where did the ideas come from for your current Halloween cakes?
Like our boot cake? The idea just popped into my head. And I thought, 'Let's try it.'
Where do you get your recipes?
Some of the recipes I've developed and brought them to Willow Valley with me. Some recipes I've found online and tweaked them.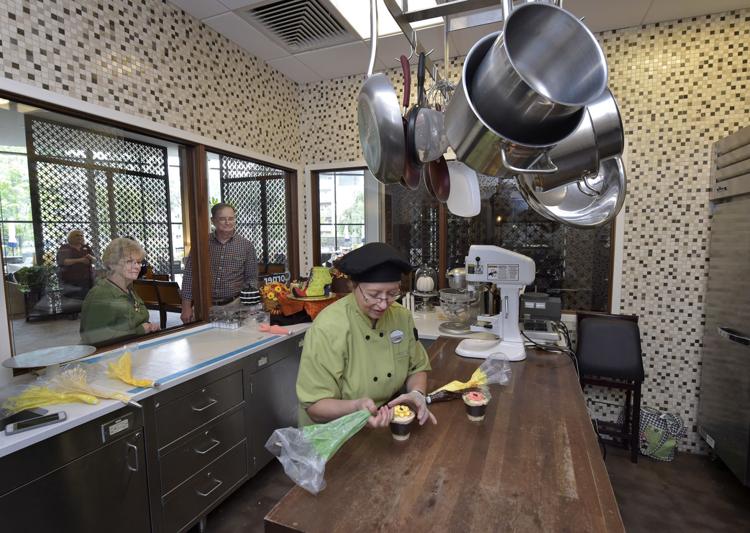 What's your favorite kind of cake to eat?
My favorite is chocolate-chocolate — chocolate cake with chocolate icing.
What's your favorite cookie?
Monster cookies. It's my recipe: It's chocolate chips, peanut butter, M&M's and oatmeal. They're chewy. When it's fall, it's time to make monster cookies. We always have them the week of Halloween.
What is the most popular cookie you make at Corner Sweets?
Probably the chocolate chip. I found a recipe for it online, and then I tweaked it with a secret ingredient. As I was delivering (to one of the cafes), I met one of the construction people, and he had a chocolate chip cookie in each hand. ... He said, 'They're the best.'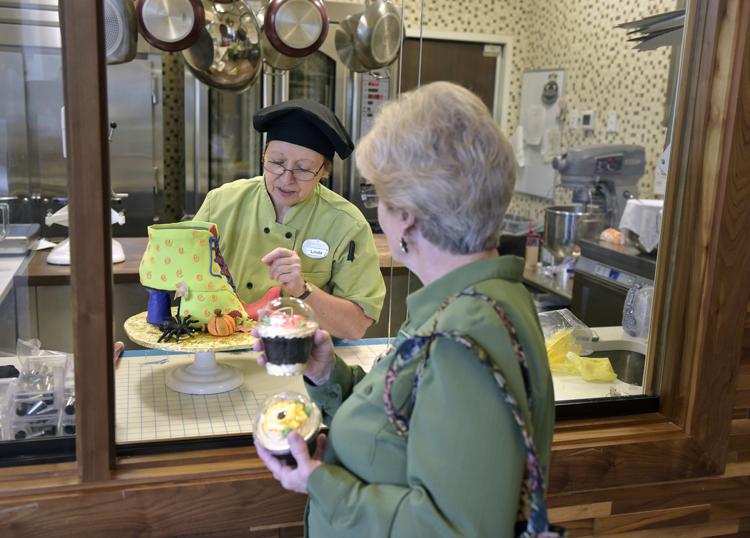 What other treats are popular?
The residents love the cupcakes. I put them in a little (plastic) cup with a lid, so they can take it with them.
For those who do not live at Willow Valley Communities: You can see Cwynar bake at Corner Sweets if you visit and tour Willow Valley. Call 717-464-6800 for information.