From the kitchen of the Coffee Shop Colombian Bakery in downtown Lancaster, Aurora Salgado carries a plate piled high with half-moon-shaped pies giving off a golden-orange glow. 
These are empanadas, little pastries that Salgado and her husband, Cesar, serve daily to their bakery customers.
This is a good week to notice all the different sizes and varieties empanadas come in, because Friday is National Empanada Day.
Maria Salgado, home from New York to visit her parents and help them in their bakery in the first block of North Queen Street, said her mother learned to make empanadas from her father, who learned from his family in Colombia.
The Salgados' empanadas are made with cornmeal-based dough and filled with ground beef, potatoes, peppers, onions, salt, garlic, cumin and other spices, Aurora Salgado said.
First, they're fried in oil and then baked for about 10 minutes in the oven, she said.
Different versions
The bakery also sells empanadas filled with chicken and cheese, which are brushed with egg before being baked, Maria Salgado said.
But those coming from different Latin American cultures serve up varied versions of the empanada, say those who make and sell them in Lancaster.
"Most cultures have a version of what an empanada would be for them," said Flora Gonzalez, co-owner of Flora's restaurant on North Mulberry Street. "It's kind of like a Hot Pocket. And who doesn't like a Hot Pocket?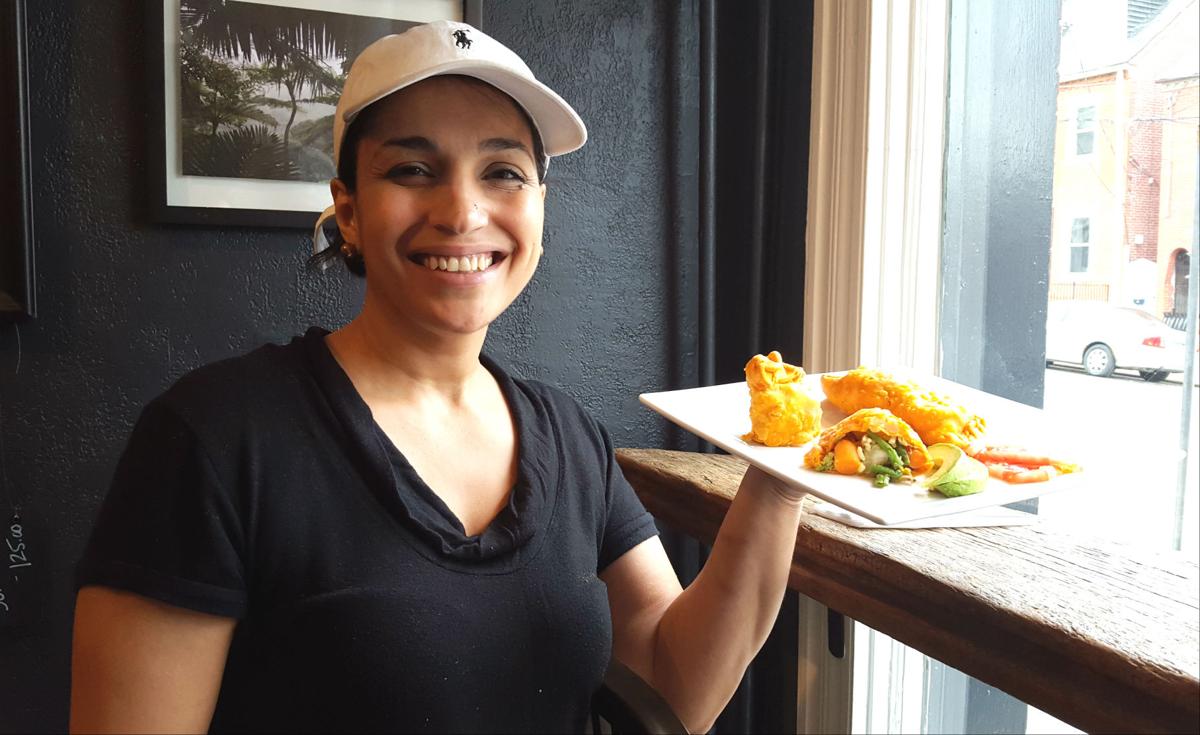 "In Puerto Rico, they're normally called pastelillos. People use the words interchangeably — pastelillos, empanadillas, empanadas. … It just depends where you're from."
At Flora's restaurant, Gonzalez said, "We make all types of empanadas. Sometimes we have goat ones, sometimes we have lamb or seafood. … Beef and cheese is a classic filling. And we make Nutella ones with peanut butter and sweet plantains" for dessert.
Flora's also serves vegetable empanadas, filled with broccoli, carrots, cauliflower, long green beans and pigeon peas.
"We add fresh cilantro and coriander and onions and peppers and garlic and all these flavors," Gonzalez said. "And when you're cooking them, they all explode and meet together.
"We make all the filling, and then we take a flour tortilla shell that's like a pastry dough, and we fill it," she added. Puerto Rican pastelillos are generally folded like a half-moon and pressed closed all along the edge with the tines of a fork.
"I think that's too much work, and it hurts your wrists," Gonzalez said. Instead, she and her staff pinch the pockets closed with their fingers.
Dessert
Other dessert empanadas at Flora's include apples with cream, and guava or other fruit fillings. Gonzalez said empanadas can be baked in the oven or pan-fried in oil, depending on a customer's preference.
She noted empanadas can be made in big batches and frozen for later use by putting flour on each pie and individually wrapping them in waxed paper and foil.
In Puerto Rican culinary culture, said Christina Maldonado-Coffey, of Catering by Christina — a catering company and a stand at Lancaster's Central Market — "you have your traditional beef empanada. They're filled with picadillo, which consists of ground beef and sofrito — cilantro, Mexican coriander, red and green peppers, red onion, garlic, sweet peppers … and a little bit of tomato sauce.
"And we use sazon — a seasoning packet that has annatto (a condiment made from the reddish-orange seeds of the achiote tree) in it for coloring, and adobo, which is our well-known seasoning," she said.
"And I add a little Manzanilla olives with mine," Maldonado-Coffey added, "with a little bit of roasted red pepper."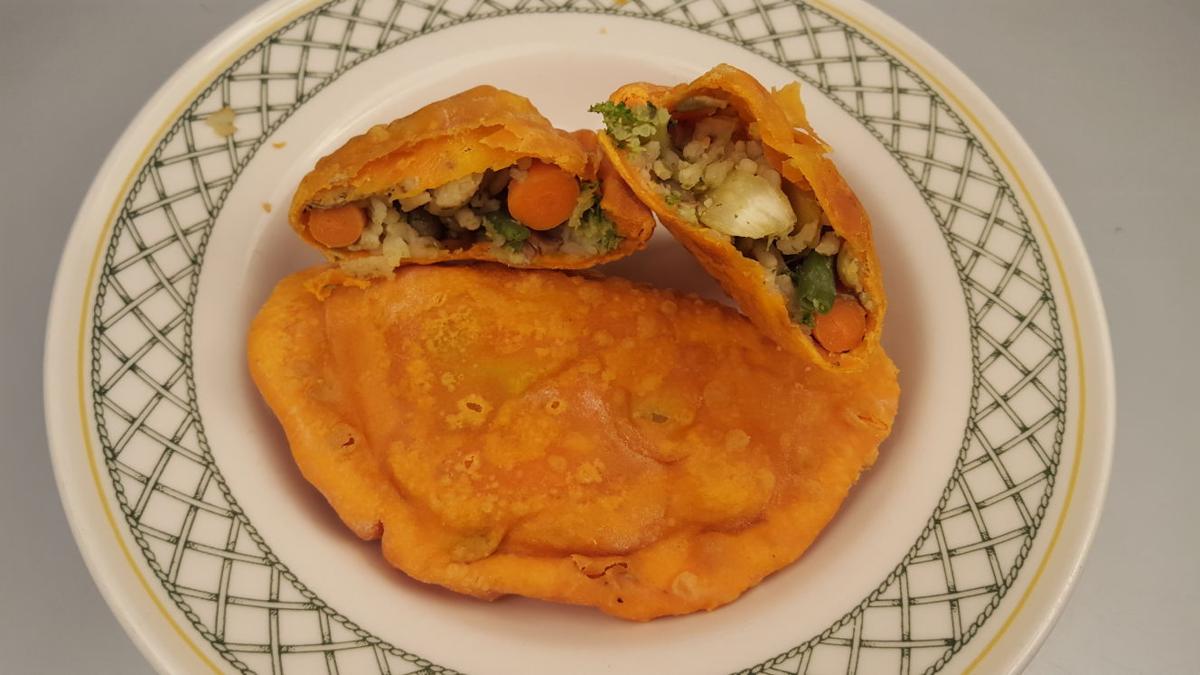 Chicken filling
For her chicken filling, she said, "I like to use boneless, skinless thighs and really cook it down, with the same seasonings we use with our beef, same spices — maybe just a little more tomato sauce."
To add cheese to beef or chicken versions, she uses a combination of American and Gouda.
"I don't like to use cheddar," Maldonado-Coffey said. "You want a cheese that will really melt … a good, creamy, salty cheese."
At the Gran Sabor restaurant on North Franklin Street, owner Ely Ruiz is protective of his secret empanada recipe that comes from his Dominican Republic heritage.
Ruiz serves up empanadas filled with beef or chicken — plain or with cheese — along with pizza ones and seafood pies filled with octopus, shrimp and calamari.
Ruiz uses corn dough, and fries his empanadas in vegetable oil.
He said some of his customers like to put ketchup or hot sauce on the empanadas.
"We make a bunch of them in a day," Ruiz said. "It's a long process."
But there are shortcuts, Maldonado-Coffey noted.
"We have empanada presses now," Maldonado-Coffey said, that allow cooks to quickly fill, fold and seal the pastries.
"Your basic empanada dough recipe is flour, baking powder, baking soda, and some people use butter and egg," she added. "But I use pre-made discs," which she said come in both corn- and flour-based types and are carried at various grocery stores.
She noted that some of the discs are white and some, which have annatto coloring in them, are orange.
"That's how I differentiate my empanadas," Maldonado-Coffey says. "I'll put my beef and cheese in the white discs and the chicken in the orange discs so we'll know which one we're giving the customer."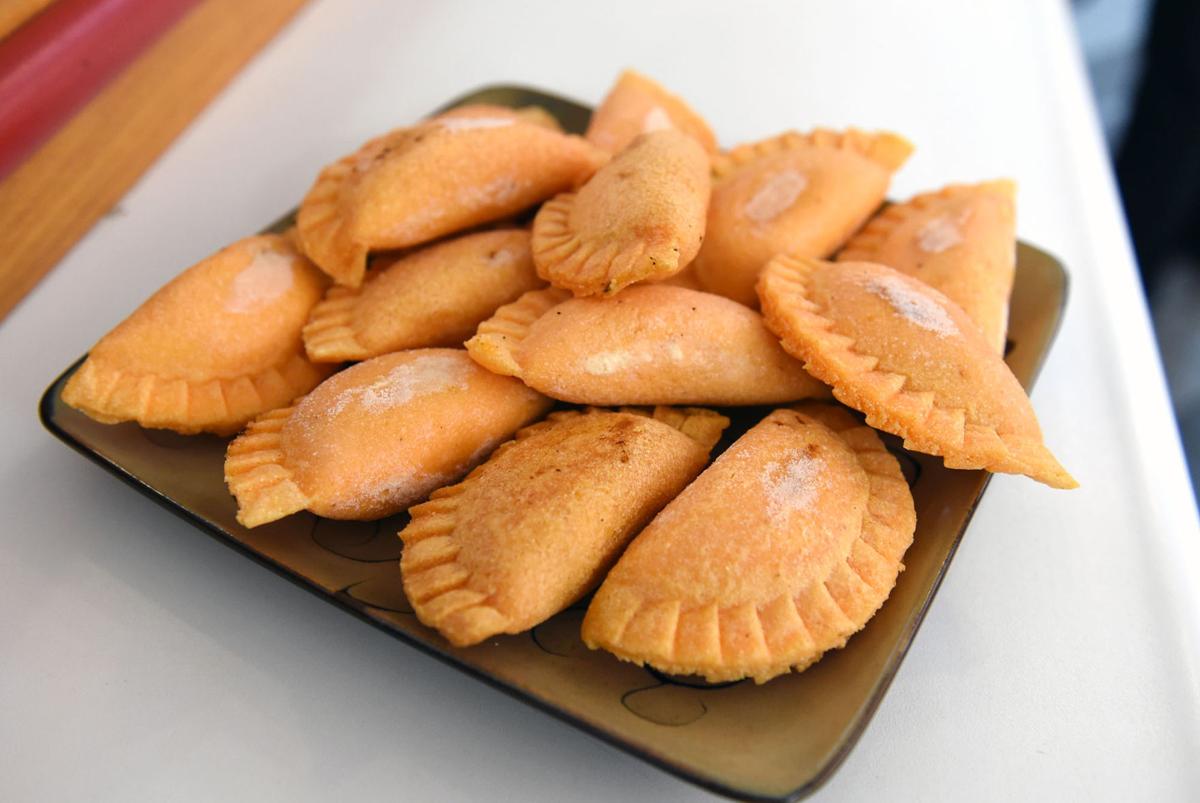 Pre-made discs
Because the pre-made discs are available in grocery stores, under brand names such as Goya, Lafe and Rico, Maldonado-Coffey encourages people to try making their own empanadas.
"You can find lots of recipes on the Internet," she said.
"Be creative," Gonzalez said. "And think outside of the flour tortilla shell. You can make an empanada with any kind of flavor. Anything you want to add, you can add it. As long as it's not too liquid-y. If your filling is too runny, you'll have a hard time closing it and keeping it closed."
And, said Aurora Salgado, don't forget to add a very important ingredient that goes into the empanadas at her bakery — love.